Parents are welcome to visit the school at any time to register their interest. The parents of children who are to begin school for the first time in September are invited to a meeting in school. It is possible during this visit to discuss with members of staff any concerns you may have. Arrangements can also be made with the Headteacher/ Deputy Headteacher to discuss confidentially any issues regarding your child and his/her education. Children and parents are invited into school prior to starting in September to participate in three sessions with the class teacher as part of our INSPIRE programme.
Platt Bridge Admission Arrangements 2018-19
Timetable for admissions to Primary School 2019-20
Admission information available. On-line application service opens.
5th November 2018
Closing date for applications. On-line application service closes.
15th January 2019
Wigan Council sends details of applications to other local authorities.
4th February 2019

Own admission authority schools that rank their own application.

Wigan Council sends details of all applications to schools (including applications from other local authorities).
4th March 2019
Schools return ranked lists by.
18th March 2019

Own admission authority schools that rank use Council's ranking service.

Wigan Council sends ranked lists for approval.
15th March 2019
School return approved lists by.
21st March 2019
Wigan Council informs other local authorities of offers to be made to their residents.
22nd March 2019
Wigan Council sends final lists of pupils offered places to Wigan schools and other local authorities.
5th April 2019
National offer day.
16th April 2019
Parents to return acceptance slips for offer of school places.
7th May 2019
Closing date for appeals.
21st May 2019
Consultation on Admission Arrangements 2020-21
The consultation web page is now live on the Wigan Council website. For more information, including the proposed changes to the admission arrangements for some Wigan schools, please click here. The closing date for responses for most schools is 17 December 2018. The closing date for Saint Paul's CE Primary and Golborne High School is now 19th December 2018 and for Lowton CE High School, 20th December 2018.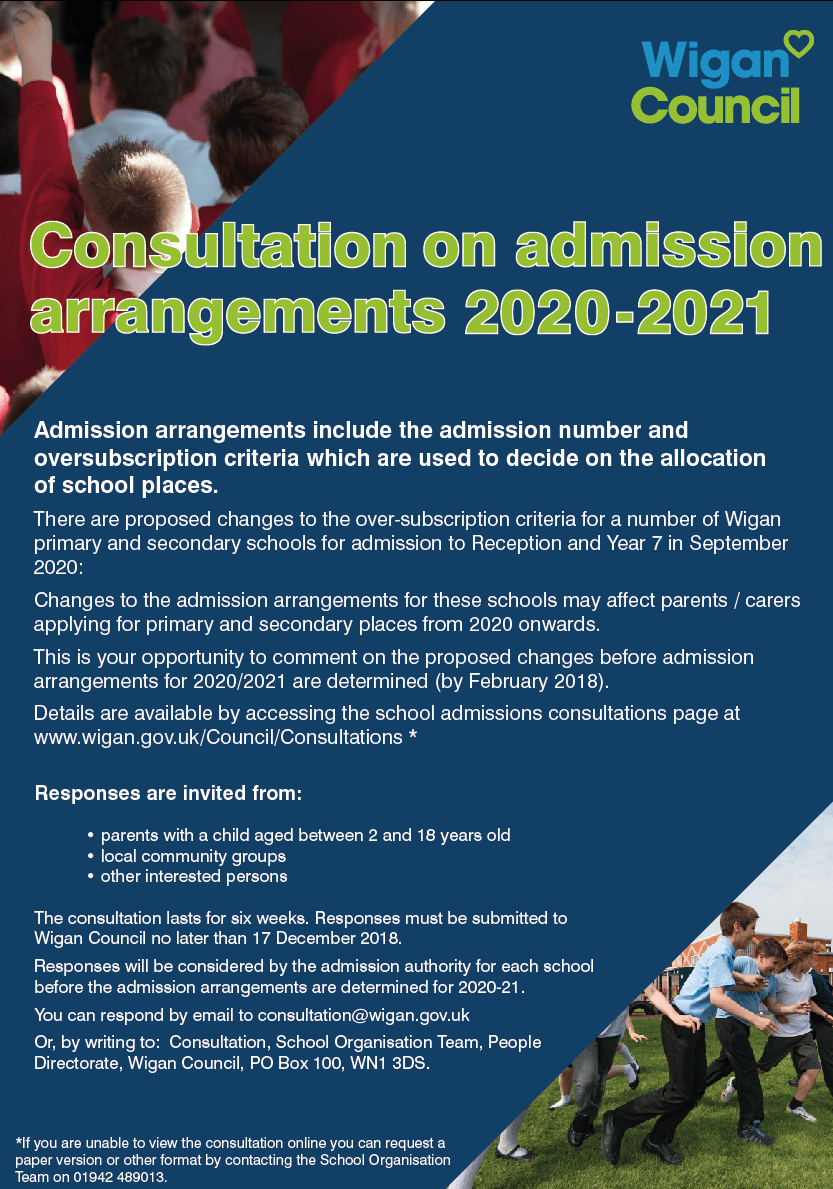 Platt Bridge Community School converted to an academy on 1st February 2013 and the local authority is the relevant body that controls admissions. Admission to the school will be made in accordance with parental preference subject to the following criteria in order of priority. The Governors must comply with the Governments maximum class size legislation. This means that the school cannot operate classes in Reception and Key Stage 1 of more than 30 children. When the number of applications exceeds the number of places available the Governors will apply over subscription criteria.
The school's standard admission number is 60.
The admission number for the year commencing 1st September 2015 shall be 60.
Admissions to the school will be made in accordance with the following priorities:
Children with a Statement of Special Educational Needs which names the school.
Children who are in public care.
Children whose older brothers or sisters attend the school and who will still be there at the time of admission.
Children living closest to the school. Distance is measured on an ordnance survey map in a straight line.
For more information regarding admissions arrangements, please visit the Local Authority website here.
In the event of over-subscription in any one of the above criteria priority will be given to those living nearest to the school in a straight line.
Parents who have not been allocated a place for their child have recourse to an appeal procedure as stated in the Wigan Council "Admission to Primary Schools" Handbook. Please click here for more information.