February 2020
During February, we have been reading Romeo and Juliet - which we have loved! We have read a chapter at a time, unpicking the many themes contained within the text to allow us to understand the storyline fully. We have researched and discussed specific vocabulary contained within the text, answered questions in our rapid retrieval quizzes and have been gripped by the trials and tribulations of the star-crossed lovers of Verona.
To celebrate World Book Day in March, we created book reviews on the text, including a character list, key summaries of the plot and a recommendation for others. We have put these in our reading corner for others to look at and there are some images of us creating these below.
In writing, we have been researching Arctic animals and have written a non-chronological report on these. We researched their unique adaptations for survival, their diet and appearance alongside unpicking example texts to discover the features of a non-chronological report to include in our own. We thoroughly enjoyed researching these animals and our final pieces look great in our books.
Last month, we learned all about biomes, researching the many types and their characteristics. For our homework, we were set the task of creating our own biomes using the information we had been taught and below are some images of these; they're amazing and everyone has put so much effort in to make them!
January 2020
After a lovely, relaxing Christmas break, we've come back ready and raring to go for the spring term ahead. We're excited to learn about our new topic, crime and punishment, and have already started our history lessons by looking at crime and punishment in the modern world already. Later on within the term, we're going to be learning about crime and punishments throughout history and in particular, how the Victorians and Saxons dealt with such issues. We're already looking forward to learning about all the gory punishments!
In science, we've been looking at ecosystems and biomes. We're now aware of what characteristics make ecosystems and biomes and have looked, in detail, at specific biomes across the world: deserts, tundras, rainforests, grasslands and others. For our homework, we've been set the challenge of creating our own biome using the information gathered in our lessons and the best one wins a prize! Head back over to our blog in February to see some of our finished projects.
December 2019
In English, we have been studying a New Year-themed poem, Ring Out Wild Bells, that centred around the theme of welcoming in the new year by letting go of all the negativity in 2019. We performed this poem in class, using intonation and expression and then went on to discuss some issues we would like to rid the world of too, which enabled us to create our own similar-styled poem in our writing.
To celebrate Christmas, we held a mini Christmas market for parents and carers where we sold handmade items. As a class, we chose to make hanging decorations with a stencilled reindeer on the front and we managed to sell them all! In the new year, we are going to be studying Crime and Punishment in the afternoons and in science, we are going to be learning about living things and their habitats. Visit our blog in January to find out more!
November 2019
Last week, we had a visit from Olympian, Jenny Meadows. In the morning, Jenny held a whole-school assembly where she shared her achievements with us. We watched a short video clip of her in action where she placed third in a race. Jenny then discussed the importance of achieving a personal best which highlighted to us that although we may not always achieve the best there is to offer, it's about trying our best to reach our full potential. Later on in the day, we then took part in some physical activity where we were taught specific techniques and skills to improve our running. At the end of the session, we were given the opportunity to ask the Olympian some questions and she even signed her autograph on some memorabilia for us too!
Jenny's visit has really inspired us to achieve our personal best this year - thank you!
Year 6 have been to York!
What a fantastic time we have had! When we first arrived, we visited the Yorvik DIG, where we used our tools to go on an archaeological dig unearthing buried treasures from Medieval to Victorian Britain. We then walked through the cobbled streets of York to the Yorvik museum where we went on a short ride that showed us what life was like in York during Medieval times.
After this, we went back to our hotel where we were shown to our rooms; they were so cosy and even had their own TV, shower and the most comfortable beds! We then had tea in the restaurant before bowling at night.
The next day, we visited the castle museum, York Minster and the Chocolate Story - a fun-filled, busy day! Our best attraction of today was definitely the chocolate Story as we ate so much free chocolate samples in there! We ended the second night with a spooky ghost walk where we walked the streets of York with our tour guide, telling us creepy stories.
On the final day, we visited the National Railway Museum as the River Ooze had burst its banks and so our planned boat trip was cancelled! We were so glad to visit the museum though as we got to see a wide range of trains from years ago, to now!
We've had a fabulous time and are so thankful to have visited this amazing city! Hopefully, we will visit again in the future!
To introduce our new learning topic for the term, 'What Makes Britain Great?', we entered our classrooms to the National Anthem, God Save the Queen. In the afternoon, we celebrated the Great British tradition afternoon tea, by hosting and enjoying our very own! We made our own sandwiches - cut into triangles of course - our own scones with clotted cream and jam and even made our own cuppa to wash it all down! This lead us on to discussing the return of The Great British Bake Off, which is the inspiration behind our first DT unit where we will design, make and evaluate our own cakes, learning all the skills that these stages entail.
Visit back in October to see which stage of the DT process we're up to and to see our pictures and read our thoughts and feelings from our first trip of year 6 - York!
July 2019
Year 6 Careers Week
At Platt Bridge Community School, our Year 6 Careers Week aims to raise aspirations by helping children understand the link between learning in school and the world of work.
We launched the start of our Careers Week by inviting a range of professionals into school to take part in a 'What's my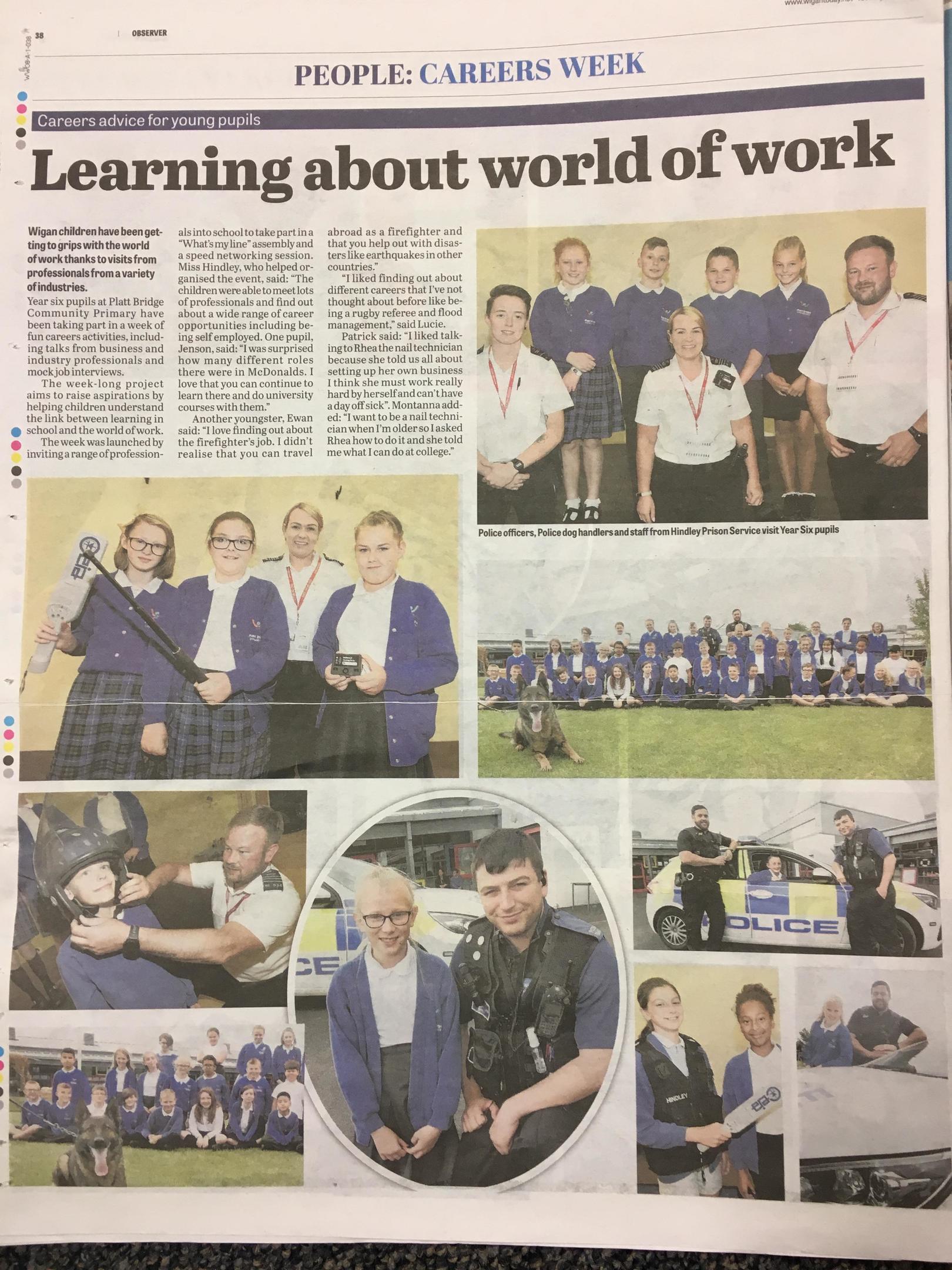 line' assembly and a speed networking session. Pupils from Year 6 had the opportunity to ask them questions about their careers and the route they took to get there. All our year 6 pupils have engaged with at least 9 business professionals in the space of an hour and had their horizons broadened.
We would like to thank each one of them for giving up there time to come in and speak to them. The pupils valued and appreciated the knowledge they have gained from each professional.
Miss Hindley: "The children thoroughly enjoyed this morning: they were able to meet lots of professionals and find out about a wide range of career opportunities including being self employed. I am sure that all children are now inspired to start thinking about their own future careers!"
Children's comments:
Jenson - "I was surprised how many different roles there were in Mcdonalds. I love that you can continue to learn there and do university courses with them."
Ewan - "I love finding out about the firefighter's job. I didn't realise that you can travel abroad as a firefighter and that you help out with disasters like earthquakes in other countries."
Adam and Lucie - "I liked finding out about different careers that I've not thought about before like being a rugby referee and flood management."
Patrick - "I liked talking to Rhea the nail technician because she told us all about setting up her own business and I think she must work really hard by herself and can't have a day off sick".
Montanna - "I want to be a nail technician when I'm older so I asked Rhea how to do it and she told me what I can do at college and how to get into it!"
Presentation & Demonstartion Day!
Miss Hindley: "Our careers week continued today with many more professionals giving up their precious time to demonstrate elements of their jobs to the children in Y6. Like the children, I too was amazed at the opportunities for development and progression in different careers. I am sure lots of our pupils are inspired to find out more about these career paths!"
Montanna: "I loved speaking to Adrian about his job as a chef. It was amazing to find out that you can work in lots of different places like schools, prisons, restaurants and hotels. I didn't realise you could work all over the world on cruise ships as a chef too!"
Jenson: "It was great when the HM Prison Service came in: the officers showed us the different equipment they used and we got to look at the baton, handcuffs and helmets."
Bradley: "The dog handlers were amazing. It was really impressive to see how they can control their police dogs using just hand signals".
Adam: "I loved seeing the dog handlers and police dogs up close as I've never done that before!"
Ellie: "It was really suprising finding out about all the different jobs you can do as part of the Police! I didn't know you could be a dog handler and it is suprising how well trained they are".
Platt Bridge Community School Job Centre & Mock Interviews
The pupils had the opportunity to search Platt Bridge Community School Job Centre for the desired role. They were all really excited to find out what careers their friends would like to do, in the future. Once they had chosen which role they would like to apply for, they got to work on their covering letters and took part in mock interviews.
June 2019
This month, we have been preparing for our class visit to Chester Zoo by taking part in different class-based workshops led by members of the Chester Zoo Team. Songbirds, which are known as Passerines as they have specially adapted feet to help them perch on branches, are critically endangered both in the UK and overseas, in Indonesia. These birds also have highly-developed voice boxes (just like humans!) so they can sing beautiful melodies to attract mates.
We found out about these birds' plight during the sessions: they are being kidnapped from their natural habitats; sold on markets in cramped cages as symbols of status and privilege and forced to compete in singing competitions for prize money.
In our sessions, we have sang the official songbirds song produced by Chester Zoo to raise awareness of their fight for survival. We also went on a hunt around our school environment to spot British songbirds such as song thrushes, robins and blackbirds with binoculars and an identification key to help us. We created a tally of the birds we'd seen and were amazed at how much wildlife we could see on our school field and in the allotments.
We were lucky enough to have the opportunity to work with a songwriter and singer, Ashley Fayth, to write our own song for songbirds. The children worked very hard in two short sessions to create their own lyrics to communicate key messages about the songbird's fight that fit the melody that Ashley was playing on her guitar. They had to count syllables in words carefully to ensure they fit the melody. The children then performed their song beautifully and recorded it. It will be live on the Chester Zoo website very soon but here is a preview. You might want to sign along with these lyrics...
Verse 1 Oh you pretty songbirds
Please don't disappear
You shouldn't have to hide away
And live your lives in fear
Verse 2 Oh you pretty songbirds
We hope you can stay
The forest will fall silent
If you go away
Chorus
Hunters and poachers and deforestation
Are causing a lot of devastation
We need to shout the message really loud
By raising awareness and spreading the word
About all those defenceless birds
We need to help our feathered friends right now
Verse 3 Oh you pretty songbirds
Crying in your cage
People forcing you to sing
For status and a wage
Verse 4 Oh you pretty songbirds
You're losing your homes
Locked up in a prison
Scared and all alone
Chorus x 2
Oh you pretty songbirds
Please don't disappear
January 2019

What an amazing start back to the new year! Our new theme for the next term is China and what better way to welcome in the Chinese New Year in school, than with a fortune cookie and Chinese envelope (filled with some edible money)! In the afternoon of the first day back, we had a visit from Ivy Tang who showed us a short clip about the geography of China and taught us some Chinese calligraphy.

The children have also been lucky enough to experience a workshop that involved learning some Chinese dancing, which was showcased to parents, and also painting their own Chinese plates which are currently on display in our resource area and will eventually be coming home with the children.

We look forward to learning lots of facts about China to share with you at home!
December 2018
We hope you have a great Winter break and enjoy celebrating at home and spending time with friends and family! We hope you come back in January excited to learn and raring to go! What an exciting term we have ahead of us in Year 6! Our new topic, 'What are the Secrets of China?' is packed full of interesting things to learn about. Why not look at our leaflet to find out some of the things that you will be learning about in the Spring term?
With trips, visitors and our newly immersed classroom there are lots of surprises and things to look forward to in the new year... we can't wait to get started!
Your new Knowledge Organiser is also on the blog below... look over the different sections to start learning about China to help prepare you for our learning in the Spring term. Can you learn some key facts about China as a country - its capital city? Which continent it is in? Can you find out any additional facts to share with us in January?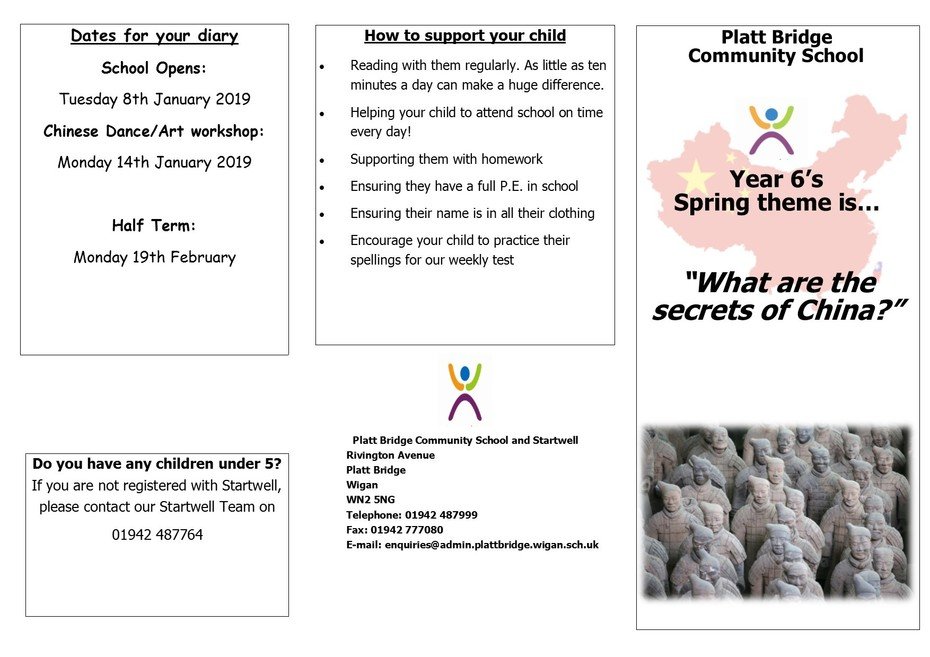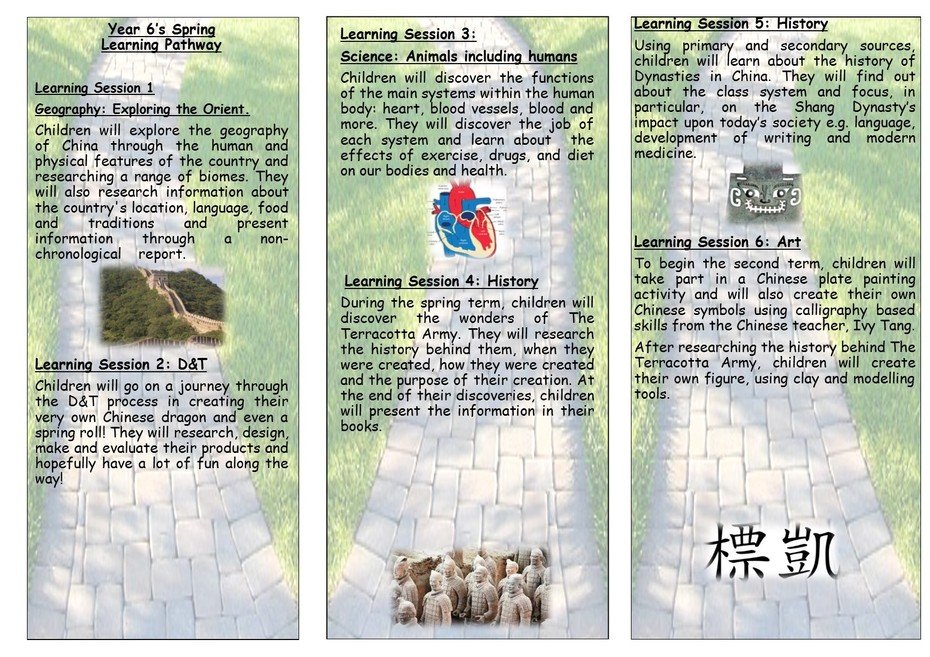 Miss Cameron, Miss Hindley and Miss Lomax
October 2018
We've been to York!
Last week, on Wednesday, year 6 went on a trip to the city of York where they visited many attractions. When we first arrived, half of the year group took part in an archaeological dig (finding artifacts from the Victorian ages and viking eras!) and the other half visited the Jorvik centre where they went on a ride that took them through how the Vikings lived 1000 years ago. After each activity, the groups swapped.
After lunch by the River Ouse, the children were shown to their own en-suite rooms that they shared with their friends and shortly after, they had dinner in the restaurant before enjoying a competitive game of bowling! (Well done to Adam the champion!)
Over Thursday and Friday, the children experienced the Yorkshire Museum, a glide along the River Ouse on a boat, York's Chocolate Story and a spooky ghost walk through the streets of York in the evening.
The children loved having their own spending money and purchased many gifts for themselves and family members.
They have really enjoyed their experience to the city and many of them have said they want to go back. They were so very well behaved and all are a credit to their parents and carers.
Miss Cameron, 6B
September 2018
What an amazing first week 6B have had!
We began the first day back with the national anthem to celebrate the topic of our first term: What Makes Britain Great? In the afternoon, the children indulged in their very own afternoon tea, complete with cakes, sandwiches and a brew!
Our first D&T unit has been on the theme of The Great British Bake Off and the children have begun researching, designing, making, evaluating and eating their products. They have done an fantastic job of the D&T process and have thoroughly enjoyed it.
We are all looking forward to the trip to York at the end of the month which continues our learning around Great Britain. Come back in October to see our pictures and read what we got up to in the city!
Miss Cameron and 6B
April 2018
This month, the children in 6b have produced a retell of Indiana Jones. We watched a short video clip of when Indiana and Satipo were about the steal the golden idol from the temple. One child, Samuel, even created the scene out of Lego! The children enjoyed gathering information about both characters through a timed activity in groups. They have created some amazing pieces of writing which can be found on Pobble!
March 2018
This month, year 6 have had an amazing opportunity to visit The Terracotta Warriors at World Museum in Liverpool. The children have been learning about the history of the figures for several weeks prior to visiting and were very excited to see them in real life. During the trip, children were able to take part in interactive activities where they created their own Chinese symbols, dressed up as the warriors and discovered the immense work and effort behind creating these figures.
February 2018
Last week, a group of our Y6 pupils took part in an Inter School Spelling Bee competition. They are the first team from Platt Bridge Community School to take part in the competition. They enjoyed taking part in several different activities and rounds testing their spelling abilities and strategies! We are extremely proud to announce that our pupils won and came first out of fourteen teams that took part! Well done Y6!
January 2018
January marks the start of our new topic - China! To begin the topic with excitement, the children enjoyed a full day of Chinese activities: plate painting and Chinese dancing. The children loved the activities and even had the opportunity to showcase their dance to the rest of the school at the end of the day. The children have also been gathering lots of information about the country and have begun to research the Chinese New Year in preparation for February where a Chinese Banquet will be enjoyed!
December 2017
We hope you have a great Winter break and enjoy celebrating at home and spending time with friends and family! We hope you come back in January excited to learn and raring to go! What an exciting term we have ahead of us in Year 6! Our new topic, 'What are the Secrets of China?' is packed full of interesting things to learn about. Why not look at our leaflet to find out some of the things that you will be learning about in the Autumn term?
With trips, visitors and our newly immersed classroom there are lots of surprises and things to look forward to in the new year... we can't wait to get started!
You will also have received your first knowledge organiser instead of homework... look over the different sections to start learning about China to help prepare you for our learning in the Spring term. Can you learn some key facts about China - its capital city? Which continent it is in? Can you find out any additional facts to share with us in January?
Miss Hindley and Miss Cameron
November 2017
This month, 6B have been lucky enough to have a very special visitor - an Olympic, British athlete, Jenny Meadows. The purpose of this was to not only engage and excite the children, but for them to learn about her journey, success and most importantly, her failures. Jenny spent the day with us which began with a whole school assembly where she discussed her journey to becoming an athlete. She also showed us her Olympic medal! The rest of the day was spent doing some sporting activities in which the children had to focus on their stamina. Jenny ended the visit with a Q&A session. It was a fantastic day for all!
September 2017
What better way to start the year than to enjoy delicious afternoon tea?! To celebrate 6B's topic, 'What Makes Britain Great?', the children indulged in an afternoon of sandwiches, cakes and tea which they prepared (and then ate) themselves. We all listened to the national anthem and enjoyed some lovely conversations about what we all did over summer.
"It was fun do it as we got to make our own sandwiches, but the best bit was when we got to eat them!" - Keiron
"It was a very exciting experience!" - Ethan
Within the afternoons, 6B have been taking part in their very own Platt Bridge Bake Off! This unit of work has been covered as design and technology where the children have followed the process of research, design, make and evaluate. It involved working in teams to eventually bake a cake which was then taken over to the residents at Belong to share. One child in particular, Elisha, certainly went above and beyond for her homework task (which was to research cake designs) and baked a whole cake at home with her family! We can confirm, it was delicious!
"We enjoyed baking a cake because we were able to start from scratch. We chose what we wanted to put in it and also what we wanted to decorate it with. It was a good decision to share our cakes at Belong as the residents were able to see what 6B have done at school!" - Jasmine and Alicia
Finally, during the month of September, we embarked on a fun-filled trip to York. We visited many attractions such as River Cruise, Jorvik Centre, Chocolate Story, Yorvik Dig, Ghost Walk and Bowling. Here, we learned lots about the history of York, and in particular, what life was like during the Viking times. The children gained lots of experience and knowledge and most importantly, independence skills as they had to clean up after themselves in the dinner hall and even make their own beds in the morning!
"York was an amazing experience because we were able to take part in a lot of fun things. I enjoyed the Ghost Walk the most as it was a bit scary and we got to walk around the streets of York at night!" - James
We can't wait to see what October has to offer!
Miss Cameron and 6B
July 2017
Children Stun Audiences with 'West-End' Style Production
The Year 6 pupils at Platt Bridge Community School wowed audiences this afternoon with their production of Grease - the last one they will perform as a class of 48. Pupils sang, danced and acted their hearts away to create a performance that was fit for London's West End.
Costumes and props were outstanding: the children looked suitably 50s. The girls wore flared skirts and neck ties and the boys looked suave in their leather jackets and T-birds costumes. Vince Fontaine – played by Adam, with his glittery bow tie, looked particularly good and played his role to perfection. The cheerleaders were a bundle of energy and looked smart in matching blue and white uniforms. They led the cast well and supported dance routines. All the cast and chorus looked immaculate and their costumes were spot on. The chorus supported the cast of characters well and their tuneful voices and enthusiasm shone through to ensure that the songs could be heard and enjoyed by all.
Lighting and sound was controlled masterfully by Aimee, Miss Henriksen and Mrs Abel - it created a brilliant atmosphere and particular mention must be made to Daniel and Craig for expertly fixing the set to allow for the impressive use of the car.
Speaking of the car, the set was fantastic. Simple use of dinner hall benches created a believable cafeteria and the cars, designed by Mrs Higham, were incredible – the transformation was brilliant.
Actors were outstanding. Hannah as Sandy was innocent and sweet – a complete contrast to her character at the end. Marty, Jan and Frenchie, played by Skye, Marie and Chelsea provided just the right mix of humour and seriousness and their dancing led the other cast members. Kacey, as Rizzo was brilliant – acting must be in her future! Jake shone as Eugene, creating humour and laughter – his portrayal of this character was adorable! Sophie and Denisa played contrasting parts as Patty Simcox and Cha Cha but they both were believable and moved the story along well. Tanastwa melted hearts as the teen angel and the girls dancing in the background looked excellent in their beauty school robes!
Finally, the boys were utterly outstanding in their roles as Danny and the T-Birds. Owen, Aaron, Declan, Adam and Kye showed their inner performers as they threw themselves into their roles and performed as well as professionals, supporting their cast to create the production's most impressive song- Grease Lightning.
The choreography and direction by Miss Cameron and Miss Harrison should be commended. Congratulations on a wonderful production!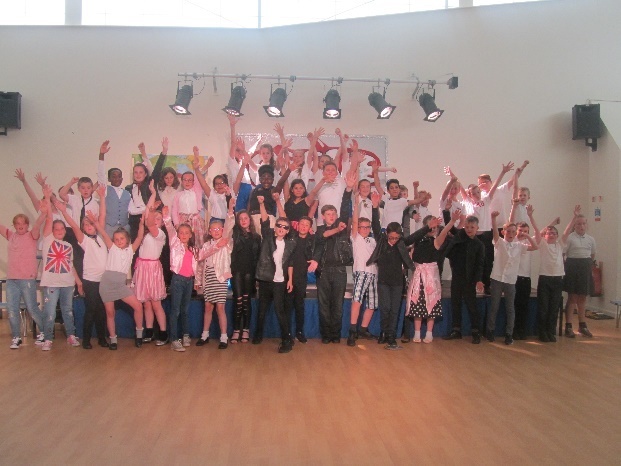 June 2017
Art Exhibition
The art exhibition was a huge success and the children of Year 6B really enjoyed designing and creating their own pieces of artwork for it. Before the professional framing of the artwork, the children spent some time to think about the ideas and practise these in their art lesson. The inspiration for the artwork was Banksy. Also, it was decided that the pieces of art would be a tribute to the victims of the Manchester attack. The children really thought about their symbols, which would portray this tribute. Some of the symbols were: hearts, roses, flowers, bees and many more. Some of the pieces displayed inspirational quotes of strength and courage to accompany the symbols associated with it. Finally, the art work was created, professionally framed and placed on display at the exhibition. We are very proud of the children's achievements and dedication to their pieces of art!
Big Read Week
This week's theme for Big Read Week was MAGIC! To start the week off, the magician came in to visit school to do various workshops. Year 6B were presented with an interactive, magic show. This experience allowed the children to become immersed and instantly engaged with the theme of magic, which would inspire them for their reading and writing that week. Due to the fact that the children had had this opportunity beforehand, this made their learning fun for that week. They were able to use this experience to inspire reading and writing.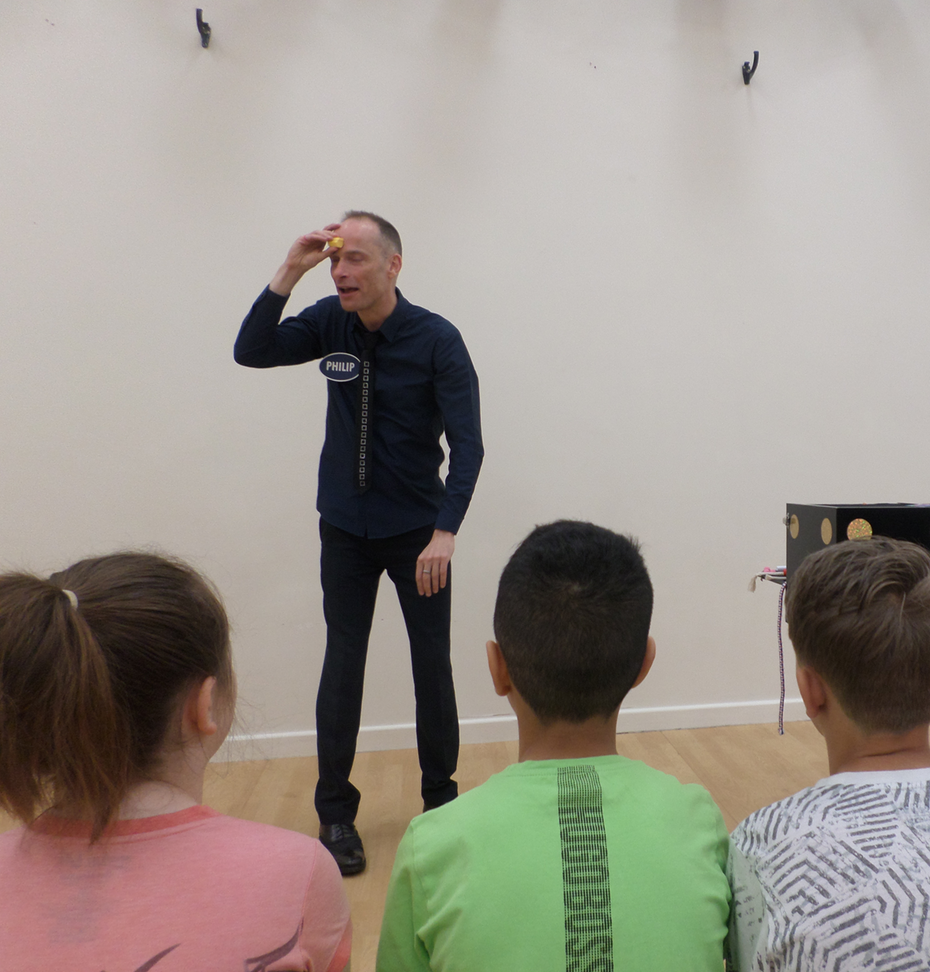 May 2017
The children have worked so hard and put in incredible effort to complete their SATs! As a reward for working hard all year and during SATs week, the children were rewarded with a post SATs party to celebrate! It celebrated their determination, incredible attitude, resilience and effort throughout their final year at school. We are so proud of them!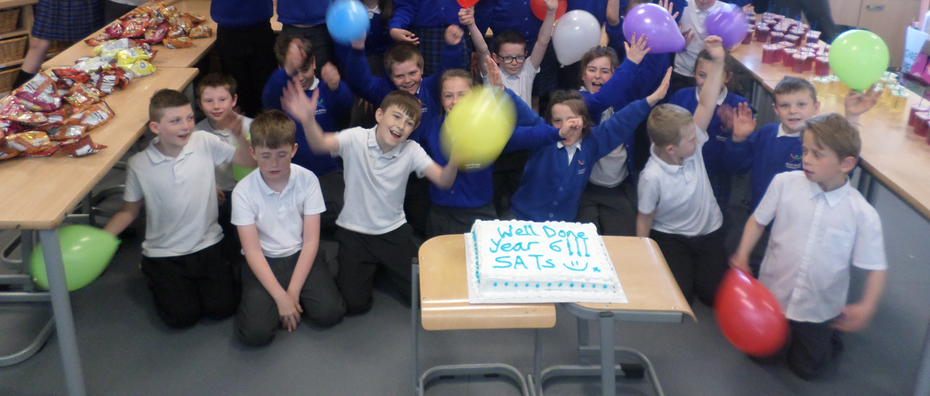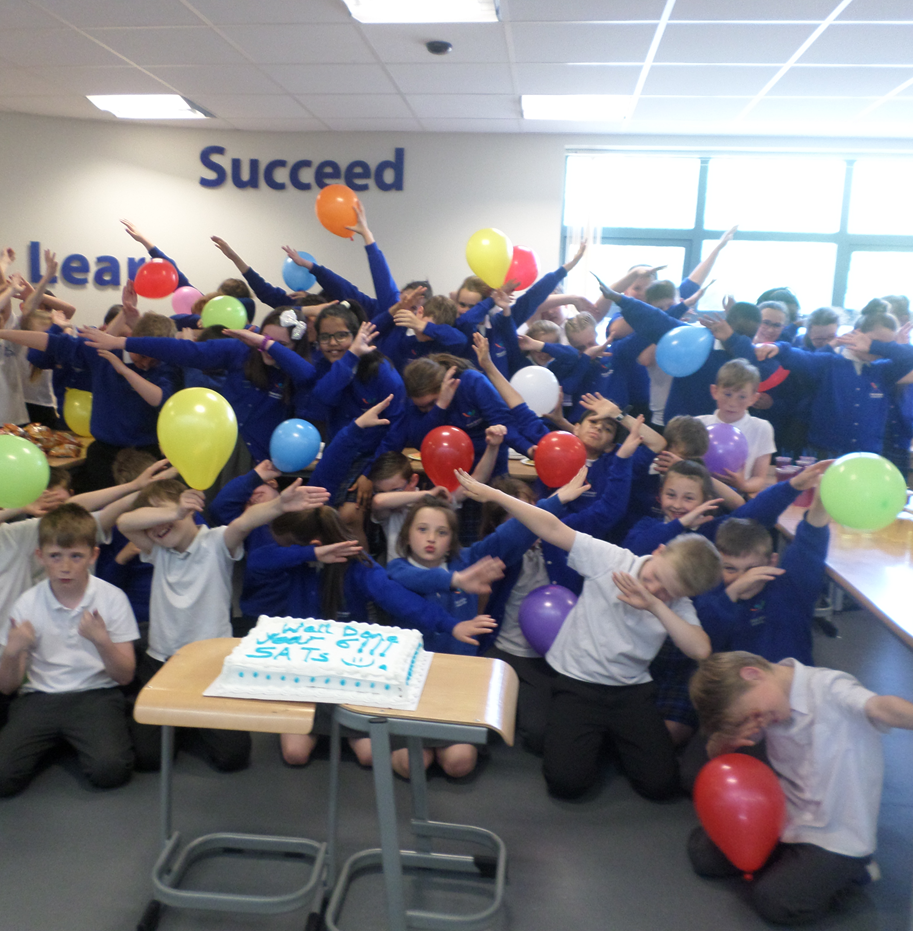 Trampolining Party
Also, the children were rewarded with a special party at Jump Division. The children were delighted about having the opportunity to release some energy, on the trampolines, after their hard-working SATs week.
April 2017
Google Expedition
Year 6B really enjoyed the Google expedition experience because this was something they had never done before! They were visited by Google, who gave the children the opportunity, to explore different areas around the world. First, the class teacher chose the destination to explore and they were each given a virtual reality headset. This allowed them to immerse themselves within that part of the world and get a real feel for the unique opportunities. They were given the chance to explore the Great Wall of China (as part of their class topic), under the sea (shark encounter) and the amazing view of Earth from Outer Space. After this experience, the children were able to be more stimulated and creative within their other pieces of work.
Easter Mascot Class Competition
As part of the school's Easter celebration, it was decided that each class would design and create their own Easter mascot. Once the class had decided on their unique mascot, they spent some time during art to design it. Year 6B decided to create an Easter basket, where each part of the basket and its contents, represented each person of the class. Also, the class thought that this was a suitable symbol for Easter, therefore, deciding on the chosen design. As a whole class, each child chose a part to make for the basket and used many skills to work together. They were delighted once they had seen their project coming together! On the Friday before the Easter holidays, the children showed their Easter mascot before the whole school celebration assembly. This was a huge success and the children had so much fun doing this!
March 2017
World Book Day
We started March with Big Read/Write week - are book was Jurassic Park. World Book Day (Thursday) was observed by the children dressing up as explores and a visit from a T-Rex, with his handler, of course. The children thoroughly enjoyed the experience although a little apprehensive when the T-Rex got close to them.
PGL
A fun-filled week was spent at PGL doing lots of fun activities - raft-building, ambush, zip-wire, giants swing to name a few. The food was amazing, 3 hot meals a day and so much choice: a cooked breakfast every day; curries; lasagne; jacket potatoes; wraps; fajitas; soup; fresh fruit and salad options. This week enabled children to develop and make progress with leadership, teamwork, communication and problem solving skills. They all showed enthusiasm and motivation for learning new skills and improve their social awareness.
6B have had an amazing February!
First of all, we were lucky enough to have Connect to Colour work with a select few children on creating a fantastic piece of artwork which is now displayed in the hall. It involved using keywords, that children thought were the most relevant in representing our school, and each child's face displayed on silhouettes of the children. All involved really enjoyed getting a little messy and being artists for the day!
Secondly, 6B enjoyed the range of activities at the Valentine's Enrichment after school. They indulged in a chocolate fountain, got creative with makin paper roses and heart-shaped garlands and even had some fun in our hand-made photo booth! The staff also had a little fun with it too! Make sure you attend the Easter enrichment in a few weeks so you don't miss out!
February has been a great month for 6B and I am super proud of each and every one of them for their constant dedication and efforts during class. They have produced some excellent stories about Spiderman and The Green Goblin in English, and showed excellent resilience during problem solving in Maths. Keep up the hard work!
Next week, both 6B and 6A are on a residential trip to PGL. Revisit the blog page in the next few weeks to see the pictures of the activities we'll be taking part in such as raft building and high ropes - I'm looking forward to seeing their faces!
E-Safety Day
As a WOW launch to E-Safety day we wanted to do something memorable for the children around keeping children safe on the Internet. With the help of One Day Creative, all the children in the school got to take part in a fun creative workshop and learn all about E-Safety through Drama.
Year 6 took part in a "World of Thrones" workshop, a fantasy world where all is not as it seems… They had to make smart choices about who you trust and what you reveal and, in doing so, to protect themselves and their friends for long enough to survive online. They explored the increasingly complex world of gaming, cyber bulling & internet safety!
Following their workshop, Year 6 delivered an assembly for the whole school and parents to show what they had learnt.
January 2016
Our new topic is China. We started the topic by designing and making our own Chinese dragons. We had to use our skills for learning to ensure we worked as a team effectively. We will be celebrating the Chinese new Year by visiting Belong to share a celebration with them .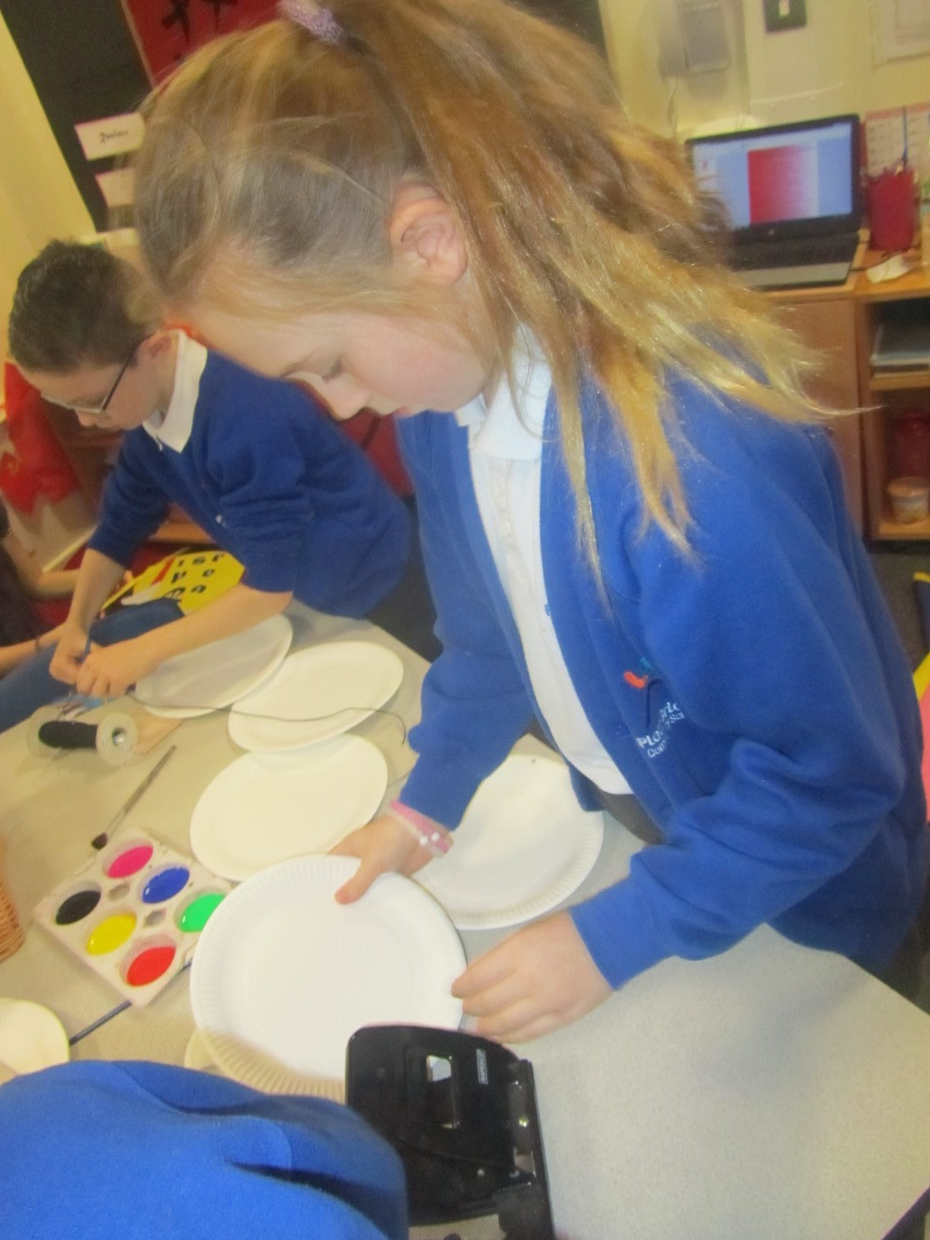 December 2016
Parent Enrichment- The children enjoyed the photo booth with parents, carers and siblings.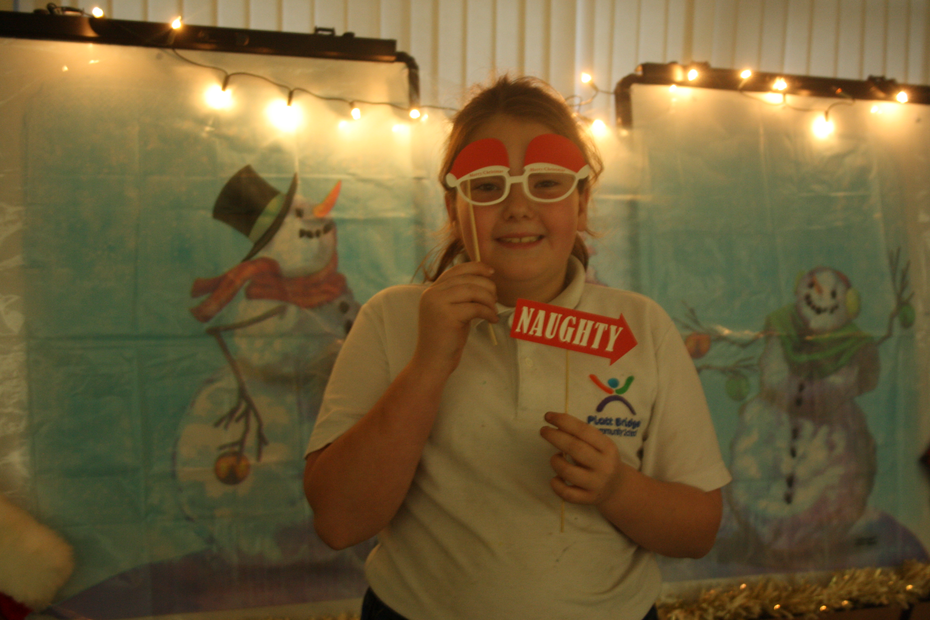 RE- The children were pleased with their completed Diwali lamps.
English- Using the 5 W's, the children were able to investigate the naughty elves who ransacked the classroom!
RE- The children researched the Christmas Story, re-wrote it and performed this through role-play.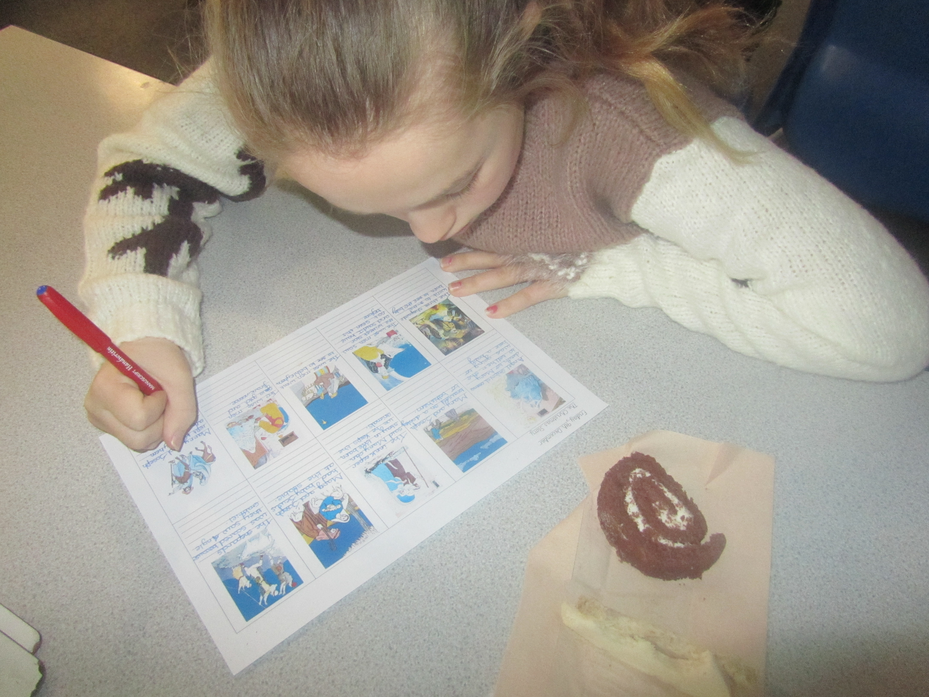 November 2016
Year 6 have been celebrating the festival of Eid and Diwali. They enjoyed food tasting, making pots and designing their own henna tattoos.
English-We have just begun our new English piece of writing-a non- chronological report. This will be about elves and tie in with Christmas as a theme. We received goodies from the elves this morning!
Information Station- We have covered many topics for our information station so far but the children enjoyed creating Road Safety posters.
September 2016
Welcome to 6B
We have been learning about animals,

A type is named a mammal,

Whilst we do amazing investigations,

We earn our education!

- Molly, Maddison, Liam and Adam

*

Allotments are where the magic grows,

Feed and nourish what the water flows,

Songs are sang by magical birds,

In these are beautiful words.

- Wirginia, Daniel and Thomas

*

The reading corner,

Full of adventure,

With all its amazing decoration,

It looks like books,

As a den,

In the shape of Big Ben.

The reading corner,

You read,

You lead,

The more you do the more you succeed.

- Kye, Nikkola, Brodie

Off to London filled with excite,

The London Eye, stunning by night,

All exhausted at the Premier Inn,

But we weren't allowed to make a din,

The day after we set off to see the Queen,

But she wasn't home; she'd already been,

Back on the coach we rested our heads,

We couldn't wait to get in our comfy beds.

- Chloe, Aaron, Leighton, Aimee

*

When we went to London,

We were all in a heap,

So we got something to eat,

We all wanted to get some sleep.

- Aaron, Leighton
May 2016
Eco Week
We have had an absolute ball during Eco week. We started by having a discussion about what the word Eco meant. We used our immediate classroom to talk about all the things we did which were Eco friendly. We then went on to think about the local area. A few weeks ago we had a visitor from the council in to talk about "The Deal" which is a scheme being run by them in order to improve life in our community. They are helping with recycling, tips and other things.
One of the interesting visitors we had during Eco week was the lady from the refuge department of the council. She taught us about the bins and which bits of rubbish needs to go in which colour bin. Some of it was quite surprising as our parents were throwing things in the brown bin which weren't allowed! Also, we learned about the dangers of fly tipping and how to ensure we kept our area clean.
We learned, during Eco week, about the importance of electricity. Starting with a timeline of inventions and how appliances and electrical goods have changed, we explored the development of electricity and discussed how much we rely on it now. We ended with en exciting morning where we went "unplugged" - we weren't allowed to use electricity for 3 whole hours! It was difficult to think of things to keep us occupied!
Our final, and most exciting activity was weeding the garden. Here, we managed to make our allotments look beautiful and, it was during this activity that we noticed something. Our strawberry plants, which we had planted a few weeks earlier, had begun to fruit. Did you know that strawberries grow from the inside of the flower? They are still green at present, but we are hoping that soon, we will get to harvest and eat one of these. Though, judging by how many there are, we might only get a small piece!
March 2016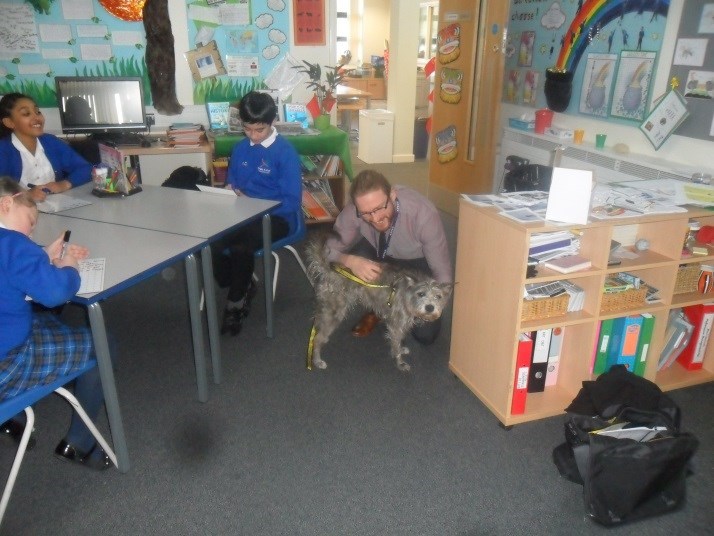 Our visit from the Dogs Trust was an amazing experience for both year 6 classes. We watched some adverts that the Dogs Trust made. One of them was sad as it was telling us what happened to each dog represented by a day of the week. Furthermore we did some activities: we had to pull things out of a bag to show what a healthy dog needed, we wrote what it was on the whiteboard. The lady came in with a dog she sponsored from her work (Dogs Trust). Even though the dog wasn't the prettiest or a puppy it was kind, loving and calm.
Amber
Several days ago we had a visit from Dog`s Trust, for those of you who don't know what Dog`s Trust is, it is a charity that takes in abandoned and homeless dogs and rehomes them. It was a fun experience that I think anyone can learn from whether you have a dog or not. The best part was meeting Moe the dog and letting her teach her own lesson and just having fun. I think that anyone can learn an important lesson from Dog`s Trust. A lesson that can change your life.
Caitlin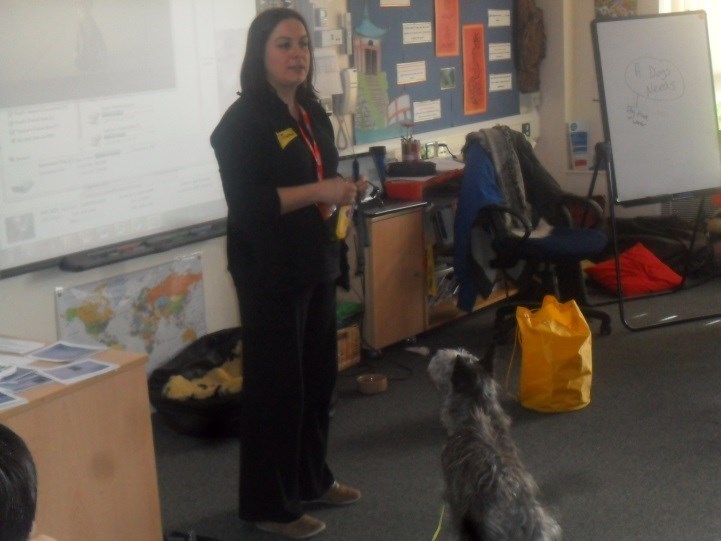 At school this week, we had a visit from Dog's Trust. It is a charity for dogs so then people can adopt a dog and keep all the strays safe and well looked after. A woman called Anna came in and brought a dog. She gave us a talk about what Dogs Trust is and how to keep your dog fit and healthy. We didn't get to play with the dog because it was really lazy. However she did get up and roam around. I really liked that day. It was amazing!
Hannah
On Thursday, a member of Dogs Trust visited us with their adopted dog, Moe. She taught us how to be a good dog owner by taking them for at least 2 walks a day, only giving them dog food and clean water, picking up their poo and giving them a collar and micro-chip. She then asked us to write a persuasive letter convincing Mrs Shelford to sponsor a dog. I enjoyed the experience and would like to do it again.
Thom