February 2020
In February, Year 6 were set a comparative writing challenge. This was an very exciting opportunity that inspired our class to strive to complete their best piece of writing yet! At the end of the month, our writing would be uploaded and shared with lots of other Y6 teachers across the country. We were really eager to get feedback from so many people and to share our fantastic ideas across the UK.
A week ago, we received our stimulus for writing! It was an image of several hot air balloons, their colourful skins poised silhouetted against the golden horizon, ready to embark on journeys packed full of adventure. We watched a short video clip of a hot air balloon ride to explore what it must be like to go on a voyage across the sky! We were amazed at the amazing views and picturesque scenery that you could see from the sky.
We gathered vocabulary to describe how we might feel before the journey: apprehensive, nervous, anxious and developed phrases that we felt showed these emotions to our reader. We also explored how we could develop our character's emotions through the use of dialogue and the words that the characters chose to say.
After this, we began to gather vocabulary to describe the atmosphere and the scenery that we were bound to see during our hot air balloon expedition. We described the clouds as drifting carelessly by; we described the mountains before us as imposing giants that towered in the distance and we described the desolate wastelands of sandy deserts that stretched out beneath our balloons. We explored how our view may change during out balloon ride, talking about how spectators and crew members on the ground would appear to shrink to miniscule proportions as we climbed higher and higher into the sky.
As part of our planning stage, we considered a problem that our characters would face in order to inject tension and drama into our narratives for our readers. The class developed lots of dramatic scenarios including characters tumbling out the basket, the balloon's taut skin tearing and the balloon being attacked by sudden storms and treacherous weather conditions.
The children should be exceptionally proud of their writing. They have worked really hard to produced narratives that are exciting to read and that develop great atmosphere and tension for the reader. They have showcased a wide range of punctuation including semi colons to join related clauses and apostrophes for possession and have used grammatical features for appropriate purposes, for example, expanded noun phrases, metaphorical language and similes to add description to their characters and scenery.
I am sure you will enjoy reading the extracts of the stories here:
"As I trudged across the endless sea of sand, an array of colours met my eyes. The balloon. I hid behind a dune of sand whilst I watched those who were expected to depart on this airship. Its vivid structure was tethered to the dusty dunes. Subdued, it longed to be up in the sky, drifting away into the clouds, never to be seen again. I shuddered. What was I doing?"
"Traversing the bright desert while I tried not to get my new lab coat dirty, I clutched the powerful antidote close to my chest. "Are you sure there is no other way to get there?" asked Jake. "Come on it's going to be amazing Jay Don't worry," I could tell he was nervous (his hands were shivering uncontrollably) even though he tried to hide it, his body's reactions betrayed him. The airborne journey didn't concern me; I was absorbed by the desire to deliver this precious vial - the key to saving possibly hundreds of thousands of lives - safely. My thoughts of salvation were suddenly interrupted by my colleague's declaration, "We're here!"
"As I dragged my feet across the sea of glittering grains of sand, my eyes squinted to catch a glimpse of our huge vessel: our balloon, standing with pride, towering over us as if we were ants. Its structure consuming the horizon with its vivid spectrum of colours: violet, red, midnight blue and lightening yellow. Tied to the ground, the balloon desperately tried to escape. I shot a look at my friend, Jackson; he was turning pale and sweating, I knew he was nervous. "Don't worry Jackie," I grinned reassuringly, you'll love it, trust me!" His hands were shaking, I squeezed his hand reassuringly. Everywhere around us, the desert lay still, disturbed only by the soft gusts of wind that stroked my face and whispered promised of new land. The roar of flames from the engorged beast became louder as it woke from its deep sleep; the barren desert was waiting for us".
January 2020
I hope that all of Year 6 have had a fabulous Winter break and enjoyed celebrating Christmas with friends, family and loved ones. They have all come back raring to go and I have been really impressed by their attitudes to work. We began our Spring term by exploring two poems: Giant Winter and The Snow Monster as part of our Reading studies. The children explored the language of each poem and discussed how the author had used personification to make the winter season and weather sound like a real person or a monster! Some language that we particularly enjoyed was: icy talons, gripped like a vice and frozen jaws - we thought that this made the winter weather sound fierce and dangerous. Our favourite poem was the Snow Monster because even though it started of fierce and disruptive, the weather soon became fun and enjoyable! The snow brought fun and enjoyment for the children in the poem as they enjoyed playing on sledges; making snowballs and tasting snowflakes. We wondered if it would snow in Platt Bridge in January or February?
We've also read a text called, Trapped in the Ice. We loved reading this story as it is based on a true story. It tells of the fascinating expedition to cross the South Pole that Earnest Shackleton embarked on many years ago. Although his ship was dragged under the ice and he and his crew had to survive on the ice floes for several months, not one man died! He managed to protect every one of his men and brought them home safely! We explored how Shackleton must have felt at different points of his expedition and developed our own 'show not tell' phrases to illustrate these feelings. For example, to show that Shackleton felt tired, we suggested he felt exhausted; he dragged his feet wearily across the ice and has sunken eyelids and heavy shoulders. We also talked about Shackleton feeling hungry. We suggested he had aching limbs; a rumbling stomach and dry lips. We planned and wrote our own diary entries in the role of Shackleton to share how he must have felt on that horrific day and in the following months. We wrote our diary entries in the 1st person to pretend to be Shackleton and chose our tenses carefully: we used the simple past and past progressive tenses to talk about what had happened and the present tense to talk about what was happening at that moment. We also explored the subjunctive tense to talk about what we'd like to happen in an ideal situation as though we were dreaming about the future. We used language from the poems that we'd explored to personify the ice and sea that captured Shackleton's ship and used the passive voice too. For example we said that the 'glittering icy talons gripped the ship's stern and dragged her beneath the water'. We are all really pleased with our first piece of writing from 2020 - read some of our writing in the gallery and see what you think!
We have also begun reading a non-fiction text about Polar Bears. We enjoyed finding out interesting facts about these amazing Arctic creatures. Did you know that polar bears are hairless, blind and the size of a rat when they are born? They stay with their mothers for 3 years before moving on. Polar Bears also have water repellent coats that vary in colour from white to pale yellow and had fur on the soles of their feet to enable them to walk on the ice without slipping. We were saddened to hear that the number of polar bears is diminishing because their existence is under threat from climate change, pollution in oceans and over development of their habitats by fuel companies. We enjoyed reading the text as it also had lots of puns in it making it humorous and memorable. Some of our favourite puns were 'Unbearable' and 'Ice-solation' - both these used words associated with the polar bears instead of the true spellings which made us laugh!
In the next few weeks, we are going to write our own nonfiction texts about other Arctic animals that are under threat - sea leopards and elephant seals. We are going to explore the appearance, diets and threats to these animal's existence and present this to the reader whilst persuading them to help the cause! We can't wait to share these pieces with you!
December 2019
Y6A have had a really busy December in school! One highlight of the month was our Christmas Market enrichment which was well attended by parents and carers. We would all like to thank you for your support during our Christmas event - it is very much appreciated! The children worked hard all week preparing crafts to sell at the market. We had a wide range of festive products that were well received by our customers: Christmas crackers with handwritten jokes and sweets inside; guess the weight of the cake and even hand-made tree decorations!
We took part in a Charanga assembly where we performed our song: I'll be there to the rest of the school. It was a tricky song to sing but we've worked really hard in our music sessions during the Autumn term to practice it and to learn the words. We really enjoyed listening to other classes' songs too - it was great to hear such beautiful singing from across school. We are looking forward to starting to rehearse our next song.
In MFL, we have continued to learn more language in the target tongue - French. We have already learnt how to greet friends, ask them their names and how they are this year and we have learnt how to count 1-20 and the names of basic colours too. Earlier on this year, we learnt the names of the days of the week and months of they year. We sequenced them with our partners and at the front of class by giving our friend instructions to order themselves in French. We have also been learning the names of some popular pets! In December, we used French bi lingual dictionaries to extend our vocabulary and research other nouns for animals. We realised that some words had 'un' and some had 'une' at the start of them! It turns out that French nouns can be feminine or masculine so the determiner (a or the) must reflect this! We have been writing our own sentences in French this week about the animals we prefer and don't like. We extended our sentences using simple conjunctions e.g. et (and), mais (but) and parce que (because). This month, we have also learnt how to talk about our day at school. We learnt some names of subjects that can be studied at school. I wonder if you can guess what some of these subjects are in English:
l' EPS
l'angalis
les maths
le dessin
l'histoire
la religion
We learnt how to talk about the subjects that we enjoy learning and those that we don't. We explained our views using adjectives to describe the subjects e.g. c'est difficile (it's difficult/challenging); il est utile (it's useful) and c'est intéressant (it's interesting). I am really pleased with the children's efforts in French! It is completely new to the children and they are really challenging themselves and enjoying learning about a new culture and new language!
November 2019
In November, we had a visit from an amazing athlete - Jenny Meadows. Jenny Meadows is a great friend of Platt Bridge Community School and we love welcoming her into school to work with the children. As a local athlete, it is always very inspiring to meet Jenny and find out how her hard work and commitment to sport and training helped her to achieve such great goals throughout her career. She is firmly established as one of Britain's leading female athletes as she has represented Great Britain since 2000 in many track events including the 400m, 800m and 4 x 400m relay events. Jenny has competed in many different competitions throughout her career: most notably she competed in the European and World Athletics Championships and the 2008 Olympic Games in Beijing.
In the morning of her visit, Jenny held a whole-school assembly where she shared her achievements with us. We watched a short video clip of her in action where she placed third in a race. It was amazing to see the determination in Jenny's face and to see how proud she was to represent Great Britain and fly the country's flag high. Jenny then discussed the importance of achieving a personal best. She explained that we don't always come first or win a medal in a competition but sometimes need to compete with ourselves. She explained that achieving a person best means trying your best to do your best to try to reach our full potential.
Later on in the day, we had the privilege of taking part in a physical activity session with Jenny Meadows. She modelled and taught us specific techniques to improve our running focusing on stamina and pace. She took us through drills first to warm up our bodies and develop our running skills e.g. high knees and fast arms to enable us to run faster and more fluently. She then taught us how to pace ourselves running. We were set different challenges to do laps of the playground in 30 seconds, then 25 seconds. Sometimes this was difficult as we could run a faster lap so we had to try hard to run at a more comfortable pace. Our final challenge was to run tow equally timed laps of the playground. Our resilience, effort and passion shone through and ALL children achieved their goal!
We then had another session with Jenny where we explored the Olympic values together. We discussed the important qualities that helped her to be successful and that we could use in our own daily lives too. Jenny was very impressed with our answers and ideas. The Olympic values are:
We discussed each in detail. The children talked about targets and dreams that they were determined to achieve, some of these were sporting, some were academic and some were personal goals outside of school. We then discussed the importance of respecting others and equality. We looked at the Paralympic games and fairness in class too. Jenny explained that it is also important to respect ourselves: making sure we eat healthily, exercise regularly and try our best in all we do. The final area we discussed was excellence. At first we thought that this meant being the best and winning. Jenny explained that although she only had one gold medal, she had many silver and bronze medals at home and has taken part in many events. She said she always felt proud of her achievements no matter where she placed because she knew she has put 100% effort in. She said she felt it was more important to achieve her personal best. We talked about PB's we could achieve like improving our handwriting, learning a new times tables, or running faster than the day before.
At the end our time with Jenny, we were given the opportunity to ask the Olympian some questions and she even signed her autograph on some memorabilia for us too!
Well what an October it has been. It started with our annual trip to York. We were waved off by parents and carers at the front of school ready to make the journey down to York itself. When we arrived, the river had burst and the car park was near enough flooded! We managed to get off and get our dinners ready for our first adventure. We walked it across York to the Jorvik centre to explore what York was like during the Viking invasions. We saw recreations of the city centre, the dig of the main street as well as how many of the artifacts were made. After a quick dinner, we began our second adventure at the Exploration dig. Children explored different time periods by excavating the sites. Once all the fun was over, we headed to the hotel ready to get settled in our rooms and have an amazing dinner of sausage and mash followed by chocolate brownie for pudding. It was a quick change in the evening ready for a night at the bowling. Everyone was very competitive (even the teachers). Once back at the hotel, after a quick catch up with our friends, it was time to go to bed.
We were up early next morning ready for a full English breakfast and collecting our pack lunches ready for another action packed day. We first headed over to the castle museum looking at a range of exhibitions on toys, clothes, housing and crime and punishment through the ages. After this, we had a tour round the infamous York Minster. Children toured the minster looking at important parts as well as different stories to go along with it. Finally, we wandered through the story of chocolate in York through the ages. We managed to taste all parts of the process before making our own chocolate lollies to take home. Dinner on Wednesday was a chicken dinner followed by ice cream and another quick change to wrap up warm for our ghost walk. We were taken to different parts of the town with stories of crimes and ghost of the past were retold to us.
We ended our York adventure at the train museum Friday morning before heading home. We explored how trains and engineering had changed over time before it was time to head home. We had a fantastic time and everyone behaved amazingly!
Back at school we have been finishing off our reports to the community over our classroom break in, typing our reports up on the computer. In science, we have been learning about Charles Darwin and his contributions to the theory of evolution and how species have adapted and evolved over time. In maths, we have started our journey into decimal numbers. How many uses can you find in the world for decimals? Finally it's the final for Platt bridge British bake off, who will win the of master bakers?
September 2019
Well what a fantastic start to the year we have had so far. The children started the year with a fantastic afternoon tea together. Children made their own sandwich, scone and the best of British cup of tea. They stay with their friends, tasted their delights and watch the great British bake off in anticipation for our own Platt Bridge Bake Off. Keep your eyes on the blog to keep up-to-date with our progress. In science, we have started our inheritance and evolution unit, learning about fossils and following in the footsteps of Mary Anning, the first recognise female paleontologist! Finally, after a recent news report about a dragon spotted flying over the mountains, we have written our own non-chronological report to warn people in the area of these mythical beings.
July 2019
Year 6 Careers Week
At Platt Bridge Community School, our Year 6 Careers Week aims to raise aspirations by helping children understand the link between learning in school and the world of work.
We launched the start of our Careers Week by inviting a range of professionals into school to take part in a 'What's my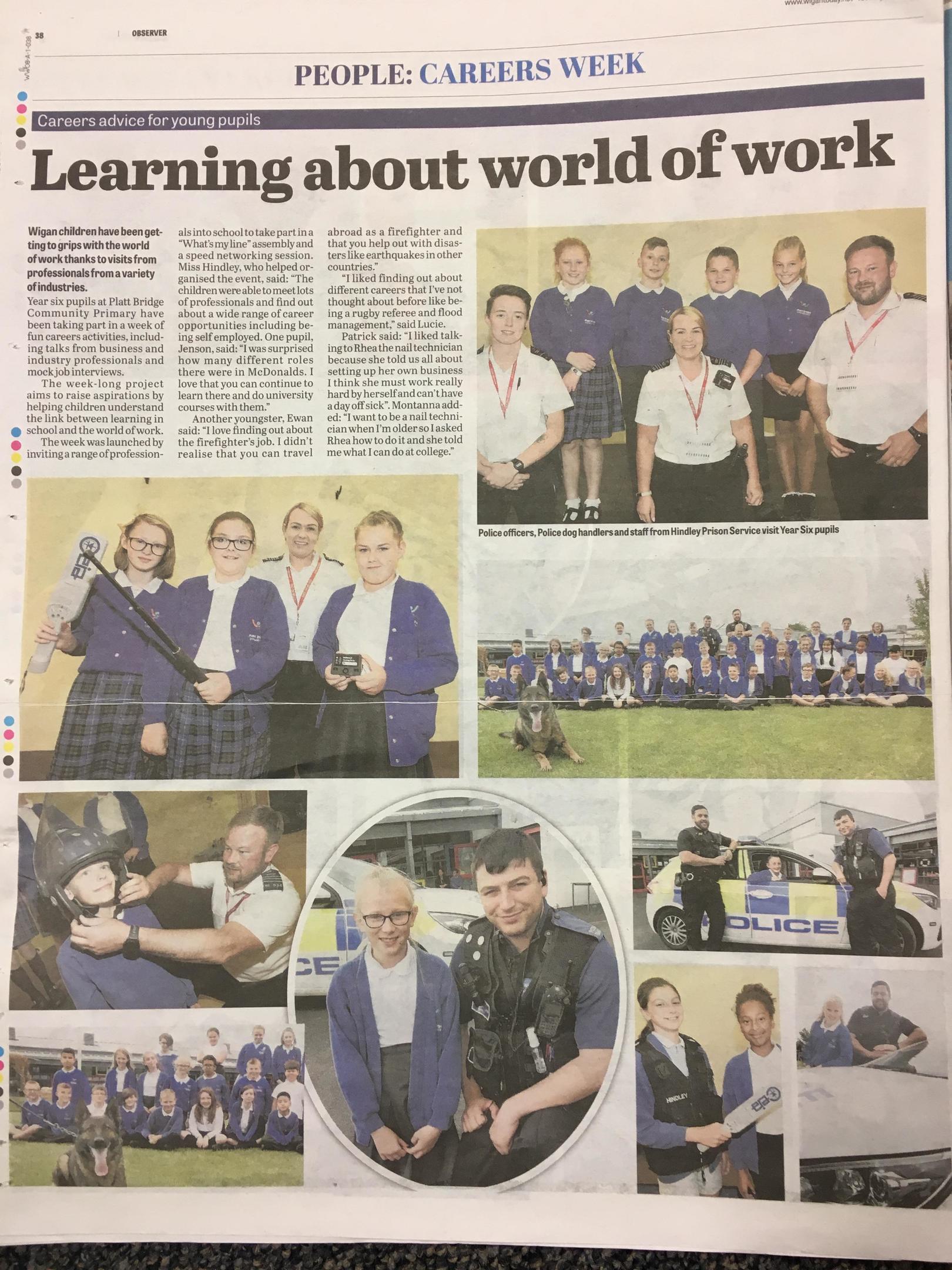 line' assembly and a speed networking session. Pupils from Year 6 had the opportunity to ask them questions about their careers and the route they took to get there. All our year 6 pupils have engaged with at least 9 business professionals in the space of an hour and had their horizons broadened.
We would like to thank each one of them for giving up there time to come in and speak to them. The pupils valued and appreciated the knowledge they have gained from each professional.
Miss Hindley: "The children thoroughly enjoyed this morning: they were able to meet lots of professionals and find out about a wide range of career opportunities including being self employed. I am sure that all children are now inspired to start thinking about their own future careers!"
Children's comments:
Jenson - "I was surprised how many different roles there were in Mcdonalds. I love that you can continue to learn there and do university courses with them."
Ewan - "I love finding out about the firefighter's job. I didn't realise that you can travel abroad as a firefighter and that you help out with disasters like earthquakes in other countries."
Adam and Lucie - "I liked finding out about different careers that I've not thought about before like being a rugby referee and flood management."
Patrick - "I liked talking to Rhea the nail technician because she told us all about setting up her own business and I think she must work really hard by herself and can't have a day off sick".
Montanna - "I want to be a nail technician when I'm older so I asked Rhea how to do it and she told me what I can do at college and how to get into it!"
Presentation & Demonstartion Day!
Miss Hindley: "Our careers week continued today with many more professionals giving up their precious time to demonstrate elements of their jobs to the children in Y6. Like the children, I too was amazed at the opportunities for development and progression in different careers. I am sure lots of our pupils are inspired to find out more about these career paths!"
Montanna: "I loved speaking to Adrian about his job as a chef. It was amazing to find out that you can work in lots of different places like schools, prisons, restaurants and hotels. I didn't realise you could work all over the world on cruise ships as a chef too!"
Jenson: "It was great when the HM Prison Service came in: the officers showed us the different equipment they used and we got to look at the baton, handcuffs and helmets."
Bradley: "The dog handlers were amazing. It was really impressive to see how they can control their police dogs using just hand signals".
Adam: "I loved seeing the dog handlers and police dogs up close as I've never done that before!"
Ellie: "It was really suprising finding out about all the different jobs you can do as part of the Police! I didn't know you could be a dog handler and it is suprising how well trained they are".
Platt Bridge Community School Job Centre & Mock Interviews
The pupils had the opportunity to search Platt Bridge Community School Job Centre for the desired role. They were all really excited to find out what careers their friends would like to do, in the future. Once they had chosen which role they would like to apply for, they got to work on their covering letters and took part in mock interviews.
June 2019
This month, we have been preparing for our class visit to Chester Zoo by taking part in different class-based workshops led by members of the Chester Zoo Team. Songbirds, which are known as Passerines as they have specially adapted feet to help them perch on branches, are critically endangered both in the UK and overseas, in Indonesia. These birds also have highly-developed voice boxes (just like humans!) so they can sing beautiful melodies to attract mates.
We found out about these birds' plight during the sessions: they are being kidnapped from their natural habitats; sold on markets in cramped cages as symbols of status and privilege and forced to compete in singing competitions for prize money.
In our sessions, we have sang the official songbirds song produced by Chester Zoo to raise awareness of their fight for survival. We also went on a hunt around our school environment to spot British songbirds such as song thrushes, robins and blackbirds with binoculars and an identification key to help us. We created a tally of the birds we'd seen and were amazed at how much wildlife we could see on our school field and in the allotments.
We were lucky enough to have the opportunity to work with a songwriter and singer, Ashley Fayth, to write our own song for songbirds. The children worked very hard in two short sessions to create their own lyrics to communicate key messages about the songbird's fight that fit the melody that Ashley was playing on her guitar. They had to count syllables in words carefully to ensure they fit the melody. The children then performed their song beautifully and recorded it. It will be live on the Chester Zoo website very soon but here is a preview. You might want to sign along with these lyrics...
Verse 1 Oh you pretty songbirds
Please don't disappear
You shouldn't have to hide away
And live your lives in fear
Verse 2 Oh you pretty songbirds
We hope you can stay
The forest will fall silent
If you go away
Chorus
Hunters and poachers and deforestation
Are causing a lot of devastation
We need to shout the message really loud
By raising awareness and spreading the word
About all those defenceless birds
We need to help our feathered friends right now
Verse 3 Oh you pretty songbirds
Crying in your cage
People forcing you to sing
For status and a wage
Verse 4 Oh you pretty songbirds
You're losing your homes
Locked up in a prison
Scared and all alone
Chorus x 2
Oh you pretty songbirds
Please don't disappear…
May 2019
Year 6 were very relieved to have gotten their SATS out of the way at the beginning of May and are now keen and excited to continue with their wider curriculum studies.
This week, we are very fortunate to have our first workshop with Chester Zoo with whom we are working with on the Save the Songbird campaign.
As a result, the children this month have researched the plight of songbirds throughout Indonesia, what happens to them and considered ways that they can help. In science we classified types of songbird and tried to order them by species - comparing the tropical birds in South East Asia to similar species that live here in the UK. We exploited the culture and politics of Indonesia in our information station and explored why songbirds aren't hunted and sold in the UK but are there. We used maps to locate the island of Bali and explored native animals and creatures.
Finally, and most importantly, we wrote a letter to nearby schools, explaining the crisis and raising awareness of Chester Zoo's programme in the hope that eventually, children all over the country will be inspired to SAVE THE SONGBIRDS!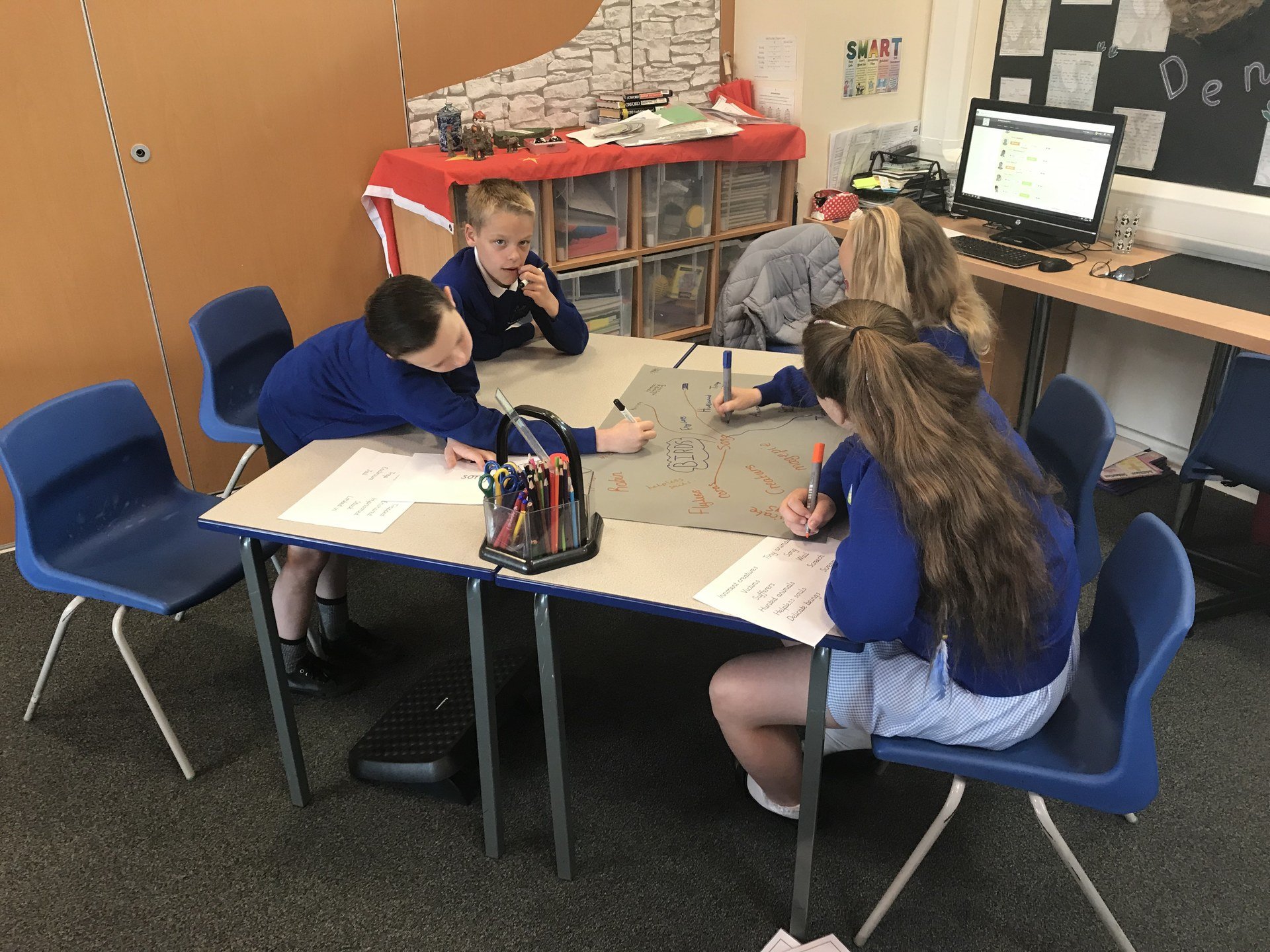 April 2019
Year 6 came back after Easter with a bang and got ready to Smash their SATS.
Children had attended revision classes over the holidays, committed to boosters before and after school and worked hard with their revision guides to ensure that their knowledge and understanding was up to scratch.
Furthermore, the heath and well being team came in to work with the pupils, teaching them how to do yoga, eat a healthy breakfast and how a good night' sleep can really ensure that your brain is working in the best way possible.
In fact, 6a felt so confident that they have written and guide called 'How to Smash Your SATS' which they have passed on to children in other schools and will save for the Year 5 pupils coming up next year.
March 2019
Year 6 are really enjoying the Smash your SATS programme which we are doing every Tuesday. We are learning lots about self care and how to look after our bodies properly to make sure that our brain works as well as it can.
First we learned how to use our bodies and breathing to help us relax. We learned some yoga moves and some breathing techniques to help keep us calm when we are feeling anxious.
Next we learned about nutrition and how to have a healthy, low sugar breakfast to get our brains working in the morning. We made Bircher muesli which is a good brain food.
Next we looked at different drinks and how they can create a sugar rush. Some drinks help our bodies function better and stop the sugar rush.
This week we have looked at sleep. Some of us are addicted to our computers and games and can sometimes be tempted to play on them after we have gone to sleep. We learned that children need sleep to help their brains to repair and learn. We listened to some relaxing music and discussed things that we could do to ensure that we get 10 full hours of sleep every night.
We are really looking forward to learning other techniques to keep our minds and bodies healthy.
February 2019
Children in year 6 have been working hard this week on their home learning projects.

We have been learning about biomes across the world and how different eco-systems have different plants, animals, climates and environments. It was really interesting. We learned how all of these elements have a relationship and can affect each other. For instance, the climate affects the plants that grow which in turn can affect the animals and environment. We particularly focused on two biomes: the rainforest and the desert, however, we set the children the task of learning about a biome of their choice and creating a model of it for homework.

One pupil chose the rainforest and recreated the plant and animal life that you might find in the Amazon.

Whilst another chose 'under the sea' which is the world's largest biome and is home to many plants, animals and micro-organisms.


Well done to these two children for such focused and committed home projects!
January 2019
We have welcomed our children back for the English new year by helping them prepare for the Chinese New Year. We have decorated our classroom to represent Chinese culture in Red and Gold which represents luck, love and wealth and we have put up our lanterns to guide the way to our future.
On Thursday 10th January we had a visit from Ivy Tang who taught us about Chinese culture. She showed us some photos of China and talked us through how life was different.
One of the interesting things she taught us was that children don't get presents for their birthdays. Instead, Chinese children are treated to a bowl of noodles and eggs. The noodles signify longevity and life and the Chinese believe that you can't cut the noodles even with your teeth as they think that this will cut your health and your life shorter.
She taught us how to count in Chinese to 10 and how to do Chinese calligraphy which was very exciting.
It brought up lots of questions that we would like to learn about China and over the coming weeks we will research and investigate more about this wonderful country.
December 2018
We hope you have a great Winter break and enjoy celebrating at home and spending time with friends and family! We hope you come back in January excited to learn and raring to go! What an exciting term we have ahead of us in Year 6! Our new topic, 'What are the Secrets of China?' is packed full of interesting things to learn about. Why not look at our leaflet to find out some of the things that you will be learning about in the Spring term?
With trips, visitors and our newly immersed classroom there are lots of surprises and things to look forward to in the new year... we can't wait to get started!
Your new Knowledge Organiser is also on the blog below... look over the different sections to start learning about China to help prepare you for our learning in the Spring term. Can you learn some key facts about China as a country - its capital city? Which continent it is in? Can you find out any additional facts to share with us in January?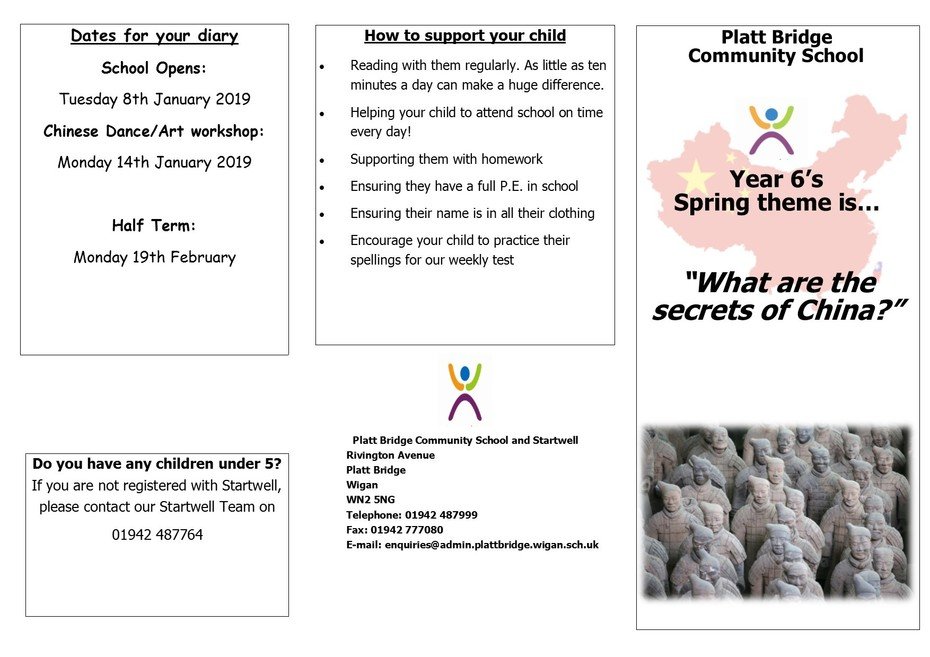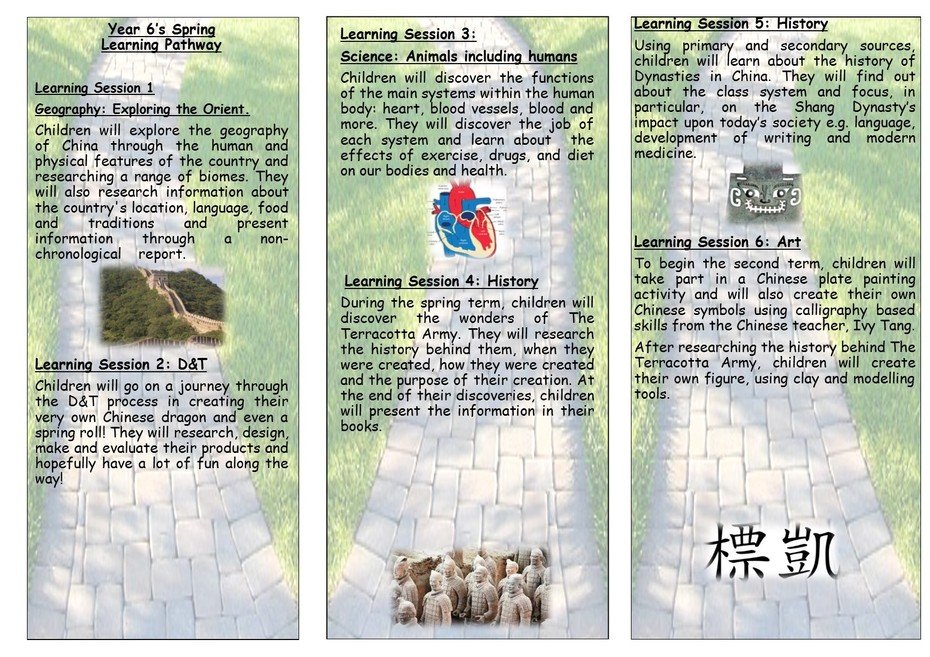 Miss Cameron, Miss Hindley and Miss Lomax
December 2018
December is here and in 6a we have been learning a lot about everything.
One of our most exciting aspects of learning has been focused on the Christmas Story and recognising why this holiday is celebrated in this country. We thought the story was easy to understand, however, studying the differences between the versions written by St. Luke and St. Matthew was very interesting and made us realise that the bible presents different versions of the story. We also enjoyed learning about the Christingle and how this represents the significance of Jesus' birth according to Christians.
We are coming to the end of our topic on Great Britain. We have enjoyed learning about our country and investigating its history and geography. We have learned all about crime and punishment in Britain across the ages and delved into the topographical features of England. Our learning pathway display shows all the exciting, skills based learning we have taken part in and, throughout the topic have developed our skills as historians, geographers, technologists and artists.
"My favourite bit was baking our cakes and making sure that we re-created our design. It wasn't easy as the cakes were small and my design was detailed but I still enjoyed it." Grace.
"I liked learning about the punishments and how criminals were hung, drawn and quartered. It was really gruesome and we used videos and sources to give us information." Gareth
"I liked the head boy application. My application was chosen and, while I didn't get the job, I became a prefect!" Ethan.
"I liked learning about the causes of the Great Fire of London and looking at the old maps and paintings that were made at the time." Kayer.
We are really looking forward to our next topic, during which, we will develop our subject specific skills even further.
October 2018
Year 6A had an absolutely wonderful time in York.
We arrived on the first day and spotted Clifford's Tower (which was built by William the Conquerer and was once part of York Castle). We went to our first activities. Half of us went to Jorvik which is an amazing Viking museum with a ride. You could smell, see and hear what it was like to be a real life Viking. There was even a Viking poo. The other half of us went to the dig which was where we became real life archaeologists and dug up information about the past.
The next day we visited the Yorkshire museum. Our favourite exhibit was the dinosaur exhibit which was great because you could dig up fossils and learn about how the earth looked 65 million years ago.
We then took a boat ride along the Ouse and arrived at the Chocolate Story! You could eat something in every room and learn about how York's chocolatiers - Terry and Rowntree - made confectionary from their factories. The best bit was making our own chocolate lolly from fresh chocolate - did you know that most chocolate in the supermarkets is up to 2 years old!
That night we went on a ghost walk to feed into our topic on crime and punishment through the ages. It was scary but also funny.
Our final visit on the last day was to York Minster which is also York's cathedral. Did you know that the bishop who founded the cathedral was also a missionary which is a priest who teaches people about Christianity.
We had an excellent time and really want to go back! We are now writing about our trip to make sure that next year's year 5's know all about the things we visit!
Thanks Platt Bridge for taking us!
September 2018
Year 6 have started the new term with a bang during their Great British Bake unit. We followed the Design and Technology process and researched, designed, made and evaluated cupcakes with a Great British Theme.
Grace says "I really like my cake, there is nothing that I would change!"
Jenson says "I am really pleased with how I have learned to shape fondant and shape it into the Union Jack!"
We came across a lot of problems. Some of our designs were too intricate to fit onto a small cupcake but we were able to adapt our plans to make excellent, tasty treats.
September 2018
Welcome to 6A!
Me and Miss Cameron have spent all summer getting our classrooms ready and are excited about getting started in the 2018/19 academic year.
Year 6 is the hardest, yet most fun year of primary school and we have lots to look forward to. A trip to York, lots of visits from high schools as you decide where you will continue your education and the thing that ends your primary experience... SATS.
We promise to spend the next year helping you get ready and preparing you to do as well as you can do during these tests. We also promise to teach you to be good learners, good friends and how to work well so that you are prepared for whatever comes next!
I can't wait to get started. In my class we work hard and play hard and I know that all the children in Year 6 this year will rise to the challenge.
Let's get learning!
Miss Lomax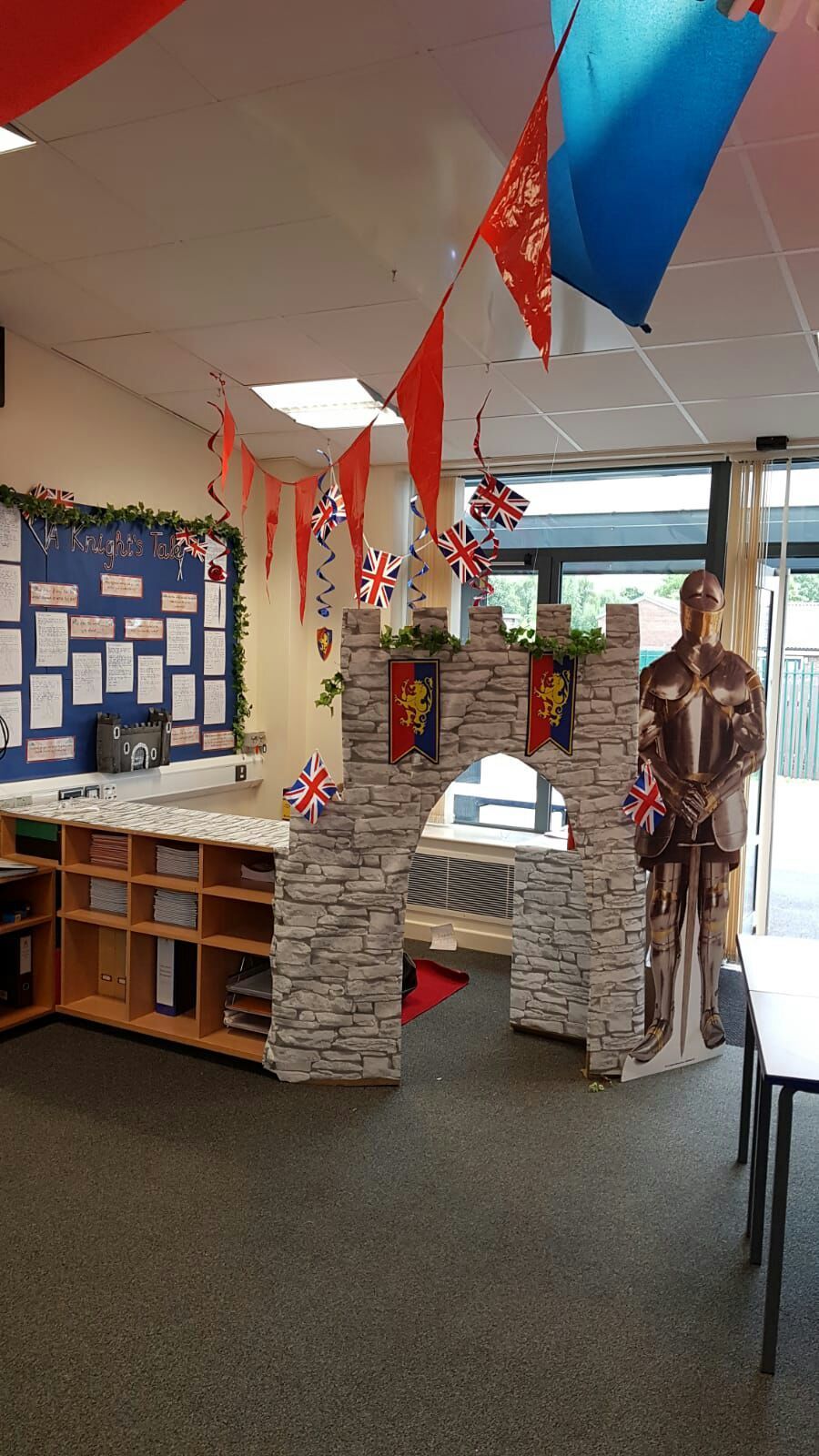 June 2018
June has been a busy month for Y6A!
On Tuesday 19th we held our annual sports day. The children took part in both field and track events. Our track events were: sprint, relay, skipping, egg and spoon and everyone's favourite, the obstacle race! The children participated with great sporting spirit. They tried hard, pushed themselves to their limits and cheered on other competitors too. Our field events tested the pupils throwing, kicking, and catching skills. They took part in events including the javelin and long jump! It was great for the children to see so many of their parents, carers and friends supporting them an cheering them on - thank you for your support!
June has also been a medieval month for Y6 - we have been exploring the saga of Robin Hood. Not only have we watched extracts from the film and read the text but we also adopted the role of Robin of Locksley himself and held our own mini archery competition. The children practiced the skills of loading their bows and aiming at the targets and we had many bull's eyes!
We have developed our understanding of the character of Robin Hood by gathering adjectives to describe his appearance and character. Some people considered him a hero; whereas, many other children considered him to be a villain. Children debated this point at length - was he a thief for stealing the taxes and tricking the Guy of Gisbourne or should his crimes be celebrated because he returned the stolen money to the poor and needy in Nottingham?
We presented our ideas in lots of ways: some children decided to create Wanted posters. These depicted Robin Hood as a dangerous criminal who needed to be caught. The children used a range of grammar features in order to describe the character including expanded noun phrases, relative clauses and wide ranging synonyms. Other children decided to retell the story and write their own narrative of the archery contest he entered. These stories built tension and atmosphere from the start though interesting dialogue between Robin Hood and his Merry Men.
We are looking forward to continuing our Medieval learning throughout the term and celebrating our hard work with a Medieval themed fun day at the end of term!
May 2018
As you know our Y6 pupils have done their SATS this month. They should all be extremely proud of their efforts throughout the whole year and especially over the last month on their final push of revision! Everyone has amazed me during SATs week - they have come to school with a big smile, positive attitude and a real desire to do their best. I am sure that they will be extremely pleased with their results when they arrive.
On Friday afternoon, once SATs had finished, we went on a school trip to Velocity in Wigan to celebrate all our hard work! We all loved it - and the children did too! First we went on the trampoline park. There were crash mats to land on; foam pits to scramble through and trampoline walls to bounce off. We even had a game of dodge ball on the trampolines which was really fun!
Once we had finished on the trampoline park, we went to the climbing area and put our PGL skills to good work. We attempted all the different climbing walls and many of us even took on the leap of faith! You had to climb to the top of the different poles before leaping off the top and trying to hit the target!
We finished off our exciting day with a pizza party. Huge boxes of pizza arrived with piles of chips. We all hurried into a line and devoured our feast - the perfect end to a day and the opportunity to re-stock our energy levels.
Well done Year 6 for all your effort this year! I am so proud of you!
Miss Hindley
April 2018
April began with Y6 children welcoming Mrs Tang into their classroom. Mrs Tang originally lived in China but now resides in Wigan where she teaches children across the borough about Chinese culture. Our session began with an introduction to China. She talked about what the country is like and the size of the cities she had lived in. We were amazed at the sheer size of the population of China - we couldn't imagine so many people! Mrs Tang was very impressed with our classrooms and also by the children's knowledge of China. They impressed her with what they could share about the Terracotta Army, the Shang Dynasty and Chinese new year celebrations.
Following this introduction, Mrs Tang gave us a lesson in Mandarin. We learnt how to say, hello (nǐ hǎo) and also how to count in Mandarin to 10.
The numbers we learnt are:
| | | |
| --- | --- | --- |
| English | Mardarin symbol | Mardarin |
| one | 一 | yī |
| two | 二 | èr |
| three | 三 | sān |
| four | 四 | sì |
| five | 五 | wǔ |
| six | 六 | liù |
| seven | 七 | qī |
| eight | 八 | bā |
| nine | 九 | jiǔ |
| ten | 十 | shí |
To finish off our exciting session, Mrs Tang showed us how to do traditional Chinese Calligraphy. She explained that this art form was completed daily by pupils in China as a way to relax and promote calmness. The children enjoyed using brushes to create their own Chinese symbols and I was very impressed with their focus and patience!
Well done Year 6 and thank you Mrs Tang for giving us a hands on experience of a fascinating culture and country!
February 2018
We finished off the first half term with an adventurous week at Winmarleigh Hall PGL. What a challenging week it was! We arrived at PGL mid afternoon on Monday 12th February, excited yet slightly nervous for the challenges that lay ahead.
Throughout the week we tackled many different challenges and overcame many fears including heights! Some of our favourite activities that we took part in were:
Giant's Swing - This was the ultimate test of nerve (for Miss Hindley as well as the children!) and joint decision-making. Two of our students were harnessed into the swing, while other members of the group haul them up to 10 metres into the air. After the pair in the swing jointly decided how high they want to go, they had to pull on the ripcord to send them plummeting down. It was a fast and exhilarating drop, but good communication skills helped them to get the right balance between fear and fun!

Zip Wire - Once at the top of the zip wire platform, the pupils were securely attached to the overhead wire before making their flight across the sky! Their route took them soaring through the sky and gave them a fantastic view of the lake! It was a hugely exhilarating experience that required personal courage and determination – it pushed most children beyond their natural comfort zone but they all rose to the challenge!

Abseiling - The tower was over 10 metres high. The task was to walk backwards off the top, gradually working back towards ground level, suspended only on a rope. It helped our pupils to develop trust in each other, courage and confidence in their own ability too.
We developed team work skills and communication skills throughout all our activities. We soon realised that in order to get the best out of our team we had to encourage them positively to take on the new activities and reassure them throughout the activity too! Despite the extremely cold weather, all children displayed a positive attitude and resilience whichever task they were faced with.
The fun didn't stop in the evenings either! We took part in lots of fun activities after our delicious evening meals including: a disco, wacky races and even Ambush! Ambush was a giant game of hide and seek in the woodland surrounding our PGL camp. In teams we hid, silently, in the dark awaiting capture from the other team. We had to work quietly, cooperatively and make team decisions when trying to find the other team - it was very difficult!
Well done Year 6A! I am so proud of your achievements this week and your positive attitude to each challenges you faced.
February 2018
Last week, a group of our Y6 pupils took part in an Inter School Spelling Bee competition. They are the first team from Platt Bridge Community School to take part in the competition. They enjoyed taking part in several different activities and rounds testing their spelling abilities and strategies! We are extremely proud to announce that our pupils won and came first out of fourteen teams that took part! Well done Y6!
January 2018
Our new topic, What are the Secrets of China? got off to a 'cracking' start! We started our new year by cracking open our own fortune cookies. We discussed them with our partners and were amazed at how many we felt could come true! We thought hard about making our own fortunes and setting ourselves goals, targets and resolutions for 2018. We wrote our own fortune cookies slips and hid them away, ready to open again at half term to see how we're getting on with them!
We researched all about China as a country. We found out about its position in the world (what continent it was part of, which countries it neighboured) and China as a place (rivers, seas, attractions that tourists may visit and the climate). We also researched all about Chinese culture and politics. We found out that although China has a government it is not voted in by the people so it is not a true democracy like we have in the UK! Read our non chronological reports about China here...
Not only have we enjoyed eating fortune cookies, but we also had a very exciting Chinese themed day in school last Monday. In the morning we learnt about traditional Chinese ceramic art and painted our own plates. We used lots of red and gold in our designs which are colours that represent good luck during the Chinese New Year celebrations. We found out that there are 12 animals in the Chinese zodiac and that 2018 is going to be the year of the dog! We learnt how to wish someone a Happy New Year in China, which is "Gong Hey Fat Choy" and all about how people choose to celebrate the new year in China - did you know celebrations this year will begin on February 16th and will last for two whole weeks?
After lunch we learnt a traditional Chinese dance which is used to celebrate Chinese New Year. We learnt lots of complicated movements and put them together in a sequence. We added props like fans and parasols into our dance too ready to perform to the rest of the school in an assembly at the end of the day. Before home time, we learnt the traditional dragon and lion dances which are performed all over the world during the new year celebrations. Many of Y6A had seen this before in Manchester's China Town in previous years. It was great fun making the dragon and lion dance to the music and parading around the school hall.
Watch our Chinese celebration dance here to bring in the new year....
December 2017
We hope you have a great Winter break and enjoy celebrating at home and spending time with friends and family! We hope you come back in January excited to learn and raring to go! What an exciting term we have ahead of us in Year 6! Our new topic, 'What are the Secrets of China?' is packed full of interesting things to learn about. Why not look at our leaflet to find out some of the things that you will be learning about in the Autumn term?
With trips, visitors and our newly immersed classroom there are lots of surprises and things to look forward to in the new year... we can't wait to get started!
You will also have received your first knowledge organiser instead of homework... look over the different sections to start learning about China to help prepare you for our learning in the Spring term. Can you learn some key facts about China - its capital city? Which continent it is in? Can you find out any additional facts to share with us in January?
Miss Hindley and Miss Cameron
December 2017
This month we have been reading a classic novel: Dr Jekyll and Mr Hyde. The children have thoroughly enjoyed engaging with the text and predicting what they thought would happen next. We have rewrote the scene where Dr Jekyll first drinks the potion and transforms into his inner self - Mr Hyde. We also used thesauruses to explore up leveling our language and vocabulary so that our writing is the best it can be. Some of the interesting words we found for potion were: liquid, elixir, concoction, medicine. We also explored the word criminal and found the synonyms: law-breaker, felon and villain and delinquent.
When we entered class one morning we were faced by a crime scene. The classroom had been transformed into Dr Jekyll's laboratory. The desk lay in disarray: bottles, conical flasks and various mysterious liquids were scattered all over the surface of the table. More alarmingly the outline of a corpse was on the floor. We investigated the crime scene, gathering information from the evidence and speculating who had committed the crime? what had happened? and why this had happened?
The children presented their ideas in a newspaper report for Westminster News to share the news of this tragic death with the wider community in Soho, London. They used a range of grammatical features including: adverbials of time and place, conjunctions to join ideas and the passive voice. They also showed the range of punctuation that they are able to use, including inverted commas to punctuate speech of characters from the story who were interviewed about the crime and colons to join clauses that are dependent.
We are so pleased and proud of the children's writing - I am sure you will be too!
November 2017
This month has begun with Y6A inviting a very inspirational person into their classroom. We were lucky enough to welcome Jenny Meadows, who is an Olympic athlete, into our classroom on Monday and spend the morning with her.
Our day began with an assembly, during which Jenny introduced herself and told us more about her career. We were amazed to find out that she grew up and still lives close to Platt Bridge - in Abram! Aged eight, she decided to attend Wigan Harriers's trial day and soon realised she loved running. She said she remembered having a dream at this early age - to be an Olympian and attend and compete against other people at an Olympic games. Jenny's passion and commitment to her sport - running the 800m - is clear to see. She talked about the many competitions that she has taken part in and also showed us her gold medal which she won at the European championships in Paris.
We then had another session with Jenny where we explored the Olympic values together. We discussed the important qualities that helped her to be successful and that we could use in our own daily lives too. Jenny was very impressed with our answers and ideas. The Olympic values are:
determination

respect

equality

friendship

courage

inspiration

excellence
We discussed each in detail. The children talked about targets and dreams that they were determined to achieve, some of these were sporting, some were academic and some were personal goals outside of school. We then discussed the importance of respecting others and equality. We looked at the Paralympic games and fairness in class too. Jenny explained that it is also important to respect ourselves: making sure we eat healthily, exercise regularly and try our best in all we do. The final area we discussed was excellence. At first we thought that this meant being the best and winning. Jenny explained that although she only had one gold medal, she had many silver and bronze medals at home and has taken part in many events. She said she always felt proud of her achievements no matter where she placed because she knew she has put 100% effort in. She said she felt it was more important to achieve her personal best. We talked about PB's we could achieve like improving our handwriting, learning a new times tables, or running faster than the day before.
The highlight of our day was taking part in a PE session led by Jenny Meadows herself. She took us through drills first to warm up our bodies and develop our running techniques to enable us to run faster and more fluently. She then taught us how to pace ourselves running. We were set different challenges to do laps of the playground in 30 seconds, then 25 seconds. Sometimes this was difficult as we could run a faster lap so we had to try hard to run at a more comfortable pace. Our final challenge was to run tow equally timed laps of the playground. Our resilience, effort and passion shone through and ALL children achieved their goal!
Well done Year 6A!
October 2017
At the end of September, Year 6 went on a residential trip to York, which is in Yorkshire. We had an amazing time and all the children are desperate to return!
On Thursday morning we packed our cases onto the coach and set off on our journey down the motorway to York. It was a smooth journey and soon we were sat outside in the sunshine enjoying our packed lunches under the shadow of Clifford's tower. We then walked to two historical attractions that were both fun and informative! Our first stop was Dig! It was a hands on archaeological experience! We used tools to excavate different time periods and find evidence about how people lived in the past. We then visited Jorvik - the Viking centre. We went on a ride through a Viking Village where we saw jobs, how people lived and got the opportunity to speak to historians about money, artefacts and also how skeletons can answer questions about the past!
That evening, after we'd checked into the Youth Hostel, we went bowling. Miss Hindley was sadly beaten by Martin! They were all amazing and there were lots of spares and strikes up on the score board!
On Friday we got up early for another fun packed day in the city. We arrived at the Castle Museum where the pupils explored the many exhibits. Our favourite parts were the prison cells, the old school room and also the Victorian street where they could go inside shops and see products that would have been sold!
After that we went to the River Ouse where we boarded a boat and went on a river cruise. We got to see lots of the buildings in York from the water side and even spotted a school where Guy Fawkes once attended.
Many people's favourite part of the tour was a visit to York's Chocolate Story! It was a delicious experience where we found out lots about the founding families of Chocolate. Did you know that Kit Kats and Terrys Chocolate Orange were both invented in York? We got to see how chocolate is made from cocoa to nibs to chocolate! We learnt how to properly taste chocolate and even got to make our own scrumptious chocolate lollies to take home!
The children's behaviour and attitude while we were away was exemplary. What a great trip!
September 2017
This month we started our topic, What Makes Britain Great?' by taking part in our very own British tradition - afternoon tea! We enjoyed making our own sandwiches, scones and cakes and then shared these with friends. We decorated our classroom with red, white and blue decorations and bunting and ate our carefully prepared afternoon tea from cake stands! It was a fantastically tasty treat!
Following this we watched a short clip of the Great British Bake Off and were inspired to have our own showstopper challenge. We created moodboards to gather ideas of cakes that were currently available on the market and how they could be decorated. We then tasted different cake flavours: lemon, vanilla, chocolate and mint and carried out our own market research to identify which flavour was the most popular to use in our cakes. We gathered this information using a tally chart and then presented our results using bar charts, pictograms and pie charts too!
After that we began to design our cakes! We worked in teams to develop designs that met our strict design criteria. Our cakes must have two tiers, a flavoured filling and a decorated top which matched our theme, 'Great Britain'. The cakes we made were delicious and looked amazing! What talented bakers were are! Paul Hollywood and Mary Berry themselves would be jealous.
Once we had finished our cakes we decided that we wanted to deliver them to Belong, our local residential care home. After researching Belong and finding out what an important, vital part of our community it is we wanted to visit the elderly who lived there and share our treats with them. The residents loved our visit and couldn't wait to try our cakes!
September 2017
Welcome back to Platt Bridge - I hope everyone has had a fantastic summer and enjoyed their holidays! What an exciting term we have ahead of us in Year 6A! Our new topic, 'What Makes Britain Great?' is packed full of interesting things to learn about. Why not look at our leaflet to find out some of the things that you will be learning about in the Autumn term?
With trips, visitors and our newly immersed classroom there are lots of surprises and things to look forward to in the new school year... I can't wait to get started.
If you have any photographs of your holidays, of you visiting any exciting cities, countries or continents please bring them in so we can display them on our Information Station. I can't wait to find out all about your summers!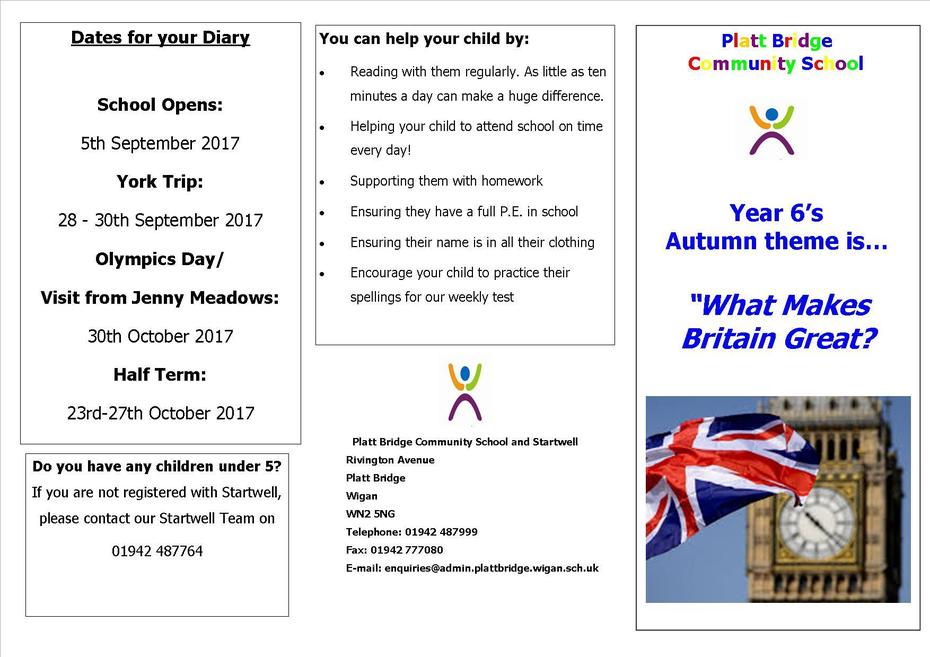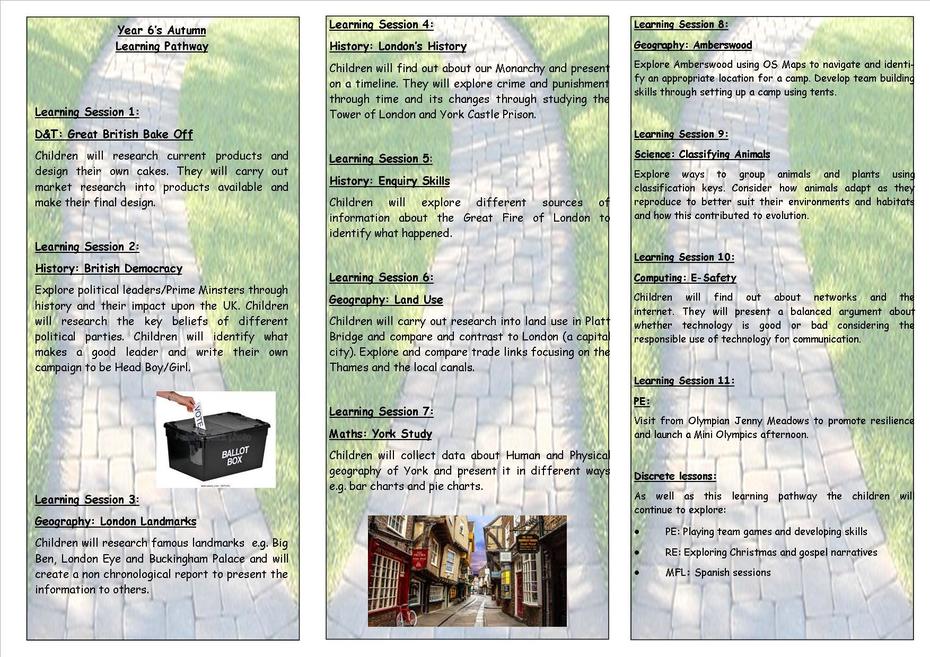 July 2017
Children Stun Audiences with 'West-End' Style Production
The Year 6 pupils at Platt Bridge Community School wowed audiences this afternoon with their production of Grease - the last one they will perform as a class of 48. Pupils sang, danced and acted their hearts away to create a performance that was fit for London's West End.
Costumes and props were outstanding: the children looked suitably 50s. The girls wore flared skirts and neck ties and the boys looked suave in their leather jackets and T-birds costumes. Vince Fontaine – played by Adam, with his glittery bow tie, looked particularly good and played his role to perfection. The cheerleaders were a bundle of energy and looked smart in matching blue and white uniforms. They led the cast well and supported dance routines. All the cast and chorus looked immaculate and their costumes were spot on. The chorus supported the cast of characters well and their tuneful voices and enthusiasm shone through to ensure that the songs could be heard and enjoyed by all.
Lighting and sound was controlled masterfully by Aimee, Miss Henriksen and Mrs Abel - it created a brilliant atmosphere and particular mention must be made to Daniel and Craig for expertly fixing the set to allow for the impressive use of the car.
Speaking of the car, the set was fantastic. Simple use of dinner hall benches created a believable cafeteria and the cars, designed by Mrs Higham, were incredible – the transformation was brilliant.
Actors were outstanding. Hannah as Sandy was innocent and sweet – a complete contrast to her character at the end. Marty, Jan and Frenchie, played by Skye, Marie and Chelsea provided just the right mix of humour and seriousness and their dancing led the other cast members. Kacey, as Rizzo was brilliant – acting must be in her future! Jake shone as Eugene, creating humour and laughter – his portrayal of this character was adorable! Sophie and Denisa played contrasting parts as Patty Simcox and Cha Cha but they both were believable and moved the story along well. Tanastwa melted hearts as the teen angel and the girls dancing in the background looked excellent in their beauty school robes!
Finally, the boys were utterly outstanding in their roles as Danny and the T-Birds. Owen, Aaron, Declan, Adam and Kye showed their inner performers as they threw themselves into their roles and performed as well as professionals, supporting their cast to create the production's most impressive song- Grease Lightning.
The choreography and direction by Miss Cameron and Miss Harrison should be commended. Congratulations on a wonderful production!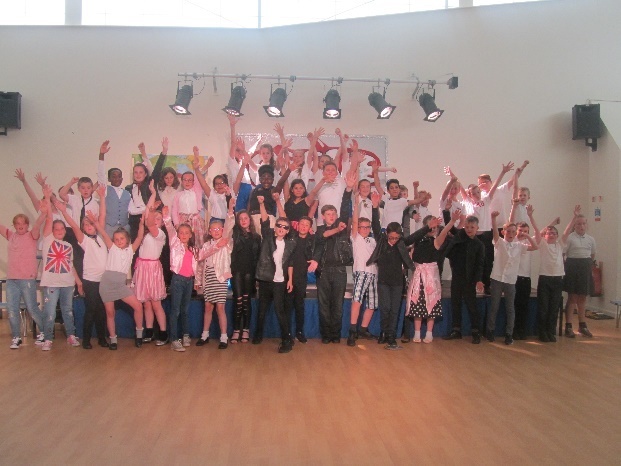 March 2017
We started March with Big Read/Write week - are book was Jurassic Park. World Book Day (Thursday) was observed by the children dressing up as explores and a visit from a T-Rex, with his handler, of course. The children thoroughly enjoyed the experience although a little apprehensive when the T-Rex got close to them.
A fun-filled week was spent at PGL doing lots of fun activities - raft-building, ambush, zip-wire, giants swing to name a few. The food was amazing, 3 hot meals a day and so much choice: a cooked breakfast every day; curries; lasagne; jacket potatoes; wraps; fajitas; soup; fresh fruit and salad options. This week enabled children to develop and make progress with leadership, teamwork, communication and problem solving skills. They all showed enthusiasm and motivation for learning new skills and improve their social awareness.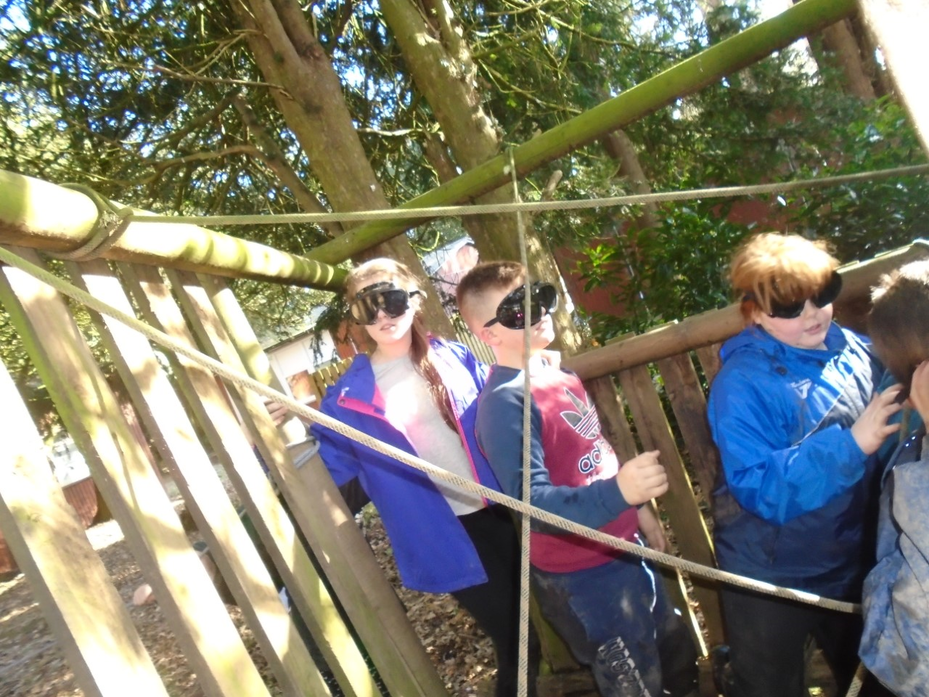 Red Nose Day saw the whole school perform a dance which can be viewed on the website, if you haven't already watched it. It was great fun making it!!
We ended the month with a Google Expedition Associate visit. The children had a virtual field trip linked to their Topic of China. They visited the Great Wall of China and saw the Northern Lights whilst in the school Library.
One child said " Google VR was an exciting experience. When we wore our headsets we could look at many 360 degree images. It showed us many landmarks of the Earth so we can learn about where we were."
February 2017
E-Safety Day
As a WOW launch to E-Safety day we wanted to do something memorable for the children around keeping children safe on the Internet. With the help of One Day Creative, all the children in the school got to take part in a fun creative workshop and learn all about E-Safety through Drama.
Year 6 took part in a "World of Thrones" workshop, a fantasy world where all is not as it seems… They had to make smart choices about who you trust and what you reveal and, in doing so, to protect themselves and their friends for long enough to survive online. They explored the increasingly complex world of gaming, cyber bulling & internet safety!
Following their workshop, Year 6 delivered an assembly for the whole school and parents to show what they had learnt.
January 2017
The topic for the term is China. We began the topic by designing and making our own Chinese dragons. We had to use our skills for learning to ensure we worked as a team effectively. We celebrated the Chinese New Year by a visit to Belong to share a celebration with them and show them our work.
December 2016
In our topic, we finished off our 'What makes Britain Great' topic by researching the Tower of London and crime and punishment through the ages. In Maths we have been learning about division using the 'Bus stop', coin cards and chunking methods. English saw us write a letter to Santa Claus explaining how upset we were because Buddy and his elf friends had messed up our classroom by having a party! In PSHE, we rewrote the Nativity story finishing with turkey and stuffing sandwiches.
November 2016
Year 6 have been celebrating the festival of Eid and Diwali. They enjoyed food tasting, making pots and designing their own henna tattoos.
English -We have just begun our new English piece of writing-a non- chronological report. This will be about elves and tie in with Christmas as a theme. We received goodies from the elves this morning!
Information Station- We have covered many topics for our information station so far but the children enjoyed creating Road Safety posters.
September 2016
Welcome to Year 6A
We all loved our trip to London,

We even got to see the dreaded dungeon,

We later boarded the London Eye,

When we got to the top – it was so high,

Sailing down the River Thames,

We made some new South African friends.

Our Science lesson was a wiz,

The glass bottles were filled with fizz.

The test didn't involve fire,

But the great test can inspire.

Allotments are green,

They are also clean,

When the beautiful flowers bloom

They sing a melody tune.

The swaying branches of the trees in the breeze

But be careful of the flying autumn leaves.

We all do sentence a day,

To try and keep the teacher away.

Upon this day, you'll be blown away.

Because our work is worth an "A!!"
May 2016
Eco Week
For eco week we had fire fighters come in and teach us how to do CPR. We all took part and it was really fun. None of us knew that we didn't have to do mouth to mouth anymore. It is because it is believed that if they are still breathing, then you will already have enough oxygen in your body. We also did some gardening and we decorated hanging baskets with flowers in groups of four. Some of us watered them as well. On Friday, we had an unplugged day where we didn't use any electricity until half past twelve. Everyone enjoyed it and I don't think any of us knew how much we relied on electricity. We went outside and played some games and also practised our lines and scripts for production.
Kiah
March 2016
A lady came in to year 6 called Anna with her dog called Mo. She told us that last year alone the Dog's Trust rescued 105,000 dogs. As well as this, she also told us that the government had to put down 5,000 healthy dogs down out of this 105,000 because nobody wanted them. She showed us Mo's school bag that had everything she needed in it to stay healthy and happy. This included: food, water, a bone, a poop bag, toys, lead, collar and a tag. Did you know it is illegal to not have a collar and a tag on your dog? Also, you need to walk your dog twice a day not matter how big or small it is.
Kiah