February 2020
Year 5 have had a lovely break for half term, we are straight back to work in Maths starting our new topic of division. In English, we have been writing a descriptive paragraph focusing on using descriptive features to write a detailed account of having breakfast. We are still within our topic of the Mayans, finding out about their beliefs when it comes to beauty and fashion. We explored the differences between beauty in modern times and beauty within the Mayan era. We are thoroughly enjoying reading Harry Potter in our guided reading lessons. We look forward to seeing what March brings!
January 2020
We have been very busy this month in 5A! We have kicked off the year getting straight into our Earth, space and moon topic in Science. We learned about the different planets and explored what life would be like on Mercury. In English, we discovered New York at winter time and wrote an excellent setting description. We then reported on a blizzard that occurred in New York, exploring synonyms for blizzard and how to convey character through direct speech. Within Maths, we have been exploring division, learning various methods for dividing. We are looking forward to further reading our new novel Harry Potter.
December 2019
We were busy in December! We started on long multiplication in Maths and worked very hard and were really resilient when completing our problems. Within English, we started looking at wintery settings and wrote poems similar to Robert Louis Stevenson's Winter Time. We made calendars for the new year based around the seasons and created Christmas cards and wreaths around the theme of our poem. We had lots of fun at our Christmas party and are looking forward to getting back to school in the new year!
November 2019
In November, we have been very busy! We took a class trip to Astley Mining Museum which we thoroughly enjoyed. We saw a pithead and spoke to a real life coal miner! Did you know that the coal mine at Astley was 3000 feet deep (this is as deep as five Blackpool Towers)? We saw the largest engine in Europe, it was amazing! In English, we have been writing about our ideal job, choosing professions from conductors to sushi makers, zoo keepers to palaeontologists! In Maths, we have moved on to multiplication , currently throwing ourselves into learning about factors and multiples. We are excited to see what December holds.
October 2019
Year 5A have jumped straight back into things after our week off for half term. We have began exploring addition within Maths focusing so far on the best methods to use to help us. Within Art, we are leading up to our final piece of creating a pit head using charcoal, focusing on shading, smudging and shadow. In our music lessons, we are learning to sing Livin' on a Prayer by Bon Jovi. In English, we have been making potions and exploring how to write instructions for our own spooky potions. We can't wait to continue our learning throughout November!
We have all settled well into year five with a very busy start to the year! Already, we have been learning about communities looking at communities as far as the Maasai Tribe in Kenya to own own Platt Bridge community.
We have been on a walk around Platt Bridge focusing on how the land is used. Within History, we have been learning about the miner's strikes and within English, we have been writing wonderful descriptions of a coal mine.
We are all looking forward to the rest of our time in year five!
March 2019
What an exciting march we have had! We started March with a whole school science week focusing on bubbles. Year 5's theme was can bubbles float. We explored how bubbles were made, why bubbles popped and what affected the surface tension. We recorded our results and analysed them all together. We finished off our science week with a trip to Rose Bridge science fair where we made our very own neurons to record memories as well as experiencing space from Earth.
During guided reading this term, we have been reading the book Coraline. Children have really been intrigued to see what the characters have been doing and whether Coraline will escape the clutches of the Other Mother. During Maths, we have been looking at how fractions, decimals and percentages link together and we are looking forwards to starting our journey with shape next term. During History, we have been exploring the Peloponnesian Wars between Sparta and Athens battling for power and we have finished off with a radio interview recorded in front of the green screen. Our "Who were the Ancient Greek topic?" will come to an end before Easter but we are excited to explore our new question "Is American the Land of the Free?". We were lucky enough to experience a Matilda at the theatre at Rose Bridge, performed by the year 11. Children in year 5 loved the characters especially Miss Trunchbull. Finally, we enjoyed a fantastic Poetry day with our very own visit by poet Ian Bland. We experienced writing our own poems, creating our poetry book and performing in front of our department.
I cannot believe how quick this year is going already. We are full immersed in our topics of Ancient Greece looking at the gods and timelines of that period of history. We have explored Greek pottery and even made and tested our own Greek pots. During Spanish, we have been explore food and shopping at the supermarket and practising our conversations. In maths, we are practically exploring the addition, subtraction and multiplication of fractions in practical contexts. We have had two visitors this month; a performance on road safety as well as Damian Munro talking about healthy relationships. During PE, we have been learning skills for dodgeball which are: over arm throwing, dodging, deflecting and catching which we will be putting into practise with our Year 5 dodgeball tournament on Friday. 5A versus 5B, who will win? In science, we have moved on from Earth, space and moon to look at living things and their habitats and we have started by dissecting flowing plants to look at their structures and life cycles.
Welcome back and happy 2019. I hope you've all had a fantastic Christmas and New year. In year 5, we have been extremely busy starting our new topic which is "Who were the Ancient Greeks?" During the first few days, we tried tasting traditionally Greek foods such as olives and feta cheese and we were also visited for the whole day by real Ancient Spartians and Athenians, Andreas and Penelope. We enjoyed learning about their two cities, dressing up in traditional clothing and playing games as well as local food and buildings. During the afternoon, we made our own Greek coins and joined in with a drama performance about the gods. We ended our day with a vote on which city we would like to live in. During science, we finished off our topic of Earth, Space and moon by building our very own solar system. We have enjoyed exploring instruments in music to accompany our rap at the moment to "The Fresh Prince of Bel Air". We have been getting very hungry in maths exploring fractions with cakes! Finally, during English, we have been creating our very own hybrid mythological creatures and wrtiting traditional myths.
December 2018
We have not stopped in 5a during December, what a month! There has been many different visitors and activities going on in and around school. We started the month with a visit from Olympian runner, Jenny Meadows. We had an assembly looking at her success and achievement and what we can do to keep pushing forward to reach our goals. We looked at inspirational women in history during English and wrote a biography of our favourite person, depicting their life. We thoroughly enjoyed the pantomime this year, which was Peter Pan, especially the songs and dances. The nativity this year by the year 2 was another highlight seeing the Christmas Story in an alternative version. This inspired us to create our own people of the Christmas Story using play doh and animation to re tell it. We performed our song, Living on a prayer, during our Charanga Assembly and finally finished off the year with a brilliant Christmas Party where everyone was up and about dancing. We definitely need a break now.
November 2018
November has been packed with activities across the month on the lead up to Christmas. We started the month with looking at Remembrance of people who has fought and been involved in conflicts and wars. We created our own silhouettes of soldiers using poppies which were displayed outside our classroom as a mark of respect. We also took part in a two minutes silence as well. We spent a morning creating fantastic pieces of art with willow using a weaving technique to create the structures. Keep an eye out around school to see them soon. During English, our big write week was all centered around animals in entertainment and we use the book, "The Eye of the Wolf" as inspiration for writing and art work. We used air drying clay to create our own Eye of the Wolf as well as using digital camera to use a filter technique inspired by the artist Andy Wahol. Finally, the biggest news of the month was our classroom being destroyed. Children from both year 5 classes enjoyed being detectives for the morning finding evidence and clues as to who could have done it? Be careful, they could be interviewing you next.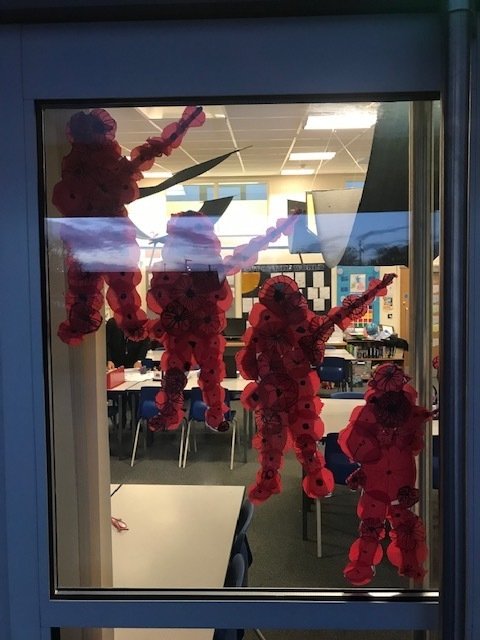 October 2018
This month has been a busy month in 5A! We have been learning all about addition and subtraction and building on our previous knowledge with our new number range. We have continued to investigate forces in science and investigated how friction could affect different materials when looking to design a new brake pad for bicycles. We discussed fair testing and analysed our testing techniques. In our topic of community, we have been collecting information about Platt Bridge to create our very own Platt Bridge leaflet. In English, we have looked into balanced arguments around whether 2nd break time should be reinstated? We came up with lots of different points both for and against whether break time should be reinstated. Following our Pobble launch assembly, we looked into a descriptive piece of writing taking on the role as a window with some of us travelling around New York city, a park or enjoying the scenes on New Years Eve and the horrors of world war 2. Finally our half term was completed with the fun of Doctor Dolittle day. We took part in multiple activities throughout the day including a puppet show, visit from the farm, dog trust, Knowsley safari and lots of critters! We finished the day with an assembly where we performed our song (I just can't wait to be king) from the Lion King. We had a fantastic time at Halloween enrichment with fun activities such as face painting, biscuit decorating, colouring and a fantastic photo booth.
September 2018
We have had a very busy September starting our topic of community. We have been on a local walk around the community looking at the land use. From that we created our own ideas for improving the abandoned land use for our community. In Maths, we have been looking at place value and addition exploring numbers up to one million. In English, we have been looking at non chronological reports on our own dinosaurs and a setting description around our pictures we created. In sciences, we have been doping forces around air resistance testing parachutes and friction by designing a brake pad and exploring materials.
This term we are continuing our exploration of forces, addition and subtraction and currently we are exploring a balanced argument for second break times.
September 2018
Hope everyone is having a fantastic summer and is looking forward to the new term. During transition we enjoyed looking into superhero's and their roles as well as a fantastic afternoon watching peter and the wolf. It's been very busy over summer in 5a getting ready for our new "What makes our community smile?" topic. This will include looking at our community in the past up until the present day. Looking forward to seeing everyone on the 4th September! Enjoy your last few weeks of the holiday!
Mrs Newton
January 2018
Welcome to 2018! We hope everyone had a lovely Christmas time with their families and loved ones. We've had an amazing start to the new year and new term as we have started our new topic of the Ancient Greeks. Kicking off the term, we decided to have a Greek salad making session in the morning whilst we watched videos about their incredible ancient lifestyle.
The week after, we had two special visitors in to spend the full day with both 5a and 5b to talk about everything ancient Greek. We dressed up, shared myths and legends, played an ancient maths game, made clay coins with decorations on them and even explored ancient Greek artefacts. It was an amazing day!
In our Science lessons, we have learnt all about gravity and air resistance. Did you know that Isaac Newton was the first person to figure out why objects fall to Earth? By sitting under an apple tree one day, Isaac felt an apple fall to his head and this got him thinking. This led to his discovery of the force: gravity! For air resistance, we decided to make our own parachutes with different sizes to show how important surface area is to air resistance. The larger the surface area, the slower it will fall to Earth! You can test this at home by running in a straight line, holding a black bin bag by the corners. You will feel the bag fill with air and this will pull your arms back… this is called air resistance!
December 2017
We have now started to learn more interesting facts regarding multiplication. Not only have we done two, three and four digits numbers multiplied by one digit, we have also learnt how to multiply a number by two digits. There are many steps that we need to follow for this process and one of them is the magic zero … I wonder if you know this step?
In Science, we started to explore the different states of matter – liquids, solids and gases. By exploring specific items that we interact with every day, we was able to categorise the objects/pictures into the three different states of matter. Did you know that water could be a liquid, a solid and a gas?
We have also been working towards a very special choir performance for the lovely people at Believe care home. By practicing on a number of afternoons, we have managed to learn four Christmas songs that will surely blow their minds.
We hope everyone has a lovely Christmas.
November 2017
During November, we have written about a number of interesting topics. One, which was fun to study, was Charlie and the Chocolate Factory's Chocolate and sweet room. We was able to taste many delicious sweets to help us describe everything in amazing detail and then applied our new descriptions to design our own chocolate room! If you could have your own chocolate and sweet room, where would you have it and what sweets would you include?
In maths, we have studied addition, subtraction, common multiples, lowest common multiples, prime numbers, composite numbers and factors. It has been good to look at so many different things. Do you know that a prime number is a number that can only be divided by 1 and itself?
Later in the month, we also ventured out to Rose Bridge high school to watch a very special performance of Bugsy Malone. The Year 11 students did a fantastic job and everyone thoroughly enjoyed it!
October 2017
During September and October we have been exploring the wonders of planet Earth, the solar system and even outer space! Through lots of research projects, we have managed to learn the secrets of how the planets were formed and how each planet is different to our own. For thousands of years, humans have been amazed by the wonder of day and night, pondering on our place amongst the stars. Y5 have uncovered these wonders by learning extensively about rotation and revolution and how this affects our days, years and seasons!
Next, we will be looking into the importance of mining and particularly coal mining within the northwest region. There will be lots of research projects which will tell us all about how mining works, what coal can be used for, what equipment is needed for mining, the mining strikes and how all this affected the northwest powerhouse of the industrial revolution. There is a trip organised for the middle of November and I am sure the children will thoroughly enjoy the experience…lots of photos to follow!
September 2017
This month we started our topic 'What makes a community?' by studying different cultures around the world. We first looked at our very own British community and paying close attention to the community of Platt Bridge. Visits from the Fire Service and Ambulance Service enabled the children to get an understanding of the fantastic jobs that the local council workers do on a daily basis to ensure public safety and well-being.
Continuing this theme, we next looked at a contrasting community on the other side of the world called the Maasai Tribe which is located in East Africa. To explore this culture, we delved into their ways of life and even made our very own Maasai Tribe mask which is used for protection against evil spirits! By researching the common colour schemes and the basic design of a mask, we were then able to practice designing our own; eventually creating a personalised mask for our Maasai Tribe display.
In July, we have done lots of exciting things! We took part in sports day where we all did a race and had lots of fun. We also did an Olympic day, where we were each allocated either England, Wales, Scotland, Northern Ireland or the Republic of Ireland. We did activities like archery. We also did an arts day where a local artist came into school to share her work. We loved looking at it! We then did some art work in her style. We used fabric paints and different materials.
In June, we have been exploring scratch, where we have been giving the computer instructions and algorithms to follow. Some of us have been bird watching and collecting data on the types of birds that we saw. We then created bar charts and interpreted the information. This month, we have been writing about lots of different topics. One of our favourite topics to write about was Spiderman. We have also been working very hard on our spellings and learning all of the 'ough' words.
May 2017
We have had a very busy month this month! In art, we have been designing beach themed images, where we have used sand and paint. We have also been doing lots of eco activities as it is has been eco week. We visited Amberswood and looked for minibeasts and flowers. We will be putting this data into charts and graphs and analysing our data. In PE, we had a cricket tournament against 5B. This allowed us to use and apply all of our throwing, catching and batting skills that we have been working on. Additionally, we had a trip to Liverpool uni where we experienced what it would be like to go to university.
March 2017
In March, we designed and made Greek pots out of clay as part of our Greece unit. Also, in the afternoons we used I-Movie to create short movies about an Alien invasion that was in our school. Before we broke up for half term, we did a dance to 'I got that feelin' which we performed for the whole school! In addition, we learnt all about throwing and catching skills in our PE lessons. We applied our throwing and catching skills to a class game of dodgeball. We also focused on our defending skills to try and keep possession of the ball.
February 2017
World Book Day
This month we have been looking at dinosaurs!
On World Book Day, a giant T-Rex came into school and all the children were amazed. In our reading lessons, we have been reading all about dinosaurs. We created a new small world area for our dinosaurs and read all about herbivores and carnivores. We used what we had read to create a brand new herbivore!
In maths we have been moving on to converting measure. We measured different objects and converted them from metric to imperial. We have also been recapping our percentages understanding, calculating different percentage of money.
We have been learning all about forces in science. In particular, we have been looking and pulleys, levers and gears. We created our own levers and evaluated their effectiveness. We also explored where we would see pulleys, levers and gears in our every day life.
In topic, we have been learning about the Ancient Greeks. We have been researching ancient Greek pottery and we are going to design and create our own.
Also, in computing, we have been creating videos to explain our Minecraft worlds. We combined pictures, writing and music.
E-Safety Day
As a WOW launch to E Safety day we wanted to do something memorable for the children around keeping children safe on the Internet. With the help of One Day Creative, all the children in the school got to take part in a fun creative workshop and learn all about E Safety through Drama.
Year 4-5 explored E safety issues the same way but through a super heroes and villains theme. Some children were in charge of E- safety and had to Buzz and shout "Stop" when there was something suspicious or unsafe happening in the game. The foam numbers and letters represented the keyboard on the game and the children acted out behind these as though in the game.
January 2017
What a great start to January and a new term, School of Military are with year 5 till half term, we have had lots of fun over the last 3 weeks- from tent building to learning how to camouflage ourselves and making our own coat of arms.
In science we have been looking at reversible and irreversible changes - separating materials through filtration and evaporation. Miss Hodgekinson did an experiment using vinegar, bicarbonate of soda and dish soap to see if the changes were reversible or not, we had to predict what would happen, it was GREAT! The liquid exploded.
In maths we are looking at fractions.
Topic we are researching the Greeks, where they lived, what they did, what was they famous for, why is Greece different than England, Greek gods, Olympics etc.
Our WOW moment was when a lady came in from History Live, were we rein acted they a famous Greek event. We got to dress up like the characters and act out the event. It was interesting and fun.
December 2016
PE we have been practicing our ball and teamwork skills.
In DT we made our Christmas cards and calendars.
Topic we learned all about fair trade and what countries traded in it.
In Science we had to investigate which materials are the best conductors of heat.
November 2016
Setting descriptions.
Hot seating characters from Charlie and the Chocolate Factory.
Pokémon, making our own Pokémon writing facts about Pokémon.
All about solids, liquids and gasses, comparing.
We have been looking at day and night, different phases of the moon, months, seasons and researching planets.
This month, the children are learning about fairtrade and are researching tradelinks for our fairtrade products. Next week they will be learning all about light and how light is used as a symbol for Christians at Christmas.
Welcome to Year 5A.
Over the next few weeks, we will be learning all about space. Today, we are going on a trip to Spaceport! We have also been learning all about communities across the world. We have been learning about the Maasai Mara tribe who live in Kenya. We made masks using layering techniques. We will go on to learn all about farming communities and coal mining communities! Thanks, Year 5a.
May 2016
Eco Week
5a had a fantastic week to mark eco week. We took part in lots of fun activities which helped us learn how to be safe on the roads, by canals and rivers, how to dispose of electric waste and how to recycle correctly. The best part about the week was voting for an animal, which the school is going to sponsor as a mascot. We can't wait to find out the results of the vote!
May 2016
Class 5A have had a wonderful year so far. We have been learning new and exciting things, such as Ancient Greeks, America, Coal Mining and much more. With our lovely teachers Miss Gittins and Mrs Bajinka, we have been taught how to write stories and also they have taught us how to develop our handwriting personally, we all think our handwriting is exceptional. Even though we have enjoyed learning, we have also had the opportunity to go on interesting trips, like Cansfield, Rose bridge and Belong. All of 5A have loved this year. With all our effort we have put in to everything, our hard work has surely payed off. We also have things coming up like a trip to a University and even a museum. 5A is the best class and when you walk in our class, a vibe of positivity hits you.
Alisha