February 2020
For 4B this month of February we have been looking at Fractions in Maths as well as covering our brand new electricity topic in science were we experimented with electrical circuits and how they are made. In regards to thematic we have started to focus on geography where was are looking at York due to its significance to the Vikings and all the topographical features associated to it!
English has had a focus on writing a newspaper report from when the Vikings carried out their attack on Lindisfarne and we have been covering a number of SPAG skills such as plural possession and contractions.
During the month of November we have done a number of wonderful things.
In DT we are in the process of being our own little magical fashion designers and are creating a cape.
In Art we are making a gallery of images we have captured using a famous photographer as inspiration.
Maths has seen us develop our multiplication and division skills.
In regards to English we have re-told the story of snow white and are beginning to tell the story of Narnia through the eyes of Lucy!
October 2019
This month we have been doing the big read week looking at Matilda! We have done a number of role plays as a result and created play scripts in preparation for our big write week.
In maths we have started to cover addition and subtraction using a variety of methods such number lines as well as column using 4 digit numbers.
This half term we are also starting a new topic in PE, we will be hopping into gymnastics as well as our REAL PE sessions.
And in music we are rehearsing Mama Mia by ABBA for our upcoming charanga assembly.
1
This term in year 4 we are exploring the question "Do you believe in magic?", in order to do so we have had a professional magician come into school and are looking at a number of different subjects relating to it such as witches and potion making.
We have also been reading a number of books such as The Hodgeheg in English and The Indoor Pirates on Treasure Island during guided reading sessions.
In Maths we have also had a focus on places value, looking at numerous areas within it such as counting in 25's, Roman Numerals, rounding and also comparing.
April 2019
Mrs Swales and Ms Holden would like to give you a warm welcome back after the Easter break! We hope you've all had a lovely time creating memories with your loved ones. This term our theme is France and on our first morning back we welcomed the children back into school with a French themed breakfast. We tasted croissants, pain de chocolat, crepes and had fresh juices to wash it all down- delicious!
In maths this term we're looking at measurement. We will be looking specifically at weight, capacity and time. In English we will be retelling the story of Snow White and also writing about animals escaping from the zoo- how exciting! In Geography we will be looking at France and Wigan and comparing the similarities and differences of both cities. In Science our topic is 'animals including humans' In which we will be discovering lots of fun facts that range from teeth all the way through to the digestive system. Year 4B will continue practising their amazing swimming skills until the end of summer term. Some children have begun to make amazing progress and we are looking forward to watching them make even more!
During big read week we have enjoyed reading C.S lewis 'The Lion, the witch and the wardrobe' together as a class. We have explored the characters, the magical world of Narnia and produced some amazing descriptive writing from this!
For our enrichment this term we had an outside agency come into school and teach the children how to complete a Bollywood dance routine. The children had lots of fun learning about Mudrahs (a symbolic or ritual gesture in Hinduism, Jainism and Buddhism. While some mudras involve the entire body, most are performed with the hands). They now know how to use their hands to symbolise the following Mudrahs: The bee, the dove, the tiger face, the deer, the turtle/fish and the crab! Ask your children to show you what they have learnt! Following our very interesting and active morning in Bollywood dance, we then enjoyed Diya painting using metallic paints and wonderful rich colours to celebrate the festival of Diwali (festival of light). The children will bring these home for you to enjoy.
We hope you all have a happy and safe Easter break and look forward to seeing you after the holidays.
This half term 4B have started our swimming lessons at Ashton swimming baths. The children have been showcasing their water skills for Mrs Swales and Mrs Holden! All children have taken to swimming 'like a duck to water' and are currently making lots of progress. Keep up the fantastic swimming 4B!
In Science we have been investigating all aspects of sound. Our budding scientist have all enjoyed exploring pitch, vibration, created our very own string telephone and made our own wonderful sounds using musical instruments.
January 2019
.
What an exciting time we have planned for you! Our new topic, "How do you get to the top of the world?" is packed full of amazing things to learn about. Why not look at our leaflet to find out some of the things that you will be learning about in the Spring term?
With trips, visitors and our newly immersed classroom there are lots of surprises and things to look forward to in the new year... we can't wait to get started!
September 2018
Welcome back to the new year!
It's a very exciting year ahead in 4B and the Autumn term looks like it is going to be best possible start to the year. With upcoming fun days and events, alongside exciting classroom projects, the children will be learning more than ever before. We are starting this year with a brand new topic, "Do You Believe In Magic?" which will continue until Christmas.
We are all looking forward to the year ahead!
April 2018
Year 4B have had an amazing April! We have been exploring our adventurous side, spending a few days in the picturesque setting of Coniston in the Lake District.
A few days away from school in this rural setting meant that the children were able to practice team work skills and develop resilience in the most exciting ways. Their two night trip involved kayaking, climbing waterfalls, hiking up a mountain, orienteering and much more!
We can't wait to get outside again and continue to pursue our love of the outdoors.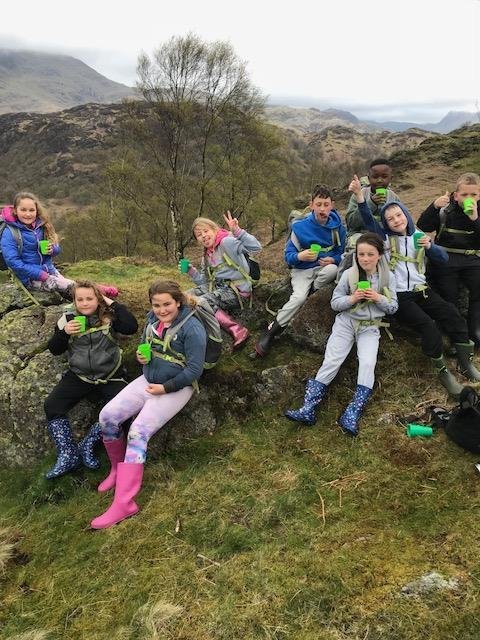 January 2018
We've started our new topic in year 4, this term we are studying the wider world, in particular we have been looking at the amazing continent of Asia. We have explored the countries using globes and atlases and then we did our own research about the mountain ranges of Asia. Did you know Asia is home to the largest mountains in the world, the Himalayas? Well year 4 do! As well as this we have also spent the a whole day learning about traditional Indian storytelling through dance. First we learned a Bollywood style dance and then we followed this with a tradition South Indian style dance which was a lot of fun and an excellent work out!
December 2017
Merry Christmas from all of Year 4b!
December brought along all our Christmas festivities and the fun that it comes alongside it. The children have done many exciting things including advertisements, multiplication wheels, sound experiments, pantomimes and violin assemblies to name just a few.
In English, we developed and wrote our own advertisements in order to learn how businesses sell products over the Christmas period. This was a very interesting task as it showed us who our young entrepreneurs are!
In science, we have been playing a wide variety of instruments in order to explore how sound is made, We've not only performed in our violin assembly, but we took this a step further by making our own string instruments and string phones. We then used these to investigate how sound is carried from one place to another, and how we as scientists can affect change on this.
It has been an exciting month of parties, games and wonderful classroom activities, and now we are all looking forward to the Christmas break.
November 2017
During November we have been working extremely hard. We had our sternly assessments which allowed the children to show off everything they have learned so far this year during their tests for maths, reading, spelling and grammar. All our children in 4B performed amazingly well and I'm extremely proud of them all.
As well as this, we have done some amazing writing about Little Red Riding Hood. We read the story, watched several videos of it and we even interviewed a few of the characters.
Our history learning has taken us back to the Anglo~Saxons where we have been studying their invasion and occupation of middle age England. We've made model long ships, tried on armour and shields and even explored a virtual Anglo Saxons village. It's been brilliant to compare life 1000 years ago to life today!
It's been a month of hard work and we're now getting into the Christmas spirit and everything that December brings with it.
Mr Brown
October 2017
This October we have been working extremely hard learning lots of new and exciting things in class. We have been mastering our year 4 objectives for addition and subtraction - we even used our skills to solve the problem of 'The Missing Mathematician'. This was a lot of fun and I think a few of our children now want to be detectives themselves!
To get us into the spooky spirit for Halloween, we wrote some amazing poems. We started by gathering all our ideas by turning the classroom into a terrifying dungeon of spirits, ghouls and creatures. We watched scary videos, read stories of halloween hauntings and explored the underworld with apps on the iPad. This resulted in some incredible poetry that the school can be very proud of!
Finally, we turned our classroom upside down and changed it into our very own campsite. The children organised the whole afternoon - we started with clearing a huge space, the tables and chairs had to go! After that, we put ourselves into teams and put up four large tents which we filled with pillows, blankets and bean bags. Once this was done, we spread more blankets and pillows around the centre of the room which the tents surrounded. Time to get comfy! We took our shoes off, put our feet up and spent the afternoon reading our favourite spooky stories - what an amazing way to end the half term.
September 2017
September is the start of a new year and I'd like to welcome the wonderful new children in my class to year 4b. This month, we have been settling into a new routine and having lots of new exciting experiences. Firstly, the children have started their weekly music lessons. This provides them with the opportunity to explore the creative arts and get hands on experience with violins and cellos. As well this, we have had the chance to start new sports in PE, where not only have we been working on our throwing and catching skills, but starting next month we are moving onto a unit of gymnastics work. Finally, we have introduced Spanish lessons for the first time ever! The children have absolutely loved learning a new language and are even now able to introduce themselves and say how old they are! It's an exciting year ahead which we are all really looking forward to!
May 2017
Spring has arrived in year 4b and we have had a month focused on our environment. Throughout the month, we have had a big focus on plants and wildlife. From learning about Eco systems in science, where we discovered different types of bugs, animals, predators and prey, to exploring the beautiful scenery of Low Hall Nature Reserve, hunting for the very animals we have been learning about.

The children have also been getting their hands dirty in the allotment area. They have begun to plant a range of different vegetables in our beds including springs onions and potatoes. As well as this, we have spent time making our classroom and school look even more beautiful by bedding flowers into pots and hanging baskets.


We have also been lucky enough to be visited by several environmental experts this term. Firstly, we took part in a water workshop which focused on ways to save water, reuse old water in order to recycle it as efficiently as possible and we even learnt about how water is cleaned on an industrial scale! As well as this, we were visited by the road safety team who gave us lots of top tips about how to travel safely and get around in ways which are better for the environment.
April 2017
April has been an exciting month for year 4b!

Firstly, in science, we have been exploring the history of electricity and how it used. From Researching the work of Thomas Edison and Benjamin Franklin, to making our own electricity circuits with switches, we have really had a buzzing time. The children created their own circuits which where complete with lamps, buzzers and switches to turn them on and off .

In maths, the children have been learning about 2d and 3d shapes. This has involved learning about the properties if different shapes, new shape names and even the difference between regular and irregular polygons. We have also been exploring angles alongside this. Fly some children, this meant exploring the school grounds with angle measures and identifying the different types of angles and shapes which we could. This angle hunt was a lot of fun!

Finally, in English, as well as writing about Pokemon and our trip to Low Bank Ground, we practiced reading and rehearsing poetry aloud. Each child chose their favourite poem from a range of different books, then read it out aloud to the whole class. Some were funny, some were sad, some were about people and places: all of them were brilliant! It was wonderful to see the children confidently stand in front of the rest of their classmates and share their favourite pieces of writing.
During March, year 4 were lucky enough to experience the great outdoors and spend the week at Low Bank Ground residential complex in the heart of the Lake District. The children spent the week next to Coniston Water and challenged themselves in ways they had never thought of before!
The range of activities which the children took part in was huge: from canoeing on windswept lake to hiking up the world famous Old Man of Coniston mountain, the children pushed their limits and achieved things some of they had never thought possible.
The week also involved a lot of team building activities as well as the development of life skills. Our children were expected to make their own beds, clean their rooms, pack and unpack all of their clothing and even set the table for over 40 people as well as then clean it all up!
February 2017
E-Safety Day
As a WOW launch to E Safety day we wanted to do something memorable for the children around keeping children safe on the Internet. With the help of One Day Creative, all the children in the school got to take part in a fun creative workshop and learn all about E Safety through Drama.
Year 4-5 explored E safety issues the same way but through a super heroes and villains theme. Some children were in charge of E- safety and had to Buzz and shout "Stop" when there was something suspicious or unsafe happening in the game. The foam numbers and letters represented the keyboard on the game and the children acted out behind these as though in the game.
January 2017
This term we started a brand new topic in science. We are exploring the exciting world of sound and have undertaken a number of interesting and fascinating experiments. Starting with a range of instruments, we discovered that sound is created by the vibration of objects. Using this knowledge, we managed to create not only own instruments but also string telephones which we used to send secret messaged. Finally, we studied how the length of objects can affect the pitch of sound, changing it from high to low. We have become budding scientists of the future!
December 2016
We spent our English lessons in December playing Minecraft and creating video blogs for YouTube! It was a lot of fun. The children began by creating a magical castle on the iPad version of the game, before writing a set of instructions for other children which would explain how to build the castle for themselves. Following this, the children then paired up and recorded video blogs on the iPads all about the amazing world within the game. The children had a lot of fun doing this and made the most of the chance to express themselves.
November 2016
Firstly, in math we have been learning about multiplication, grid method and times tables. We have played games and had competitions so that we can memorise them.
Secondly, in English we ate chocolate cake while reading Matilda and writing about Miss Trunchbull. We are also reading The Lion, The Witch And The Wardrobe which we have nearly finished.
Finally, in science we are learning about the water cycle, condensation, evaporation and water vapour. We have done several experiments about these, they were our favourite!
By Emily and Lucie 4B
To begin with in Year 4, we have been deciding what it is that we want to do when we grow up! We have been learning about the many different jobs we can get when we are older and next, we will write job applications for our favourite job.
Our topic for this term is about the 'magic of learning', so we are beginning the year by creating our own enchanted capes. At the minute, the children are creating their own designs for the capes and undertaking product research, trying to find out which cape design will be the best.
The first couple of weeks in Year 4 have brought some great challenges and have been lots of fun - we are all excited for the year ahead!
May 2016
Eco Week
In Year 4B, we have really enjoyed the different activities we took park in during Eco Week. We especially enjoyed creating our flower beds by planting some beautiful flowers and even making our own hanging baskets!
The Wigan Council gave us some very interesting information about road safety too and we loved taking part in a role play activity which helped us to recognise the dangers associated with this.
May 2016
This term we have been using the new allotment area to plant a range of seeds and flowers. The children loved coming up with the ideas of what to plant. This involved researching the life cycle of a plant which built upon the knowledge of the previous year.
Although it was raining, the children were still smiling!