Brilliant month for 3a, we explored how to use a compass to locate different items. We also utilised our previous knowledge of coding and debugging to explore new computing skills. Definitely some future computer geniuses in this class!!
Throughout January we learned about instructions and as a great treat, we were able to make our on potions following an instructional text. We've also focused on gymnastics in PE using different apparatus. Fantastic work all round!
December 2019
This December 3a have been extremely busy! We learnt all about orienteering and how to follow a map to decode the clues to discover a prize. In Science, we explored what makes a healthy and balanced diet and how the foods we eat make up our diet. Hopefully 3a can become a slightly healthier class now and look after our bodies more!
November 2019
This month we have explored the internet in computing and how messages can be sent and received through the main switch board. We've tested this through practical computing lessons. We also had a sever crime committed..Mr Twit went missing and the class had to write a descriptive piece of writing to help identify Mrs Twit. Finally, we've been looking at social skills and jumping in PE. You can see partner work on helping to improve their partner's jumping skills. Alfie also made huge progress this month, being able to balance on one foot which everyone is delighted about!
October 2019
We celebrated race for life by taking part in our own race for life at school. The pupils did themselves proud by running non stop for 30 minutes! Two of our pupils from 3a represented our school in a cross country competition, they impressed during the daily mile at school and did fantastic at the event! We've had a brilliant month!
September 2019
In 3A we've been looking at chocolate as that's our theme for the term. This began with the children tasting a range of their favourite chocolates and describing what they could taste, smell and feel. We've also began our weekly estimation station. Every Monday morning the class will come in and estimate a chosen challenge, our first ever estimation station was how many flumps are in the tub. We then re-visit this on Friday morning, the children will rank themselves in order smallest to greatest and we will reveal the closest estimate. Our closest estimate for our first estimation station was Olly! Winning a prize from the prize box. Lastly, I'm delighted to say that 3A were the first class winners of the home readers award. This meant that we were treated to private time in the library where the class could choose their favourite book and read it, with treats to go with it! Hopefully we can keep this up and win again!
May 2019
As well as working very hard we also have the opportunity to have fun! Dodge ball on a bouncy castle!
April 2019
The children in Year 3 have had a great time with food!! We have made some amazing pizzas and cakes! We designed and planned our ideas before we made our final product. I wonder what next month will bring?!
March 2019
Year 3 have had a great month with lots of good experiences. The pictures below show our visit to Ribchester and the visit we had from the poet Ian Bland.
February 2019
We have been learning about fractions, we have used lots of practical resources and did an activity called a fractions museum! The children thoroughly enjoyed this!
January 2019
In January, after the half term break, we started to learn about the Romans. We looked at money, events and important people from that time. We are still learning about the Romans now!
December 2018
We've had a very month with Christmas approaching! We loved the hard work and preparation we did for the Christmas markets, we all made something. All our items sold in less than 5 minutes.
We hope you all have an amazing Christmas break and a fantastic New Year!
Love from all the children and staff in Y3A.
October 2018
Year 3 have had an amazing time with our theme of Dr. Dolittle. We've had visitors in from Creepy Critters, been reading the book and looking at non fiction books about animals too. We are also writing about animals and learning key information about them. It's non stop in 3A!
October 2018
Year 3 have been extremely lucky and had a chocolatier in our class to help us with our unit on What makes chocolate fantastic? We made our shards, had our hands sprayed with chocolate, dipped strawberries in chocolate and even wrote our names! It was an amazing morning! We took home lots of treats! Yummmy!
September 2018
Year 3A have had a great start to the new year. We have tasted lots of sweets and chocolate and watched the film of Charlie and the Chocolate Factory. In writing we have been writing descriptions about sweets and chocolate and we are about to make some poems in our thematic sessions. Well done 3A!
September 2018
Hope you've all had a lovely summer and are ready to taste lots of yummy chocolate!!
Mrs Wood
May 2018
Our summer topic has started fantastically! We had fun with our sunflowers pictures using chalk to create different textures. Also in sciences we have been learning all about plants using an experiment with light and dark. Following this we had a brilliant walk to Amberswoods to look at different types of seed dispersal; animal, explosion, wind and water. In English, we have made our own monsters and written a poem linking to this. They have been sent off to be entered into a competition so hopefully we will hear about theses soon! In maths, we have been exploring shape properties both 2D and 3D shapes. I hope you have a lovely half term break.
April 2018
Welcome back after our Easter break. Even though we have only been back 2 weeks, we have been very busy. Our new topic HERE COMES SUMMER, started with a fantastic day out playing summer games, candy floss, bubble machine and a nice ice lolly to cool us down in the blazing heat! We had the launch of our high 5 challenge and in the first week, we had 22 children all having 15 minutes colouring as a reward for completing high 5! We have set ourselves a target to get everyone in all week and not lose any golden time. In English, we found a letter abandoned by a pirate sending us on a treasure hunt around school finishing with finding the treasure buried in the sand in 3b's sandpit. In science, we have been learning all about plants, don't forget to ask your children all about how wotsits link to pollination! We have been looking into Vincent Van Gogh trying to draw our own sunflowers and we finished off our computing experience with a stop start animation of a volcano erupting! We are looking forward to writing our monster poems in English and also learning more about fractions in maths.
March 2018
Year 3a have had a fantastic March! We have been working through our topic of Italy. Children enjoyed food tasting and making their own pizza which I hoped they enjoyed! We have learnt about the lost city of Pompeii and made our own animation books on the volcano erupting. In Maths, we have been learning about different ways to measure with scales, trundle wheels and rulers. Our around the world day was a great success. We learnt about Mexico in the morning and then traveled around the world to visit countries such as Switzerland, Kenya, China and Italy. Our space station Zed writing was fantastic after acting out our space stations being invaded in the hall. Book week was all focused around The Twits. The children handled lots of tricks and loved making Mr Twits beard and wiggly spagetti on world book day. We had a very special visit from two GB athletes and we had a great session with them. Hope everyone has a happy Easter!
February 2018
Our February has been fantastic even if we have had to survive the adverse weather! We have been exploring forces and magnets testing magnetic and non magnet materials. During topic, we have been food tasting for our own pizza in Italy and learning about Pompeii! We have enjoyed lots of different books with our writing on the BFG and Dinosaur that pooped Christmas. In Mathematics, we have enjoyed finding our way through delightful division. We had fantastic fun at our parent valentine workshop making biscuits, cards and flowers.
January 2018
3a have had a fantastic start to the year. We have started our topic of Italy which kicked off with our classroom being invaded by Mr Brown's year 4 class! We were locked out and our prize possession taken away. Luckily though it was all ok in the end with the year 4's finally letting us have our classroom back. We went on a trip, to continue our exploration of the Roman's and the Celt's, to Ribchester Museum where we had a look at real Roman artefacts, dressed up as a Roman solider and also went to visit the Roman bath house ruins. We also had a fantastic day at the winter wonderland in school. Children took part in snowball fights, face painting, reindeer rodeo, ice skating and even met two real reindeers! In maths, we have had fun with marvellous multiplication whilst in English we have been submerged in our big read story, The dinosaur that pooped Christmas and have even wrote our own stories. Keep an eye out on Pobble to see some of the fantastic work that has been produced.
December 2017
What a busy December we have had! Our Christmas activities started within class learning about the Christmas story, Christmas around the world and other celebrations in different cultures. This was followed by a trip to St Nathaniel's church where we got to find out lots of information about how Christians celebrate Christmas and we had a look around the church. Following this we made our own christingles in class. Back in school we enjoyed the pantomime of Aladdin, glow in the dark dodgeball, the nativities of year 2 and reception as well as our very own Christmas party. We finished off our topic of chocolate by learning about chocolate producing countries. We discovered information about the Stone Age and read the Stone Age boy. Finally, following on from our School of Military course, we enjoyed our fantastic passing out parade. Miss Newton was very proud of us all!
November 2017
November was packed full of activities. We had children in need day were we took part in lots of different Pudsey themed activities. We had MFL day were we learnt all about Cuba and even did some Cuban dancing! During our PE lesson we began to work on our own games for each other to play focussing on balance, agility and co-ordination. We were attendance winners so we earned an afternoon on the inflatable with School of Military. In Spanish, we have been learning to have a conversation. Mildred Hubble left a devastating crash scene outside of 3B that we all investigated.
October 2017
We have had a busy first term in 3a starting our fantastic chocolate topic. It started with a trip to Tesco on a Farm to Fork trail around the store. We visited Ben at the fish counter and tried some prawns and cockles. We went to the bakery and had the chance to sample the bread and cookies before finishing our tour with making our very own pasta pots! We have enjoyed working with Miss Jones who has been delivering our PE sessions and have looked at football and hockey over the last term. We have also had session with school of military looking at den building, team work and the different ways our body works. We have started looking at fair trade and cocoa producing countries and are excited to continue this throughout the next term. We finished off a busy half term by learning two Oompa Loompa dances with year 3b and a visit from an Olympic gold medallist.
September 2017
Welcome back everyone. Hope you have all had a nice summer. In year 3 we have been busy getting the classrooms ready for our new topic of chocolate. This term we will be finding out all about chocolate through lots of different activities, including tasting the chocolate and using this in all our topics including a trip to Tesco. In science, we have lots of investigations to complete around our topic of light. We are very excited for the term and can't wait to see you all back on the 5th September.
March 2017
We had an unexpected visitor in school this month: a real, live T-Rex! When we came to school, there it was; swooshing its long tail around the playground and roaring at anyone who came near.
Luckily it wasn't hungry and was rather friendly. We got the chance to visit the dinosaur, who was called Rex, in the hall later that day.
Our close encounter of the extinct kind, inspired us to learn more about these fantastic beasts and to write a report about our experience. We also read an exciting book called "Dinosaur Cove: Attack of the Lizard King" and we all loved it. We can't wait to read the next book in the series!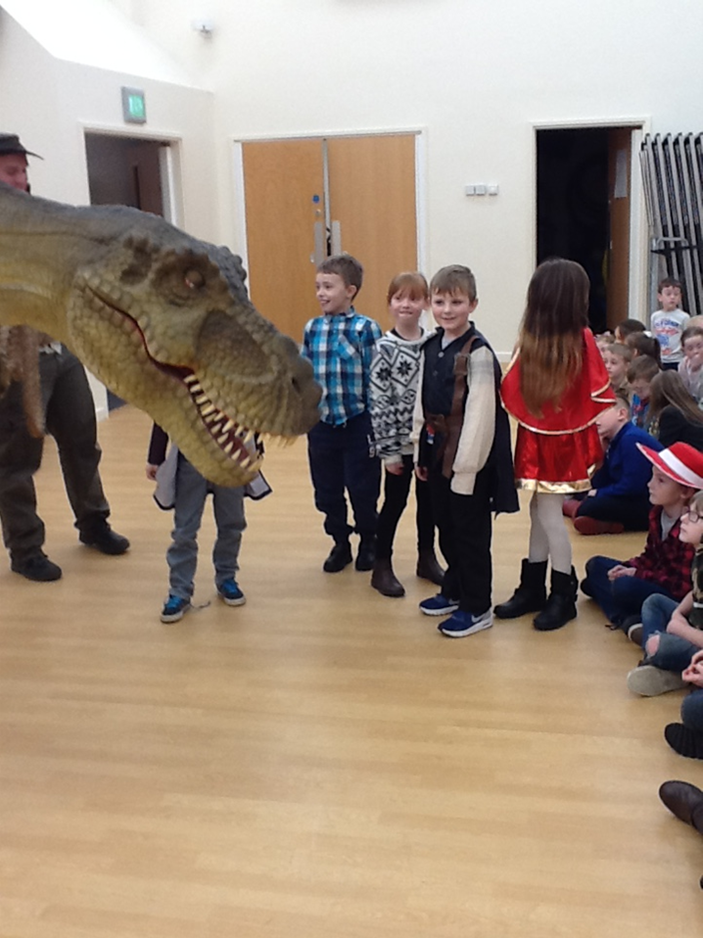 February 2017
This term, we have been learning about all things Italy! From training to be Roman soldiers to planning a new dish for an Italian restaurant.
Some of the children brought their own projects in from home and produced some fantastic work. I'm so proud of them and the work they have done in class. Well done 3A!
January 2017
E-Safety Day
As a WOW launch to E Safety day we wanted to do something memorable for the children around keeping children safe on the Internet. With the help of One Day Creative, all the children in the school got to take part in a fun creative workshop and learn all about E Safety through Drama.
Reception to Y3 took part in the "Into the Screen Workshop" The children used well-known fairy tale characters to highlight the importance of keeping safe online, they worked in groups to navigate their way out of some tricky situations. Will the 3 Little Pigs tell the Big Bad Wolf where they live? Will Red Riding Hood notice that Granny looks a bit different today? And will anyone be able to stop the Ugly Sisters from being horrible to Cinderella? Through playful and fun storytelling, pupils learnt how to keep safe when playing on the internet and realise that the world inside the screen is perhaps not so different from the real world after all.
January 2017
Class 3A was confused this month when a man came into our class wearing strange clothes and speaking a strange language. We eventually realised that he was a roman soldier and that he was speaking Latin. Luckily, he could also speak English so he could teach us all about life in the Roman Army.
We learned about roman armour, weaponry, food, clothes and even got to train as roman soldiers.
November 2016
We have been learning about a famous artist called Laura Benjamin. We had a go at making our own collages out of sweet wrappers. Please click here to see our short video.
Also this term, we have been learning about the Stone age. We made a timeline, learned about a stoneage house that was discovered in Scotland and even made a cave in our room!
September 2016
Welcome to Class 3A!
Throughout this term class 3a will be learning all about one of our favourite things: CHOCOLATE!
Throughout the term we will be reading Roald Dahl's "Charlie and the Chocolate Factory" and learning all about who makes this tasty treat and how.
This week we visited a supermarket to learn all about where Cocoa beans are grown and how 'fair trade' products are important to the people who grow them.
Whilst we were there, we also got to try out some of their other foods and had a great day!
May 2016
Eco Week
During Eco week we have been learning all about what we can do to protect our local environment and how to keep safe in our
community.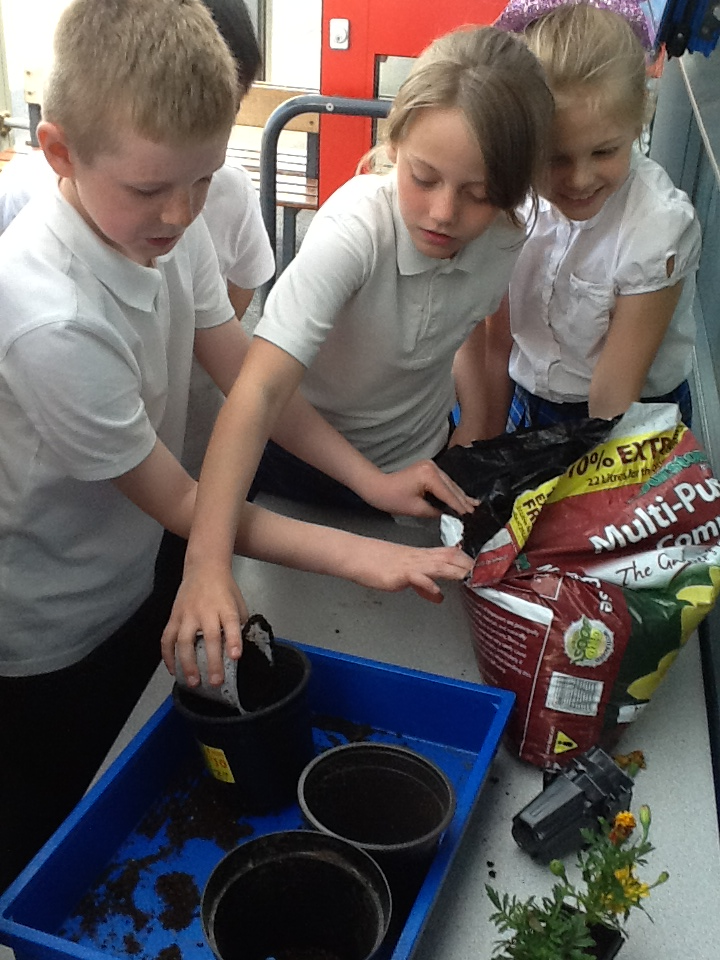 We had fun planting seeds and flowers for our allotment and to decorate our classroom.
During the week we had lots of visitors teaching us about re-cycling and how to keep safe near roads and waterways.
May 2016

This week, year 3 got together to take advantage of the lovely weather and have an outdoor adventure learning day.

Grasping our hula hoops, skipping ropes, cones, crates and tents (everything except the kitchen sink) we travelled to "Adventure Island."

Throughout the day, we took part in lots of fun activities and learned about friendship, respect and teamwork.

We took part in different activities including orienteering, crossing a maze, guiding sheep into a pen (blindfold game) and created an obstacle course for our teams to cross.

To protect us from the mid-day sun, we put up our own tents to act as sun shelters.

We had a wonderful day and, for once, it didn't rain!