February 2020
This month we have been very luck in Y2B and had an author come into school and visit. He shared with us his new book The Snots. The children loved the story and even chose to buy the book to read at home!
For our topic Top of the Food Chain, we have made some clay animals based around the artist Nick Mackman. We all made a lion! Aren't they fantastic!
December 2019
We've had a great time at our Christmas party - we played party games and had some lovely food treats.
We've made calendars and cards for friends and family to take home and made some beautiful wreaths as part of our DT unit. To get us into the festive spirit we designed and made a winter poem. We tasted hot chocolate, felt cold ice and touched some soft blankets that help keep us warm when it's really cold!
November 2019
Year 2B have been very busy with Christmas approaching. We've listened to an inspirational speaker called Jenny Meadows and as a result wrote a non chronological report all about her! In Art we have been looking at the work of Lowry and producing some replica pieces. In Maths, we have worked really hard on additional and have now moved onto subtraction! We have some great mathematicians in class!
We had a great time running the race for life for charity. We loved receiving our medals. It was quite a challenge to complete.
On the 11th November we made poppy's in class and placed them in a memorial area on the school field. We thought of those who had fought in the war for us and how lucky we are.
October 2019
We have had a lot of fun this month. We have been reading the book Winnie the Witch and we created our own spells and wrote a set of spell instructions for Winnie to follow.
We also won the attendance award. We really enjoyed our reward of an extra sports session with Beth.
September 2019
As part of our topic ' What makes a house a home? ' We visited Staircase House in Stockport. We found out how the house was made and made our own wattle and daub walls using a frame. We also helped Mistress Catherine with her jobs. We made pomanders , Helped her to make the beds and made our own candles from bees wax.
July 2019
After taking part in the workshops with Chester Zoo, we were very excited to go and visit the animals at the zoo. Whilst at the zoo, we saw lots of amazing animals including giraffes, elephants, chimpanzees and jaguars. We took a ride on the lazy river boat which took us all around the zoo; it was really relaxing. We got to see the songbirds that we had been learning about! We had a great day!
June 2019
Throughout June, we have had visits from Chester Zoo and taken part in a range of Songbird workshops. We made our own paper bird and went around school looking for different types of birds.
Some children in Year 2 took part in a local school football tournament at Platt Bridge and we came 2nd! We also represented our school at the Soccerdome in Wigan against 31 other schools, we were really pleased with our 8th spot.
May 2019
Year 2 have had an extremely busy month and worked extremely hard on our SATs tests. As a reward for having a great attitude, our teachers rewarded us with a party and a fun day of inflatables! We had the best time.
We also had our very own football tournament during PE, the winners were England; we won a medal!
We would like to thank you for your continued support throughout this year, we were really pleased with the attitude of all children during a tough week!
April 2019
Year 2 were welcomed back after the Easter break with a trip to Manchester Airport. We took part in lots of activities such as: exploring Concorde, boarding a test plane and role playing different jobs at the airport, seeing the DC10 and finally watching the Emirates A380 take off! We had a great day!
Our topic this term is "How Far Away will the Faraway Tree take you?"; within this we will be exploring the four countries and their capital cities, the seven continents and five oceans and we will also be exploring the Wright Brother's First Flight!
We will keep you up to date with our learning!
March 2019
Some children from Year 2B attended a multi-skills event at Robin Park Arena. They took part in a range of activities such as: dodgeball, balancing and obstacle courses. The children represented our school really well and all received a certificate for taking part.
March 2019
Year 2B really enjoyed National Science Week. We had a whole school focus of 'bubbles' and each year group were given a question that they had to investigate throughout the week. Our question was 'What makes the biggest bubble?' Throughout the week we spent lots of time making predictions, testing and evaluating the different size bubble wands. We had lots of fun outside in the wind testing the wands to see which made the biggest bubble; the round, flat one was the winner!
We invited our parents to come and share our hard work from the year. We had a great turn out and our parents were thrilled with the amount of work that we had done in Year 2. We showed them all of our books and explained the things that we had been learning about. We also performed one of our songs from our music programme Charanga; we used instrument to help enhance the performance.
We ate looking forward to a break and coming back after Easter refreshed and ready to take on the summer term. We would like to thank you for your continued support and wish you all a Happy Easter.
March 2019
Year 2 enjoyed dressing up for World Book Day. We enjoyed listening to the story by the storyteller and dancing around to the moves. Thank you for all your time and effort in making it a success.
February 2019
Year 2 have had a busy return from half term; we started the week with a walk around Amberswood, looking for habitats and micro-habitats. We found lots of different animals and creatures along the way such as, worms, ants, spiders and we even saw swans, ducks and horses. We explored their different habitats and talked about why that habitat suited that particular animal.
This week, had a visit from the Healthy Lifestyles team who worked with us on our DT project. We used wood, nails and real hammers to create our very own bird boxes. We are going to stain them in class and send them home for you to watch how bird's are attracted to them in your garden. We also used bug magnifiers to find mini beasts in our school grounds; we found worms, beetles, woodlice, spiders and snails.
January 2019
Year 2 have been looking after the environment today! We had a visit from Ellen and Allison from Wigan Council who look after our local environment. We talked about habitats and ways to keep bugs and animals alive and happy.
Firstly, we created our very own bird feeders; we used empty coconut shells, lard and wild bird seed. We had to mix the lard and seed together with our hands, it was VERY messy! We tied some string to the top of the coconut and scooped the mixture inside. We then went to hang them all around the school; we are certain that the birds are going to love them and we can't wait to see the different types of birds that we get in our school grounds!
We then created a bug hotel; we used toilet roll tubes and twigs, leaves and pine cones to fill them. We placed them in between 3 large pallets; this allows the bugs to come from under the grass and live in the bug hotel. Why don't you come and have a look at this in our allotment?
Over the next few weeks, we will be observing our school grounds to see how many different birds and insects we have attracted. We will keep you updated !
January 2019
Year 2B have had another important visitor in school today, Mandy Hodgkiss is a midwife who works with mothers and their babies to help them grow. Mandy talked to us about the importance of food, warmth and love in order to grow a happy and healthy baby. She told us about her role as a midwife and how important her job is when mothers are growing babies in their tummy's.
She showed us how she listens for the baby's heartbeat using a doppler and some cold gel, how she weighs the baby to make sure it is growing well, how to measure the circumference of a baby's head and also how she uses the blood pressure monitor to make sure that the mother is staying healthy and well during her pregnancy. We then got the chance to have a go at weighing the pretend babies, measuring their heads and we even got to listen to our own heartbeat through the doppler!
We learnt so much today about how babies grow and what they need to keep them healthy, we will write about our findings in Science lesson!
January 2019
Year 2 have had a special visitor in school today. Connor Farrell is a professional rugby league player, he has played for Wigan Warriors, Featherstone Rovers and he now plays for Bradford Bulls. Connor spoke to us about the effects that exercise and a healthy lifestyle has on our body and how important it is for him to keep fit and healthy. We took part in a really fun exercise lesson which included lots of fun games; we were all out of breath!
We enjoyed having Connor in with us and learning about what he does to keep fit and healthy! We are going to try and do some of these things ourselves!
January 2019
We all love our new classroom!
Year 2B have had a very exciting first day back with a visit from Ranger Rob! He brought many reptiles and insects with him; we learned all about the different creatures e.g. where they live, what they eat, how long they live for and so on. Ranger Rob let us all hold the reptiles and insects; we were all really brave! Mrs Farrell and Mrs Walton were brave enough to hold the python around their necks; it was around 8 feet long and very heavy!! We are excited to learn more about our new topic 'What's hiding behind the habitat door'.
December 2018
We have had a very festive December in Year 2B! We have been busy learning our songs and lines for the nativity 'It's Christmas!' We have really enjoyed performing to the school and to all of our parents! We were all extremely brave and all of the teachers are really proud of us!
We had a surprise visit in our classroom! After break one day, we returned to class to find the carpet area was in a total mess! There was a Christmas tree, lights and decoration scattered everywhere, there was also a letter addressed to Year 2B. The letter was from Santa! He wanted us to do a big job for him; we had to decorate our classroom and also write him a letter to help him out on Christmas Eve!
We have also been busy preparing for our Christmas Markets; we cannot wait to sell our snowmen that we have enjoyed making.
We would like to take this opportunity to thank you for your continued support at home and wish you all a Merry Christmas and a happy and healthy New Year. See you all in 2019!
December 2018
Year 2 have been working on a home project throughout the Autumn term. We are really impressed with the end products and want to thank parents/carers for helping their children to produce such fantastic models!
November 2018
We enjoyed our visit to Staircase House in Stockport. We learned about homes in the past and what life was like back then. We explored a range of toys and technology and it was very different to ours! We worked with Mistress Kathryn and helped her with her daily jobs; these included, making pomanders, making beds and checking the chamber pot! We also made our very own Wattle and Daub.
November 2018
Year 2 have made poppies out of recycled plastic bottles. We learnt about the meaning of Remembrance Day and the Poppy Appeal. On Friday, we planted our poppies just before we held a minutes silence for those who lost their lives in the war.
| | |
| --- | --- |
| | |
| | |
| | |
October 2018
Year 2B have had a busy and exciting October! Our Autumn began with a lovely WOW moment of tasting roast potatoes and gravy - we used our senses to describe how autumn made us feel. We put all of our ideas into a poem and these have been entered into a school competition within school.
We have also been using Pobble to showcase out writing. Please log in and check out our work.
During the the last week we were extremely lucky to take part in a whole school Dr Dolittle day. Throughout the day we took part in a range of exciting activities such as: Puppet Show, 'Who am I?', 'What am I?', farmyard and a talk from the Dog's Trust. We also practiced and performed Under the Sea from the Little Mermaid to the whole school!
September 2018
We have had a busy September in Year 2B! We have been busy learning many new things and being model Year 2 pupils.
As part of our topic 'What makes a house a home?' we went on a local walk around Platt Bridge. We completed a tally chart of different buildings including terraced, bungalow, caravans and so on. When we returned to class we put all the information on a pictogram to show the most popular building around; the shop was the most popular!
In English we have been writing instructions; as part of our WOW moment we followed a set of instructions to make rice crispy cakes. We enjoyed eating them afterwards!
In History we have been looking at household items from the Victorian times. We had a visit from a Victorian lady who talked to us about life in the past. She told us that household jobs back then were extremely different to now, for example, she cleaned her carpet with a carpet beater instead of a hoover! As part of this, we played a range of Victorian games; they were very different to ours!
We have been keeping active in PE and practising balancing and following a simple sequence. Some of us can stand on one leg with our eyes closed for 30 seconds! Can you believe that?
English - Rice Crispies

P.E
September 2018
Welcome to Year 2b's class blog, we hope you're having a wonderful summer and are ready to start in September. Just a few reminders, can you make sure that PE kits are brought into school on the first day back; our PE days are Monday and Tuesday.
We are extremely excited to start our new topic "What makes a house a home" and we will be learning about homes from the past and other cultures. As part of this topic we will be going on a trip to Staircase House on Monday 12th November (information to follow).
We are really looking forward to you joining our class! See you on September 4th!
Mrs Farrell, Mrs Walton and Miss Taylor
April 2018
Some GB athletes visited the school and we spent the morning training with them . We had a brilliant time. They taught us the values of team work, reflection and resilience.
For the Theme day ' Around the World ' We studied the country Switzerland. We had a great time learning facts about the country. We made Alpine hats and collage pictures of their national flower called Edelweiss. We also created our own Swiss Chocolate treats and sampled Swiss muesli. We looked at the art work of Paul Klee, a famous Swiss artist and created similar pieces of artwork ourselves using his style.
March 2018
We had a super time celebrating World Book Day. We dressed up as characters from our favourite Roald Dahl books and went on a chocolate treasure hunt.
In class we read the book George's Marvellous Medicine. We made our own marvellous medicine potions and created some fabulous potion, artwork pieces.
February 2018
Year 2b have been looking at the importance of eating a healthy diet in order to stay fit and healthy. We created our own fruit smoothies. Having a smoothie is an excellent way of getting 5 fruits a day into your diet.
In Mathematics we have been learning about division.We have had lots of fun sharing. We are now super mathematicians at dividing.
January 2018
As part of our topic 'Where do wild things live?' Ranger Rob came to visit Year 2. He showed us lots of interesting animals and explained to us how we should take care of them . He told us lots of interesting facts about the animals and about their habitats. We even got to touch them!
December 2017
Key Stage 1 have delivered outstanding performances of the Nativity "Behind the Stable Door". The children were amazing choristers, singing beautifully to songs such as "Grumpy Camels" and "Gifts of Love". All the teacher and staff are so proud of their achievements.
All the staff and children in Key Stage 1 would like to wish you a "Merry Christmas and best wishes for 2018".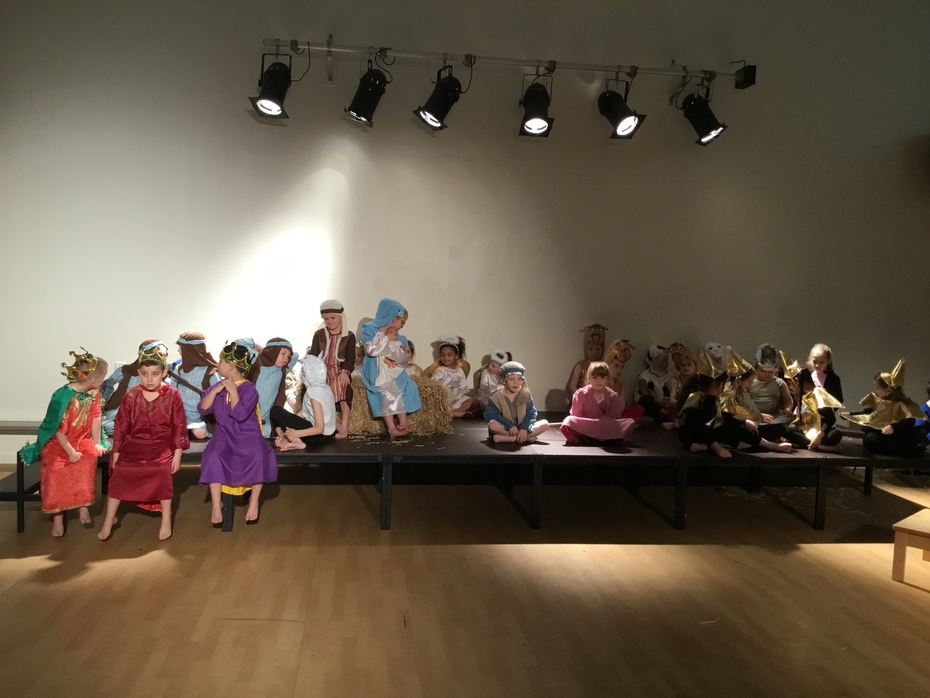 December 2017
Year 2B have been very busy this month.
We have recently completed our topic on homes and loved sharing our project work. We have created some fabulous model homes. Here are just a few examples of our wonderful work.
We visited St Nathaniel's church to observe how the church prepares for Christmas. The vicar explained the advent wreath to us and we looked at the nativity scene
November 2017
We visited Staircase House in Stockport. We had a great day comparing old and new houses and we made deductions about the past using artefacts.
We had a wonderful MFL day. We explored the country Chile . We designed a flag and tasted some typical Chilean foods. We also learnt some Spanish greetings.
Year 2B visited the residents at Belong. We asked them what it was like living in Platt Bridge years ago and how the technology in their homes had changed over the years.
October 2017
We took part in a Skills for Learning Day. We worked with Matt from The School of Military to create temporary shelters. We worked in teams. It was a race against the clock to see which team could build the most waterproof, sturdiest and practical shelter . We had a lot of fun working together and at times we got wet and dirty building our shelters but we still all managed to create some wonderful shelter designs. Take a look at our work during the day.
September 2017
As part of our topic on homes. The children in Year 2B became time travellers for the day. We travelled back to Victorian times and found out first hand what it was like to live back then. We compared our home today with a simple Victorian home. We even dressed up in traditional Victorian clothing .
July 2017
We took part in a Spanish themed day. We learnt Spanish greetings and tried lots of different Spanish Foods.
We worked with a local artist to create some amazing 3D sculptures.
We took part in an Olympic day. We had a brilliant time trying out new events such as Archery.
We had an amazing time on Fun Day. Our theme was 'At the Seaside.' We enjoyed fun fair rides, ice cream , sandcastle building and donkey rides plus so much more.
June 2017
As part of our Book Week Magic Philip came to visit us and we learnt some magic tricks.
We have been very busy in the allotments watching our bean plants grow . In Science we grew our own plants and watched them grow in different conditions.
In Maths we have been measuring using cm and meters . We used the trundle wheels to measure how many metres we could run in 2 minutes.
May 2017
In Science we have been looking at plants. A florist from Hindley visited us and gave us lots of information about plants. We even made our own floral gifts! We also won the attendance of the week award. Matt from School of Military played competitive games with us as a treat.
During Eco week we have planted tubs and hanging baskets and made bug houses from recycled objects. We also spent time in the allotments looking after our bean and lettuce crops.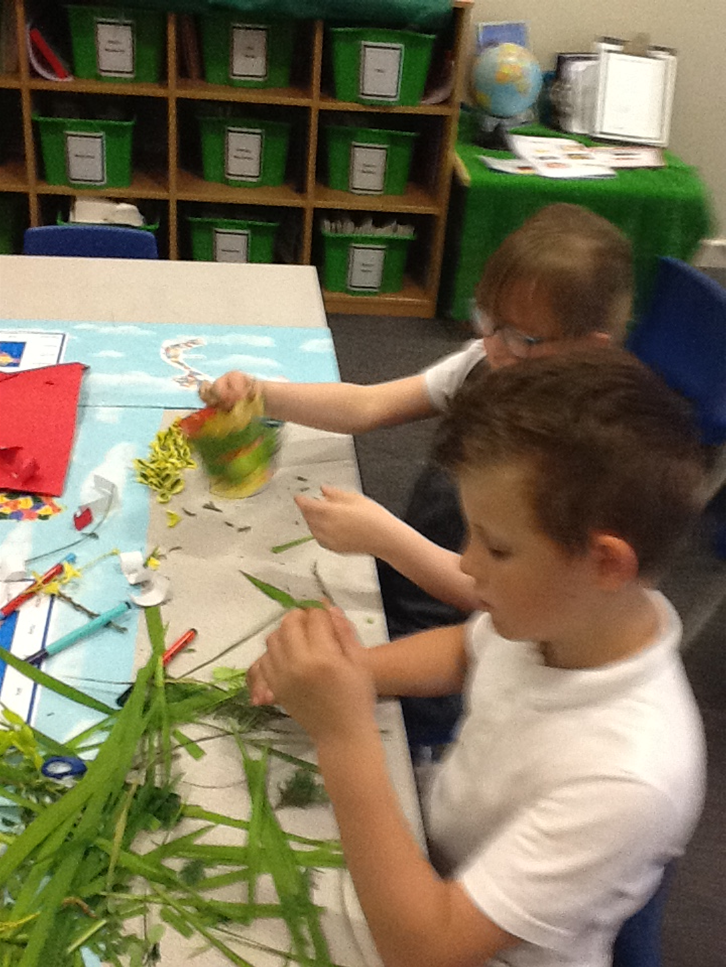 April 2017
Our new topic is Where in the World would you like to go? For our WOW day we took a pretend flight to Barcelona. In Geography we have been learning about hot and cold places and in History we have been studying how transport has changed.
March 2017
Please click here to view Year 2's presentation from their assembly on Thursday 16th March 2017.
February 2017
What a fabulous month February has been.
We enjoyed the Valentines Day enrichment activities. We worked with our parents to create cards, crafts, and Valentines treats.
We also visited Martin Mere where we found out some amazing facts about Whooper Swans. These birds fly all the way from Iceland to Martin Mere for a short stay.
Whilst at Martin Mere, we looked at a range of animals and their habitats, including otters and Flamingos. We had great fun playing the bat and moth game to.
World Book Day was a thrilling experience. Rex the dinosaur thundered into school that day and caused quite a stir. We have really enjoyed reading a range of books and poems about Dinosaurs.
E-Safety Day
As a WOW launch to E Safety day we wanted to do something memorable for the children around keeping children safe on the Internet. With the help of One Day Creative, all the children in the school got to take part in a fun creative workshop and learn all about E Safety through Drama.
Reception to Y3 took part in the "Into the Screen Workshop" The children used well-known fairy tale characters to highlight the importance of keeping safe online, they worked in groups to navigate their way out of some tricky situations. Will the 3 Little Pigs tell the Big Bad Wolf where they live? Will Red Riding Hood notice that Granny looks a bit different today? And will anyone be able to stop the Ugly Sisters from being horrible to Cinderella? Through playful and fun storytelling, pupils learnt how to keep safe when playing on the internet and realise that the world inside the screen is perhaps not so different from the real world after all.
January 2017
Keeping Healthy
We have been learning how to keep ourselves healthy. This month we have created our own healthy lunchboxes and Matt from The School of Military showed us how to make our own smoothie drink. We also took part in a 30 minute fitness training session with Matt and we now understand how important it is to eat healthily and to exercise daily. We have enjoyed taking part in the daily mile which some of us now do at 8.40am with our parents. Year 2B have definitely started 2017 being healthy and active !
Science Show
We really enjoyed the KS1 Science show. We had fun exploring and investigating Electricity. We used our predicting, comparing and observation skills throughout the show. These are some of the skills we will be applying to our Science work in class when studying living things.
December 2016
Year 2B are very proud. We have won this terms Attendance Award. Here we are celebrating.We all realise the importance of coming to school everyday.
We hope to keep our champion title next term!
Year 2B have had a great time celebrating the festive season. We watched a pantomime and held a Christmas craft enrichment evening which our parents enjoyed. We all took part in the KS1 Christmas production Baa Baa Bethlehem and everyone who watched the show thought that it was amazing! We visited our local church St.Nathaniels and Vicar Lynn explained to us how the church prepares for Christmas and why Christians celebrate Christmas. In class we have been busy making cards and other Christmas gifts and we had a brilliant KS1 Christmas party were we played lots of fun games. We have earned a rest ! We cant wait until 2017 to see what exciting new things we will be learning about next.
November 2016
As part of our topic 'What Makes a House a Home.' Year 2B visited Belong. We spoke to the residents about their childhood homes and asked questions about what life was like when they were young and compared this with life today.
We had lots of fun learning about the differences between homes now and in the past and made some new friendships.
October 2016
Staircase House Trip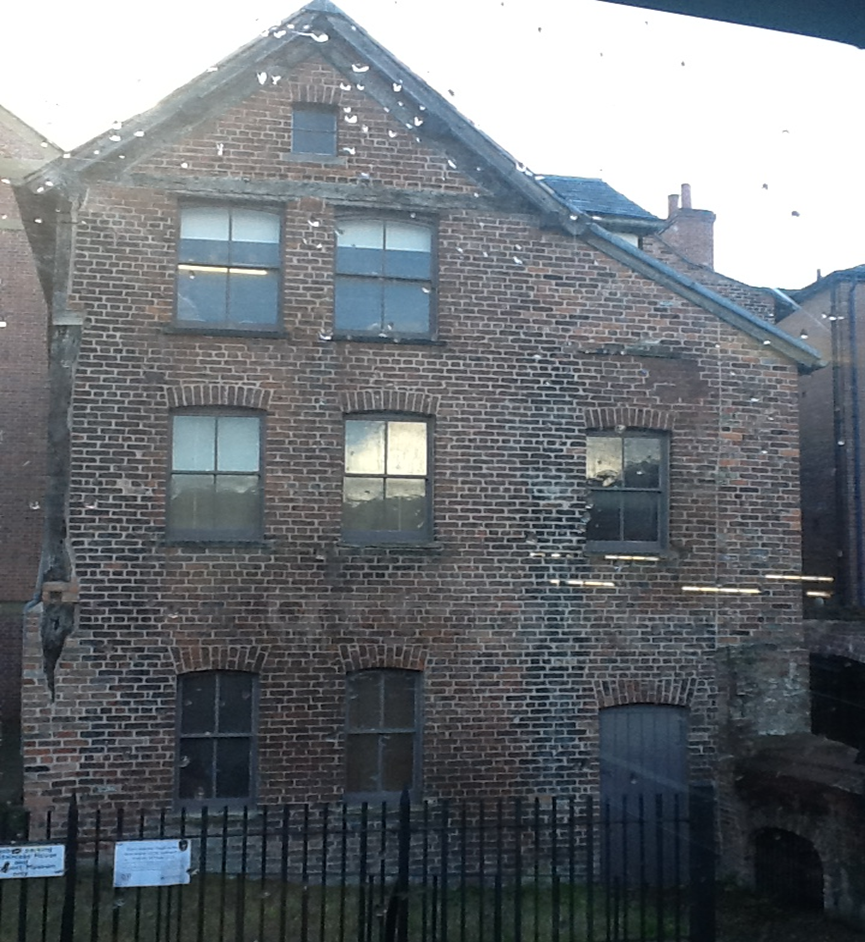 Year 2 enjoyed a visit to Staircase House in Stockport as part of our current theme Homes. The children enjoyed looking at a variety of household items from the past and also enjoyed making Candles and Pomanders.
September 2016
Welcome to Class 2B
We are enjoying our topic "What makes a house a home"
We time travelled and visited a Victorian house. We also went for a walk around Platt Bridge and looked at the different types of homes in our local area.
May 2016
Eco Week
Last week we took part in lots of exciting activities as part of Eco Week. We visited the allotments to look at how our seeds had grown. We were really pleased to see our Brussell sprouts and lettuce looked very healthy.
We also took part in an Outdoor learning session. We worked collaboratively in teams to follow aerial photographs and instructions to place items on a grid. We then tried to move them and turn them through full, half and quarter turns.
On Friday we went 'Unplugged'. We went on a hunt around school and were surprised at how many things needed electricity to work! We talked about how we could save energy at home by switching things off when we'd finished using them and limiting how much we use ipads and televisions each day.
We designed our Easter bonnets and put some ladybirds on the grass around our bonnet. We took turns to help making different parts of it. On Wednesday Mrs Darbyshire decided who had won. Sadly another class won but we had lots of fun making them.

Millie
We practised a dance for Sports Relief and it was lots of fun! Our dance was to a song called 'Physical'. Everyone watched us dance in the hall and clapped while we danced! We found out all about Sports Relief and how it helps lots of people who don't have as many things as us.
Moyra
On Tuesday we went on a trip to the Church. When we got there the first thing Vicar Lynn did was show us different parts of the church like the font, altar and the pulpit. She then told us the Easter story and talked about how she celebrated it with her friends."

Jessica