February 2020
In February 1A have been very busy learning lots of new knowledge and skills. We've learned all about 2D and 3D shapes and explored these with multiple shape hunts around school. We've wrote beautiful sentences all about the goats from Three Billy Goats Gruff including the prefix 'un' and the suffix 'est'. We've explored the life and works of Vincent Van Gogh and hope to create our Van Gogh inspired transport piece very soon. We've also had multiple exciting visits including an author who shared his story with us and a nurse visit who highlighted the importance of washing our hands.
February has been very busy and we can't wait to learn lots more in March!
January 2020
The class of 1a are feeling relaxed, rested and ready to learn this January. Having had a lovely time off for Christmas, we quickly got back into learning about lots of interesting things!
Our new topic for the term has been unveiled to us, Rail, Road and Rocket. We have been learning about lots of different transports and how they have changed since the past. We sorted different types of transports on a sorting table and even made our own chronological timeline. Did you know before cars, people would drive horse and carriages?
In Geography, we have been looking at our local community. We have discussed and looked at maps of where we lived, finding our houses and local points of interest. We used these maps to plan and follow a route around Platt Bridge, we looked specifically at the different types of transport we could find - unfortunately there was no rockets in Platt Bridge, who knew?
In English, we have been introduced to a new book - in fact it is Mr Worthington's FAVOURITE book of all time, can you guess what it is? Jack and the Flum Flum Tree of course! It is a really special story and I'm sure we will be able to retell it to you using our talk for writing!
December 2019
December was exciting in Year 1a!
We started the month with a very special visitor from the North Pole - Can you guess who paid us a visit? It was the Naughty Elf, direct from the North Pole! We were all excited to see what kind of mischief he got up to in school but it turned out he was broken! We had to make magical potions by writing our very own instructions to fix the Christmas magic and make sure that our elf was alive. After we'd brought him back to life, he returned to his usual sneaky self by putting toilet roll all over the classroom (Mr Worthington was furious), setting up his very own 'Elf School' with all of the creatures from class, making snowflakes and sprinkling them all around and even cello taped all of our toys to the walls! After that, the elf disappeared and we wasn't sure where he had gone. We had the brilliant idea of making wanted posters to help find him but eventually we received a letter with photographs of the elf on Holiday! He had returned back to the North pole to get ready for Christmas!
We also had a wonderful Christmas party full of sweets, games and festive music and a visit from Santa who wished us a Merry Christmas. We all really enjoyed our festive time in class!
November 2019
Year 1 have been very busy in November and have loved learning lots of new things. We found a monster running around school, beware in Platt Bridge as we still haven't found him! We learned to be a Wild Thing as Max the King came and taught us all about their way of life. We learned all about carnivores, herbivores and omnivores and even designed our very own menu for each of these. We have become authors and wrote our own stories - we are soon to be on the best selling list! We began to feel very festive and have been practicing our Christmas songs non-stop ready to perform for you and most recently of all, Father Christmas delivered a mischievous elf to our class. Unfortunately he is broken, lets hope we can fix him in time for Christmas.
October 2019
Year 1 have maintained their hard work and love of learning into October. We grew into little helpers, as we saved a stranded whale from being stuck on the beach through our brilliant instructions that we wrote all by ourselves. We grew into published authors, as we replaced all of our classroom's lost books with a story all of our own. We grew into little actors as we created, rehearsed, practiced and performed lots of amazing actions to help us memorize the story. We grew into mathematicians and became experts in measuring the length and height of objects - including a cheeky monsters footprint! We even grew into scientists, ask us anything about mammals, amphibians, reptiles, birds and fish and we will be able to tell you! We grew into historians, as we looked back on our own lives and wrote our own autobiography from when we were babies all the way up until year 1. We can't wait to grow some more - let's wait and see what November brings!
September 2019
What an amazing start to the year we have all had so far! Year 1 is a massive change for all of the children but they have all settled in really well and have loved learning about lots of different things. In art, we have researched and evaluated the work of Nick Mackman and her amazing clay animal sculptures. In English, we have begun to write lots of fabulous sentences about different jungle animals including a missing lion, be careful we still haven't found him! In science we have done lots of fantastic work learning about different animals. We have built our own habitats, wrote about what different animals need to survive and even had an extra special visit of some furry friends. A dog, four ducks, a tortoise and even Mr Worthington's frog all came to say hello and to see how we settled into year 1. We can't wait to share all of the amazing work we will do this year!
Following on from the conservation work undertaken with Chester Zoo, we were lucky enough to visit the zoo ourselves! We saw songbirds that we had been looking at with the visitors in June that are on the verge of extinction. We were so excited at seeing meerkats, rhino's, elephants, giraffes and many other animals. Everyone had a wonderful day and now how they can help save animals from extinction.
During June, we were lucky enough to work with Chester Zoo on their 'Sing for Songbirds' project. Visitors from the zoo taught us how songbirds are at the point of extinction as they are being taken from their natural habitats and sold in markets. We explored ways to help the songbirds in Indonesia as well as those in the U.K. We looked at different methods of conservation and even went bird spotting.
May 2019
Craig McCann the Paralympian came to visit us. He told us all about himself and we had a great day training with him.
April 2019
As part of our Theme 'Would you like to be beside the seaside?' Year 1 visited Blackpool. We went to the top of the Blackpool Tower and visited a rock shop. We also walked along the promenade and saw the pier. We had a great time building sandcastles on the beach.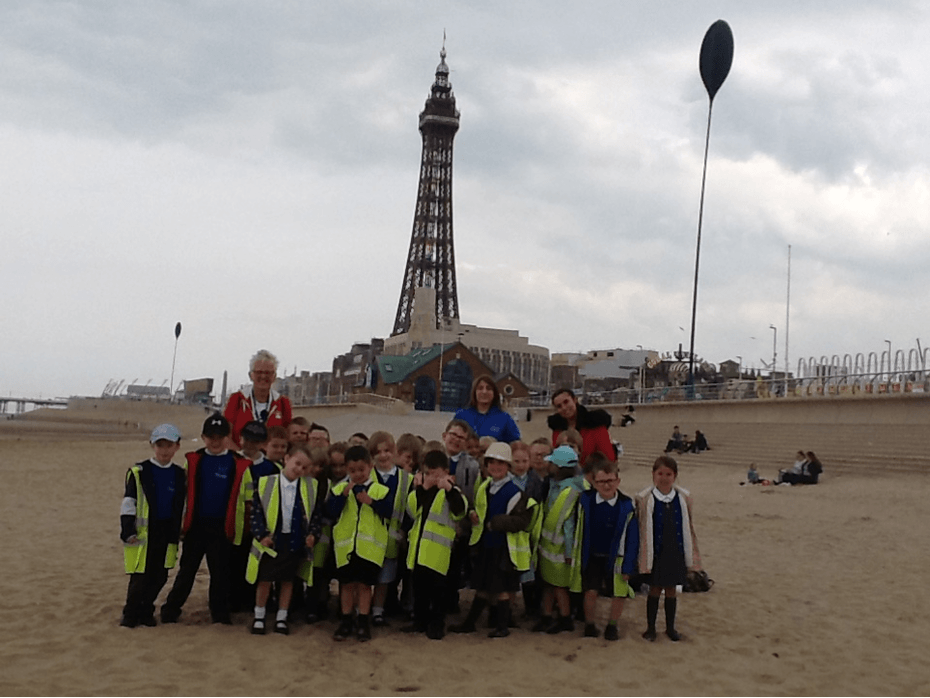 We really enjoyed our visit from the willow artists.
We had great fun weaving with willow. We made bracelets and we also worked hard to create a wonderful, willow tree that now stands proudly inside our Reading Area. We have decorated it with buckets and spades.
During Eco week, Year 1A worked hard in the allotment. We weeded our allotment bed and took great care when planting. We are growing Sweetcorn. We cannot wait to watch how our seeds grow!
March 2019
As part of our theme ' What makes a Prince and Princess' Cinderella and Prince Charming came to visit us .
They told us about other Prince and Princesses that they knew about from stories and they both role played some adventures with us all. Later we had our own special ball and played games and danced with Cinderella and the Prince. It was great fun!
During Science Week we explored and investigated bubbles. We explored if bubbles are always round and tested which materials made the best wands. We discovered that string and paper do not make strong wands. We also tested which ingredients make the largest and longer lasting bubbles. We recorded our findings using tables and charts.
The Poet Ian Bland came in to school to share some of his work with us. He also helped us to write and perform poems of our very own. Ian's poems are all very funny and we laughed a lot. We enjoyed writing and performing our poems so much we also performed them for our parents and carers during our class assembly.
March 2019
We had a fantastic time celebrating World Book Day. We all looked amazing in our costumes. We had great fun working with a storyteller who got us all involved with acting out her story.
February 2019
In History Year 1A have been studying the Royal Family.
We compared Royal Weddings with ordinary weddings. Looking for similarity and differences.
We used photographs and video clips to help us draw comparisons.
We had a 'Wedding Day ' The children had great fun acting out various roles . We even had a celebratory feast afterwards complete with wedding cake!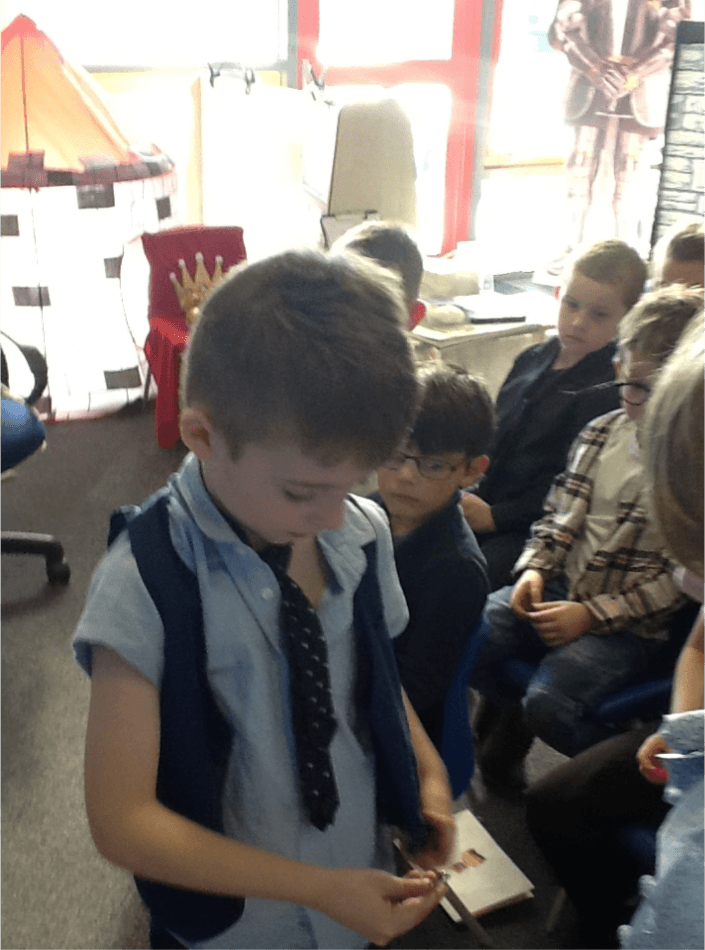 October 2018
Year 1 had to deal with a very strange event when a whale washed up on our playground. Luckily we had read the story 'The Snail and the Whale' by Julia Donaldson the day before so knew exactly how to save the whale. We grabbed buckets and spades and threw water over the whale to help keep him cool and to push him back out to sea. We also used spades to dig him out and make sure he was returned to a safe place. Everyone worked so hard to save the whale and in the end we were triumphant!
September 2018
In Year 1, some very strange things have been happening. First, the mouse from 'The Gruffalo' went missing. We searched everywhere for him and even wrote a description of what he looks like to help others find him. Then, we couldn't believe that the bear from 'We're Going on a Bear Hunt' disappeared too. We have recorded his last know locations to help us find him. In our mathematics lessons we have explored counting in 2's and measuring length, height, capacity & volume and weight. In science, we had some visitors to help us understand our 'Animals Including Humans' topic - We met Timmy Tortoise, Tobylerone the dog and we even inspected the features of fish. Lots of learning has taken place and we have had great fun learning new skills.
Fish Inspection
Clay Modelling
September 2018
I hope you have all had a wonderful Summer . Please can you bring your book bag and P.E kit with you on the first day back so that you can safely take home your new reading book and any letters or information that will be given out. Over the Summer holidays, your teaching team have been making your new classroom look amazing! Our theme this term is Who is The King of the Jungle? We will be learning lots of new amazing facts about animals and you are very fortunate because you will have lots of teachers and adults to help you with your learning this year. We are all excited to be coming back and are looking forward to be sharing a ROARING, fun time with you all this year.
See you all very soon, Miss Moulsdale , Mr Lees , Miss Dallimore and Mrs Owen x


May 2018
We have been enjoying the lovely May weather this month in 1A.
We have worked hard in our writing to retell the Dinosaur Rap, using our talk for writing skills to help us.
In maths we have been revisiting addition and subtraction, and we have used these skills to solve problems.
At the beginning of the month 1A were the class attendance of the week winners with a fantastic 99.2%! We were so impressed and proud of the children's dedication to making it to school everyday.
The most exciting part of May was definitely our trip to Blackpool! We had an amazing, but tiring day! The children were extremely brave going all the way to the top of Blackpool tower and even stepping onto the glass floor! Then we had a lovely lunch in the ballroom where we watched some dancing, before going onto the beach and seeing how rock is made. What a fantastic sunny day!
April 2018
After the holidays we came back to our brand new classroom and we have spent the first few weeks learning all about it. It is called 'Would you like to be beside the seaside'. This term we will be learning about holidays and travel, looking at differences between past and present for our history unit, as well as studying Blackpool after we have visited.
We were also lucky that L-Jaye's mum brought chicks into school for us to look at.
We have got a very exciting term ahead of us!
March 2018
We have had an excellent end to Spring term.
Before the Easter holidays we had some exciting events: Cinderella and Rapunzel came to visit our school. They taught us how to dance and we even played some party games.
Our school had a fun day for 'Around the World' and we learnt all about Italy. We had an amazing morning making our own pizza and researching Italy and then in the afternoon we visited lots of other countries including Egypt, Kenya, China and Mexico.
Then to celebrate Easter, we had our Easter Craft Enrichment session for parents and children to work together.
February 2018
February has been an exciting month in Year One!
Thank you very much for attending our Valentines enrichment evening. The children had an excellent time creating their lovely crafts and delicious marshmallows.
To celebrate the end of term we had a Royal Ball to link to our Prince and Princesses topic. The children all looked beautiful in their party clothes.
I am very proud of how hard the children have worked this half term and thank you for your continued support.
January 2018
Year 1 went back 1,000 years in history when we adventured to Skipton Castle. Here, we learnt about the origins of this historic castle and the people who lived there. We ventured through walls that were 4 metres thick; exploring kitchens, bedrooms and the dreaded dungeon. Our historical knowledge improved when we became time travellers and learnt how the use of the castle changed through time. Children had a fantastic time exploring this well preserved piece of history.
December 2017
Key Stage 1 have delivered outstanding performances of the Nativity "Behind the Stable Door". The children were amazing choristers, singing beautifully to songs such as "Grumpy Camels" and "Gifts of Love". All the teacher and staff are so proud of their achievements.
All the staff and children in Key Stage 1 would like to wish you a "Merry Christmas and best wishes for 2018".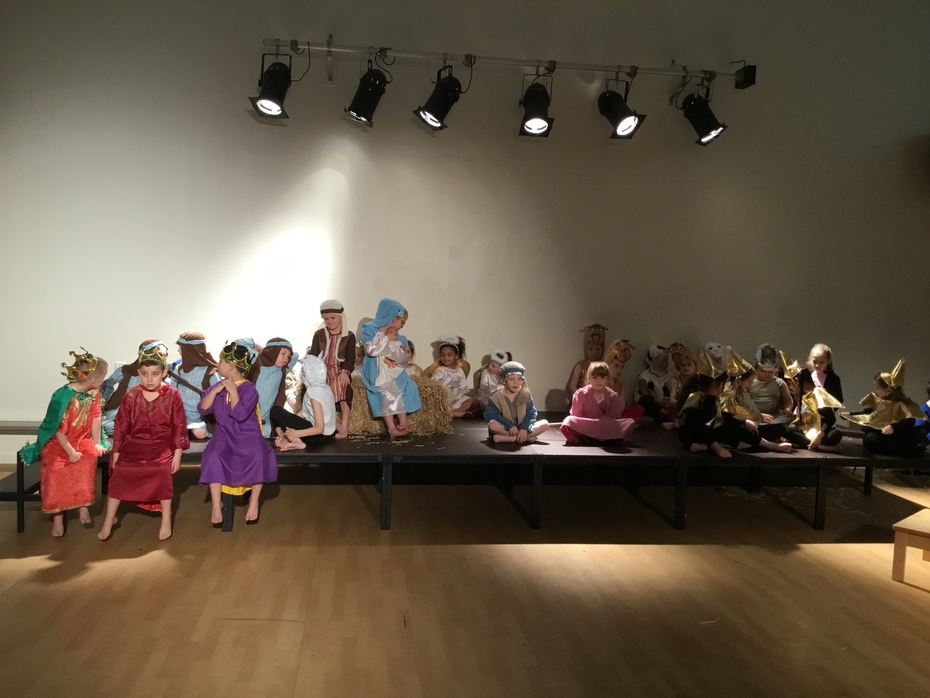 November 2017
Our book this month has been the 'Snail and the Whale' by Julia Donaldson. We came to school and had a phone call from Mrs Burland to tell us that a whale had been washed up onto our playground! We needed to act quickly to save him, so we filled up lots of buckets and grabbed some spades and rescued him. Then the snail went missing! But luckily he left us some clues to check where he had been, and we discovered that he had been to Blackpool.
We took part in a skills for learning lesson where we had to work as part of a team to create a shelter that would keep all of us dry. As you can see it was a great success!
Another exciting visitor has been in Year 1 this month, Mr T the tortoise! He came in to help us with our science work on reptiles. We looked at his hard shell that keeps him safe and saw his different foods.
At the end of this month went on an exciting trip to Liverpool Museum where we saw fish, bugs, rockets and even some dinosaurs! It was a very exciting day for us all and we were very tired on the coach home.
October 2017
This month we have been working very hard in maths and we have looked at maths that we see in everyday life. First, we looked at measuring time and the idea of fastest and slowest by watching races from the Olympics where we had to place bets on who would be the fastest runner. Next we looked at something that we use every day, money! Miss Gore even made us our own shop for us to buy things in using real money.
In science we have been learning about different groups of animals and we had some visitors to our classroom, real fish! We had to cut them up and have a look at their insides. We were all very sensible and grown up with exploring the fish.
There was a 'Rumble in the Jungle' in 1A with our new book! We practised the actions for the Lion's part and did some beautiful writing about it.
September 2017
Can you believe that we've already finished our first month in year 1?! We have been very busy settling into our new classroom and exploring our topic for this term 'Who is the King of the Jungle?'. We enjoyed a trip out to Tesco in Wigan where we went on the Farm to Fork trail to see where our food comes from. We saw bread being made and even tasted some fresh fish from the fish counter!
In maths we have been consolidating our place value skills and using non standard units for measurement.
In our literacy lessons we have been working on writing sentences and captions using finger spaces, full stops and capital letters. We even chased after a lost mouse in our school!
We have really enjoyed our first month in year one and are looking forward to an exciting few months ahead!
July 2017
As we are almost at the end of our time in year 1, we have been looking at all the fun we have had. Take a look...
Please click here.
June 2017
Big Read Week
After returning back from half term the children were so excited coming back into class in their magical costumes. To kick start our week and to promote reading, the children have been take part in lots of magical workshops and will be focusing on The Magic Finger by Roald Dahl for Big Read Week.
May 2017
Year 1a are so excited to tell you all about the trip we have just been on. Although we have a seaside in our classroom, we have been to a real seaside. We have been to Blackpool and we had the best day.
We started off by going to Blackpool tower. It was so tall! In the tower, we were all very brave and stood on the glass floor. It was amazing because we could see the whole of Blackpool. We were looking out for physical features like the sea and the sand and human features like the buildings and the tower. We also watched a 4d movie. It was fantastic and we even got sprayed with water.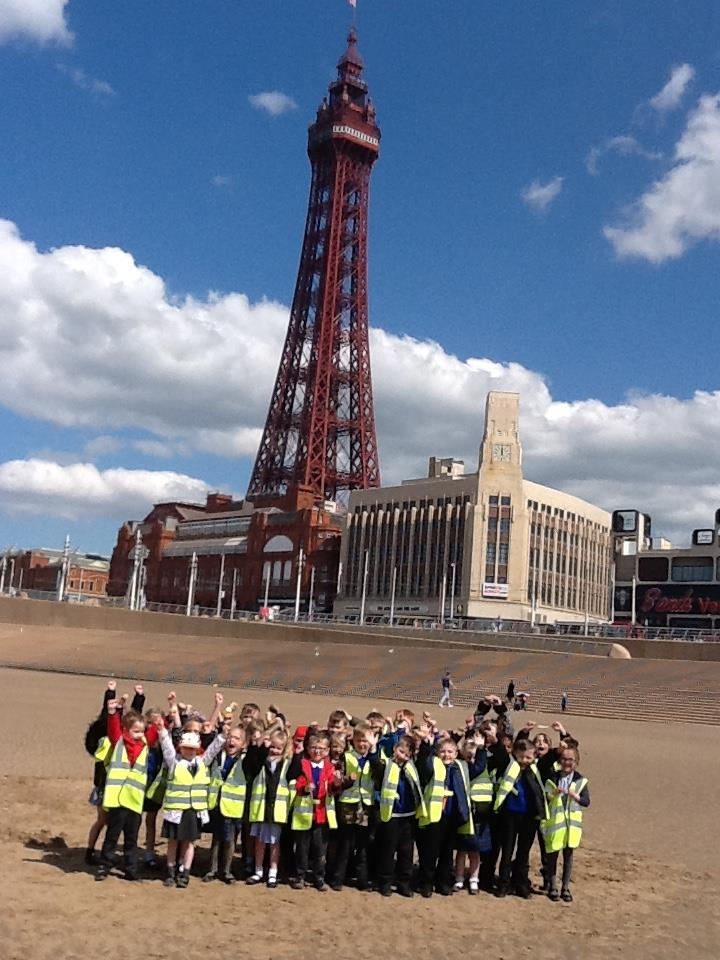 At lunch time, we were very lucky to eat our dinner in the tower ballroom and we watched the men and ladies dance. After lunch, we went to the beach and built sandcastles. We had so much fun! We also went to a rock shop and were lucky enough to watch how it was made. By the end of the day, we were all very tired. We can't wait to get back to school and write all about our day.
April 2017
After a long Easter break, 1a were so happy to come back to school, especially when we saw that our new classroom was a seaside. We are all certainly ready for summer now! When we walked into our classroom we all got an ice lolly and pretended to be at the seaside. It was so fun!
We have really enjoyed exploring our new classroom. Look at all the fun we have had. We have been role playing in the fun fair area and ice cream van. We have loved creating our own fun fair rides in the construction area. We have got some new seaside books which we have really enjoyed reading with our friends on the beach. Our small world area has been really fun too.
Also, on our first day back, we came into class after break time and we could smell the seaside. We looked on out tables to find that we all had our own box of fish and chips. We are so lucky. It was fantastic. Thank you to Joe's chippy who kindly donated lots of food for us. We really enjoyed it.
Miss Connolly and Mr Lees definitely got into the seaside spirit.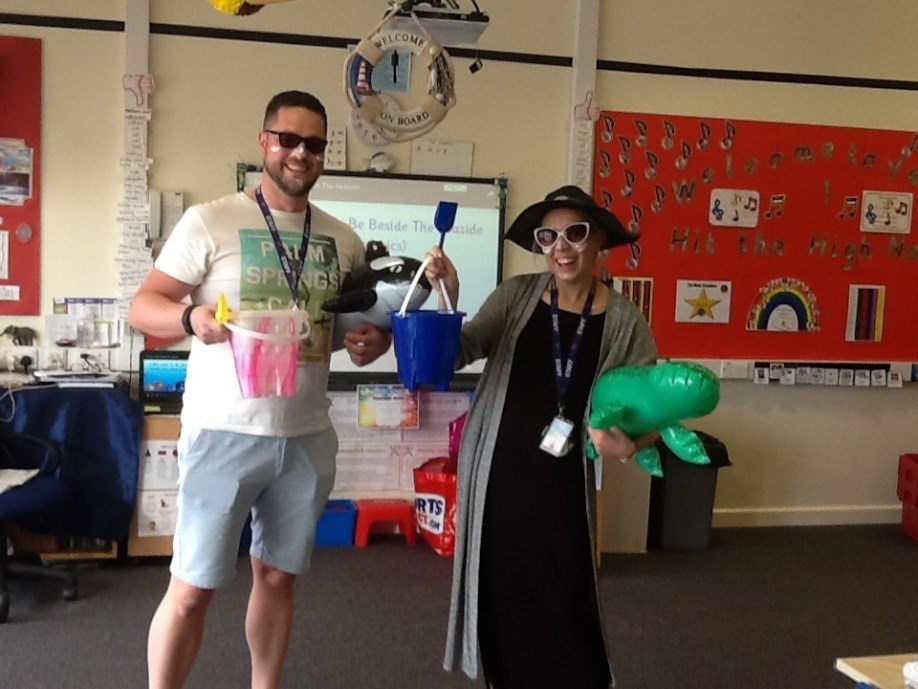 March 2017
March has been a fantastic month for us as we won the attendance award for the term. We are so proud of ourselves and have set ourselves the challenge to win the award next term- we know we can do it! Well done 1A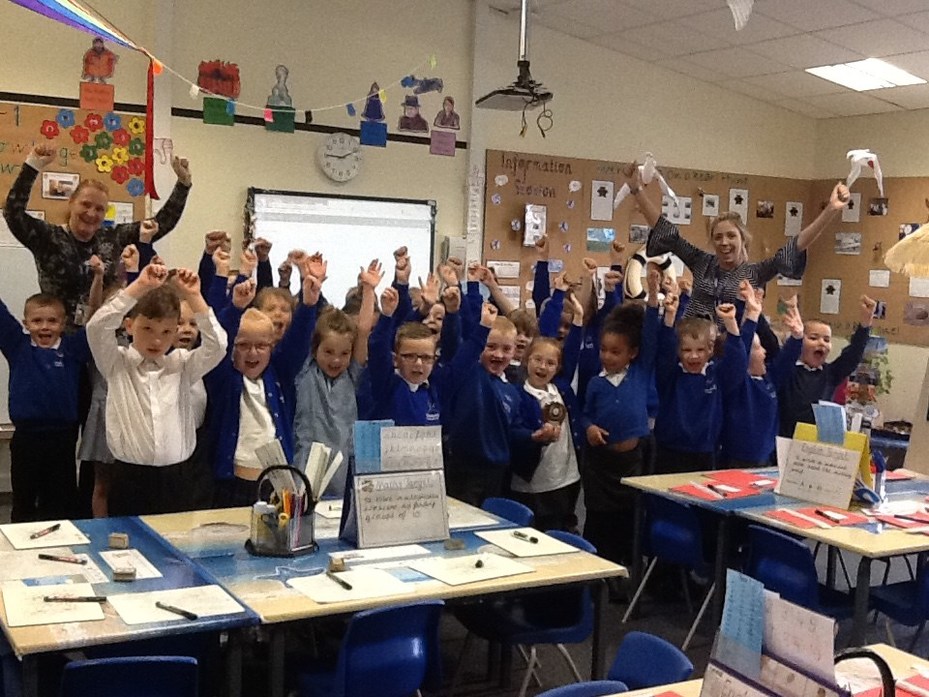 At the beginning of the month something really exciting happened in our school. We had some visitors, but not any old visitors. These visitors were DINOSAURS! We found some gigantic eggs on our playground and we noticed that one of the eggs had cracked. The next day when we came to school, there was a big T-Rex on our playground and we couldn't believe it. His name was Rex and he wasn't too scary after all. After our visit, we really wanted to learn all about dinosaurs and so we read lots of different books about dinosaurs including fictional stories, poems and non-fiction stories. We really enjoyed finding out lots of interesting facts about dinosaurs and we especially enjoyed performing the dinosaur rap.
February 2017
Gingerbread Man
We have been having lots of fun in year 1 over the last couple of weeks. We recently read the story 'The Gingerbread man' and we even made our own gingerbread men in class. We decorated them and left them in class over night to dry. When we came into school the next day, we were really surprised to find crumbs everywhere and so we checked the CCTV cameras. As you can see from the video below, a group of gingerbread men came into our class. We had lots of fun writing about them and we even wrote our own instructions.
Science
In Science, we have also been learning all about materials and their properties. As part of our homework, we made models out of different materials and they are absolutely fantastic. We definitely have some future architects, designers and artists in our class. Well done everyone who made a model. To help us remember all the different types of materials and their properties, we have also learnt a song to help us. Have a look at us singing it!
E-Safety Day
As a WOW launch to E Safety day we wanted to do something memorable for the children around keeping children safe on the Internet. With the help of One Day Creative, all the children in the school got to take part in a fun creative workshop and learn all about E Safety through Drama.
Reception to Y3 took part in the "Into the Screen Workshop" The children used well-known fairy tale characters to highlight the importance of keeping safe online, they worked in groups to navigate their way out of some tricky situations. Will the 3 Little Pigs tell the Big Bad Wolf where they live? Will Red Riding Hood notice that Granny looks a bit different today? And will anyone be able to stop the Ugly Sisters from being horrible to Cinderella? Through playful and fun storytelling, pupils learnt how to keep safe when playing on the internet and realise that the world inside the screen is perhaps not so different from the real world after all.
"Year 1A really enjoyed the workshop about E-Safety, we learnt all about the importance of keeping our password secret and choosing a good password. We really enjoyed how they used fairy tales to get the point across because we have been learning about fairy tales in class so we already knew the stories."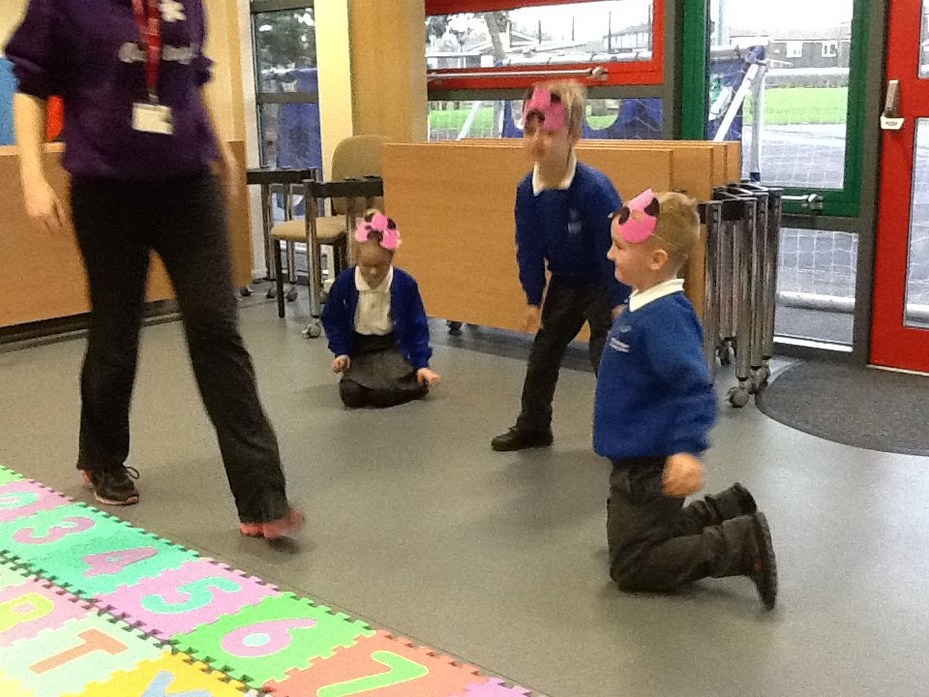 January 2017
A huge well done to Year 1a, so far this term as we have won the attendance award twice! We are so proud of ourselves and know that it is so important to come to school. We have enjoyed two workshops from the school of military as a reward for our attendance. Matt from the school of military even made Miss Connolly do some press ups which was really funny!
We have had a fantastic couple of weeks in Year 1a doing lots of exciting things. We have been learning all about princes and princesses. We read the story Cinderella and we were even invited to Cinderella's ball. We designed and made some sandwiches to take to the ball and they were yummy.
We had a great time. We even had some naughty visitors who came into our classroom… Cinderella's mean stepsisters. We caught them on CCTV trashing our class and ripping all of the pages out of our Cinderella book. They are so cheeky! Luckily, in class, we had been learning about the part of the story that the stepsisters ripped out of the book, so we re-wrote it with our best writing and we are so proud of our work.
We've also had another visitor, Tom Thumb. We found out that he loves adventures and that he has had lots of fantastic adventures in our class. We were really sad when we realised that he had gone missing, but luckily he left us some clues to help us find him and we really enjoyed going on a clue hunt around school finding out all about what he had been getting up to. Unfortunately, we haven't found Tom yet, but in class at the minute, we are making wanted posters to put up around school so the other children can help us look for him. I'm sure we will find him very soon.
December 2016
Sadly, we have had to say good bye to Mrs Barrow who is moving on to pasture new. We would like to wish her all the best for the future and thank her for all her hard work. She we be sadly missed. Good luck Mrs Barrow!
Year 1 visited the streets of Bethlehem to retell the story of Mary, Joseph and the baby Jesus. We had a great time singing as part of the choir to explore the biblical journey. Our parents were very proud of all the songs we learnt and we put on a great show.
November 2016
For the last two weeks Year 1A have won the attendance award. We have all been in school every single day! Aren't we wonderful? Last week we got to go on the bouncy castle and we had so much fun! This week we got a lovely, shiny pencil from Mrs Sargent. Our teachers have told us to keep up the good work!
October 2016
This week in year 1a during our science lesson we have been looking at reptiles, we had a very special visit in class from Tyrone the turtle. We were very excited to see him and learn more about his features.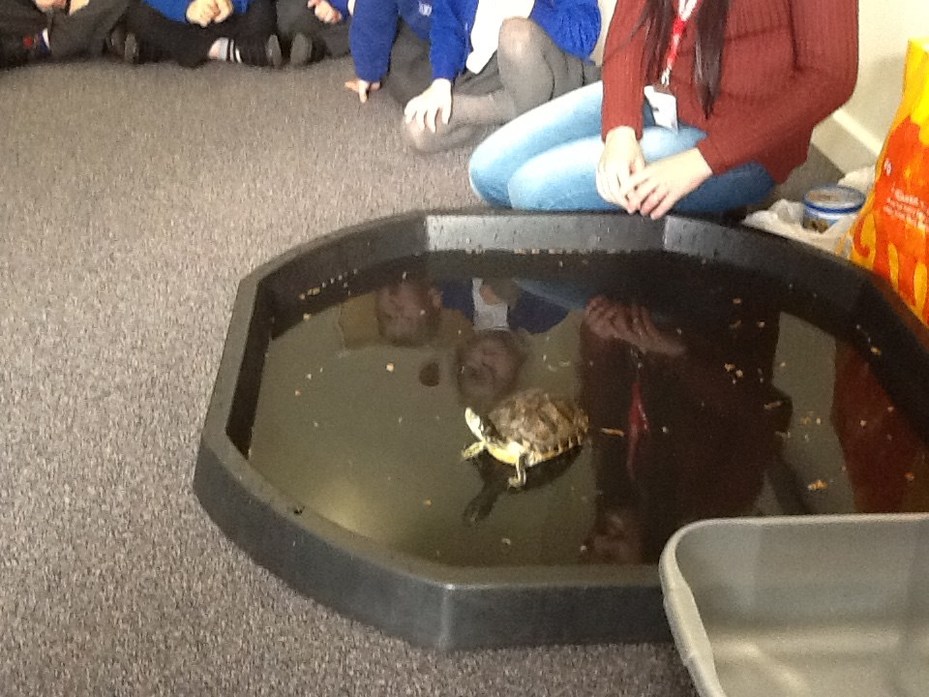 The Liverpool World Museum
On Friday 14th October Year 1A went on a trip to The Liverpool World Museum. We spent the full day there exploring. When we got there we went to see the mini beasts and we found out that tarantulas are actually not so scary! We looked closely at the features of different mini beasts and talked about what they are used for. We also learned about where these creatures live and what they eat. After that we went to the aquarium and we saw lots of different types of fish! We even found Nemo and Dory. Then we went around to museum and observed lots of different mini beasts in tanks. We had a look at the structure of different animals and looked at their skeletons. We held an elephants tooth and we still cannot believe how heavy it was! After lunch we went to see the animal mummies and learned lots of information about Ancient Egypt. We had a fantastic day and learned lots of new information!
October 2016
Tesco Trip
On Friday 7th October Year 1A went on a trip to Tesco for the farm to fork trail. This was very interesting and we found out where food comes from. We looked at different fish, we tried a variety of cheese and we tasted different fruit. We looked at the different colours of fruit and vegetables and recorded them on our sheets.
After we explored the store we went into a room and we enjoyed a drink of juice and a homemade chocolate chip cookie! It was delicious! Then we made our own pizza. We used tomato puree, cheese, ham, mushrooms, peppers and sweetcorn. We took them home to cook and they were tasty!
We really enjoyed our morning at Tesco and Sonia and Jackie who worked with us were fantastic!
September 2016
Welcome to Class 1A!
We have all settled in nicely to our new class and routines and we are learning lots of new things!
Our classroom looks like a jungle! This is because our topic until Christmas is 'Who is the King of the Jungle?' We are going to be finding out lots of interesting information about the jungle. We are very excited!
In writing we are going to be concentrating on using our sounds carefully when writing words and using finger spaces, capital letters and full stops consistently.
In maths we will be looking at the value of different numbers, recognising numbers, counting amounts and also counting forwards and backwards. Then we will move on to addition and subtraction and learn our number bonds to 10 and maybe even number bonds to 20!
In Science we will be learning about "Animals Including Humans'. We will be looking at different types of animals and sorting them according to their features and diets.
We will also be designing and making clay animal models in design and technology and making jungle animal masks in Art!
We are going to be very busy over the next couple of weeks!
May 2016
Eco week
This week it has been eco week and we have been learning about how we can help to look after our environment.
On Tuesday we had an assembly all about canals and rivers and we spoke about how to keep safe around water. We know that we should always be with a grown up to keep us safe around water. We also went to the allotments to look after our broccoli plants and Miss Barrow accidently sprayed Maddie in the face with the hose pipe! Oooops!
On Wednesday a visitor came into our class and spoke to us about recycling. It was very interesting! We are going to try our best to reuse and recycle where we can. In the afternoon we also made posters about how to reduce food waste and we are hoping they will be put up around our school.
On Thursday we had a morning without any electricity! It was very strange! We spoke about what we use electricity for and our classroom was very dull without the light! Luckily Miss Barrow had some torches so we did some reading in the dark. It was very exciting! Later that morning we built a water structure to transport water and we discussed that not all places have water from a tap like we do. We are very lucky! We worked as a team to build the structure but it broke! Never mind! We know what we will do differently next time.

On Thursday afternoon we had a nature walk and talk and Russ told us lots of exciting information about plants, insects and birds. We went on a nature walk around school and saw lots of wild pants, insects and birds.
April 2016
Our trip to Blackpool.
At the beginning of this term we went on our school trip to Blackpool and we had a fantastic time! We got there by coach and on the way we were singing songs, playing games and looking out for Blackpool tower!
When we got there we went straight into the tower and we went up to the 4D cinema. The seagull splashed us all and we all got wet! It was so much fun!
After the 4D cinema we went in the lift up to the glass floor. We were all very brave and we all stood on the glass floor. Some of us even did a crab on it!
When we had explored the top of the tower we went to the ballroom to eat our lunch. We got to listen to the man playing his piano and we got to watch people dance, it was lovely!
After lunch we walked to the beach and we spoke about all the human and physical features that we could see. We all got our own buckets and spades and we got to build sandcastles. We were very excited!
Then it was time to go to the rock shop. We got to see how rock is made and we were very surprised. We all got to choose a piece of rock to take home with us and it was delicious!
Shortly after the rock shop it was time to get back on to the coach and go back to school. We had a great day and we were all very sensible. It was such a busy day and we were very tired on the journey back to school.