Reception
January 2020
Welcome to Africa! This month we have been finding out what it is like to be a child in Africa. We have tasting fruits traditionally grown in Africa, exploring indigenous instruments and crafting jewellery fit for a celebration. I'm sure you have heard all out our story 'Handa's Surprise' which the children are fantastic at re-telling now. Take a look at all the fun we are having in our class photo gallery.
December 2019
What a fantastic month we have had in December. We have loved preparing for Christmas and after all the fun we have had, we are all most definitely feeling the Christmas spirit. We started our month with a visit from Mrs Howard who had found a parcel for Reception in her office. In the parcel were 2 cheeky elves who we named Tom and Lily. We had so much fun watching the elf cam every morning and laughing at all the mischievous things they got up to; from sledging down our Tipi to trumping on our carpet. Of course, we wrote to Santa every day to tell him of their mischief.
We have also enjoyed being Santa's helpers in our Santa's Grotto. We have been working hard doing lots of things to help Santa: building toys, sorting presents from heaviest to lightest, reading letters to Santa to fill his sack and most importantly writing our own Christmas lists. We have loved doing this using our toy spinner. We have been spinning the spinner and writing down the toy that it landed on. We really hope we have been good enough to get all the things on our list!
We visited our friends at Belong again to help them get in the Christmas spirit. We had so much fun making Christmas cards for them, creating Christmas decorations and having a nice Christmas chat. We even sang them some of the Christmas songs that we had learnt for our Christmas Carol Concert. When we left, all the children and residents had a big smile on their faces. We cannot wait to go and visit our friends again in the New Year.
Our favourite story that we have been reading during December has definitely been Stickman. We even had a visit from him in school and he needed our help. He couldn't find his family tree anywhere and was really missing his Stick Lady Love and his Stick Children three. Stickman didn't need to worry though because we were here to help. We looked at a variety of pictures of trees and talked about why they could or couldn't be the family tree. We talked about the seasons and how trees look different times of the year. Luckily, Stickman was able to find the family tree and returned home. Unfortunately, Stickman continued to be mistaken for lots of different things, just as he was in the story. Once again, we decided to help! We wrote a list of all the things stickman is NOT, so everyone could see that Stickman is a real person. We are so amazing with our writing now.
November 2019
This month, the children have been fascinated to find out about Remembrance Day. We had many discussions about it and we even learned some new related vocabulary, including soldiers, veterans and respect. The children really enjoyed painting their very own poppy and paid their respects to the soldiers by placing their poppy in the ground and taking part in a one minute silence. Some of our friends even had family members who were in the war and they were kind enough to bring in some old medals and paper work from the war to share with us. It was so interesting to hear all about it.
We had great fun on our Woodland walk, exploring signs of Autumn. We discussed what happens in Autumn and how the leaves change colour and fall from the trees. We were particularly interested in how animals survive in Autumn and were fascinated to find out that some animals hibernate or even migrate during Autumn and Winter. We loved singing Autumn songs about the leaves tumbling down and making a crunch, crunch, crunch noise. We can't wait to go back in Winter and see how things have changed.
October 2019
What a wonderful October we have had here in Reception. We have been very busy becoming super story-tellers and this month our story has been 'Goldilocks and the Three Bears', some of us have even become amazing authors, creating story maps and creating our own versions of the story!
We have even performed our story to an audience - the residents of Belong! We got to chat to the residents and make bread with them which was great fun! We even baked the bread and ate it with jam and butter at snack time back at school.
We are glad so many of you joined us for our reading workshop, where we shared our favourite 5 stories in our pyjama's, sipping hot chocolate and sharing what we love about our key worker stories!
Of course we cannot forget our tea party for the tiger who came to tea! The children wrote the shopping lists and we provided what they had ordered. It was a celebration of the learning and fun we have had in Reception so far!
October would not be complete without celebrating Halloween, look even the teachers got into the spirit of dressing up!
September 2019
Welcome to Reception! What a fantastic start to school we have had, we have been very busy making friends, playing in the areas and most of all having fun!
We have spent a lot of time in our Key Worker Groups which, as you will know, are named from our favourite 5 books in Reception: The Gruffalos, The Zogs, The Stickmen, The Rainbow Fish and The Hungry Caterpillars. You can see how much we have settled into our groups by the photos in our class gallery.
In our groups we love to sing nursery rhymes, listen to stories and learn brand new vocabulary from Mrs Wordsmith – the word fairy! We also play games which allow us to develop our listening and speaking skills as well as turn taking and what it means to be a kind friend.
You can see the teachers holding the book bears and the story book in their group. The book bears all went on an adventure with the teachers, where they got to read their stories at home to family and friends! Over the next few weeks the children will get to take their book bear home, we wonder, where will your child's book bear adventure be next?
June 2019
This month has to be the best month so far as we have had our trip to Knowsley Safari Park! It was awesome. We saw sea lions, giraffes, tigers, lions and even the cheeky monkeys. We were super brave and all went in the bat cave. We learnt some amazing facts and some of us have even been writing our own fact files back at school.
We really enjoyed our Sports Day and all showed super teamwork and sportsmanship. We were so proud of all our friends and loved showing our parents how hard we have been working.
May 2019
We have had so much fun this month, especially when reading our favourite story 'Supertato'. We loved finding out all about the evil pea and couldn't believe it when evil pea came into our classroom and froze our veggies. We used the hammers to set the veggies free and wrote lots of messages to evil pea to keep him away.
We have also been looking at Superheroes and enjoyed writing speech bubbles for our own superheroes. Take a look at some of our work.
The weather has been amazing this month and so we have been making the most of playing outside. Here we are having lots of fun!
April 2019
Wow, what a month April has been! The visit from local poet, Ian Bland, really inspired our literacy lessons this month and the children have impressed us writing action poems and acting them out to the class – take a look at our poets in practice!
Here is just one poem written by some of our superstars:
Walk, walk down the plank,
Dig, dig up the treasure,
Fight, fight with a sword,
Pat, pat on a patch!
This poem was inspired by more visitors who came to Reception, a mysterious group of characters who we think may have got lost on their way to…Neverland. Yes that's right, Tinkerbell, Peter Pan and Captain Hook have been in our classes and the children made it such a wonderful place to stay. Outside we made tiny dens for Tink and her friends to stay safe and dry outside, we went a scavenger hunt to find out more about Captain Hook and we made shadow pictures, using our imagination and knowledge of shapes to create collages of Peter Pan.
Of course you will know about the successful Easter Enrichment which took place at the start of April. The children were immersed and engaged with the craft activities and were talking about them for a long time afterwards, it has made us really excited for the next school enrichment! Here are some photos we would like to share: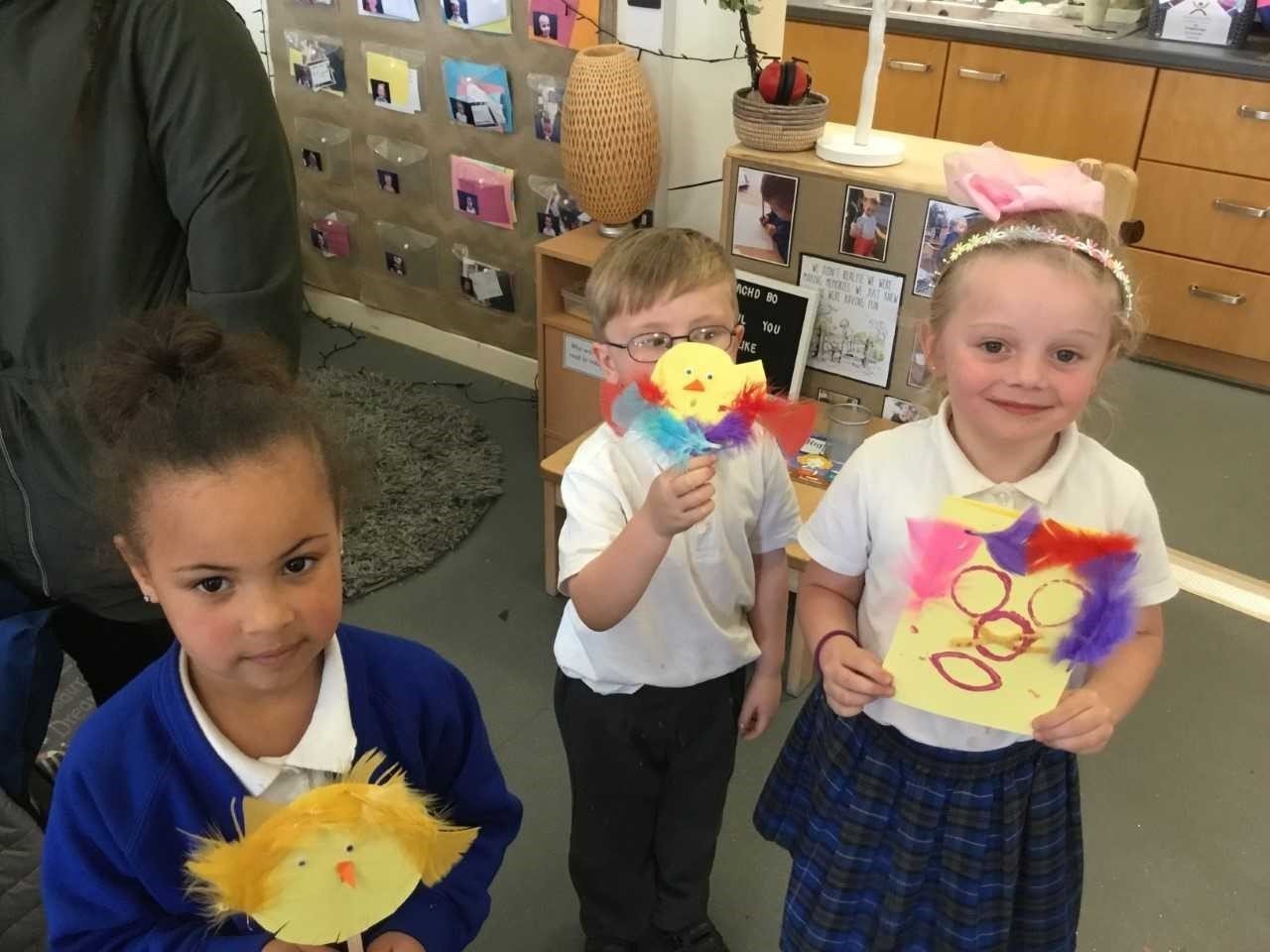 March 2019
March has been a fun month in Reception. We have been looking at a number of Traditional Tales. One of our favourite's has definitely been 'The Gingerbread Man.' One day, we came into school and we had a very peculiar parcel delivered to us. It had already been ripped open and had holes all over it. When we looked inside, there was nothing inside, just lots and lots of crumbs. With the parcel was a letter, from a little old woman. She sent us a letter telling us that she had baked us our very own gingerbread man to share in class. The children realised that the gingerbread man had ran away and they couldn't quite believe it. We went on a hunt around school to look for him and also saw lots of CCTV images of gingerbread man sightings around school. Take a look…
We couldn't believe all the things the gingerbread man had been getting up to! We decided to create our own Wanted posters to try and find him and some of us became Police Detectives, writing up everything the he had done in our school. We also learned the story and some of us became authors and wrote up the story. Take a look at our amazing work:
February 2019
February has been a super busy month for us in Reception. To finish off our 'People who inspire us' topic, we had visits from lots of inspirational people. One of our visitors was Nelson the guide dog. He came in with his owner and we found out all about how guide dogs help out people with visual impairments. It was amazing to hear what the guide dogs are able to do and how they are trained. Nelson was such a good boy on his visit and showed us everything he had been learning.
We were also lucky enough to have a visit from bronze-medallist Olympic athlete, Marilyn Okoro, who came in to speak to us about her career. She told us about the importance of perseverance and resilience. Now, whenever we face a problem in class, we remember what Marilyn told us and we try again, we never give up. Marilyn also did some circuit training with us and it was so much fun- she really was an inspiration to us.
January 2019
This term, we have been looking at people who inspire us. We have learned about lots of different people that help us in the community including The Police, Fire Fighters, Doctors and Dentists. We have loved role-playing pretending to be all these different people. We have pretended to be police officers, solving problems and helping people. We have also had a doctors surgery in class and have really enjoyed pretending to be doctors, helping out our friends and writing prescriptions.
We were lucky enough to have a visit from some dentists. They gave us all a toothbrush and showed us how to brush our teeth properly.
We talked about the foods we should be eating to keep our teeth healthy and also foods that we should avoid. Since this visit, the children decided that we need to have healthy food choices in our snack area so we have been making lots of our own snack such as making our own vegetable soup. We all worked together to chop up the vegetables and it was super tasty.
December 2018
December is always one of our favourite months in Reception for one reason… CHRISTMAS, of course. We have absolutely loved preparing for this special day and it really has been a magical experience for us. We have loved writing our Christmas lists to Santa and posting them in our post box. Some of us have even pretended to be post men, delivering Christmas cards to the children in class. We have loved pretending to prepare and eat Christmas dinner in our home corner and have had particular fun in the photobooth area, taking photographs of our friends.
As always, we have loved all of the stories that we have read throughout December. We started off the month with 'The Elves and the Shoemaker.' We loved that the elves helped the poor, old man by making shoes for him. Look at some of the amazing writing we did.
Just after reading this story, both Reception classes were sent cheeky elves, all the way from The North Pole. They were sent by Father Christmas to watch us, but they have been very very cheeky. When we go home at night time, our cheeky elves come alive and do silly things in the classroom. We have loved coming into school every day and checking the CCTV cameras to catch the cheeky elves in action. Don't worry though, we have been writing letters to Father Christmas every day and letting him know what they have been up to.
Another one of our favourite stories has been 'Stickman'. We even had a visit from Santa himself, asking us to help Stickman.
Stickman kept being mistaken for a stick, when he is not just a stick. He is a stick MAN. First of all, we had to go on a hunt around school to find a bat, a stick, a pen, a flag and a nest, so stickman wouldn't be mistaken for them again. We had a fantastic time searching the school and following clues to find everything.
Santa asked us to write a list of all the things Stickman is not, so he doesn't get mistaken in the future. Look at some of our fantastic work. We also wrote about the different people who thought stickman was a twig. We have been working really hard with our writing.
We have also worked super hard this year on our Christmas performance. This year, we went for a modern day Nativity and sang some of our favourite songs. Our parents were so impressed with our performance.
November 2018
November has been a really fun month for us in Reception. We have really enjoyed all of the different stories that we have been reading. One of our favourites of the month has been 'Jack and the beanstalk'. When we arrived into school one day, we were so shocked to find that a beanstalk had grown in our classroom and we worked out that someone must have left some magic beans in the class. We then followed instructions to plant our very own beanstalks, but this time we didn't use magic beans. We have really enjoyed looking after our beanstalks and watching them grow. We then wrote up some instructions explaining what we did. The children are doing amazingly well with their writing and we are super proud.
| | |
| --- | --- |
| | |
In maths, we have been looking at length and height and doing lots of measuring. One morning, we came into school and found lots of different sized footprints around the classroom and we had a voice message from the giant explaining that he had been into our classroom and had set us lots of different challenges. Some of the children became detectives, measuring the different footprints and discussing which ones they thought belonged to the giant. Others had to sort out a bag of mixed up clothes, matching them to the giantess, Jack and a doll. The children had to talk about the size of the clothes and use problem-solving skills to determine who they belonged to. We had lots of fun!
We have also really enjoyed reading the story 'The Snowman and the Snowdog.' One day, we found a melted snowman on the floor with a book and we were super excited to read it. Once we had read it, we did lots of amazing writing, describing the characters from the story.
We were also lucky enough to have a visit from some very special Willow Artists. We used out weaving skills to build some giant figures including a tree, an elephant and a giraffe, which will be displayed around school. Here we are in action:

We are really looking forward to December and getting in the Christmas spirit in the run up to Christmas.
October 2018
We were thrilled to reveal our new outdoor classroom to the Nursery and Reception children! With support from a National Lottery grant we have worked with E.den Play to re design and develop our Early Years outdoor space. The new area has a natural water play area including pump, reading corner, sensory garden, changing area and amphitheater style seating. We have also enhanced some of our older structures including the gazebo, mud kitchen and story circle and have had the area landscaped with new turf making the whole space more inviting and creating specific areas and an abundance of learning opportunities!
October 2018
October has been a very spooky month in Reception!
In maths the children have enjoyed reading the book Spinderella. The book focuses on counting as well as being a fun book to share over Halloween. The children have enjoyed counting activities with plastic spiders, pumpkin seeds and all things spooky! The children even had their own Halloween party where they played some fun games including; bobbing apples, pin the smile on the skeleton and they even took turns wrapping each other up in toilet roll to look like a 'mummy!'
After school on Halloween, Reception held a parental enrichment. Children came along with their families and friends and made toffee apples and ghost pictures.
Also in October was our amazing Dr Dolittle Day! This was a whole school day that everyone was involved in. All the Reception children and staff joined in by dressing up for the day! There were; vets, animals, explorers and may others. All the children looked amazing. The day comprised of a number of different fun activities. Firstly, there was a visiting farm. Here the children met the goats, sheep, chickens and ducks and they were even given the opportunity to feed them.
Then the children went to pets corner where again they had the opportunity to handle the animals. There were rabbits, a tortoise, guinea pigs and even a stick insect.
Following on from Dr Doolittle, the children learnt all about the book Farmer Duck. This was a story about a lazy farmer who made the duck do all the farm work. Until, one day all the other farm animals decided it was not fair and worked together to get rid of the farmer. The children got really involved in the book. They talked about how the animals felt, acted out scenes from the book and even described the characters from the story.
The Story….
October has been a fun month.
September 2018
September has been a very busy month in Reception! All the new children have settled in really well and have enjoyed exploring their new classrooms and environment. They have been busy making new friends and enjoying seeing friends from nursery who they have not seen over the summer holidays.
In maths the children have been learning about shapes and exploring our indoor and outdoor environments to looking for everyday shapes and creating pictures with shapes.
The children have also been doing lots of counting and matching numbers to quantity. They have even been enjoying playing some traditional board games to practice their maths skills such as; snakes and ladders, bingo and dominoes. The children have loved playing these with their friends and have showed some great turn taking and team work!
There has also been some very strange activity within the classroom. One morning the children came in to find that there were huge footprints throughout the classroom!

When they investigated further, they found large boots and clothing which belonged to the 'Smartest Giant in Town.' The children then read the book and learnt all about the characters in the story. The children even completed some writing tasks based on the story.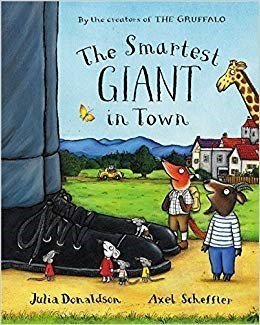 The children have also been enjoying another book; 'The Tiger Who Came to Tea.'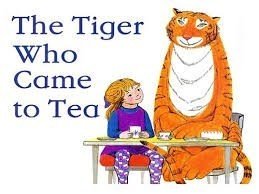 We read the story then decided that we would have a tea party just like the characters in the story. So we have had a week planning what food we want for the party, writing shopping lists and instructions of how to make sandwiches and then we had a tea party with our teddies brought in from home and the teddies in our classroom.
September has been a fantastic month… let's see what October holds!? ……
September 2018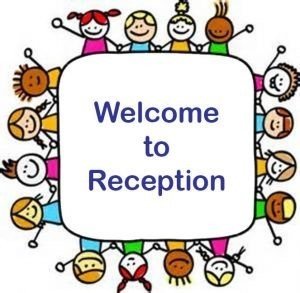 "You're off to great places,
Today is your day!
Your mountain is waiting,
So get on your way!"
Dr. Seuss
Welcome to the Reception Class blog. Here you will find lots of information about what the Reception children have been doing during their time in school and we do hope that you will enjoy reading it.
Mrs Burland, Miss Connolly and their team are looking forward to an exciting first half term in Reception and are looking forward to welcoming all the children into their new classes.
Mrs Burland, Miss Connolly, Michelle, Kirsty, Karen and Maxine.
May 2018
Our Royal Wedding
Reception took part in their very own royal wedding. All the children and staff dressed to impress for this special occasion. After the event the whole school enjoyed a Royal Tea Party and raised a glass of juice to Megan and Harry.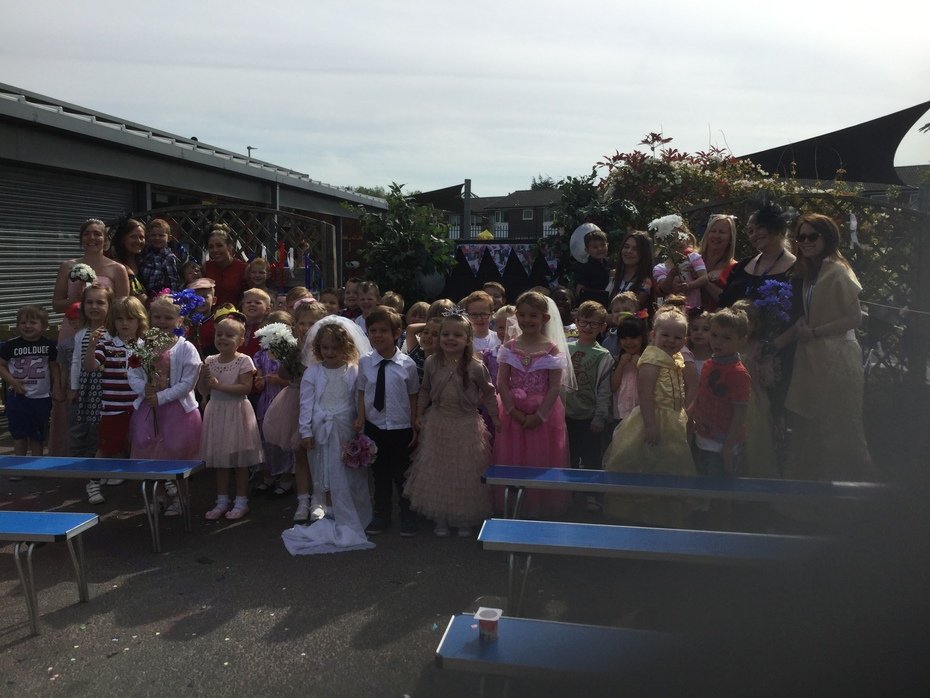 April 2018
April has been a fantastic month for us in reception. We had our very own duckling eggs in our class and we watched them hatch. We then looked after them in our classroom and they were so cute. We made sure they were clean, we gave them water and food and of course, we gave them lots of cuddles; that was our favourite part! We even let them have a splash in our water tray and watched them swimming about.
We also went on a fantastic trip to Underwater Street: Imagine That. We became scientists and it was great fun. Here we are making giant bubbles.
We also made our own slime, magnets and bath bombs. We even met a real scientist who showed us how to do all these things.
March 2018
We had lots of chocolaty fun during March as we focused on the story 'Charlie and the Chocolate Factory' and found out about Roald Dahl. On world book day, we all dressed up as our favourite characters and went on a clue hunt around school to find the chocolate that Willy Wonka had left for us. On our clue hunt, we found out all about Roald Dahl and it was lots of fun. We also made our own chocolate cakes and even had a candyfloss machine in class; it was so yummy.
Willy Wonka wanted our help. He ran out of ideas for chocolate bars and wanted us to design and make our own. We tasted and chose different ingredients, made the chocolate and even wrote some instructions about how to make it. Then we ate them, yum yum yum!
We also had a special 'Around the World' day and reception looked at Kenya. We had lots of fun making African jewellery, doing African printing, learning African dancing, tried some African food and even had some experts come in and teach us African drumming- it was so exciting.
We also learnt about what it would be like to live in Africa. We learnt about how they have to walk for a long way to get water from a well and that lots of people in Kenya live in mud huts. We had fun pretending to live in Africa and even had our very own mud hut.
February 2018
February in Reception was yet another fun filled month!
One exciting event that all the children got involved in and really enjoyed was Chinese New Year!! First the children learnt about the story as to how each year was named. This was the story of The Great Race where 12 animals took part; a rat, ox, tiger, rabbit, dragon, snake, horse, goat, monkey, rooster, dog and pig. The children loved the story of the race and they particularly enjoyed learning about which animal represented their year of birth.
Following this the children then had a Chinese food tasting session. They tasted prawn crackers, rice, sauce and noodles!! This was so much fun! The children loved the food so much that some of them created their own Chinese food plates using different materials from our creative area. Delicious!
The children enjoyed writing about the animals in the story and what each animal got up to during the Great Race!
Also in February, the children have become Scientists! We now have our own Investigation Area within the classroom where the children can investigate and explore lots of exciting things. In February the children learnt about magnets and they loved experimenting with these, discovering what items have magnetic properties. The children have loved this area.
As the weather starts to improve, the children have enjoyed exploring the outdoor classroom! We have had a great month in Reception.
January 2018
This month in Reception has been very exciting. The children were so lucky to be part of the amazing Winter Wonderland Day that took place.
During the day the children took part in a range of fun activities including; ice skating, meeting real reindeers, having a snowball fight, face painting, bouncy castle fun and meeting Anna and Elsa from the film Frozen!
Ice-skating!

Snow Fun!

Anna and Elsa singing!

Winter Crafts.

Meeting the Reindeers.
In literacy we have been learning the story of Jack and the Beanstalk. The children have loved this story. They even had a visit from the giant as he left his boots and the beanstalk in our classroom. Despite the children searching for him and writing wanted posters to try to help to find him, we think he must have returned to his castle!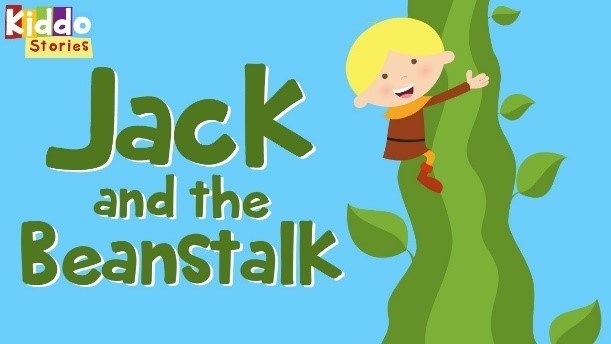 Since his visit, all the children have planted their own special bean and they are now looking after it by making sure it is watered and placed in the light. We are interested to see if any of them will turn into a magic beanstalk!
The children have written a list of what they did when they planted their own bean.
Also in literacy the children received a newspaper report to tell them that some animals had escaped from the zoo. The children have hunted everywhere to find them and make sure that they were safe. They have created their own posters and put them up around school to tell others to look out for the escaped animals! The animals have even been in our classroom as they left their footprints!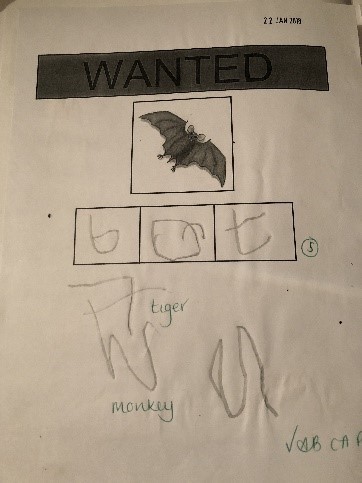 January has been a very busy but fun month.
December 2017
We have been getting very Christmassy in Reception and our classroom has been transformed. We have had lots of fun in our reading igloo, Elsa's castle, Santa's workshop and Christmas home. Take a look at the fun we have had:
We have also had some cheeky elves in our class who have been getting up to mischief. We have even had an elf cam in our class and we have been watching videos of what the elves have been doing when we have been at home. Take a look at the video's, they are very cheeky. One night, reindeers came into our class as well. They left some chewed up carrots in our classroom. We had so much fun watching these videos.
We have loved doing lots of writing about what the elves have been doing. Take a look at some of our work:
One of the stories that we have really enjoyed reading has been Stickman. We loved the part when Stickman helped Santa get down from the chimney. After we had read the story, we had a visit from Santa in our classroom. Can you believe he travelled all the way from The North Pole to see us? Santa wanted our help. He wanted us to do some writing to remind everyone not to get Stickman mistaken for other things like a bat and a pen like he did in the story. Santa gave us some magic pens to do our writing. Take a look:
We worked extremely hard learning our lines and all the songs for our Nativity and we did a fabulous job. Our mummies, daddies, nannas and granddads loved watching us and our hard work paid off.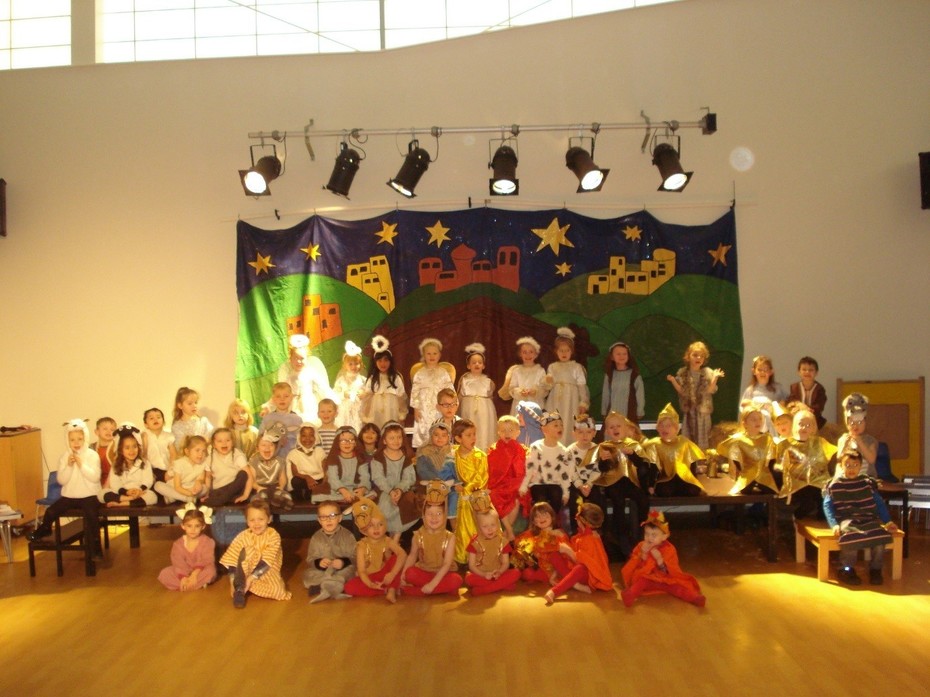 November 2017
We have had lots of fun this month in Reception. We have loved playing in our new vet area, writing on X-rays, making appointments and looking after the animals.
One day, we even had a visit from a vet and he told us that all of the animals from his vet had gone missing. We helped him find his animals by making wanted posters and sticking them up around Platt Bridge. Take a look at some of our amazing work
In maths, we have been looking at length. We have been measuring different things in the classroom and working out which items are the longest and which are the shortest. We have had lots of fun doing this.
We also had a visit from fire fighters and they even brought their fire engine into school. We learnt about all the different things that fire fighters do and even had a go with the hose. Everyone enjoyed it.
September 2017
Since starting Reception, we have been having lots of fun getting to know our new teachers and friends. We have enjoyed exploring our new classroom such as role playing in the shop and home corner. We have used our imagination to become pirates in the pirate area and have loved choosing our own snack and have even washed our own plates afterwards. We have been walking sensibly and quietly along the corridor to eat our dinner in the big hall and have enjoyed trying lots of new foods.
As well as all the fun we have been having in the classroom, we have also been out in our community buying healthy snack for all our friends to enjoy in class. We worked as a team to carry the food to the till and we used our manners when paying.
We have also started to learn some phonics and have loved applying our skills both indoors and outdoors. We have been doing some messy mark making outside with water and sand and have been practising writing our names.
May 2017
This month in reception has been a warm one! The children have loved the better weather and enjoying all the fun activities in our outdoor classroom. There has been lots of water play, digging for treasure and doing both maths and literacy outside.
| | |
| --- | --- |
| | Enjoying the beautiful sun! |
Then Mrs Burland needed the children's help. It was her birthday but she did not have time to plan a party. So the children set to, writing shopping lists, party invitations , ideas for party games and all things party! They decided that they wanted a pyjama party so they made plans and a pyjama party was what they had. They all came in to school in their pyjamas as well as the teachers and had a fun day. Mrs Burland was very happy with her well planned party!
The children had party nibbles whilst

being sat all cosy on the carpet!
Our classroom has seen a few changes during the month of May. We now have a coffee shop, an ice cream parlour, a jungle, bee bot toys and a super hero city! The children have been enjoying these new areas.
| | |
| --- | --- |
| | The girls taking orders in the coffee shop. |
| The boys enjoying programming the Bee Bots. | |
Also this month we have been practicing for Sports Day. The children have been taking part in fun races such as relays, egg and spoon race and running. We have even managed to practice outside too on a couple of occasions in the sun.
| | |
| --- | --- |
| | Balancing a bean bag! |
May has been fun! We are all looking forward to June!!
April 2017
This month in Reception we gained 8 new friends! Chicks! When the children returned after the Easter holidays, they were met by an incubator in the classroom with eggs! Every day the children observed the eggs, writing down what they could see and making sure they whispered near them so not to disturb the chicks inside! Then they begun to hatch. The children were so lucky as they all saw the first chick hatch. Starting with a tiny crack in the shell to a few hours later a little chick. She was named Isabella! Following her birth over the next few days a further 7 chicks were born, 3 girls and 4 boys. The children learnt how to tell which ones were boys and which were girls. Over the week and a half period that the chicks were with us the children looked after them by feeding and watering them and they also had the opportunity to hold them. On a couple of occasions we were able to let a couple of the chicks walk around on the carpet whilst the children sat around them in a circle. They loved to watch them and were particularly amused when one did a poo on the carpet!
| | |
| --- | --- |
| | |
Also this month we went on a Woodland Walk which we all loved despite at one point being stuck in a downpour of rain. The theme was to explore and find minbeasts in the environment which was a success. Children found worms, caterpillars, snails, spiders among others. We then continued to walk around the woods and the parkland area enjoying all the sights and the sounds. The children's behaviour was amazing making Mrs Burland and Miss Crompton the proudest teachers. Well done Reception.
| | |
| --- | --- |
| | |
| On our way! | Exploring for mini beasts. |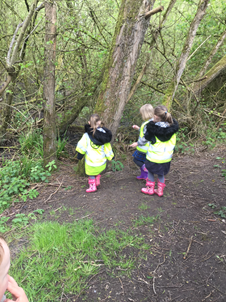 The girls sprinkling fairy dust by the fairy door in the tree.
March 2017
March has been a very exciting month in Reception and the children have all worked very hard and deserved their Easter break.
At the beginning of the month the dinosaur eggs which were in the classroom began to crack. The children observed them daily, drawing pictures and writing messages for the dinosaurs inside. Then on World Book Day the eggs hatched! The children arrived at school in the morning, all dressed as explorers to be met by a huge T-Rex walking around the playground roaring at everyone! He was a very friendly dinosaur called Rex.
Later that day the children went into the hall where fast asleep, wrapped in blankets, cuddled up with their keepers were two baby dinosaurs! Junior the baby T-Rex and Trixie the baby Triceratops. The children were given the opportunity to ask questions about the dinosaurs and they even went up to them to touch them and see what they felt like. All the children loved doing this.
Then a week later, something really strange happened in school! A spaceship crash landed in our hall! All the children were called into assembly where they saw a spaceship in the corner and the teachers were walking around in crime scene suits checking out what had happened!
The children then had a challenge which was to design a home for the alien!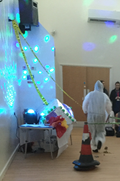 Then on Red Nose Day all the children came in dressed in their own clothes and most of them wore red. Then they all took part in a school dance which can be found on our website. They all had a really fun day as well as the teachers!
Then our Easter celebrations meant some exciting challenges. The children loved getting involved at home, creating egg scenes for the Easter Egg Competition. Reception's entries were truly amazing and one entry from Reception A even won the best design for the whole school!!! Well done.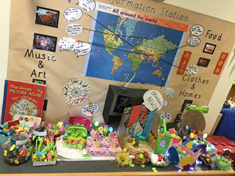 Then on the last day of school, the children came in dressed up for a Neverland Party. This was a perfect end to our Spring Term!
February 2017
This month the Reception children have had lots of fun and a few surprise visitors!
At the beginning of the month the children were learning all about Jack and The Beanstalk. They all planted some magic beans in pots and made sure that they were watered and put in the sunlight. The next morning a huge beanstalk had grown in the middle of the classroom and a giant had climbed all the way up!! The children loved planting their beans and most of them have grown into little plants. They will next be replanting them outside and we will watch them grow.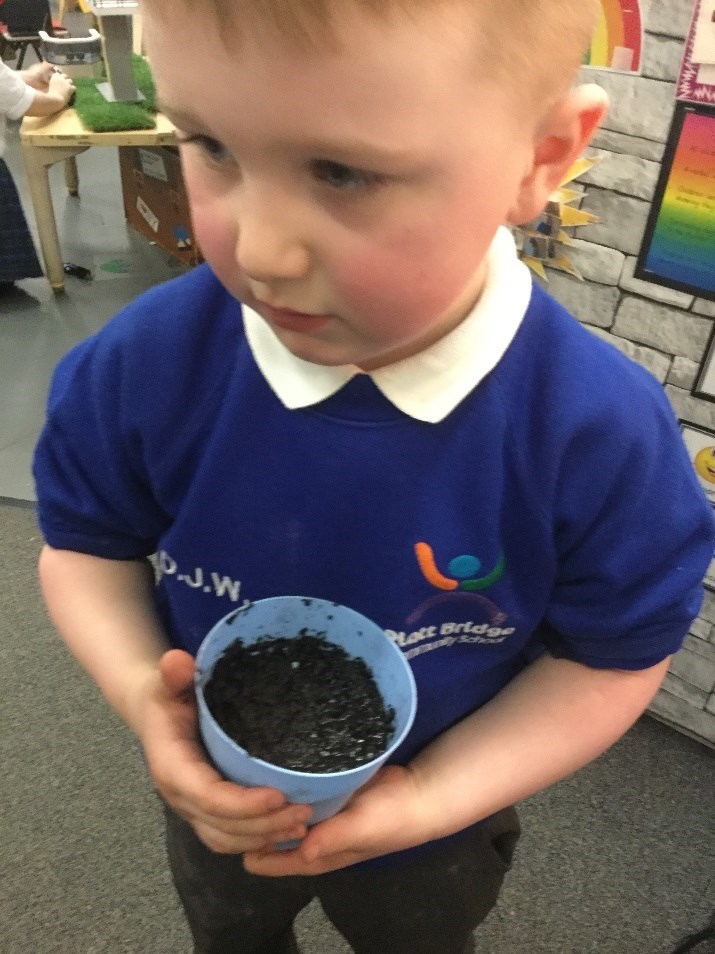 The next surprise were 2 dinosaur eggs! The children came into school in the morning and a dinosaur had laid her eggs in our classroom. The children have looked after them ever since, not talking too loudly and making sure that the nest has enough straw in it to keep them warm. Some of the children have even written their names next to the eggs so that when the dinosaur comes out, it will know their name! Over the last day or so the children have noticed that the eggs are starting to crack! They can't wait to see what happens next!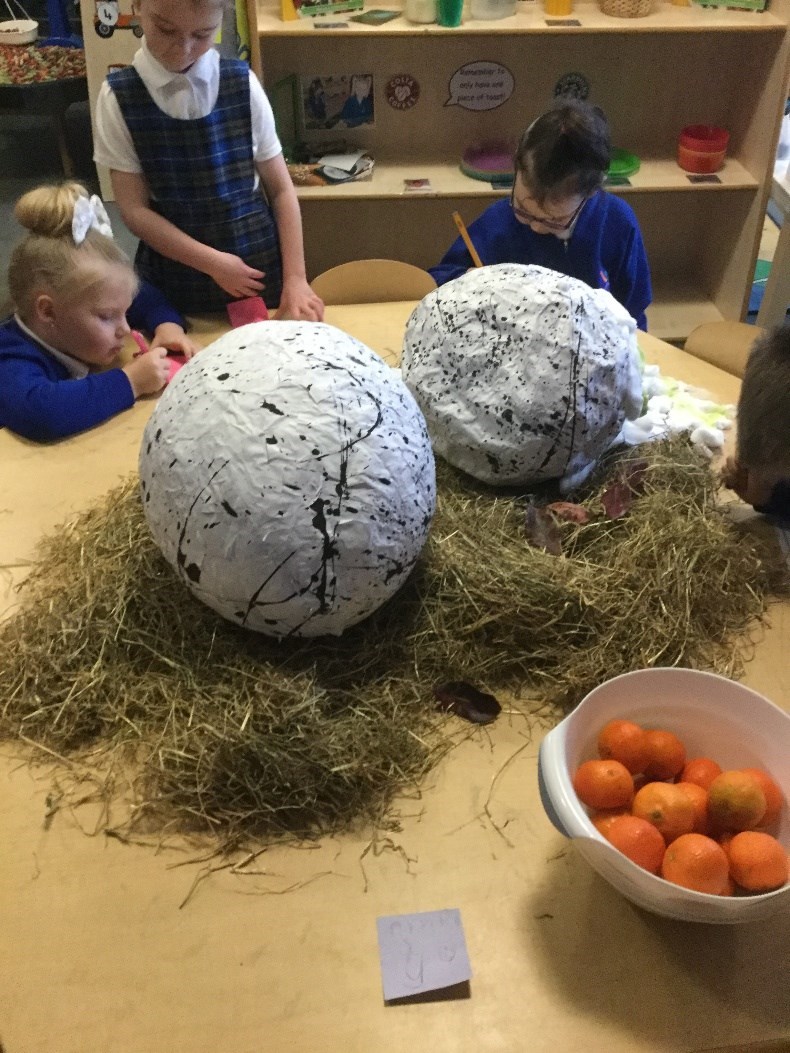 The children have also been enjoying our new 'Potion Station' where they can mix and stir many different ingredients, measuring them out carefully with spoons, measuring pots and jugs!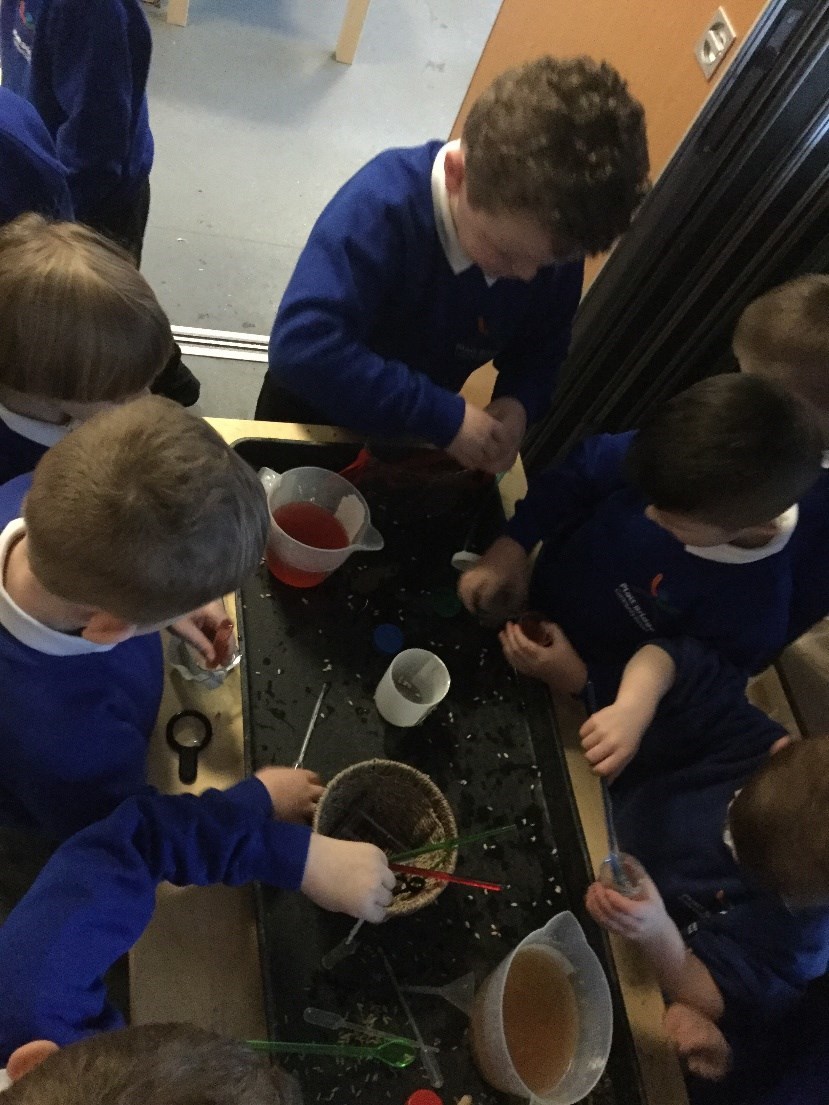 Finally, the children have loved being outside again. The sun seems to have shone a little more and even though it is cold, the children are loving exploring the outdoor area once again.
E-Safety Day
As a WOW launch to E Safety day we wanted to do something memorable for the children around keeping children safe on the Internet. With the help of One Day Creative, all the children in the school got to take part in a fun creative workshop and learn all about E Safety through Drama.
Reception to Y3 took part in the "Into the Screen Workshop" The children used well-known fairy tale characters to highlight the importance of keeping safe online, they worked in groups to navigate their way out of some tricky situations. Will the 3 Little Pigs tell the Big Bad Wolf where they live? Will Red Riding Hood notice that Granny looks a bit different today? And will anyone be able to stop the Ugly Sisters from being horrible to Cinderella? Through playful and fun storytelling, pupils learnt how to keep safe when playing on the internet and realise that the world inside the screen is perhaps not so different from the real world after all.
January 2017
This month in reception the children have settled back into class following the Christmas break.
The children watched some cctv of a spaceship flying over school. The next day the Alien's spaceship crash landed into our classroom!!!!!!!. They then had to go on a hunt looking for lost aliens and write lots of posters to help people find the alien. The children had amazing fun!
We are now learning all about space. Today we even watched a video of the first ever man to walk on the moon!!! It was exciting. We all tried to walk like Spacemen?!!!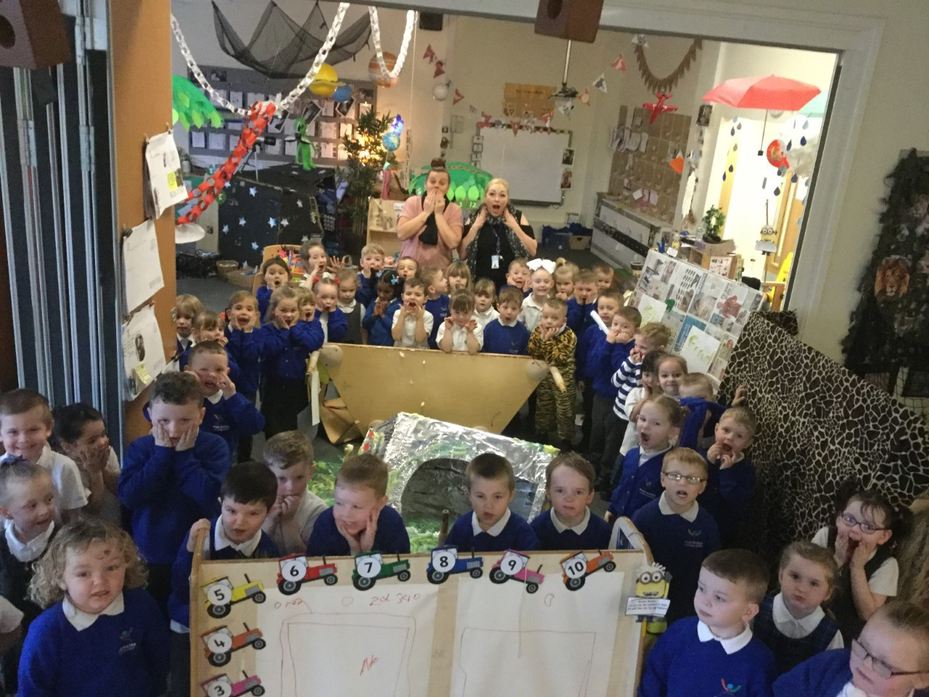 The children have been celebrating Chinese New Year. They have learnt all about the Chinese New Year race and then spent time tasting different Chinese foods which they loved. They tried rice, prawn crackers, noodles and dips whilst watching a Chinese parade. All the children thoroughly enjoyed themselves.
December 2016
This month in reception has been a very exciting time. We spent a lot of time practising for our nativity which we all really enjoyed as well as those who came to watch us.
Some children even went with the teachers on the bus to the garden centre to choose 2 Christmas trees for our classrooms.
We met Father Christmas in the grotto in school and we all got a present. We have also had a Christmas party where we played lots of fun games.
Our parents have been to school to watch us do some writing. We all wrote our wish lists for Father Christmas.
December has been fun!!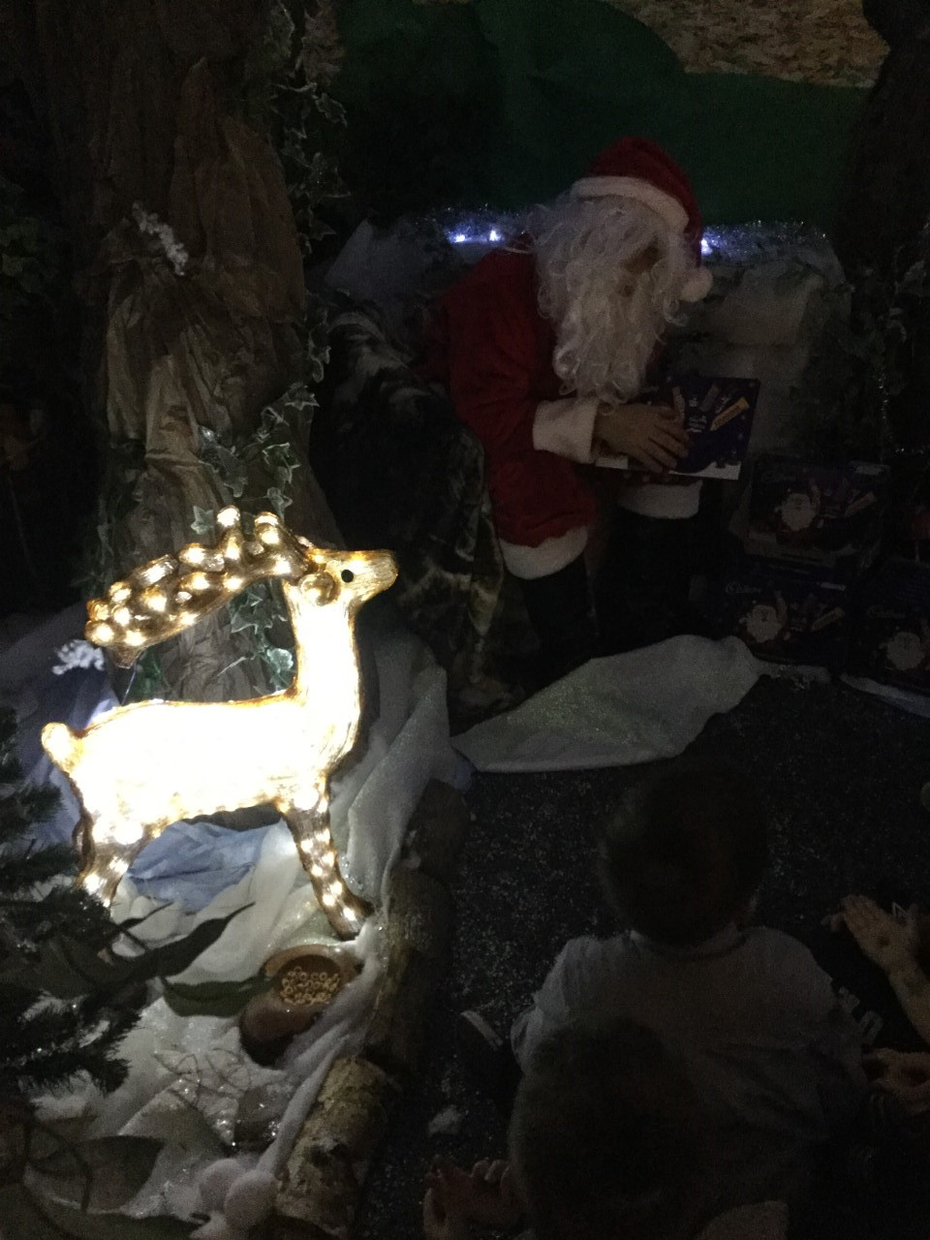 November 2016
This month has been a very exciting month for Reception. We learnt about the story, Alice in Wonderland and our classroom was transformed into Wonderland! We did many exciting activities such as helping the Mad Hatter find all the pieces of his pocket watch and making magic potions to help Alice. We even had to write shopping lists for our Mad Hatter's Tea Party! We all got dressed up for the party as characters from books and even our teachers got dressed up too! We learnt so much and has lots of fun too!
Our Mad Hatters Tea Party
October 2016
10 Year Celebration
Reception have had a fantastic first term! On the last day of term, both classes came in fancy dress to celebrate the schools 10th birthday. They spent the day having fun with their friends and enjoying the Circus themed fun fair! Happy Birthday Platt Bridge!
September 2016
Welcome to Reception
Our Reception classes have been settling into their new classes over the past 3 weeks.
They have been learning about our 'Golden Rules' and what is expected of them now that they are in Reception. They have been meeting their new teachers and teaching staff as well as making lots of new friends.
They have all thoroughly enjoyed exploring the outside areas, particularly as it has been really sunny as well as finding out about the exciting areas in their new classrooms.
Children have been learning about rhyming words and letters sounds as well as counting and even healthy eating.
Friday afternoons have been particularly good fun. Children are awarded for their excellent behaviour and hard work and can get involved in fun activities such as; decorating biscuits, party games outside and colouring activities.
Well done Reception A and B for settling in so well..
May 2016
We recently visited Knowsley Safari Park and had a fantastic day. We drove through the Safari Park and spotted lots of different animals such as monkeys, zebras and different kinds of deer. We also watched a Sea Lion show and really enjoyed seeing all the tricks they could do. They could clap, wave and jump out of the water. We were all very brave and went in the bat cave. We saw lots of bats flying around.
We even watched a bird show and went on the park. At the end of the day, we had a talk from a lady about lots of other types of animals like snakes and cockroaches and we were even allowed to touch the animals.
We had a fantastic day and all really enjoyed seeing our favourite animals. Since we came back from the Safari Park, we have all enjoyed playing in our Safari Area in class and doing lots of fantastic writing about our day.
Eco Week
This week has been Eco Week and Reception Class have been very busy learning about how to look after our environment. We have had an "Unplugged" morning; where we didn't use any electricity. We had a visit from the Water Safety Team and Wigan Council, who taught us all about how to reuse and recycle.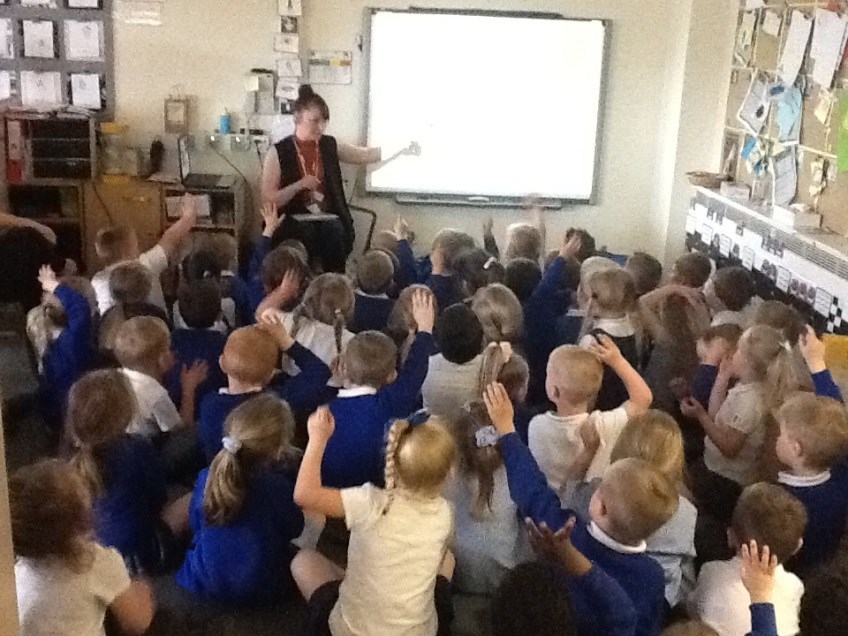 We also learnt all about flowers, birds and bugs and went on a nature walk with Russ.
On Friday we planted our own flowers and watered our lettuce and tomatoes in the school allotments which we look forward to eating as our snack later in the year.
March 2016

Reception have had a busy term, we have been doing lots of learning and making memories. We have been using our environment to show our teachers what lovely work we can do independently. We really enjoyed our trip to Joe's chip shop where we learned all about how fish and chips are cooked. We were allowed to go behind the counter and look at the kitchen! We were then asked to enter a competition to win a free family meal, we had to design a poster for Joe to use in his chip shop, Joe chose Codie Boffey as the winner! Well done Codie!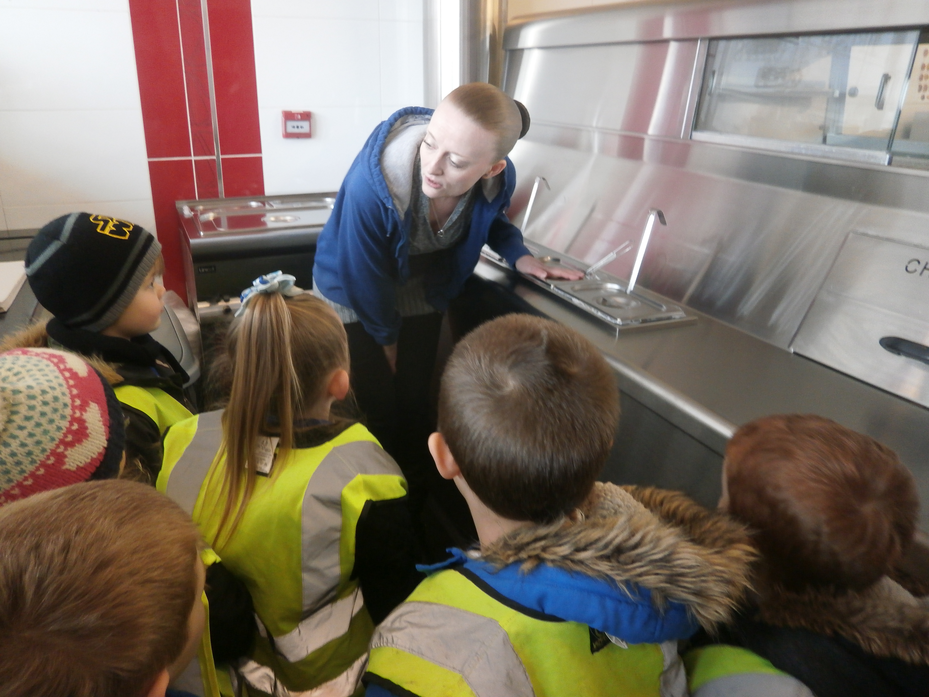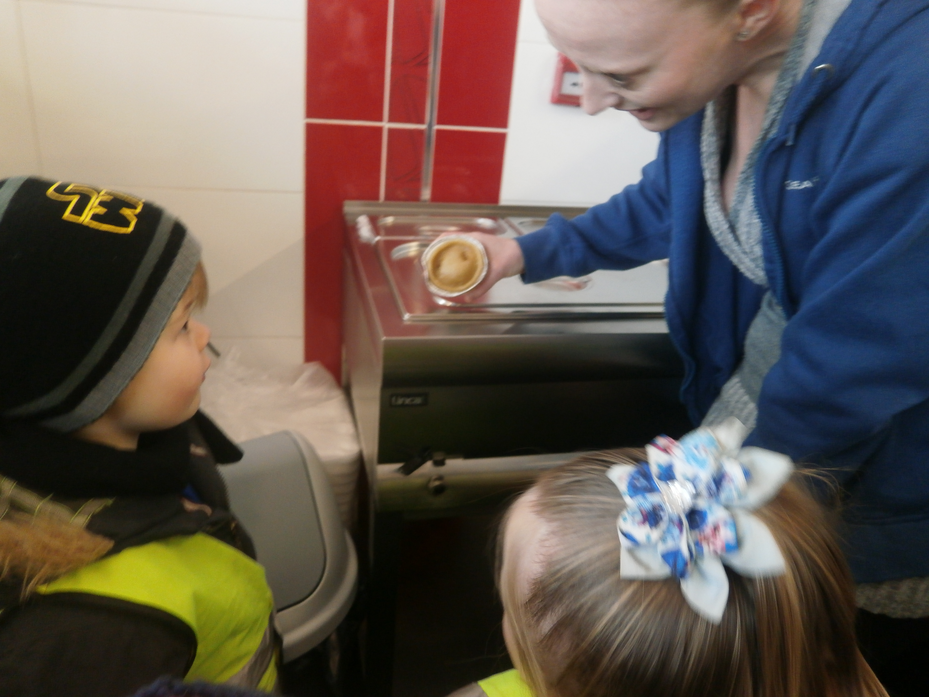 As part of our Sport's Relief project Reception have has a very special visitor in school, Kyle Shelford, who plays for Wigan Warriors came into school to talk to us about the Hakka, we even got to show him our version of the Hakka and he was really impressed!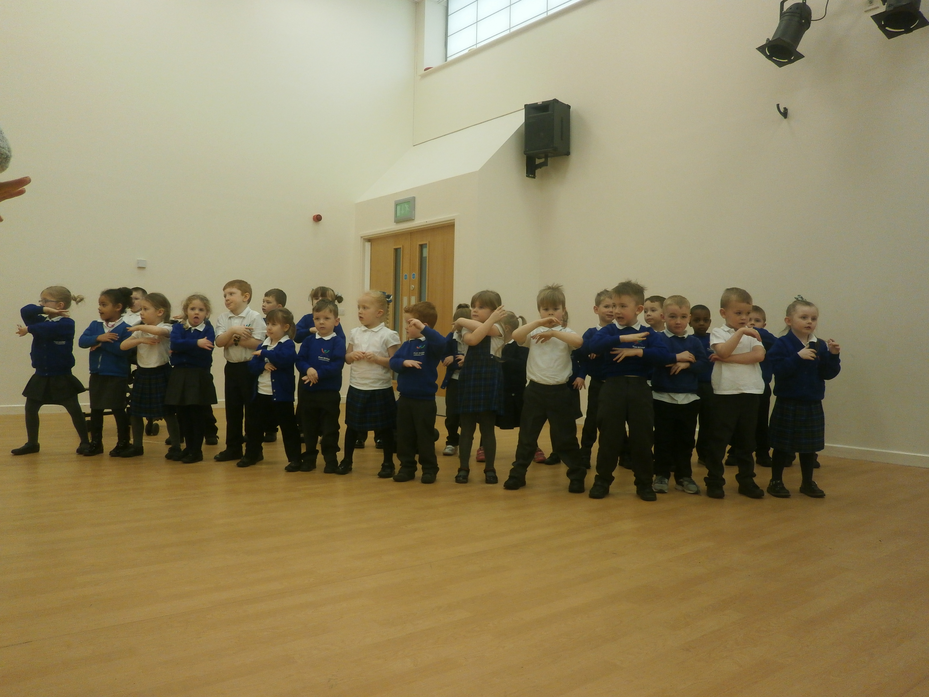 Reception have shown they have no fear in tackling our new climbing frame. They have moved around it safely in different ways and thoroughly enjoyed it.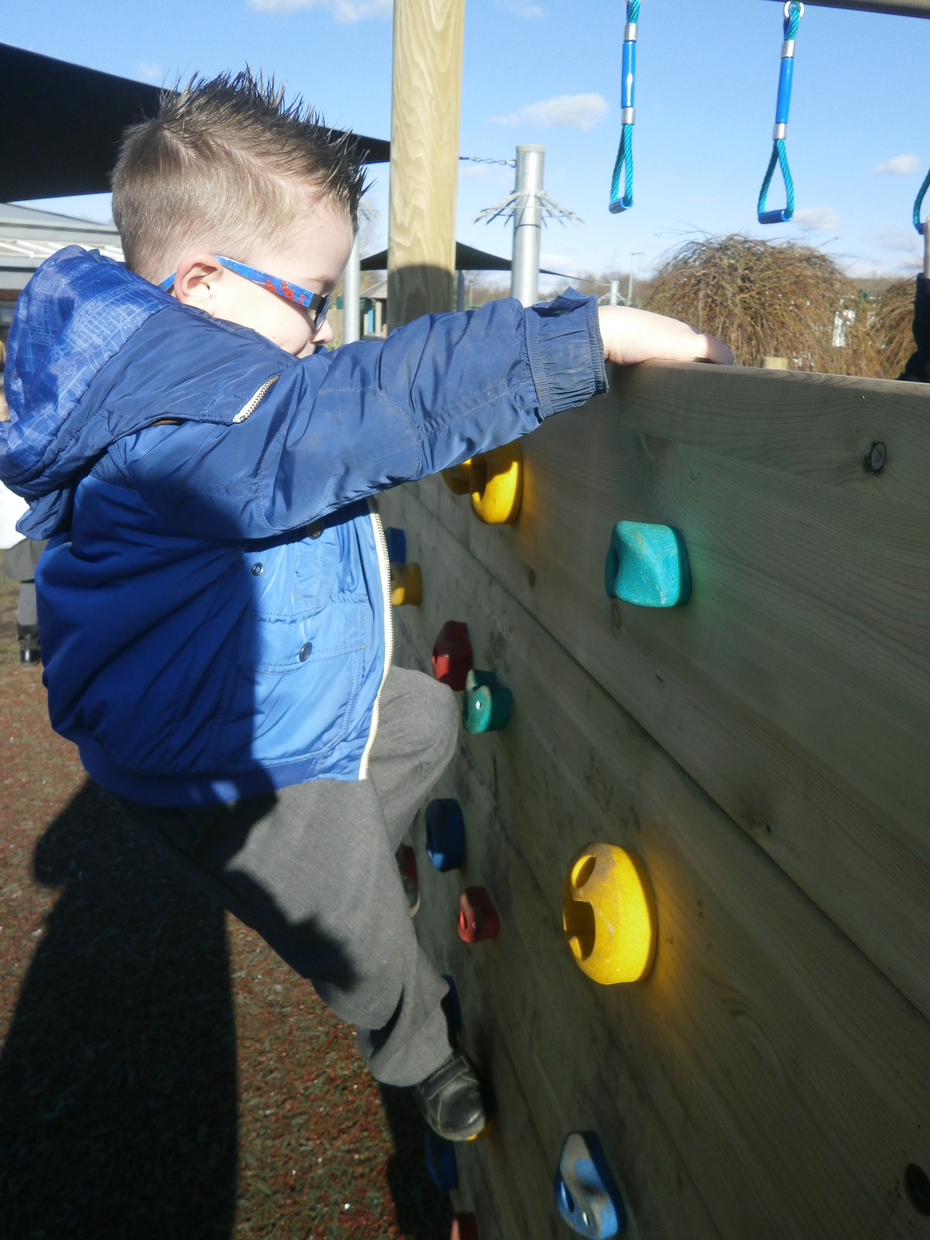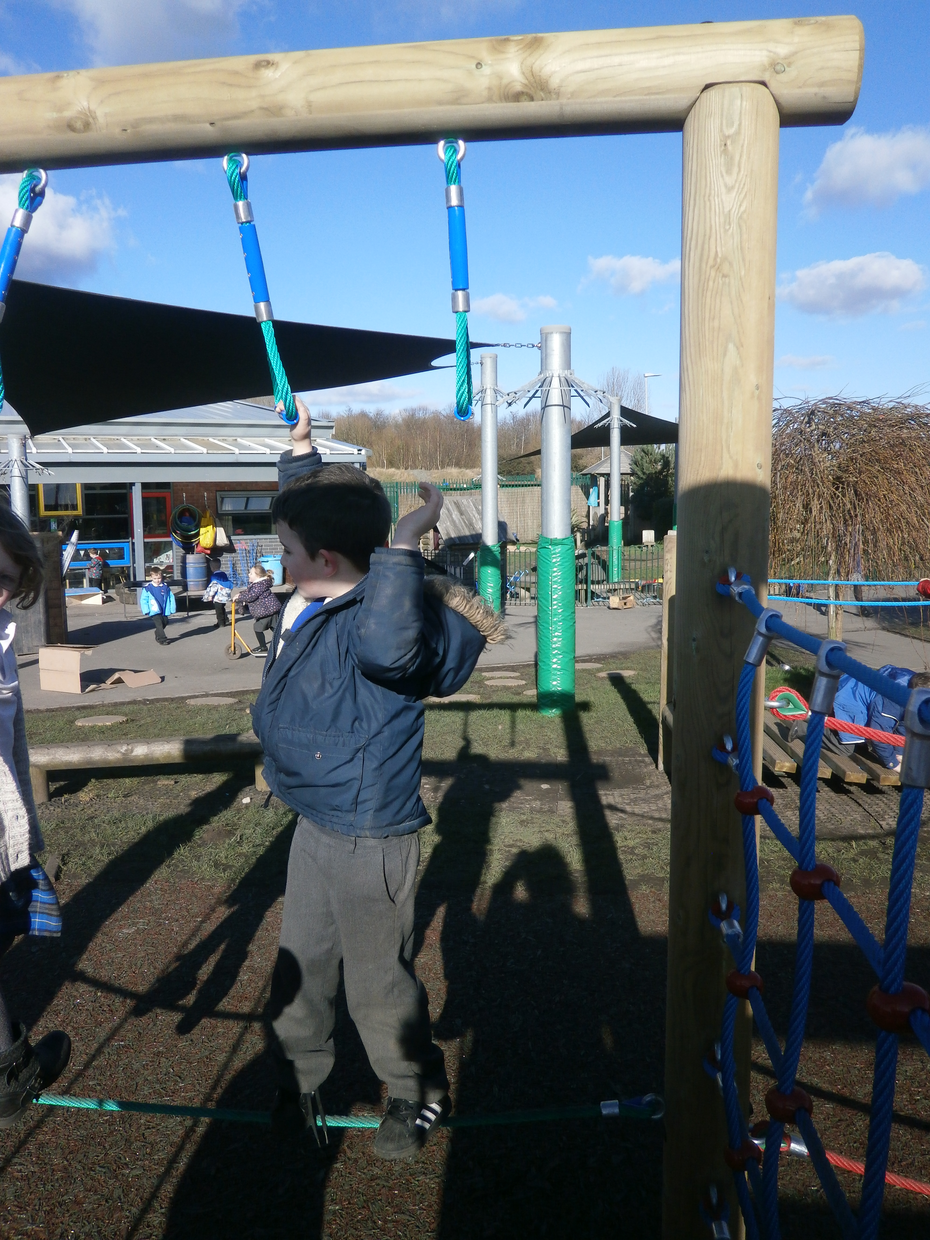 We had a visit from the local Fire Service, they let us try their uniform on talked to us about how they keeps us safe in an event of a fire. We learnt so much and they let us all have a go with the water hose, it was so fun!!!!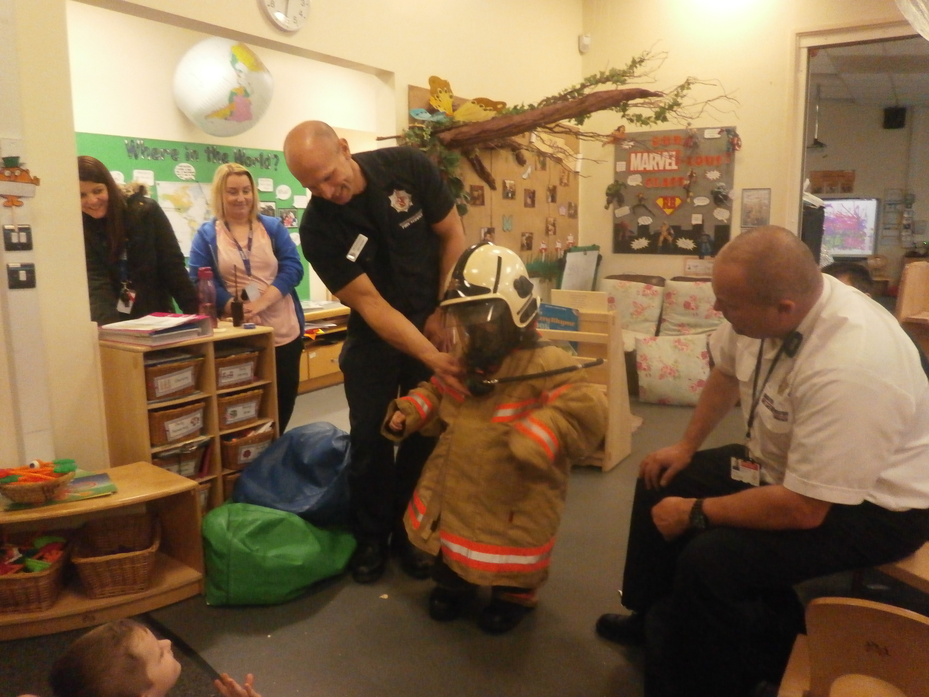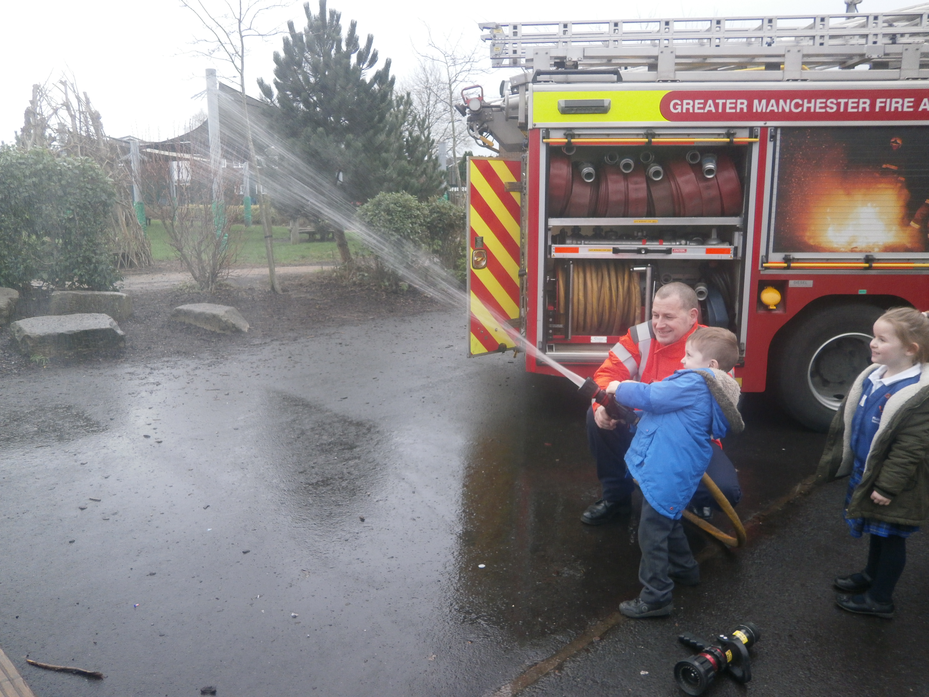 On Thursday 3rd March we all dressed up for World Book Day, even our teachers dressed up!

How amazing do we all look in our costumes!?

We had lots of fun looking at each other's costumes and reading our favourite books. This half term we have been encouraging children to have a love of reading. As well as dressing as out favourite characters we introduced a reading certificate competition where children achieve different awards, we have had an extreme reading competition with children reading on cliffs, with lizards, in a washing machine, up a tree and even on the toilet!!! I hope this love of reading continues overs the Easter holidays and into the next term, remember to use the fabulous library service based at school.