February 2020
In February the children have enjoyed reading the book of the month which was 'What the lady bird heard'.
The children have really enjoyed junk modelling and creating their own structures with lots of different resources. The children were able to go and source the different tools that they needed themselves.
The children have been taking part in our well being Wednesdays where they take part in our yoga sessions and our relaxed kids sessions.
We have also introduced link provision both in a morning and in an afternoon where the children will get a chance to do some observational drawing, name writing and funky fingers.
We had a lovely valentines parental workshop where the children and their family members we able to create their own valentines cards and decorations.
We have had some new wooden blocks in our construction area within nursery and the children have loved exploring and showing in an interest in the different shapes by making arrangements with them.
January 2020
In January the children have enjoyed reading the book of the month which is 'We're Going on a Bear Hunt'. We have had regular visits from the bear who came to join us for our story time. The children have loved recreating the story within our small world area and are able to all join in with repeated refrains from the story.
For Chinese new year we really enjoyed tasting new/different foods. The children were all very adventurous and had a taste of most foods. We enjoyed learning about China and talking about the year of the rat.
In Math we have been using the numicon to help with our counting and even using them to print in the play dough and make different arrangements. The children are really good at counting now and they have started to count backwards.
The children have also really enjoyed taking turns and mark making on our smart board, they have loved choosing their own colours and creating their very own pictures.
December 2019
In December we were really busy getting ready for Christmas in Nursery. We enjoyed decorating our own Christmas dress and making our classroom look festive. We also made a Christmas card and decoration each to take home for our families. Towards the end of December we enjoyed our Christmas party and even got to meet Father Christmas! He gave us a selection box of chocolates each and we had lots of party food and played games throughout the day. During December we also had our last PE session with Scott where we had been learning a variety of ball skills like throwing and kicking in different ways. Our Book of the Month was Stickman. We all went on a woodland walk and spoke about the different weather conditions and how some animals hibernate during colder months. We looked at Ice and what happens to it when the sun comes out and also how it is made.
In November we paid our respect on Remembrance day by taking part in a whole school poppy display on the field. We also created our own poppy art in class and spoke about why we remember.
During November our special book of the month is The Gruffalo. We took part in lots of exciting activities based on our book including making Gruffalo crumble where we went to the local shops to buy the ingredients. We also went to the local woods to search for the Gruffalo. We ended our book of the month by having a Gruffalo tea party with Gruffalo inspired party food that we helped out teachers prepare.
October 2019
The children have been getting excited for Halloween, by performing Room on the Broom for our Reception class. The children have been making spiders and ghosts out of recycled materials to create decorations for our Halloween party at Nursery. The children enjoyed taking part in different party games where they won prizes. Some of the children went to Belong to go trick or treating with the residents.
In math we have been looking at patterns and enjoying having a go at creating our own. The children all received stickers for their good counting skills and having a can do attitude.
September 2019
During our first month in Nursery we have enjoyed getting to know our new teachers and making lots of friends. We have learnt the classroom rules and explored our new classroom both indoors and outdoors. During group time we have talked about our families and have started to develop our own family tree. We have really enjoyed our first few PE sessions and the time we have spent visiting the school library. Here are a few snapshots of all the fun we have been having. We can't wait to see what next month brings.
April 2019
In April we got very creative with some Easter crafts. We decorated eggs and created different Easter pictures using stencils. We explored colour mixing again to add to our homemade playdough and worked very hard on our drawing skills to add as much detail as possible.
March 2019
In March we have been working very hard. We have been practising writing out names to get ready for Reception class. We have also been working on our maths skills by looking at pattern and shape. As usual we love exploring the new areas in our classroom that are set up. Here are some pictures of all the fun we have had this month.
February 2019
In February we had our Chinese New Year enrichment with parents. We made dragons, lanterns and even tasted Chinese food. Here are some pictures showing how much fun we had.
January 2019
In January we welcomed some new friends to our nursery. We enjoyed getting to know them and showing them round our wonderful nursery. They have all settled in well and are enjoying nursery as much as us. We also experimented with some colouring mixing. We now have a colour mixing station where the children can mix their own colours.
December 2019
In December we were very busy getting ready for Christmas. We rehearsed and performed our very own nativity, enjoyed an amazing Christmas party where we even got to meet Father Christmas. The Elf on the shelf even came to visit us. Here are some pictures of all the fun we had.
November 2019
In November we had so much fun exploring our new outdoor classroom. We went digging in the dig pit and made Gruffalo crumble and we explored the new water pump and water feature. We also enjoyed a trip to the library where we got to read a variety of books.
October 2018
We were thrilled to reveal our new outdoor classroom to the Nursery and Reception children! With support from a National Lottery grant we have worked with E.den Play to re design and develop our Early Years outdoor space. The new area has a natural water play area including pump, reading corner, sensory garden, changing area and amphitheater style seating. We have also enhanced some of our older structures including the gazebo, mud kitchen and story circle and have had the area landscaped with new turf making the whole space more inviting and creating specific areas and an abundance of learning opportunities!
October 2018
This month we have been looking at the book Room on the Broom as our special book of the month. The children have enjoyed being fully amerced in the story in all aspects of their learning. We have made magical potions, created fabulous painting with broomsticks made of spaghetti, made our own wands and even re-enacted the story of room on the broom using props. Here is a video of us performing Room on the Broom.
During October we also had a Halloween party. Some of us visited the Belong residents for a special party and trick or treat trip around the housing village for the residents. Here are a few pictures to show you how much fun we had.
September 2018
Welcome to Nursery 2-3's and 3-4's everyone, hope you've all had a lovely summer. There are just a few reminders for the first week back. Can we please ask that you put your child's name in everything they bring to school. Snack is £2 a week, you can pay daily (40p) or weekly. Spare clothes must be brought in daily including spare socks and underwear and weather appropriate clothing e.g wellies, hats etc. Drop off in a morning is at 8:55 or for an afternoon session it is 12:30. Pick up is at 11:55 for an am session and 3:30 for a pm session. New starters will have a settling in session and then a start date. If you are unsure of either please don't hesitate to ask.
Miss Crompton
June 2018
During June we have had lots of fun in the sun; making shelters, splashing in the water and playing in the sand. We have also started creating our own stories with our teachers during the day and then acting them out with our friends at the end of the day. This is called helicopter stories. This month we have also had our parent's enrichment workshop. Our mummies and daddies came in to our classroom and read stories with us. We had puppets and props so we could retell the stories.
May 2018
This month we have been very busy. At the beginning of the month we had our wellbeing enrichment session where our parents came into school to learn how to look after our wellbeing. We made fruit water, took part in a relax kids session, made fruit kebabs and even did some yoga.
A little later in the month our friends the ducks came back to visit us. They have grown so much since we last saw them! We loved playing with them and seeing them splash about in the water.
Towards the end of the month we got ready to celebrate the royal wedding. We made lots of party decoration and even made cakes to enjoy with the belong residents at out afternoon tea.
At the very end of the month we decided to have two of our very own weddings. We made the decorations and all got parts to play in the ceremony. We had a lovely day and enjoyed the party at the end.
April 2018
This month we have started to look at the different kinds of people who help us. We started off by going into Belong care home to meet and bake cakes with some of the residents. It was lovely to meet new friends and we have even invited them back to nursery for afternoon tea. This month we have also been on our school trip. We went to Imagine that and had so much fun exploring all the different science experiments. There was also an imagination village where we could role-play different occupations. During our visit we all made fridge magnets, slime and bath bombs which we used on our own science experiments when we got back to nursery. Here are some pictures of the fun we've had this month.
March 2018
This month we have been very busy in nursery. On the 1st of March we celebrated world book day with a Roald Dahl theme. We came dressed into nursery as our favourite characters from different books. This month we also enjoyed re-enacting some of our favourite traditional tales. We take it in turns to play some of the characters while Sophie reads the story. At the end of March we had out amazing 'Around the world' fun day! Our class chose the country Egypt. We dressed up as mummies, built pyramids, tasted Egyptian food and even made our own Egyptian jewellery. Here are a few pictures so you can see all the fun we have had this month.
February 2018
This month we have been very busy doing lots of baking and food tasting. We started the month off by reading the story 'The Gingerbread man'. We loved this story so much that we decided to bake our own gingerbread men. When we came into nursery the next day we found out that the gingerbread men had escaped so we had to hunt around the classroom to find them! Here are some pictures of the fun we had.
This month we also celebrated Pancake Day by decorating our own pancakes with either chocolate sauce and banana or sugar and lemon. We loved eating our pancakes and some of us even tasted the lemon on its own. Here are some pictures of the fun we had!
January 2018
In January we had a brilliant start to the year as during the first week back we were lucky enough to have a 'Winter Wonderland' themed fun day! Throughout the day we got to go ice skating, see real reindeers, meet Queen Elsa and Anna, Get our faces painted, play in the snow, Jump on a bouncy castle, drink hot chocolate and make winter crafts!! What a busy but very fun day!! Here are some pictures showing what a great day it was!
This month we have also enjoyed going on woodland walks. During our walk we went on a bear hunt, tiptoed quietly over the bridge so we didn't wake the troll up and found lots of different creepy crawlies on our bug hunt. We collected lots of sticks and leaves to use in our creative studio. Here are some pictures of the fun we had in the woods.
| | |
| --- | --- |
| | |
| | |
| | |
| | |
| | |
December 2017
Early on in December we had a visit from a magician!! This was a great treat for us and we all enjoyed watching and taking part in the magic tricks. Some of us got to take part in the show and even got balloons in the shape of dogs. The show was so funny and we all left laughing. This Month we also did a lot of Christmas themed crafts such as making Christmas cards, decorating decorations for out tree and also decorating ice-cream cones to look like Father Christmas's hat. We ended the month with our Christmas party! This was so much fun we played lots of party games and had a party buffet of crisps and juice. We performed our very own Christmas nativity for our parents this month too. We were all very brave and did excellent singing and dancing! Here are some pictures of the fun we have had this month.
November 2017
This month we have been very busy in nursery. The weather has gotten much colder and so we have been exploring the changes and creating wonderful wintery art work. We have also explored colour mixing and using different textures to create fantastic pictures. We have also been practising recognising and writing our own names for self-registration. To be able to do this we have been doing lots of funky fingers exercises to strengthen our muscles in our arms and hands. Below are some pictures of our hard work from November.
This month we have also been getting ready for our Christmas performance of 'Whoops – a – Daisy angel'. We have enjoyed trying on the different costumes and learning all the songs. We have also been very busy decorating our classroom ready for December. There is lots of fun knew exciting areas for us to explore during continuous provision. On the 30th of November ready for the 1st of December some of us went to Bickershaw Garden Centre to pick our very own tree. It will arrive on the 1st of December ready to decorate for the festive season.
October 2017
This month in nursery we have continued to have lots of fun. A farm came to visit our school and we got to see all the different animals in our playground! There was goats, a calf, piglets, ducks, chickens and rabbits. We enjoyed petting the animals and asking the farmers lots of questions. Here are some pictures of us enjoying ourselves.
At the end of the month to celebrate Halloween we had our very own Halloween party! When we came into nursery our classroom was covered with lots of spooky decorations and there was spooky music playing. We had lots of fun activities to do including bat printing, making monsters in playdoh, potion creating, fish gut and frozen hand exploring! Afterwards we played party games and danced. What a fun day!!
September 2017
During our first month in Nursery we have had lots of fun settling into our new classroom. We have enjoyed discovering what we can do in all the different areas indoors and out. We have also been learning our classroom rules and putting them into practise. We have made lots of new friends and have had so much fun getting to know our new teachers. Here are some pictures of us exploring our new class.
We have also visited our local woods this month, something we will be doing on a weekly basis with small groups of children. We explored our surroundings and all found lots of natural materials to create artwork with. This included leaves and sticks. We found lots of mini beasts and looked at their habitats. We enjoyed playing pooh sticks in the stream and looking at the dragonflies in the dipping pond. We also had snack outside at a picnic bench and jumped through all the puddles on the path through the woods. On our walk we found some fairy houses inside tree's and they were sprinkled with fairy dust so we knew the fairies must have been close by. We are all excited to discover what we will fins on our next woodland walk.
July 2017
We had fun at our Disney theme sports day.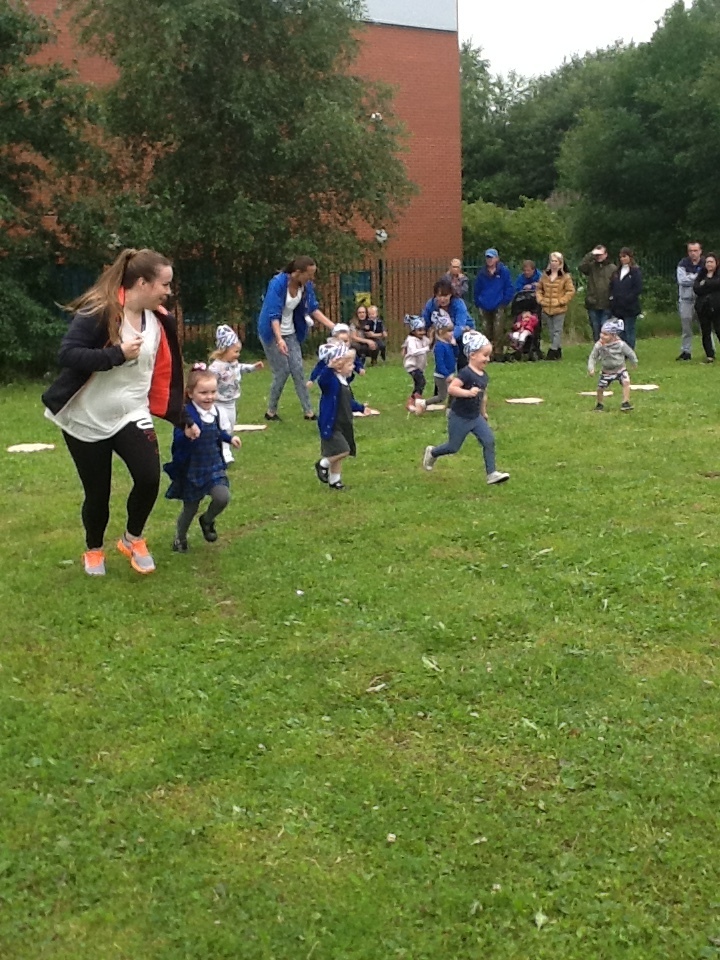 June 2017
Nursery Graduation
May 2017
Nursery have been very busy in May learning all about things that grow. After watching and looking after our chicks we looked at different animals that hatched from eggs.

Later in the month we had a fantastic day at Smithills farm where we fed and pet the animals as well as going on a tractor and donkey ride. We also learnt all about where milk comes from and watched the cows being milked by the special milking machine.

We have also been planting and watching our beans grow and now know that plants need water, soil and light to grow.
April 2017
Last week we had a special delivery of eggs to school. The eggs stayed warm in the incubator for a day or two before hatching. The children have thoroughly enjoyed looking after the chicks, holding them and watching them grow each day.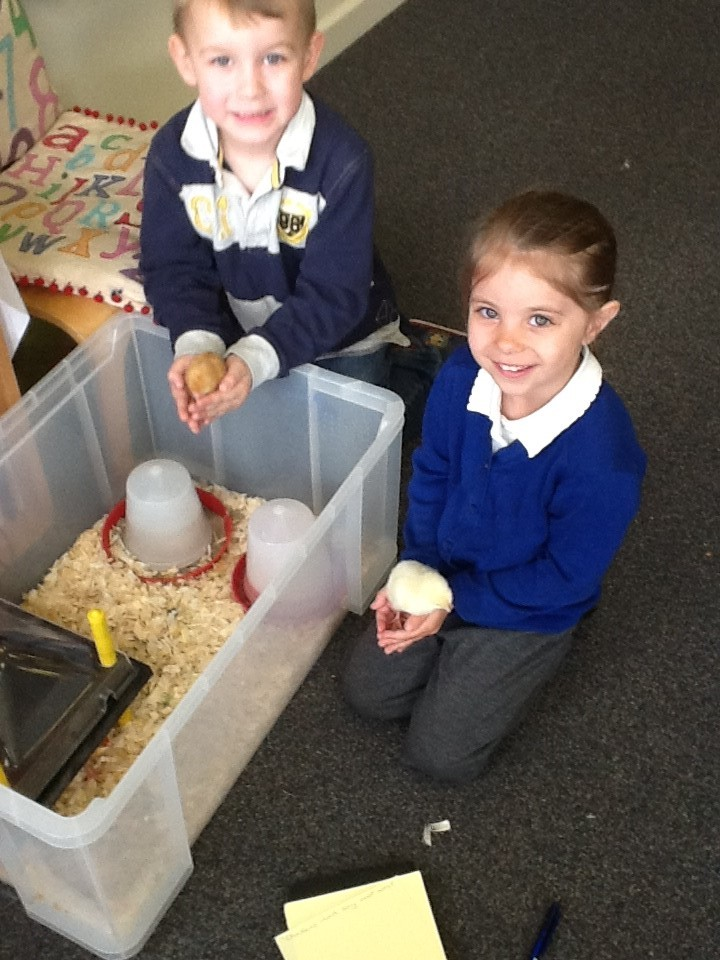 March 2017
Following on from our Dinosaur visit we went into the woods looking for signs of dinosaurs. The day started with children being welcomed into nursery with Jurassic sound effects including dinosaur foot print. We then found a dino print in the classroom and followed them out the door into the woods.
When we got to the woods we had our snack while listening to dinosaurs facts from a pop up interactive information book. We then carried on walking through the woods and came across some dinosaur eggs in a huge nest. We carefully carried them back to school where we had lots of questions and enjoyed talking and writing about the eggs.
We also found some frogspawn and enjoyed exploring in the mud, splashing in the stream and climbing the trees.
February 2017
For World Book Day we all dressed up as explorers and went on the hunt for dinosaurs. I'm sure you'll agree we look fantastic in our costumes… here are just a few of them!
Some of the children went on a snack walk earlier that week and had found dino footprints, as well as discovering dinosaur bones in the classroom. We couldn't belive it when we arrived at school to find a giant Trex on the playground.
Later that day all the children got to meet two baby dinosaurs, Junior the T Rex and Trixie the Triceratops. The children had lots of questions to ask the rangers and found out about what dinosaurs ate, how big they grew, where there lived and lots more. Then we all got to have a closer look at the baby dinosaurs and stroke them. They were so cute!
January 2017
Chinese New Year
This month we have been learning all about the Chinese New Year and how different people around the world celebrate different things. We watched videos of traditions and the story of how the year's got their animal names. We ate Chinese fortune cookies and read our fortunes to the group. In PE we did Chinese Ribbon Dancing and used materials to dance around to traditional Dragon Dance Music.
Visit to the Church
During the last few weeks lots of the children have shown a particular interest in Weddings. We have used our floor book to find out information about different types of weddings. We made a Wedding Chapel area in our classroom and have dressed up and acted out many a wedding. Some children made flowers for the Wedding and staff brought in videos and photographs of their weddings.
Last week we visited the local church St Nathanial's where the Vicar, Lynne looked after us and taught us even more about church weddings. Some children even got to take part in a pretend wedding that Lynne conducted. Here comes the bride...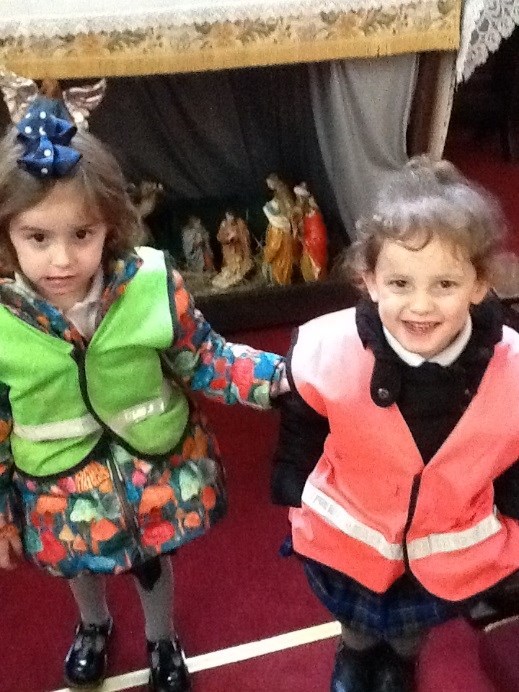 December 2016
Nursery thoroughly enjoyed their Christmas party where they played lots of games, had a party tea and even went to visit Santa himself in the grotto.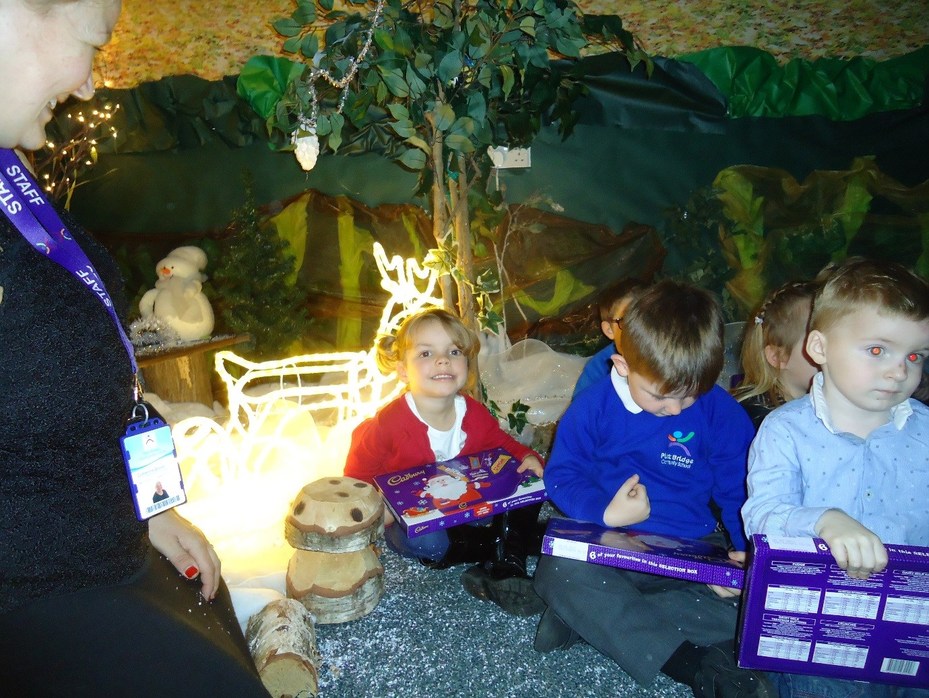 Nursery have been working very hard on their Nursery Rhyme Nativity, don't they look fantastic in their costumes.
We started December with a Christmas crafts workshop for parents and children to make decorations, cards and reindeer food together.
November 2016
Some of the children went on the bus to Bickershaw Nurseries to choose their own Christmas Trees for the class room. While there we had a festive mince pie and drink, the tree was delivered to Nursery later that day and we had a grand unveiling and sang "Oh Christmas Tree"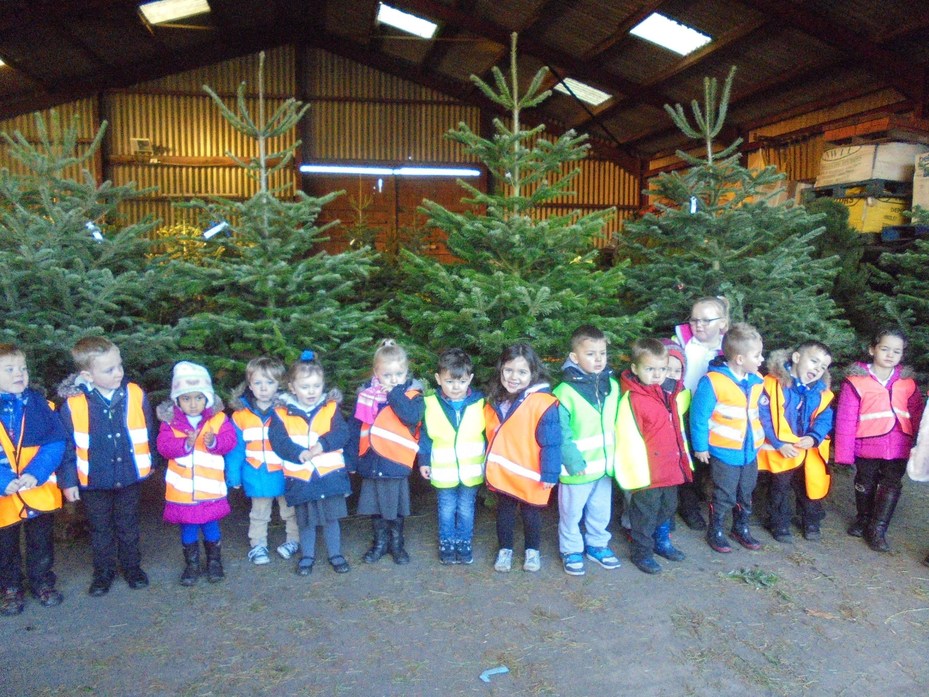 October 2016
Fun Day
All the children had lots of fun enjoying the 10 year anniversary celebrations.
September 2016
Welcome to Nursery!
This half term we have been having lots of fun exploring our new nursery environment both outside and in, using the climbing frame playing in the mud kitchen washing the shed, making marks at our new table to name but a few.
In our key worker groups we have been learning our nursery rules and routines also practicing our listening skills and being kind to our friends.
July 2016
Sports Day
We really enjoyed our Sports Day and want to thank all of our parents and carers for coming to support us.

Our races were based around our favourite stories.

In our 'Room on the Broom' race we had to run with a broom whilst our friends shouted "Is there room on your broom for me?".

Our next race was Handa's Surprise where we had to pick up some fruit and vegetables and run to the finish line! It was hard to keep hold of them all!

Another one of our races was Goldilocks and the Three Bears; in this race we had to run with a bowl of porridge and our friends shouted "Don't spill the porridge!".

Our favourite race of the day was the Gruffalo! We had a real life Gruffalo that we had to chase and our friends shouted "Catch the Gruffalo!". We all managed to catch the Gruffalo and some of our parents even had a go! We had so much fun!
May 2016
Eco Week
| | |
| --- | --- |
| We have planted lots of lovely flowers in nursery recently and are taking good care of them, watering them every day. Whether they need it or not. | |
| We made our own robot armour. The children have made lots of different creations with the connecters outside and have been very imaginative with them. | |
| Russ showed us lots of different creatures on the white board the children were very interested and able to talk about the life cycle of a butterfly as we had recently had caterpillars in class and watched them turn into butterflies. | |
| Russ then took us outside to look for creatures we spotted lots of birds and found some tiny eggs on a leaf. | |
May 2016
| | |
| --- | --- |
| In Nursery we enjoy writing outside. We can write outside in lots of different ways! We use chalks, pens, whiteboards, crayons and lots more ! How wonderful does my shopping list look?! | |
| Nursery have enjoyed tackling our new climbing frame! They have thought carefully about how the can move safely on the equipment. | |
| Nursery have had some visitors this week. We have been given a very important job of looking after some caterpillars. We have to watch them carefully and wait for them to transform into beautiful butterflies ! We are very excited! | |
| We love to build bridges in Nursery. We work as a team to carefully build the bridge and travel across safely with our friends. | |