We want to hear your views! - Remote Learning Experience Survey
We want to hear your views! - Remote Learning Experience Survey
24 April 2020 (by admin)
Now that distance learning has been in place for a couple of weeks, we feel it is a good time to assess how well it's going at home for our families.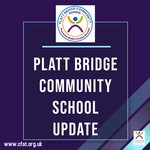 Dear Parents and Carers
We hope you are keeping well and safe.
We'd like to hear from you to understand what is working well, and what areas of improvement can we look at to help our parents.
Thank you for the time and support you've provided to ensure remote learning for your child(ren) is successful. Thank you!
We miss your children, and look forward to reconvening as a school community soon.
In the meantime, we are seeking your feedback to determine how best to provide ongoing support.
We hope that you will take a minute to complete this short survey.
Deadline for responses is 12noon Monday 27th April 2020.
Take care, stay safe and be kind and do get in touch with us should you require any support.
Platt Bridge Communtiy School
Share this: