URGENT UPDATE COVID-19
URGENT UPDATE COVID-19
20 March 2020 (by admin)
I am writing to provide you with an update following the Government's announcement to close schools from Monday 23rd March 2020 and to outline the interim arrangements which will operate during the closure period.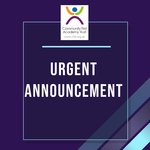 20th March 2020
Dear Parents/Carers,
URGENT UPDATE COVID-19
I am writing to provide you with an update following the Government's announcement to close schools from Monday 23rd March 2020 and to outline the interim arrangements which will operate during the closure period.
The Government has asked schools to provide care for a limited number of vulnerable pupils and children of 'key workers' to ensure children are not mixing socially in a way which can continue to spread the virus. A key worker list of roles vital to the infrastructure of the country has been established and all parents / carers eligible for and wishing to take up a continued provision place have now been informed.
We also want to do our very best to support our local community in the battle against COVID-19.
If you have not been contacted by us to confirm you are an eligible parent / carer, please do not send you child into school on Monday morning as current staffing arrangements are not in place to accommodate any unexpected / additional children beyond the confirmed places. All parents/carers should make themselves aware of the following guidance from the Government.
WHO SHOULD COME TO SCHOOL?
The key principles are that EVERY CHILD WHO CAN BE SAFELY CARED FOR AT HOME SHOULD REMAIN AT HOME. This is to enable everyone to follow the Government advice on social distancing as far as possible to reduce the spread of the virus.
Please do not be offended if we ask if you can safely care for your child at home, as we really do need to prioritise care for our absolute critical worker's children. We also need to be mindful that if our staff have to self-isolate then the critical provision offered by school will need to stop and we are trying desperately not to allow this to happen which means that everyone has to do their bit during this national emergency.
ALL PARENTS / CARERS SHOULD USE THE SCHOOL ONLY AS AN ALTERNATIVE AND NOT AS THEIR FIRST CHOICE AS WE MUST ALL TRY TO SOCIAL DISTANCE TO BEAT THIS VIRUS.
The school office will operate from 8.30am for a 8.55am start to 3.30pm with a 4:00pm close for urgent telephone calls from Monday 23rd March 2020.
The emergency provision for children will operate daily from 8.30am to 4.00pm and pupils are asked to arrive via the usual pupil entrance to school on Cumbrian Close and assemble on the main playground.
The daily provision at school will include a meal, which you must pay for in the normal way via school grid, if you currently pay you must pay, if your child currently has a free school meal they will receive a free school meal as normal. Your child can bring a packed lunch if you want them to.
CHILDREN USING OUR CARE SERVICE SHOULD BE IN NORMAL SCHOOL UNIFORM.
FREE SCHOOL MEAL ENTITLEMENT FOR CHILDREN AT HOME
If your child is entitled to a free school meal (ie all children in Reception, Year 1 and Year 2 or entitled through the benefit system), a daily 'grab bag' lunch pack will be provided. Dolce our catering provider have contacted those eligible parents / carers. These will be available from the School Kitchen delivery entrance which is located from the main school / health centre car park from Monday 23rd March between 11.15am and 12 noon ONLY.
WHAT WILL HAPPEN DURING THE EASTER HOLIDAYS?
We understand that we will be providing some service from 8.30am to 4.00pm every weekday (excluding Bank Holidays) during the Easter holidays for all of our Key Workers. We will have to let you know more as the information becomes available from the Government.
WHAT WILL HAPPEN IN THE FUTURE?
Like you, we do not know what will happen moving forward and so predicting what our service will look like after the Easter break is quite difficult. The teachers are uploading work daily onto Class Dojo for your child to complete.
We will continue to provide updates during this closure via our website and you should check the website daily under the news tab. We have also set up an email dedicated to dealing with this issue that will be monitored daily so that we can answer your queries as best we can. The address is info@cfat.org.uk
Once again can we thank everyone for being so patient and understanding as we try to deal with this unprecedented situation together.