Year 6 - Careers Week
Year 6 - Careers Week
2 July 2019 (by admin)
At Platt Bridge Community School, our Year 6 Careers Week aims to raise aspirations by helping children understand the link between learning in school and the world of work.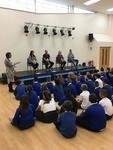 We launched the start of our Careers Week by inviting a range of professionals into school to take part in a 'What's my line' assembly and a speed networking session. Pupils from Year 6 had the opportunity to ask them questions about their careers and the route they took to get there. All our year 6 pupils have engaged with at least 9 business professionals in the space of an hour and had their horizons broadened.
We would like to thank each one of them for giving up there time to come in and speak to them. The pupils valued and appreciated the knowledge they have gained from each professional.
Miss Hindley: "The children thoroughly enjoyed this morning: they were able to meet lots of professionals and find out about a wide range of career opportunities including being self employed. I am sure that all children are now inspired to start thinking about their own future careers!"
Children's comments:
Jenson - "I was surprised how many different roles there were in Mcdonalds. I love that you can continue to learn there and do university courses with them."
Ewan - "I love finding out about the firefighter's job. I didn't realise that you can travel abroad as a firefighter and that you help out with disasters like earthquakes in other countries."
Adam and Lucie - "I liked finding out about different careers that I've not thought about before like being a rugby referee and flood management."
Patrick - "I liked talking to Rhea the nail technician because she told us all about setting up her own business and I think she must work really hard by herself and can't have a day off sick".
Montanna - "I want to be a nail technician when I'm older so I asked Rhea how to do it and she told me what I can do at college and how to get into it!"
We are excited to see what is planned for the rest of the week!