A day with Olympic Athlete - Jenny Meadows!
A day with Olympic Athlete - Jenny Meadows!
6 November 2017 (by admin)
We were lucky enough to welcome Jenny Meadows, who is an Olympic athlete, into our classroom on Monday and spend the morning with her.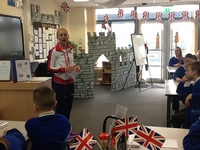 Our day began with an assembly, during which Jenny introduced herself and told us more about her career. We were amazed to find out that she grew up and still lives close to Platt Bridge - in Abram! Aged eight, she decided to attend Wigan Harriers's trial day and soon realised she loved running. She said she remembered having a dream at this early age - to be an Olympian and attend and compete against other people at an Olympic games. Jenny's passion and commitment to her sport - running the 800m - is clear to see. She talked about the many competitions that she has taken part in and also showed us her gold medal which she won at the European championships in Paris. We then had another session with Jenny where we explored the Olympic values together. We discussed the important qualities that helped her to be successful and that we could use in our own daily lives too. Jenny was very impressed with our answers and ideas. The Olympic values are: •determination •respect •equality •friendship •courage •inspiration •excellence We discussed each in detail. The children talked about targets and dreams that they were determined to achieve, some of these were sporting, some were academic and some were personal goals outside of school. We then discussed the importance of respecting others and equality. We looked at the Paralympic games and fairness in class too. Jenny explained that it is also important to respect ourselves: making sure we eat healthily, exercise regularly and try our best in all we do. The final area we discussed was excellence. At first we thought that this meant being the best and winning. Jenny explained that although she only had one gold medal, she had many silver and bronze medals at home and has taken part in many events. She said she always felt proud of her achievements no matter where she placed because she knew she has put 100% effort in. She said she felt it was more important to achieve her personal best. We talked about PB's we could achieve like improving our handwriting, learning a new times tables, or running faster than the day before. The highlight of our day was taking part in a PE session led by Jenny Meadows herself. She took us through drills first to warm up our bodies and develop our running techniques to enable us to run faster and more fluently. She then taught us how to pace ourselves running. We were set different challenges to do laps of the playground in 30 seconds, then 25 seconds. Sometimes this was difficult as we could run a faster lap so we had to try hard to run at a more comfortable pace. Our final challenge was to run tow equally timed laps of the playground. Our resilience, effort and passion shone through and ALL children achieved their goal!