School Website Compliance Check - April 2023
School Website Compliance Check - April 2023
27 April 2023 (by admin)
The DfE updated it guidance 17 April 2023 on what Information that academies, including free schools, colleges and any educational institution with academy arrangements, must or should publish on their websites.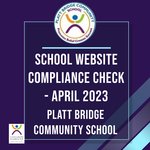 Following the DfE's updated guidance on what academies, free schools and colleges should publish online during the 2022-23 academic year. We have conducted a checklist to helps us identify:
What information we have published online in line with DfE and ESFA statutory guidance
Whether it is required for the Academy (School) or Multi Academy Trust website
Whether it is statutory or recommended.
Our published policies can be reviewed by clicking here
Our April 2023 check is as follows:
Ref

Requirement

In Place / N/A

1

16-19 bursary fund

not applicable

2

Admissions arrangements: school website

consultation due Spring 2024

3

Admission arrangements: trust website

4

Annual reports and accounts: school website

DfE Financial Benchmarking Click Here

5

Annual reports and accounts: trust website

6

Anti-bullying Policy

Behaviour in schools & School Behaviour principles written statement which incorporates Anti Bullying Policy

7

Behaviour Policy

8

Careers programme information

not applicable

9

Charging and Remissions Policy

10

Child Protection and Safeguarding Policy

11

Complaints Policy and procedure

12

Complaints procedure for SEND provision

13

Complaints received in the previous year

14

Contact details and school information: school website

15

Contact details and trust information: trust website

16

Curriculum information

17

Curriculum information for SEND provision

18

EAL Policy (under review April 2023)

19

Equality objectives

20

Exam and assessment results

21

Executive pay: school website

22

Executive pay: trust website

23

Financial information: school website

DfE Financial Benchmarking Click Here

24

Financial information: trust website

25

First Aid Policy

26

Gender pay gap: school website

not applicable employ under 250+ employees

27

Gender pay gap: trust website

28

Governance information: diversity data [NEW April 2023]

Currently being collected April 2023 Click Here to review once published anticipated June 2023

29

Governance information: school website

30

Governance information: trust website

31

Guide to information

32

Notice to improve: trust website

not applicable

33

Ofsted and school inspection reports

34

Opening hours

Displayed on the homepage Click Here

35

PE and sport premium

36

Performance tables

37

Privacy notices: school website

38

Privacy notices: trust website

39

Provider access statement

not applicable

40

Publication scheme

41

Public sector apprenticeship target

not applicable

42

Public sector equality duty

43

Pupil premium strategy statement

44

Recovery premium

45

Remote education

46

RHSE Policy

47

SEND information

48

Swimming curriculum

49

Trade union information: trust website

50

Uniform Policy

51

Whistleblowing procedure

52

Values and ethos: school website

53

Values and ethos: trust website

54

Year 7 literacy and numeracy catch-up premium report

not applicable