National School Governor's Awareness Day
National School Governor's Awareness Day
28 February 2023 (by admin)
Community First Academy Trust are writing today, to say a BIG THANK YOU to all our Members, Trustees and Governors for your ongoing support for our school system in your role of Governor and/or Trustee.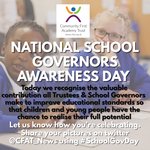 Dear Members, Trustees and Governors
We hope you can take time today to reflect on and celebrate your achievements within your role and continue to support and inspire your school to excel for the benefit of all children and young people through high quality and effective governance.
As we move forward with our Excellence in Education 2030 plans and strategies, we know that we can continue to foster your brilliant support, expertise, knowledge and commitment to our children, young people and staff.
Your role over the last 12 months has been central to supporting school leaders to bring their schools back to 'normal' operations. We will continue to look at new ways to support you to do this by talking to you in our meetings and seeking feedback on what works well.
Thank you!
Yours sincerely,
Sue Darbyshire
Share this: