Special School Lunch Menu to Celebrate World Book Day 2023
Special School Lunch Menu to Celebrate World Book Day 2023
16 February 2023 (by admin)
World Book Day 2023 takes place on Thursday, 2nd March this year.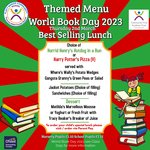 As part of the day a special lunch menu, has been put together especially for pupils to mark World Book Day and enhance a love of Reading.
All children are invited to order a lunch on this day, if your child is not eligible for free school meals, please pay for the lunch via Parent Pay.
As part of our celebrations in school students and staff are invited to dress as their favourite character from a book on that day. Pupils not wishing to participate should be in full uniform. See Class Dojo for more information.
Share this: