Special School Lunch Menu to Celebrate Chinese New Year 农历新年
Special School Lunch Menu to Celebrate Chinese New Year 农历新年
18 January 2023 (by admin)
With Sunday 22nd January 2023 being Chinese New Year, children at Platt Bridge Community School will get the opportunity to celebrate the occasion during their school lunch time on Tue 24th Jan 2023.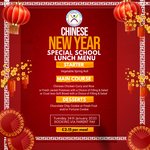 On Tuesday 24th January, we are celebrating the Chinese New Year with a special menu for lunch.
The lunch menu, has been put together especially for pupils to mark Chinese New Year, and all children are invited to order a lunch on this day, if your child is not eligible for free school meals, please pay for the lunch via Parent Pay.
Carly Bozdoğan, Head of School, said: "We wanted to help our pupils and children celebrate Chinese New Year in school with this special menu and give them a bit of a change from their usual lunch time.
Chinese New Year is the Chinese festival that celebrates the beginning of a new year on the traditional Chinese calendar – and this year is the Year of the Rabbit.
Share this: