CFAT News | Open message of thanks for your incredible support this academic year
CFAT News | Open message of thanks for your incredible support this academic year
20 July 2022 (by admin)
Dear all, As we draw towards the end of another successful academic year, I hope that this letter finds you and your family well.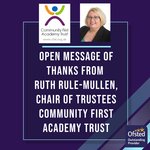 I sit as the chair of trustees for Community First Academy Trust and oversee the governance of the trust. It is the role of trustees within a Multi Academy Trust to ensure schools within a trust fulfil their duties to educate children in a safe, efficient, and effective environment and to set a vision that promotes equality and diversity in our curriculum and classrooms that provides the very best learning experiences for our pupils.
In support of this work the Trust and Board of Trustees recognises the importance of strong Local Governing Bodies and how they shape the uniqueness of each school. I wish to take this opportunity to thank our dedicated Local Academy Board for the profound and inspiring leadership they continue to provide particularly for their support to school leaders this year.
I additionally wish to convey my deepest gratitude and appreciation to the entire workforce and school community for its ongoing support and confidence in school together with a big thank you to each of our amazing pupils for helping to make our Trust and School a very happy and exciting place to be.
Congratulations to our Apprentices and Graduate Teacher who are graduating and moving on to begin careers as Early Career Teachers in many different schools across the North-West. I and the board were thrilled with the outcome of our Ofsted inspection following a four-day inspection of our SCITT in March 2022.
As with previously years, I offer, best wishes to our Year 6 pupils as they move on to their secondary schools and new adventures this coming September. Best of luck in the next stages of your education. We also very much look forward to welcoming our new Nursery and Reception children to school in September 2022.
In review of current education policy, and back in March 2022, we received a new education white paper, which sets out the governments vision for education in English state schools. On receipt the board drafted its Excellence in Education 2030 strategy which sets out our trusts plans to ensure that every child can reach the full height of their potential both inside of our Trust and within our wider communities, whatever a individuals background, age or ability. The Trust also strives to ensure equality of opportunities together with securing good health, well-being, and resilience for all. To achieve this, we want to be exceptional in our practice and, celebrate exceptional leaders by having creative and collaborative partnerships. We also want our staff to feel supported, confident, and skilled, to help our children and families achieve their aspirations.
In conclusion to this year's end of term note and as we look ahead to the summer holidays, and a new academic year, I would like to end by once again thanking you all for supporting the children at our school and the communities within our Start Well Family Centre outreach.
I very much look forward to working together with you again next year and I wish you all a safe and restful holiday.
Please enjoy a safe and well-deserved summer break.
Yours faithfully,
Ruth Rule-Mullen
Chair of Trustees
Trust Values: Create Furnish Achieve Teamwork
Our charitable trust has one single legal and moral purpose: to advance education in the public interest
Our strategic aim is to provide every child with the outstanding education they deserve which prepares them for life beyond school