Non-uniform day to raise urgent funds for Ukrainian children
Non-uniform day to raise urgent funds for Ukrainian children
6 March 2022 (by admin)
The special event is going ahead at Platt Bridge Community School, Wigan on Friday 11th March 2022. Pupils are invited to wear Yellow and Blue and bring a shiny coin to school to help generate money for the United Nations' Unicef children's charity.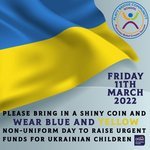 At Platt Bridge Community School our motto and school values are Promotes Belief Create Success and sadly there are times in all our lives when what we learn is about the suffering and tragedy of others.
As helpless as we may feel watching the situation in Ukraine unfold from afar, and as unfathomable as it is, our role in school is to help our young people attempt to make sense of world events.
This fundraiser is our pupils' way of doing something to help in a situation where we all feel we wish we could do more to alleviate the suffering of the innocent children caught up in conflict.
Share this: