Full opening arrangements from 8 March
Full opening arrangements from 8 March
26 February 2021 (by admin)
I write following my 22nd February 2021 update to provide you with the necessary further information about pupils returning to school on the 8th March 2021. If you have any specific, individual queries please contact the school office on 01942 487999.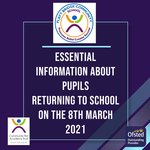 Please see attached leaflet to review our response to the government's announcement on the full reopening of schools from Monday 8th March 2021.
Attendance Reminder from 8th March
DFE guidance states that school attendance will be mandatory for all pupils. As such, Platt Bridge Community School will operate normal procedures for recording and reporting attendance from the 8th of March.
We believe that full attendance and excellent punctuality are vital in ensuring all pupils secure the best possible education and wider school experience.
With this in mind, we will operate our normal school attendance procedures for every individual. If a pupil's attendance falls below attendance policy figures, we will endeavour to liaise with you to establish any support or intervention that the school can offer.
To ensure all pupils are safeguarded, we also ask that parents contact us on every day of absence to ensure each pupils can be accounted for and correct register codes are entered.
To let us know if your child will be absent from school please call the school office 01942 487999 or reply to one of the arbor messages from school. The Pastoral team are available and will be making contact with families w/c 1st March 2021 to discuss any concerns.
Uniform and Appearance
All pupils are expected to wear full school uniform upon their return to school on the 8th of March.
Health and Safety
In addition to the practical arrangements outlined above, pupils and staff will be routinely asked to wash and sanitise their hands. All pupil stations and equipment will be wiped down after use and a full clean of all rooms used each day will be undertaken once pupils have left the site.
Contact tracing
Platt Bridge Community School will continue to carry out contact tracing for those individuals who have been identified as having been in close contact with a positive case of Covid-19. School will follow government guidance and internal plans to determine any close contacts. Close contacts will be asked to self-isolate for a period of 10 days. This period of self-isolation will be recorded as an X code and will not adversely affect the pupil's attendance record. Following government guidance, no pupil or member of staff should attend school if they are unwell. If a child presents as unwell or is identified to have any COVID-19 symptoms, the school will notify the parents of the ill child, and the school expects that the child will be collected promptly. The school will consult with Public Health England who will then advise the school on next steps.
Additional DfE guidance about what parents need to know about about pupils returning to school is available by clicking here
Finally, please be assured of our very best efforts to support and guide our school community safely back into happy routines and quality learning. Once again, thank you for your continued support and patience in these difficult times
Please see attached leaflet for an overview of school routines etc. with effect from 8th March 2021.
Share this: