[UPDATE] Schools and colleges will return to full opening from Monday 8 March 2021
[UPDATE] Schools and colleges will return to full opening from Monday 8 March 2021
22 February 2021 (by admin)
The Prime Minister has announced today (Monday 22 February) the return of all pupils to schools and colleges, as part of the roadmap for leaving lockdown.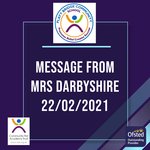 This means all pupils will return to school on Monday 8 March.
We very much as a school look forward to welcoming all children back to school on Monday 8 March 2021.
School staff will continue to take two rapid coronavirus (COVID-19) tests each week at home to identify positive cases more quickly and break the chains of transmission.
We will be in touch in the coming days to confirm arrangements for the return of face-to-face education on Monday 8 March 2021 for all pupils.
Best wishes,
Sue Darbyshire
Executive Headteacher
Share this: