Message from Sue Darbyshire in anticipation of this evenings televised statement on the 'next steps' concerning coronavirus
Message from Sue Darbyshire in anticipation of this evenings televised statement on the 'next steps' concerning coronavirus
4 January 2021 (by admin)
An update to provide parents and carers within our school community with clarity following the continuing uncertainty on the schools Spring Term reopening plans.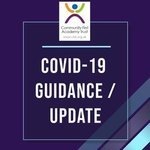 Dear Parents and Carers
Spring Term school reopening update 04/01/2020 17:00
As we go into the new calendar year, the educational challenges continue to be extraordinary. You will have undoubtedly seen the many media reports relating to the national situation concerning coronavirus and the new strain (the S-variant) triggering the DfE's educational contingency framework.
As a school and trust we have continued to closely monitor the updates throughout the festive season; and as you will be aware, Wigan is considered a high risk area by the Government and Local Area Protection Team.
Within my update last week, I promised to send an update this afternoon on our reopening plans including key reminders for parents.
We have spent the weekend and today planning/preparing for the return of all pupils on Wed 6th January 2021 in line with the guidance that was published on the 30th December 2020. We however, now find ourselves in a cautious position to share these 'ready to go' plans with our school community as Boris Johnson has announced a further televised statement this evening on the 'next steps' in the crisis at 8pm, which may have an impact on our plans in some way.
Whilst we do not wish to speculate on what could or may follow from this announcement; we feel it would be inappropriate to share our prepared reopening plans until we have listened to this evening's announcement.
This continues to be a challenging time for all of us. Please be in no doubt that as a school we will continue to do everything we can to support the Platt Bridge community.
We will consequently share details relating to our school reopening once we have listened to this evening's announcement.
I trust you understand our rationale in holding back current plans until we have heard the announcement this evening.
Best wishes,
Sue
Share this: