Handling track and trace / confirmed cases of Covid-19 over Christmas
Handling track and trace / confirmed cases of Covid-19 over Christmas
14 December 2020 (by admin)
Please see our update below of how to notify school leaders of any positive COVID test results in Platt Bridge children during the festive break.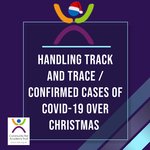 14th Dec 2020
Dear Parents and Carers,
Handling confirmed cases over Christmas
You will now be aware that the DfE has suggested that schools close on Friday 18th December, for a INSET day to support the track and trace process as schools are required to continue to track and trace during school holidays as well as periods when school is open.
The last day of term for Platt Bridge children will now Thursday 17th December 2020, returning to school at 8:55am on Wednesday 6th January 2021.
This will mean the 6-day track and trace period school leaders are required to oversee will expire on December 23rd. We also feel our decision will help in the national effort to limit the spread of the coronavirus.
As previously advised; the teaching time will be made up by cancelling the planned Inset day on Monday 7th June 2021.
Notifying school of positive test results during the December school closure period
The following notification email address info@cfat.org.uk is the correct way to notify school leaders of any positive COVID test results in Platt Bridge children, if results are received outside of school hours, and once school closes for the festive period.
During the holiday period, this email account will be monitored until 24th December.
Please only notify school of positive results where symptoms have begun in the 48-hour period after Thursday 17th December (i.e. where symptoms begin in the period up to 3.30pm Saturday 19th December).
Tests may be booked and results received up until 24th December, and school leaders responsible for track and trace will complete the necessary track and trace procedures, contacting any affected families via email/phone to advise them of isolation requirements. Any other concerns or results can be notified to school using the usual Enquiries email address after this date, and these will be responded to once school reopens.
Please see the summary chart below:
Dates

Action

Symptoms start between Friday 18th and Saturday 19th (3.30pm)

Book a test and advise school via notification line that a test is booked.

Positive test result is received between Friday 18th and Thursday 24th, where symptoms started before Saturday 19th December 3.30pm

Advise school via notification line of the positive result. (info@cfat.org.uk)

Symptoms start after 3.30pm Saturday 19th December

Book a test. No need to immediately advise school on the emergency notification line.

Positive test result received after Thursday 24th December

No need to advise school on the emergency notification line.

We would appreciate contact via the Enquiries email address to support our record keeping.
Please notify for children only, not family members.
If you have any questions, please do not hesitate to contact the office on 01942 487999. We sincerely hope there will be no need to have to carry out any track and trace procedures during the holidays, and that we are all able to enjoy some well-deserved, healthy rest and family time over the festive period.
I thank you once again for your support with our requests and procedures both in and out of school to keep everyone safe, and your understanding of the measures we need to take.
Thank you for your continued support.
Stay safe,
Sue Darbyshire
Chief Executive Officer | National Leader of Education | Executive Headteacher