Please support our 2020 Christmas Toy Appeal
Please support our 2020 Christmas Toy Appeal
7 November 2020 (by admin)
We believe every child deserves a gift on Christmas Day. To donate new, unwrapped toys and gifts for children who might not otherwise receive a Christmas present please visit our Donation Point at Platt Bridge Start Well Family Centre, WN2 5NG.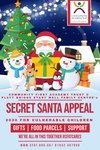 Donation Point Opening Hours
Platt Bridge Start Well Family Centre, Rivington Ave, Platt Bridge, Wigan WN2 5NG.
Monday to Friday 8:30 to 4:40p,
Tel: 01942 487999
Thank you for helping make Christmas Day better for local children living in difficult cirmsutances.
Suggested Gift List for Children and Young People
We are unable to take used or second hand items as part of our 2020 Christmas Present Appeal.
0-3 years: dolls, teddy bears, cot mobiles, baby clothes, bath toys, CDs of suitable music and nursery rhymes, puzzles
3-5: dolls and action figures, cars, lorries, DVDs and CDs (music and nursery rhymes), colouring sets, pencils, crayons, books, puzzles
5-9: educational games & toys, stationery (colouring sets, pencils, crayons, school sets), CDs & family friendly DVDs, books, puzzles, wordsearch, crosswords
9-12:games and toys, stationery, DVDs, books, t-shirts, hair accessories, gloves, scarves, hats
13-16: books, make-up and toiletries (please try to ensure non-allergic ingredients if possible), gloves, scarves, hats, t-shirts, hair accessories and gift vouchers
Share this: