School coronavirus guidance update - 20th September 2020
School coronavirus guidance update - 20th September 2020
20 September 2020 (by admin)
Please review our important school updates below.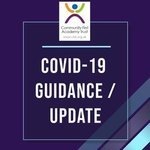 Dear Parents / Carers,
The first three weeks of the new school year has flown by! It's been an absolute pleasure to have all children back in school.
Thank you for all your continued support and understanding as we've welcomed the return of all pupils back to school.
We are writing to ask that parents and carers take extra care as coronavirus cases continue to rise.
I am sure you are aware the number of people with coronavirus has increased dramatically and remains high.
We are also seeing more people from all age groups testing positive across all areas of North West including Wigan.
We would appreciate your support in adhering to our schools protective measures to keep our school and its community well.
Please review our important school updates below.
Best wishes,
Sue Darbyshire
Chief Executive Officer | National Leader of Education | Executive Headteacher
School update - 20th September 2020
Face Coverings
We have taken the decision to write to ask that all parents and carers wear a face covering when dropping or collecting children from school to help limit the spread of coronavirus if you are able to do so.
This applies from Monday 21st September 2020.
Whilst certain individuals are exempt from wearing face coverings (for example those with particular medical conditions), all parents and carers will be expected to maintain social distance when on school grounds.
Experiencing Covid Symptoms (taken from the NHS website)
If you or your child has any of the main symptoms of coronavirus (COVID-19), you should get a test as soon as possible and stay at home until you get the result.
The main symptoms of coronavirus are:
a high temperature – this means you feel hot to touch on your chest or back (you do not need to measure your temperature)
a new, continuous cough – this means coughing a lot for more than an hour, or 3 or more coughing episodes in 24 hours (if you usually have a cough, it may be worse than usual)
a loss or change to your sense of smell or taste – this means you've noticed you cannot smell or taste anything, or things smell or taste different to normal
We have been working hard to provide parents and carers with clear guidance and support about what to do in the event of symptomatic individuals awaiting a test result. Please review this handy NHS symptom-checker and Self-Isolation Guidance flyer (correct as of 14th Sept 2020) for further advice on when to isolate and get a test.
Social Distancing
Wearing a face covering does not replace the need for social distancing.
Whilst certain individuals are exempt from wearing face coverings, all parents and carers are expected to maintain a safe social distance when on school premises.
In support of social distancing please do not congregate outside the gates or classrooms or arrive earlier than your allotted drop-off or collection times.
It is critical that everybody stays 2 metres apart from people you do not live with where possible.
Playground Safety in support of Social Distancing
We appreciate that the weather has been kind and lots of children have wanted to cycle to and from school. We would like to remind you about the rules we have to ensure everyone keeps safe on our school grounds.
Bicycles and scooters should be wheeled and not ridden on the school site (playgrounds). We positively encourage children to walk or cycle to school and we have a bike and scooter store on site (located at the school's one-way playground/site entrance). Please ensure that once on the school grounds that your child gets off their scooter or bike and walks it across the playground. This will keep everyone in the playground safe and help maintain social distancing. The use of scooters and bikes on the playground is strictly prohibited.
Dogs are not allowed on the school site. We ask you to not bring dogs onto the school premises at all as, whilst they may be family pets, some children are frightened of them and dogs can also react to the large numbers of young children at the start and end of the school day. There is also a health and safety risk if dogs foul the play areas.
Polite reminder - Toast and Milk Orders
Final call for Autumn Term Toast and Milk orders – please click here if you have not submitted your child's toast and milk order (deadline 5pm 20th September).
Thank you for your cooperation and understanding for ensuring greater levels of safety in our school, school grounds and community at this time.
We look forward to seeing you all tomorrow.
Best wishes,
Share this: