Coronavirus update | return in Sept 2020
Coronavirus update | return in Sept 2020
25 June 2020 (by admin)
update following the Secretary of State for Education and Prime Minister announcement outlining the intention for children from all age groups to return to schools in England in September.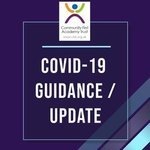 Dear Parent / Carer
You may have seen the Prime Minister's statement on Tuesday in which he confirmed it is the Government's intention that primary and secondary education will recommence in September with full attendance.
As outlined within my update on 19 June 2020; we need to understand what this means for our planning.
Over the coming weeks the Government have pledged to publish further information and guidance to help schools prepare for a full return in September. We expect to receive this additional guidance within the next couple of weeks.
Please be advised that there is a possibility that the Government may recommend a phased approach to the return of education in September.
We will share our plans with parents and carers on Friday 10th July 2020 latest. This is to allow consideration of any published Government information and guidance.
In the meantime; please do not hesitate to contact me or any of our team via Class Dojo with any questions you may have.
With my very best wishes,
Sue Darbyshire
Executive Headteacher | Chief Executive
Community First Academy Trust
Platt Bridge Community School