Next steps for the phased, wider opening of schools
Next steps for the phased, wider opening of schools
12 May 2020 (by admin)
Parent update following the published Guidance on preparing for wider opening of educational settings from 1 June 2020.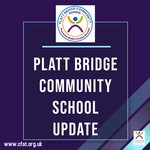 Next steps for the phased, wider opening of schools
We are currently at capacity within school and will not be taking any more pupils until the 1st June at the earliest.
The first thing to say is that the 1st June deadline is the earliest date for wider opening - and it marks the beginning of a cautious, planned approach to opening school more widely.
From the week commencing 1 June 2020 we will be welcoming back some children in some key year groups.
Please do not message class teachers on Dojo about which children will be coming into school and when. You will be informed when the time is right when you can bring your child back to school.
We understand that parents, carers and our staff will no doubt have a lot of questions as a result of this announcement.
We will make the best possible decision about what is workable in our school in the safest timescales keeping all our parents, carers and staff updated.
Further information will therefore follow in the coming days depending on what our planning and risk assessments tell us.
Warmest regards
Sue Darbyshire
Chief Executive Officer | National Leader of Education | Executive Headteacher
Your initial questions answers
What might reopening look like?
Our planning and risk assessments inform us that children will need to stay within their class/group wherever possible. Class sizes will be reduced and we will continue to implement and develop the range of protective measures in place that include increased cleaning, reducing 'pinch points' (such as parents dropping children off at the start and end of day), and utilising outdoor space.
These measures are already in place for priority groups presently attending school and will be developed to accommodate the Government's announcement for the phased, wider opening of schools.
Principles for this next phase (from June 1st) of return
Identified children in eligible year groups are strongly encouraged to attend (where there are no shielding concerns for the child or their household), so that they can gain the educational and wellbeing benefits of being in school.
All critical worker children and vulnerable children who have already been attending will continue to be expected and encouraged to attend school where it is appropriate for them to do so
For children with education and healthcare (EHC) plans this will continue be informed by a risk assessment approach.
If a child/young person or staff member lives in a household with someone who is extremely clinically vulnerable, as set out in the guidance on shielding, it is advised they only attend an education or childcare setting if stringent social distancing can be adhered to and, in the case of children, if they are able to understand and follow those instructions. This may not be possible for very young children and older children without the capacity to adhere to the instructions on social distancing. If stringent social distancing cannot be adhered to, we do not expect those individuals to attend. They will continue be supported to learn or work at home by our school.
Staff and children or young people should not attend if they have symptoms or are self-isolating due to symptoms in their household.
Protective measures will be put in place by our school for staff and pupils, as far as is possible, to ensure that the risk of transmission is reduced.
We will confirm if children will attend on a full time or reduced timetable approach in due course.
Towards the next phase
The government will assess the impact of these changes closely, working with medical and scientific advisers as well as sector leaders. When the most up-to-date assessment of the risk posed by the virus indicates that it is appropriate to do so, the government will ask more primary year groups to return to school, and issue revised guidance.