FREE 'Magic Breakfast' for ALL Children!
FREE 'Magic Breakfast' for ALL Children!
11 September 2018 (by admin)
We are very happy to invite your child to join in with our fantastic new free breakfast provision! A delicious, healthy breakfast will soon be available every day, offering every child great fuel for learning.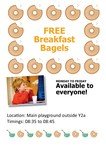 Research has shown that children who have a healthy breakfast achieve more at school – make sure your child doesn't miss out!
Top quality bagels will be on offer to all children, free of charge!
And that's not all. As well as the super food, children will be able to chat with friends and be on the playground in plenty of time to start school.
Food will be available from 08:35 am, and children can arrive any time after this, but please note we will stop serving breakfast at 08:45 am so please make sure your child is on the playground before that time!
Start date: Thursday 6th September
Time: 08:35
Where: Outside the Y2a classroom on the main school playground
Open to all children, and it's totally free!
You don't need to register your child, they can just turn up on the day.
We look forward to seeing you at breakfast!
Martin Haskayne (Deputy Head)