Magical Maths
Magical Maths
15 January 2018 (by admin)
Last week we had our first Magical Maths session school. The pupils who took part thoroughly enjoyed the sessions and developed their mathematical skills through lots of fun, practical games.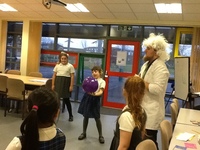 For Key Stage One we kicked things off with a game consisting of using our bodies to make numbers. The children were in pairs or small groups and used their bodies to make the biggest number they could. Some did this standing, whereas others were lying down.
Shape Bingo
A super fun game that helps with shape recognition. I hear there were some very close games this week, with some very impressive young mathematicians playing.
For Lower Key Stage Two, we developed our multiplication skills by playing:
Multiplication Bingo
A super fun game that helps with speedy multiplication. We adapt the difficulty slightly depending on age.
We also played multiplication catch, throwing a huge ball ad generating our own multiplication facts from the numbers which it landed on. We split up into teams and had a multiplication race - it was a very close call to find the winner!
We look forward to seeing everyone attend their sessions again next week!