Year 6 - York Trip
Year 6 - York Trip
4 October 2017 (by admin)
On Thursday 28th November, 48 children and 12 adults set off from Platt Bridge Community School on a voyage of discovery to learn more about the history of the people of Britain, in York.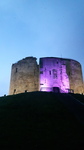 Upon arrival in York, the children ate their packed lunches outside Clifford's Tower and learned how it was the last remaining tower of William the Conqueror's castle. Then, we discovered all about the Vikings and Jorvic Viking museum. Did you know that they made combs from deer's antlers to get rid of lice? Next, we learned all about archaeology at The Dig and uncovered artifacts which told us about the Romans, The Vikings, the Medieval Times and the Victorians. We had some down time in the evening when we went Bowling. Miss Lomax got a strike!
The next morning, after our stay at the YHA youth hostel, we had breakfast and then headed out to the York Castle Museum - we learned lots about the war and walked down a Victorian Street! Then, we went on a boat cruise and visited the York Chocolate Story! We learned all about how Terry and Rowntree made chocolate in York, tested the first edible chocolate and even made our own chocolate bar.
The evening was excellent too. We walked around York and heard stories about crime and punishment in the olden days.
We had an excellent time during our visit and will use everything we have learned in our Theme and English work throughout the year!