July 2017
Children Stun Audiences with 'West-End' Style Production
The Year 6 pupils at Platt Bridge Community School wowed audiences this afternoon with their production of Grease - the last one they will perform as a class of 48. Pupils sang, danced and acted their hearts away to create a performance that was fit for London's West End.
Costumes and props were outstanding: the children looked suitably 50s. The girls wore flared skirts and neck ties and the boys looked suave in their leather jackets and T-birds costumes. Vince Fontaine – played by Adam, with his glittery bow tie, looked particularly good and played his role to perfection. The cheerleaders were a bundle of energy and looked smart in matching blue and white uniforms. They led the cast well and supported dance routines. All the cast and chorus looked immaculate and their costumes were spot on. The chorus supported the cast of characters well and their tuneful voices and enthusiasm shone through to ensure that the songs could be heard and enjoyed by all.
Lighting and sound was controlled masterfully by Aimee, Miss Henriksen and Mrs Abel - it created a brilliant atmosphere and particular mention must be made to Daniel and Craig for expertly fixing the set to allow for the impressive use of the car.
Speaking of the car, the set was fantastic. Simple use of dinner hall benches created a believable cafeteria and the cars, designed by Mrs Higham, were incredible – the transformation was brilliant.
Actors were outstanding. Hannah as Sandy was innocent and sweet – a complete contrast to her character at the end. Marty, Jan and Frenchie, played by Skye, Marie and Chelsea provided just the right mix of humour and seriousness and their dancing led the other cast members. Kacey, as Rizzo was brilliant – acting must be in her future! Jake shone as Eugene, creating humour and laughter – his portrayal of this character was adorable! Sophie and Denisa played contrasting parts as Patty Simcox and Cha Cha but they both were believable and moved the story along well. Tanastwa melted hearts as the teen angel and the girls dancing in the background looked excellent in their beauty school robes!
Finally, the boys were utterly outstanding in their roles as Danny and the T-Birds. Owen, Aaron, Declan, Adam and Kye showed their inner performers as they threw themselves into their roles and performed as well as professionals, supporting their cast to create the production's most impressive song- Grease Lightning.
The choreography and direction by Miss Cameron and Miss Harrison should be commended. Congratulations on a wonderful production!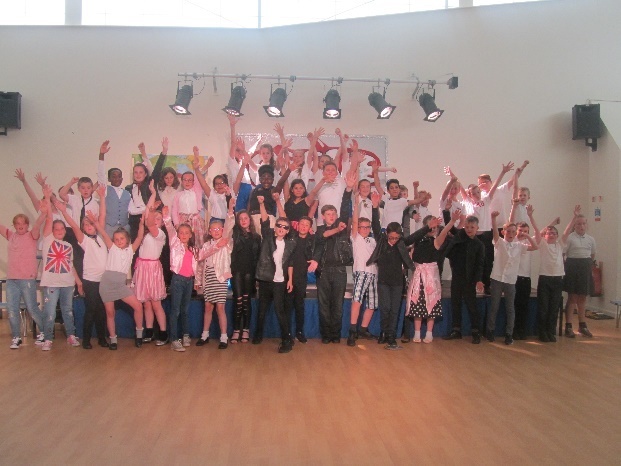 March 2017
We started March with Big Read/Write week - are book was Jurassic Park. World Book Day (Thursday) was observed by the children dressing up as explores and a visit from a T-Rex, with his handler, of course. The children thoroughly enjoyed the experience although a little apprehensive when the T-Rex got close to them.
A fun-filled week was spent at PGL doing lots of fun activities - raft-building, ambush, zip-wire, giants swing to name a few. The food was amazing, 3 hot meals a day and so much choice: a cooked breakfast every day; curries; lasagne; jacket potatoes; wraps; fajitas; soup; fresh fruit and salad options. This week enabled children to develop and make progress with leadership, teamwork, communication and problem solving skills. They all showed enthusiasm and motivation for learning new skills and improve their social awareness.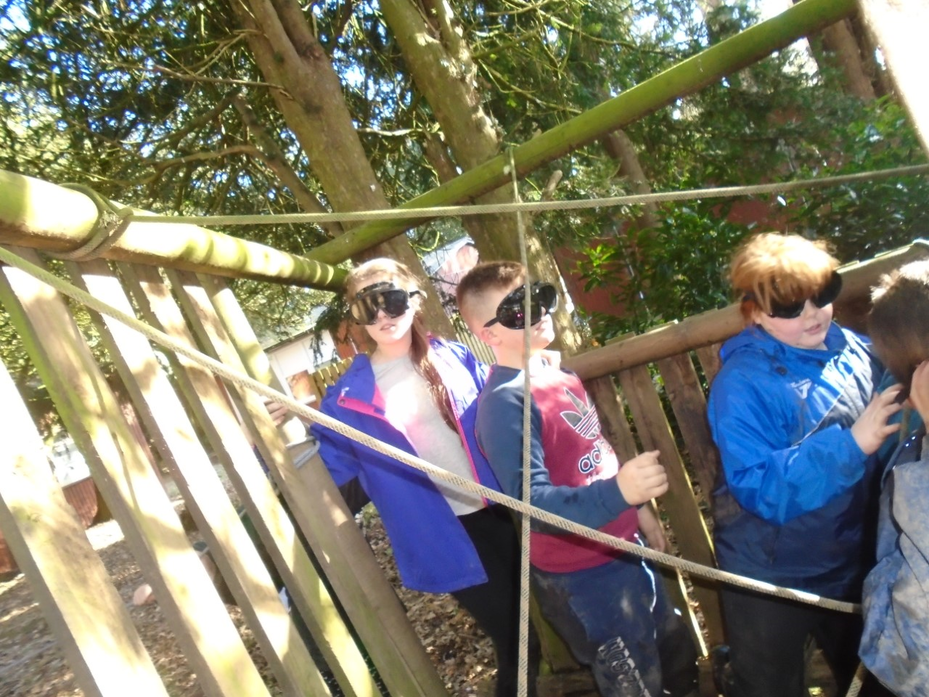 Red Nose Day saw the whole school perform a dance which can be viewed on the website, if you haven't already watched it. It was great fun making it!!
We ended the month with a Google Expedition Associate visit. The children had a virtual field trip linked to their Topic of China. They visited the Great Wall of China and saw the Northern Lights whilst in the school Library.
One child said " Google VR was an exciting experience. When we wore our headsets we could look at many 360 degree images. It showed us many landmarks of the Earth so we can learn about where we were."
February 2017
E-Safety Day
As a WOW launch to E-Safety day we wanted to do something memorable for the children around keeping children safe on the Internet. With the help of One Day Creative, all the children in the school got to take part in a fun creative workshop and learn all about E-Safety through Drama.
Year 6 took part in a "World of Thrones" workshop, a fantasy world where all is not as it seems… They had to make smart choices about who you trust and what you reveal and, in doing so, to protect themselves and their friends for long enough to survive online. They explored the increasingly complex world of gaming, cyber bulling & internet safety!
Following their workshop, Year 6 delivered an assembly for the whole school and parents to show what they had learnt.
January 2017
The topic for the term is China. We began the topic by designing and making our own Chinese dragons. We had to use our skills for learning to ensure we worked as a team effectively. We celebrated the Chinese New Year by a visit to Belong to share a celebration with them and show them our work.
December 2016
In our topic, we finished off our 'What makes Britain Great' topic by researching the Tower of London and crime and punishment through the ages. In Maths we have been learning about division using the 'Bus stop', coin cards and chunking methods. English saw us write a letter to Santa Claus explaining how upset we were because Buddy and his elf friends had messed up our classroom by having a party! In PSHE, we rewrote the Nativity story finishing with turkey and stuffing sandwiches.
November 2016
Year 6 have been celebrating the festival of Eid and Diwali. They enjoyed food tasting, making pots and designing their own henna tattoos.
English -We have just begun our new English piece of writing-a non- chronological report. This will be about elves and tie in with Christmas as a theme. We received goodies from the elves this morning!
Information Station- We have covered many topics for our information station so far but the children enjoyed creating Road Safety posters.
September 2016
Welcome to Year 6A
We all loved our trip to London,

We even got to see the dreaded dungeon,

We later boarded the London Eye,

When we got to the top – it was so high,

Sailing down the River Thames,

We made some new South African friends.

Our Science lesson was a wiz,

The glass bottles were filled with fizz.

The test didn't involve fire,

But the great test can inspire.

Allotments are green,

They are also clean,

When the beautiful flowers bloom

They sing a melody tune.

The swaying branches of the trees in the breeze

But be careful of the flying autumn leaves.

We all do sentence a day,

To try and keep the teacher away.

Upon this day, you'll be blown away.

Because our work is worth an "A!!"
May 2016
Eco Week
For eco week we had fire fighters come in and teach us how to do CPR. We all took part and it was really fun. None of us knew that we didn't have to do mouth to mouth anymore. It is because it is believed that if they are still breathing, then you will already have enough oxygen in your body. We also did some gardening and we decorated hanging baskets with flowers in groups of four. Some of us watered them as well. On Friday, we had an unplugged day where we didn't use any electricity until half past twelve. Everyone enjoyed it and I don't think any of us knew how much we relied on electricity. We went outside and played some games and also practised our lines and scripts for production.
Kiah
March 2016
A lady came in to year 6 called Anna with her dog called Mo. She told us that last year alone the Dog's Trust rescued 105,000 dogs. As well as this, she also told us that the government had to put down 5,000 healthy dogs down out of this 105,000 because nobody wanted them. She showed us Mo's school bag that had everything she needed in it to stay healthy and happy. This included: food, water, a bone, a poop bag, toys, lead, collar and a tag. Did you know it is illegal to not have a collar and a tag on your dog? Also, you need to walk your dog twice a day not matter how big or small it is.
Kiah