October 2017
We have had a busy first term in 3a starting our fantastic chocolate topic. It started with a trip to Tesco on a Farm to Fork trail around the store. We visited Ben at the fish counter and tried some prawns and cockles. We went to the bakery and had the chance to sample the bread and cookies before finishing our tour with making our very own pasta pots! We have enjoyed working with Miss Jones who has been delivering our PE sessions and have looked at football and hockey over the last term. We have also had session with school of military looking at den building, team work and the different ways our body works. We have started looking at fair trade and cocoa producing countries and are excited to continue this throughout the next term. We finished off a busy half term by learning two Oompa Loompa dances with year 3b and a visit from an Olympic gold medallist.
September 2017
Welcome back everyone. Hope you have all had a nice summer. In year 3 we have been busy getting the classrooms ready for our new topic of chocolate. This term we will be finding out all about chocolate through lots of different activities, including tasting the chocolate and using this in all our topics including a trip to Tesco. In science, we have lots of investigations to complete around our topic of light. We are very excited for the term and can't wait to see you all back on the 5th September.
March 2017
We had an unexpected visitor in school this month: a real, live T-Rex! When we came to school, there it was; swooshing its long tail around the playground and roaring at anyone who came near.
Luckily it wasn't hungry and was rather friendly. We got the chance to visit the dinosaur, who was called Rex, in the hall later that day.
Our close encounter of the extinct kind, inspired us to learn more about these fantastic beasts and to write a report about our experience. We also read an exciting book called "Dinosaur Cove: Attack of the Lizard King" and we all loved it. We can't wait to read the next book in the series!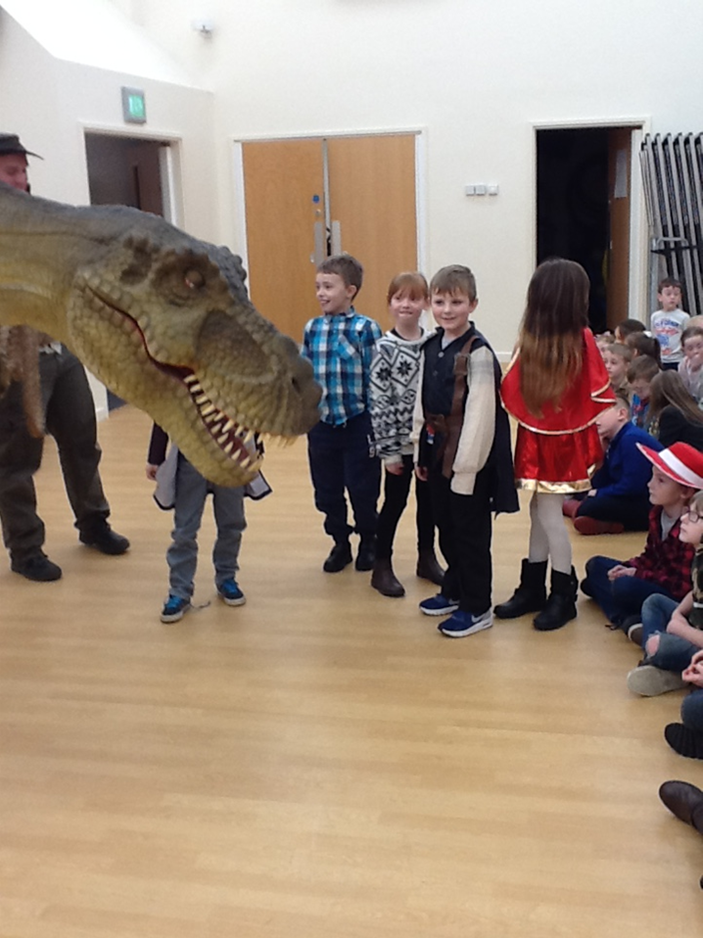 February 2017
This term, we have been learning about all things Italy! From training to be Roman soldiers to planning a new dish for an Italian restaurant.
Some of the children brought their own projects in from home and produced some fantastic work. I'm so proud of them and the work they have done in class. Well done 3A!
January 2017
E-Safety Day
As a WOW launch to E Safety day we wanted to do something memorable for the children around keeping children safe on the Internet. With the help of One Day Creative, all the children in the school got to take part in a fun creative workshop and learn all about E Safety through Drama.
Reception to Y3 took part in the "Into the Screen Workshop" The children used well-known fairy tale characters to highlight the importance of keeping safe online, they worked in groups to navigate their way out of some tricky situations. Will the 3 Little Pigs tell the Big Bad Wolf where they live? Will Red Riding Hood notice that Granny looks a bit different today? And will anyone be able to stop the Ugly Sisters from being horrible to Cinderella? Through playful and fun storytelling, pupils learnt how to keep safe when playing on the internet and realise that the world inside the screen is perhaps not so different from the real world after all.
January 2017
Class 3A was confused this month when a man came into our class wearing strange clothes and speaking a strange language. We eventually realised that he was a roman soldier and that he was speaking Latin. Luckily, he could also speak English so he could teach us all about life in the Roman Army.
We learned about roman armour, weaponry, food, clothes and even got to train as roman soldiers.
November 2016
We have been learning about a famous artist called Laura Benjamin. We had a go at making our own collages out of sweet wrappers. Please click here to see our short video.
Also this term, we have been learning about the Stone age. We made a timeline, learned about a stoneage house that was discovered in Scotland and even made a cave in our room!
September 2016
Welcome to Class 3A!
Throughout this term class 3a will be learning all about one of our favourite things: CHOCOLATE!
Throughout the term we will be reading Roald Dahl's "Charlie and the Chocolate Factory" and learning all about who makes this tasty treat and how.
This week we visited a supermarket to learn all about where Cocoa beans are grown and how 'fair trade' products are important to the people who grow them.
Whilst we were there, we also got to try out some of their other foods and had a great day!
May 2016
Eco Week
During Eco week we have been learning all about what we can do to protect our local environment and how to keep safe in our
community.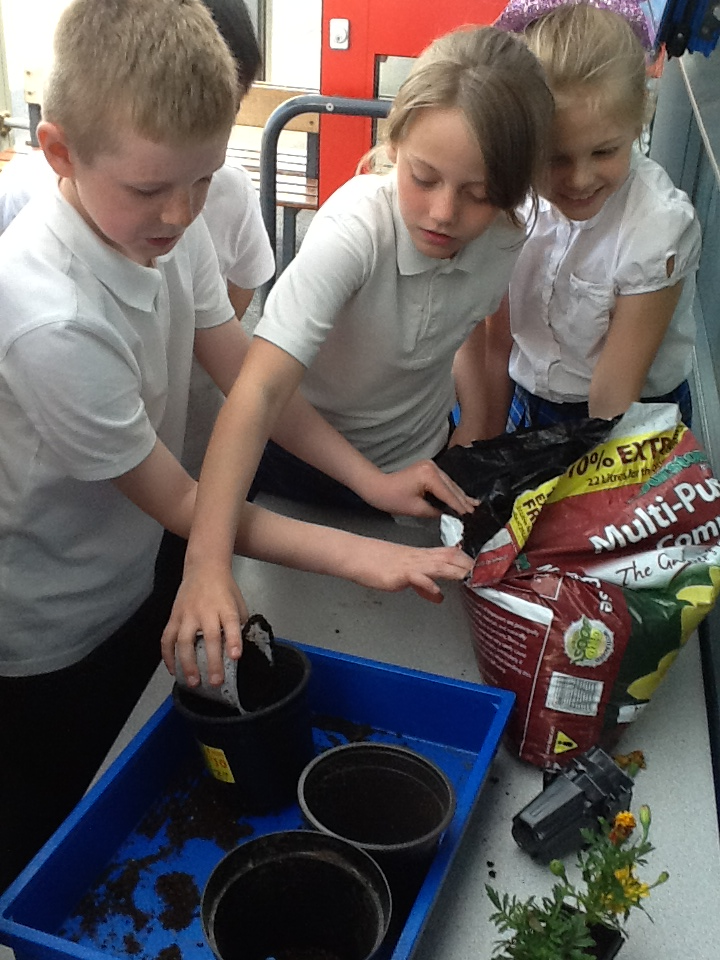 We had fun planting seeds and flowers for our allotment and to decorate our classroom.
During the week we had lots of visitors teaching us about re-cycling and how to keep safe near roads and waterways.
May 2016

This week, year 3 got together to take advantage of the lovely weather and have an outdoor adventure learning day.

Grasping our hula hoops, skipping ropes, cones, crates and tents (everything except the kitchen sink) we travelled to "Adventure Island."

Throughout the day, we took part in lots of fun activities and learned about friendship, respect and teamwork.

We took part in different activities including orienteering, crossing a maze, guiding sheep into a pen (blindfold game) and created an obstacle course for our teams to cross.

To protect us from the mid-day sun, we put up our own tents to act as sun shelters.

We had a wonderful day and, for once, it didn't rain!