January 2018
Year 1 went back 1,000 years in history when we adventured to Skipton Castle. Here, we learnt about the origins of this historic castle and the people who lived there. We ventured through walls that were 4 metres thick; exploring kitchens, bedrooms and the dreaded dungeon. Our historical knowledge improved when we became time travelers and learnt how the use of the castle changed through time. Children had a fantastic time exploring this well preserved piece of history.

December 2017
Key Stage 1 have delivered outstanding performances of the Nativity "Behind the Stable Door". The children were amazing choristers, singing beautifully to songs such as "Grumpy Camels" and "Gifts of Love". All the teacher and staff are so proud of their achievements.
All the staff and children in Key Stage 1 would like to wish you a "Merry Christmas and best wishes for 2018".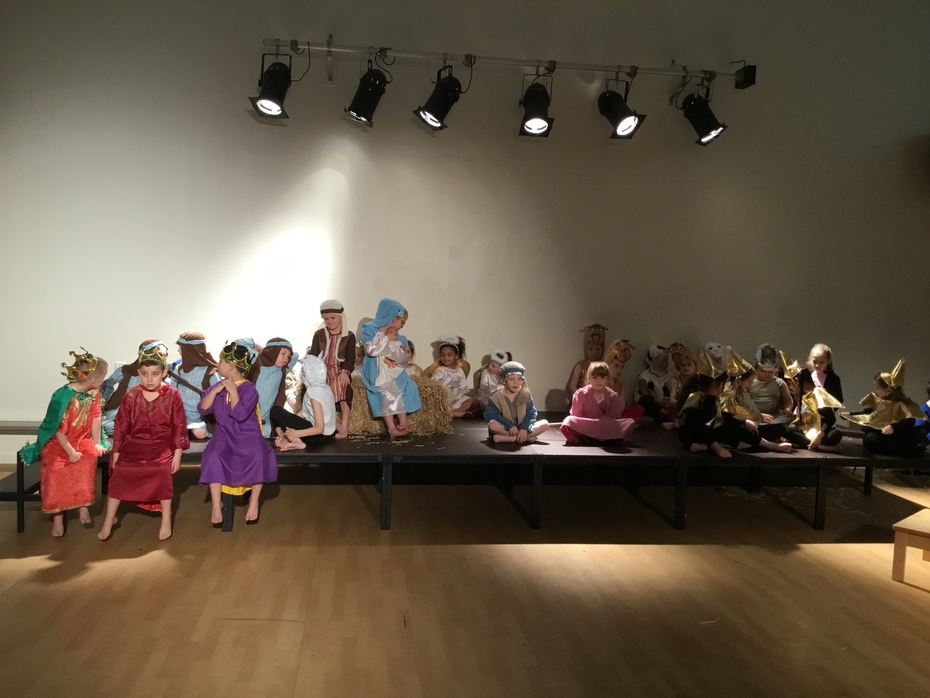 November 2017
Children in Year 1 recently had a surprise guest visit - Mr T! As part of our science work, we are looking at different types of animals including reptiles. Mr T made his debut and helped the children get a real life experience of reptiles. Children were able to point out his key features and were even lucky enough to hold and tickle Mr T. The information children were able to retell was fantastic and they had really learnt a lot from their experience.
October 2017
This October, disaster struck! A whale became beached on our school playground. Luckily children knew what to do as they had read the story 'The Snail and the Whale' which showed them what to do in such a crisis. Children worked together to pass buckets of water along the line they had created and took it in turns to help dig him out. After some hard work, we finally managed to free the whale.
September 2017
Year 1B went on a bear hunt following in the footsteps of 'We're Going on a Bear Hunt' co-authored by Michael Rosen and Helen Oxenbury. We found ourselves swishing through long wavy grass, squelching through thick oozy mud before almost getting blown away in a swirling, whirling snowstorm. Luckily we made it to the narrow, gloomy cave. But then - disaster struck! We were chased by a bear! Our hearts were pounding as we raced back to class. Luckily we all returned safely and we managed to write about our scary experience.
May 2017
Year 1 had the best time ever when we visited Blackpool as part of our 'Would you like to be beside the seaside?' topic. Our fun packed day saw us visiting Blackpool tower where we were lucky enough to watch a 4D show. Then we shot up the tower to the glass walkway. Everyone went on the walkway (Even Mr Lees, who was the most scared person up there!) and we saw some breath-taking views across the sea, Blackpool and the North-West of England. We also identified human and physical features whilst up there to help with our Geography learning. Afterwards, we had our lunch in the world famous Blackpool Tower Ballroom where they film Strictly Come Dancing. Our next stop was at the rock shop and we saw how rock was made and chopped to size. We even got to taste some sugar free rock! Finally, we visited the beach and made sandcastles and volcanoes with our new buckets and spades. We truly had the best day ever!
April 2017
Year 1 have been transported back to the beach to launch their new topic 'Would you like to be beside the seaside?'. We started off by enjoying ice lollies at the classroom beach and discussing our own Easter holidays. To round our day off, we ate by the sea and palm tables and enjoyed some freshly made fish and chips, courtesy of Joe's chippy in Platt Bridge. The children had an amazing time and thoroughly enjoyed their day.
March 2017
As part of our History topic we have been exploring weddings from the past and present. To help us fully understand what weddings were like in the past we visited the local care home for the elderly 'Belong'. Here we took the time to talk to the elderly patrons about their own wedding experiences and to find out more about them. We were amazed to speak to a lady who was 100 years old! We learnt about how people dressed for weddings, what they ate, what music they danced to and many other traditions. We were also lucky enough to look through some old wedding photographs. This experience has helped us immensely and developed our communication skills too as we were all very confident when speaking to the elderly people. We would like to say a huge thanks to Belong and all the people who took the time to talk to us.
February 2017
E-Safety Day
As a WOW launch to E Safety day we wanted to do something memorable for the children around keeping children safe on the Internet. With the help of One Day Creative, all the children in the school got to take part in a fun creative workshop and learn all about E Safety through Drama.
Reception to Y3 took part in the "Into the Screen Workshop" The children used well-known fairy tale characters to highlight the importance of keeping safe online, they worked in groups to navigate their way out of some tricky situations. Will the 3 Little Pigs tell the Big Bad Wolf where they live? Will Red Riding Hood notice that Granny looks a bit different today? And will anyone be able to stop the Ugly Sisters from being horrible to Cinderella? Through playful and fun storytelling, pupils learnt how to keep safe when playing on the internet and realise that the world inside the screen is perhaps not so different from the real world after all.
January 2017
1B have been learning how to speak Spanish when we participated in Spanish morning. We got to try chorizo, patatas aliolli, pan con aliolli, croquetas and many other types of Spanish food. We surprised ourselves at how much we could understand when Mr Lees read the story of the 'Three Little Pigs', or Los Tres Cerditos to give it its proper Spanish name, in Spanish. We translated the story and used our own knowledge to help us work out the meaning. Mrs Owen dropped in to teach us Spanish greetings and we discovered the names of different Spanish foods too. Overall, we had a great morning and learnt lots of different Spanish phrases. We can't wait to develop our language learning skills soon. Hasta la proxima!
December 2016
Year 1 visited the streets of Bethlehem to retell the story of Mary, Joseph and the baby Jesus. We had a great time singing as part of the choir to explore the biblical journey. Our parents were very proud of all the songs we learnt and we put on a great show.
November 2016
Year 1B have loved making jungle masks. We closely observed the work of Nick Mackmann and Andy Goldsworthy and used their ideas to inform our jungle design. We then looked around for natural items that we could use to enhance our masks, just like Andy Goldsworthy does when completing his designs. Finally we carefully selected where to place our materials so we could create awesome jungle masks.
October 2016
Liverpool Museum
1B visited Liverpool museum as part of their science learning which looks at 'Animals including humans'. We looked at different types of fish in the aquarium, explored the world of bugs and got up close and personal with tarantulas, earth worms and a scorpion. We even caught a glimpse of real dinosaur bones and mummified animals from ancient times! Everyone had a fun day and learnt lots to help with our science curriculum.
September 2016
Welcome to Class 1B!
Year 1B have been looking at answering the question 'Who is the king of the jungle?'. We have explored how animals move in PE, written about what animals look like and described the jungle too. We have even been on a visit to Tesco to find out where our food comes and to try some tasty treats. We designed and created our own jungle animal out of clay and learned new techniques to help stop their heads falling off! We have even been chased by a bear after our bear hunt and searched for the lost Gruffalo mouse and learnt how to look after pets when we met Sunny the dog.
May 2016
Eco Week
1B have been taking part in Eco week and looking at ways of becoming more eco-friendly. We have had a morning without electricity where we read by torch light and looked at the impact having no electricity can have. We then tried to create a water system to carry water without the use of electricity. Unfortunately we did not succeed in our task however learned important skills such as team work, listening to one another and collaborating.
During Eco week we have also examined the importance of staying safe near our local canals. We had an informative presentation showing us dangers such as being too close to the edge or cycling along the canal footpath too quickly. We also learnt the importance of recycling and how to recycle correctly at home using the right bin.
March 2016
Disaster struck in Year 1 when a whale became beached on the playground! Luckily we have been reading about 'The Snail & The Whale' where we learnt some tricks to help save a beached whale. We used buckets to throw water over the whale to keep him cool and spades to dig him out. Our chanting of "Save the whale" and "Dig him out" certainly helped to free him. The whale sailed off happy and content and Year 1 felt proud to have been able to save him.