Reception
Please click the links below to view our class newsletters:
*
October 2017
We have had so much fun throughout October. We are now all settled into Reception and enjoying our learning.
At the beginning of the month, we had a visit from the farm. Yes- we had pigs, goats and cows in our school. We even had little bunnies and they were so cute. We had a fantastic time learning all about the different animals.
One of the stories we enjoyed this month was room on the broom. One day when we came into school, there was a broom stick and it had been broken in half. We then found a letter which had been left by the witch from the story. It said that she had been flying around Platt Bridge with her friends, when all of a sudden her broom stick snapped and she fell into our school. She also said that she had lost some of her things and left us clues to help her find them. We searched all around our outdoor area and found all of her objects. We then did some exciting writing about what we found. We even wrote some letters and notes to the witch. Have a look at some of our amazing work:
We also became magical witches and wizards ourselves and made some amazing potions that exploded. We had to read the potions and use our adding skills to add the ingredients together. We also went trick or treating outside. We had to look at the number on the door and pick the correct amount of sweets to add to our Halloween basket. It was so much fun!
We have been learning all about autumn. We even went to the woods to explore with our friends. We noticed that lots of leaves had turned brown and so we collected lots to take back to class. We also collected twigs and flowers and took them back to class to make models and pictures. At the woods, we even saw a fairy garden and it even had fairy dust on it so we all made a wish.
September 2017
Since starting Reception, we have been having lots of fun getting to know our new teachers and friends. We have enjoyed exploring our new classroom such as role playing in the shop and home corner. We have used our imagination to become pirates in the pirate area and have loved choosing our own snack and have even washed our own plates afterwards. We have been walking sensibly and quietly along the corridor to eat our dinner in the big hall and have enjoyed trying lots of new foods.
As well as all the fun we have been having in the classroom, we have also been out in our community buying healthy snack for all our friends to enjoy in class. We worked as a team to carry the food to the till and we used our manners when paying.
We have also started to learn some phonics and have loved applying our skills both indoors and outdoors. We have been doing some messy mark making outside with water and sand and have been practising writing our names.
May 2017
This month in reception has been a warm one! The children have loved the better weather and enjoying all the fun activities in our outdoor classroom. There has been lots of water play, digging for treasure and doing both maths and literacy outside.
| | |
| --- | --- |
| | Enjoying the beautiful sun! |
Then Mrs Burland needed the children's help. It was her birthday but she did not have time to plan a party. So the children set to, writing shopping lists, party invitations , ideas for party games and all things party! They decided that they wanted a pyjama party so they made plans and a pyjama party was what they had. They all came in to school in their pyjamas as well as the teachers and had a fun day. Mrs Burland was very happy with her well planned party!
The children had party nibbles whilst

being sat all cosy on the carpet!
Our classroom has seen a few changes during the month of May. We now have a coffee shop, an ice cream parlour, a jungle, bee bot toys and a super hero city! The children have been enjoying these new areas.
| | |
| --- | --- |
| | The girls taking orders in the coffee shop. |
| The boys enjoying programming the Bee Bots. | |
Also this month we have been practicing for Sports Day. The children have been taking part in fun races such as relays, egg and spoon race and running. We have even managed to practice outside too on a couple of occasions in the sun.
| | |
| --- | --- |
| | Balancing a bean bag! |
May has been fun! We are all looking forward to June!!
April 2017
This month in Reception we gained 8 new friends! Chicks! When the children returned after the Easter holidays, they were met by an incubator in the classroom with eggs! Every day the children observed the eggs, writing down what they could see and making sure they whispered near them so not to disturb the chicks inside! Then they begun to hatch. The children were so lucky as they all saw the first chick hatch. Starting with a tiny crack in the shell to a few hours later a little chick. She was named Isabella! Following her birth over the next few days a further 7 chicks were born, 3 girls and 4 boys. The children learnt how to tell which ones were boys and which were girls. Over the week and a half period that the chicks were with us the children looked after them by feeding and watering them and they also had the opportunity to hold them. On a couple of occasions we were able to let a couple of the chicks walk around on the carpet whilst the children sat around them in a circle. They loved to watch them and were particularly amused when one did a poo on the carpet!
| | |
| --- | --- |
| | |
Also this month we went on a Woodland Walk which we all loved despite at one point being stuck in a downpour of rain. The theme was to explore and find minbeasts in the environment which was a success. Children found worms, caterpillars, snails, spiders among others. We then continued to walk around the woods and the parkland area enjoying all the sights and the sounds. The children's behaviour was amazing making Mrs Burland and Miss Crompton the proudest teachers. Well done Reception.
| | |
| --- | --- |
| | |
| On our way! | Exploring for mini beasts. |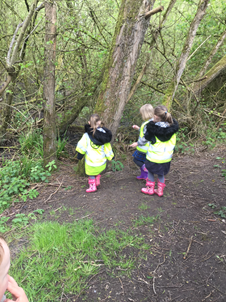 The girls sprinkling fairy dust by the fairy door in the tree.
March 2017
March has been a very exciting month in Reception and the children have all worked very hard and deserved their Easter break.
At the beginning of the month the dinosaur eggs which were in the classroom began to crack. The children observed them daily, drawing pictures and writing messages for the dinosaurs inside. Then on World Book Day the eggs hatched! The children arrived at school in the morning, all dressed as explorers to be met by a huge T-Rex walking around the playground roaring at everyone! He was a very friendly dinosaur called Rex.
Later that day the children went into the hall where fast asleep, wrapped in blankets, cuddled up with their keepers were two baby dinosaurs! Junior the baby T-Rex and Trixie the baby Triceratops. The children were given the opportunity to ask questions about the dinosaurs and they even went up to them to touch them and see what they felt like. All the children loved doing this.
Then a week later, something really strange happened in school! A spaceship crash landed in our hall! All the children were called into assembly where they saw a spaceship in the corner and the teachers were walking around in crime scene suits checking out what had happened!
The children then had a challenge which was to design a home for the alien!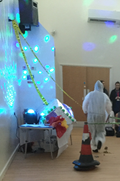 Then on Red Nose Day all the children came in dressed in their own clothes and most of them wore red. Then they all took part in a school dance which can be found on our website. They all had a really fun day as well as the teachers!
Then our Easter celebrations meant some exciting challenges. The children loved getting involved at home, creating egg scenes for the Easter Egg Competition. Reception's entries were truly amazing and one entry from Reception A even won the best design for the whole school!!! Well done.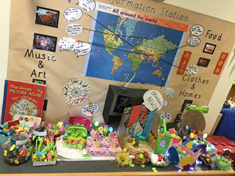 Then on the last day of school, the children came in dressed up for a Neverland Party. This was a perfect end to our Spring Term!
February 2017
This month the Reception children have had lots of fun and a few surprise visitors!
At the beginning of the month the children were learning all about Jack and The Beanstalk. They all planted some magic beans in pots and made sure that they were watered and put in the sunlight. The next morning a huge beanstalk had grown in the middle of the classroom and a giant had climbed all the way up!! The children loved planting their beans and most of them have grown into little plants. They will next be replanting them outside and we will watch them grow.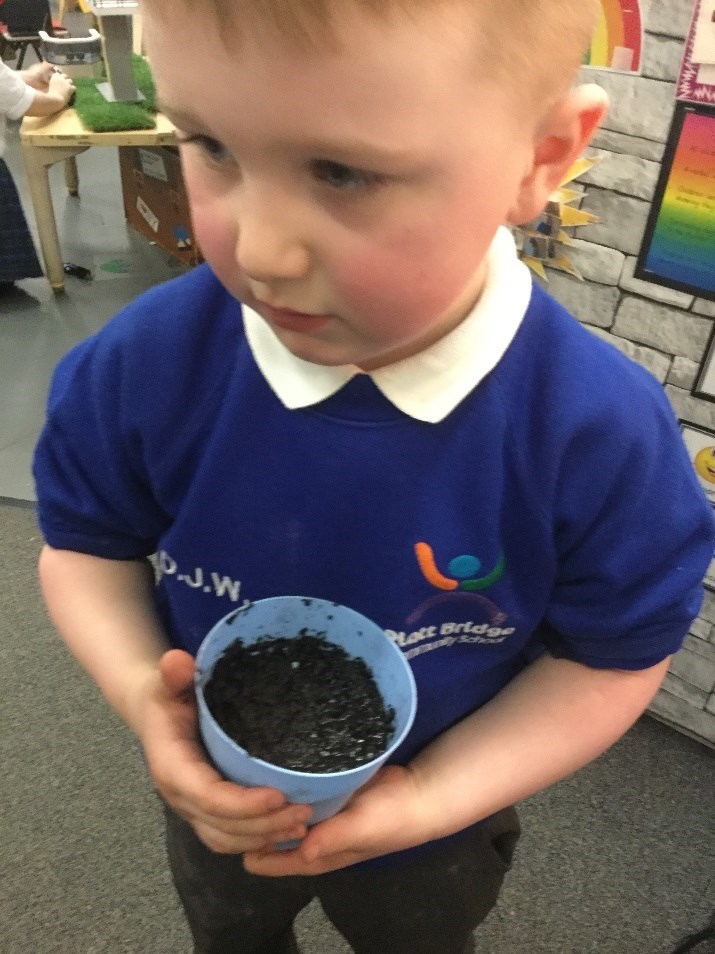 The next surprise were 2 dinosaur eggs! The children came into school in the morning and a dinosaur had laid her eggs in our classroom. The children have looked after them ever since, not talking too loudly and making sure that the nest has enough straw in it to keep them warm. Some of the children have even written their names next to the eggs so that when the dinosaur comes out, it will know their name! Over the last day or so the children have noticed that the eggs are starting to crack! They can't wait to see what happens next!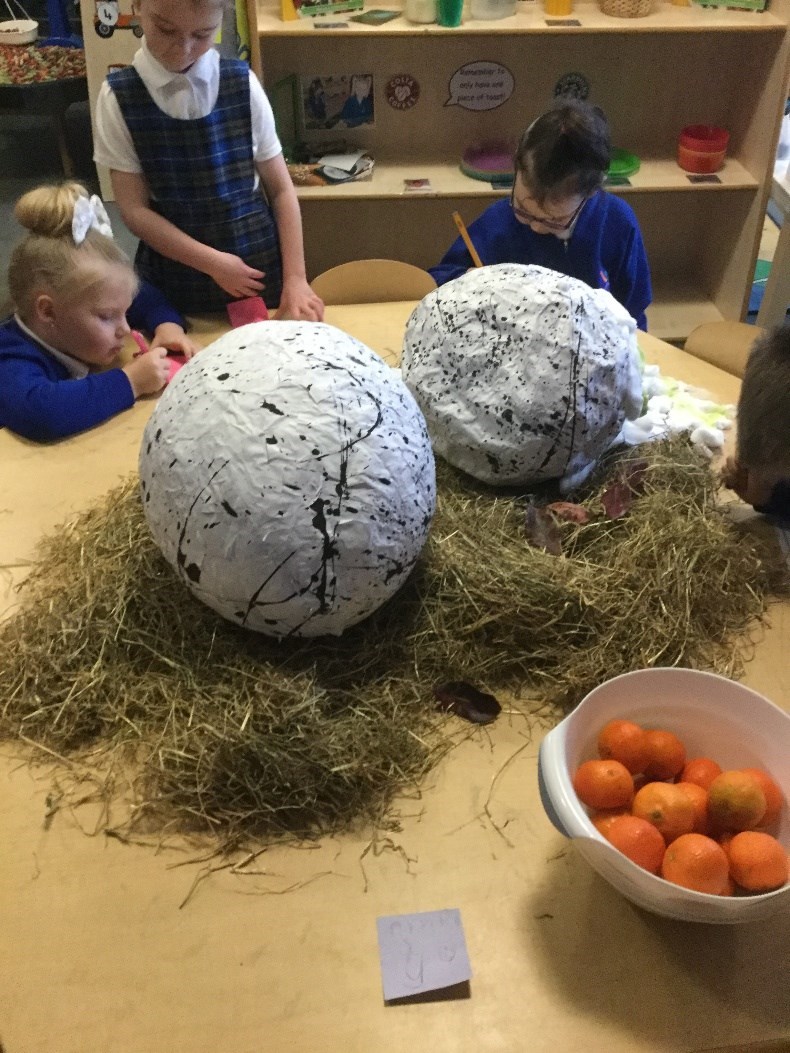 The children have also been enjoying our new 'Potion Station' where they can mix and stir many different ingredients, measuring them out carefully with spoons, measuring pots and jugs!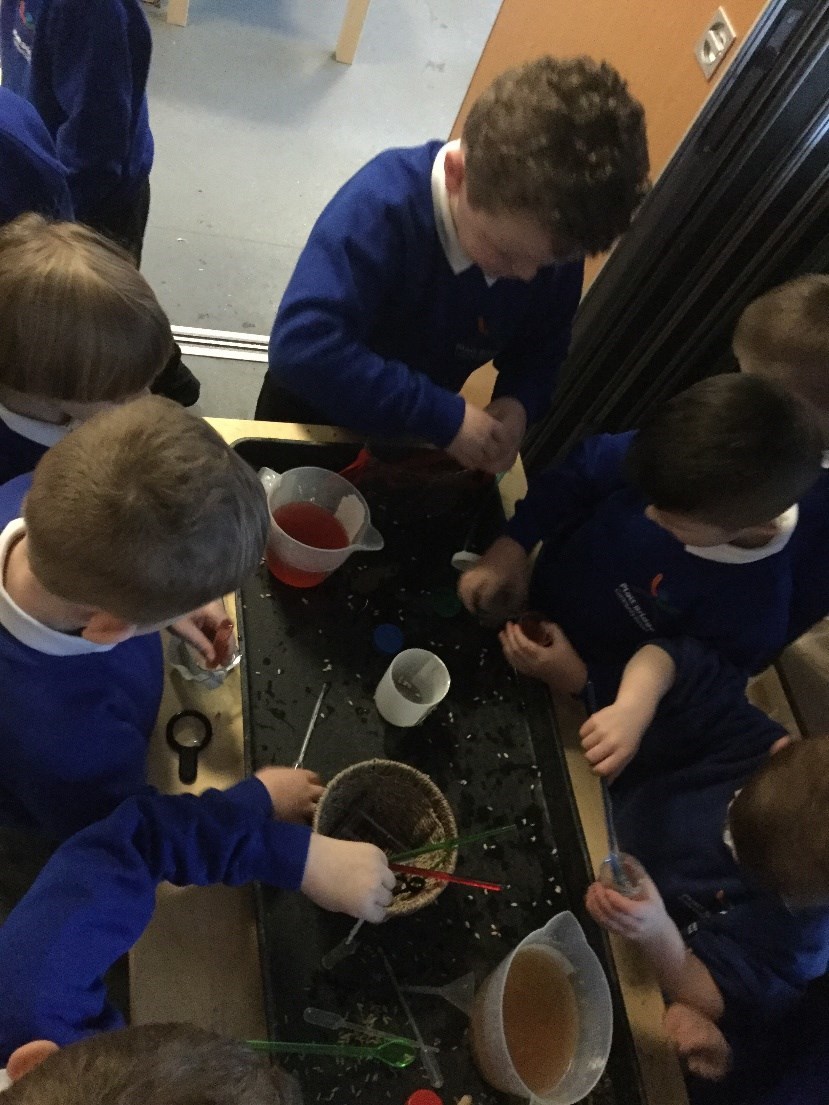 Finally, the children have loved being outside again. The sun seems to have shone a little more and even though it is cold, the children are loving exploring the outdoor area once again.
E-Safety Day
As a WOW launch to E Safety day we wanted to do something memorable for the children around keeping children safe on the Internet. With the help of One Day Creative, all the children in the school got to take part in a fun creative workshop and learn all about E Safety through Drama.
Reception to Y3 took part in the "Into the Screen Workshop" The children used well-known fairy tale characters to highlight the importance of keeping safe online, they worked in groups to navigate their way out of some tricky situations. Will the 3 Little Pigs tell the Big Bad Wolf where they live? Will Red Riding Hood notice that Granny looks a bit different today? And will anyone be able to stop the Ugly Sisters from being horrible to Cinderella? Through playful and fun storytelling, pupils learnt how to keep safe when playing on the internet and realise that the world inside the screen is perhaps not so different from the real world after all.
January 2017
This month in reception the children have settled back into class following the Christmas break.
The children watched some cctv of a spaceship flying over school. The next day the Alien's spaceship crash landed into our classroom!!!!!!!. They then had to go on a hunt looking for lost aliens and write lots of posters to help people find the alien. The children had amazing fun!
We are now learning all about space. Today we even watched a video of the first ever man to walk on the moon!!! It was exciting. We all tried to walk like Spacemen?!!!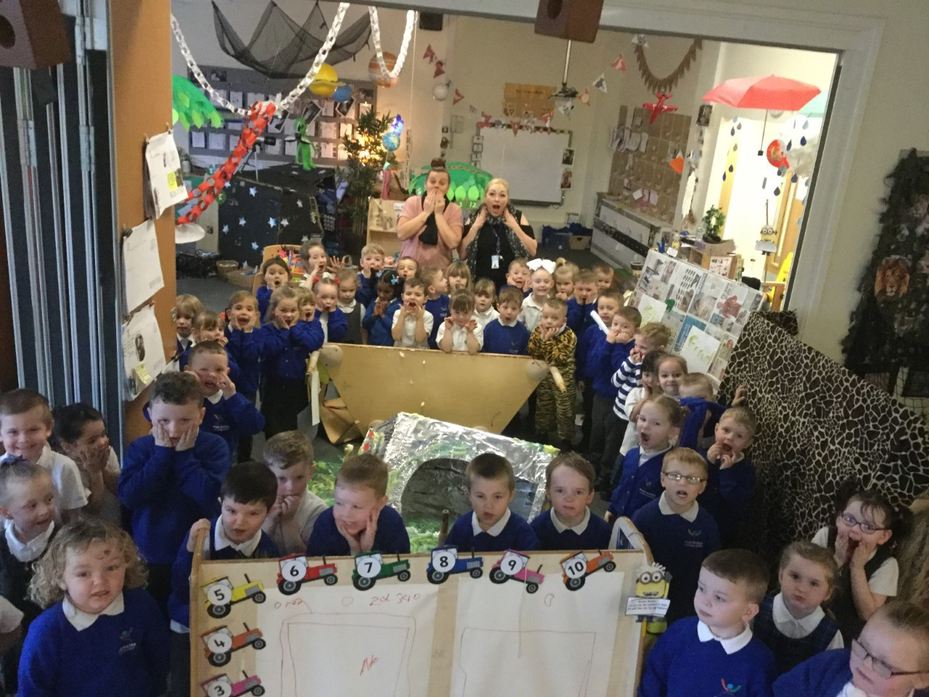 The children have been celebrating Chinese New Year. They have learnt all about the Chinese New Year race and then spent time tasting different Chinese foods which they loved. They tried rice, prawn crackers, noodles and dips whilst watching a Chinese parade. All the children thoroughly enjoyed themselves.
December 2016
This month in reception has been a very exciting time. We spent a lot of time practising for our nativity which we all really enjoyed as well as those who came to watch us.
Some children even went with the teachers on the bus to the garden centre to choose 2 Christmas trees for our classrooms.
We met Father Christmas in the grotto in school and we all got a present. We have also had a Christmas party where we played lots of fun games.
Our parents have been to school to watch us do some writing. We all wrote our wish lists for Father Christmas.
December has been fun!!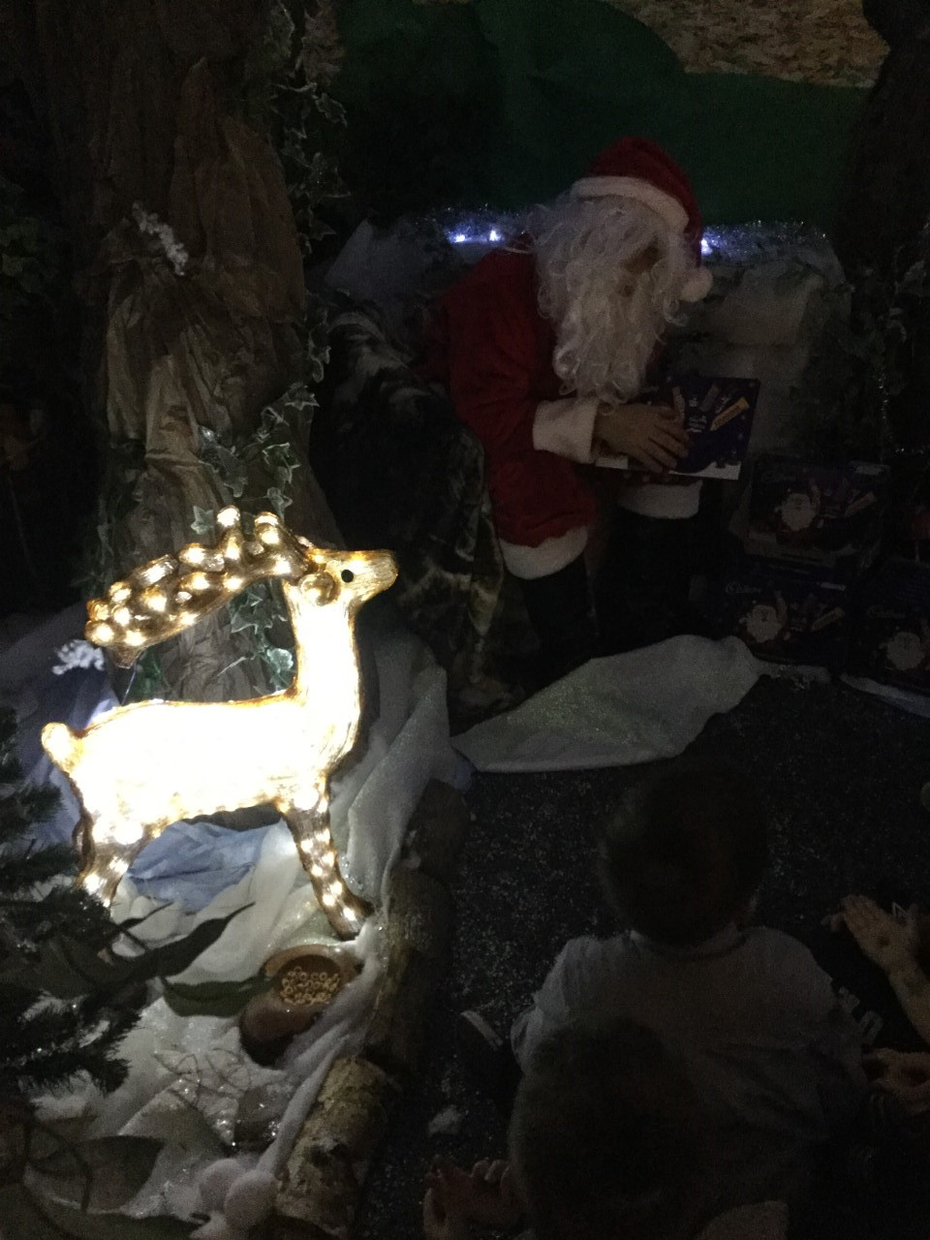 November 2016
This month has been a very exciting month for Reception. We learnt about the story, Alice in Wonderland and our classroom was transformed into Wonderland! We did many exciting activities such as helping the Mad Hatter find all the pieces of his pocket watch and making magic potions to help Alice. We even had to write shopping lists for our Mad Hatter's Tea Party! We all got dressed up for the party as characters from books and even our teachers got dressed up too! We learnt so much and has lots of fun too!
Our Mad Hatters Tea Party
October 2016
10 Year Celebration
Reception have had a fantastic first term! On the last day of term, both classes came in fancy dress to celebrate the schools 10th birthday. They spent the day having fun with their friends and enjoying the Circus themed fun fair! Happy Birthday Platt Bridge!
September 2016
Welcome to Reception
Our Reception classes have been settling into their new classes over the past 3 weeks.
They have been learning about our 'Golden Rules' and what is expected of them now that they are in Reception. They have been meeting their new teachers and teaching staff as well as making lots of new friends.
They have all thoroughly enjoyed exploring the outside areas, particularly as it has been really sunny as well as finding out about the exciting areas in their new classrooms.
Children have been learning about rhyming words and letters sounds as well as counting and even healthy eating.
Friday afternoons have been particularly good fun. Children are awarded for their excellent behaviour and hard work and can get involved in fun activities such as; decorating biscuits, party games outside and colouring activities.
Well done Reception A and B for settling in so well..
May 2016
We recently visited Knowsley Safari Park and had a fantastic day. We drove through the Safari Park and spotted lots of different animals such as monkeys, zebras and different kinds of deer. We also watched a Sea Lion show and really enjoyed seeing all the tricks they could do. They could clap, wave and jump out of the water. We were all very brave and went in the bat cave. We saw lots of bats flying around.
We even watched a bird show and went on the park. At the end of the day, we had a talk from a lady about lots of other types of animals like snakes and cockroaches and we were even allowed to touch the animals.
We had a fantastic day and all really enjoyed seeing our favourite animals. Since we came back from the Safari Park, we have all enjoyed playing in our Safari Area in class and doing lots of fantastic writing about our day.
Eco Week
This week has been Eco Week and Reception Class have been very busy learning about how to look after our environment. We have had an "Unplugged" morning; where we didn't use any electricity. We had a visit from the Water Safety Team and Wigan Council, who taught us all about how to reuse and recycle.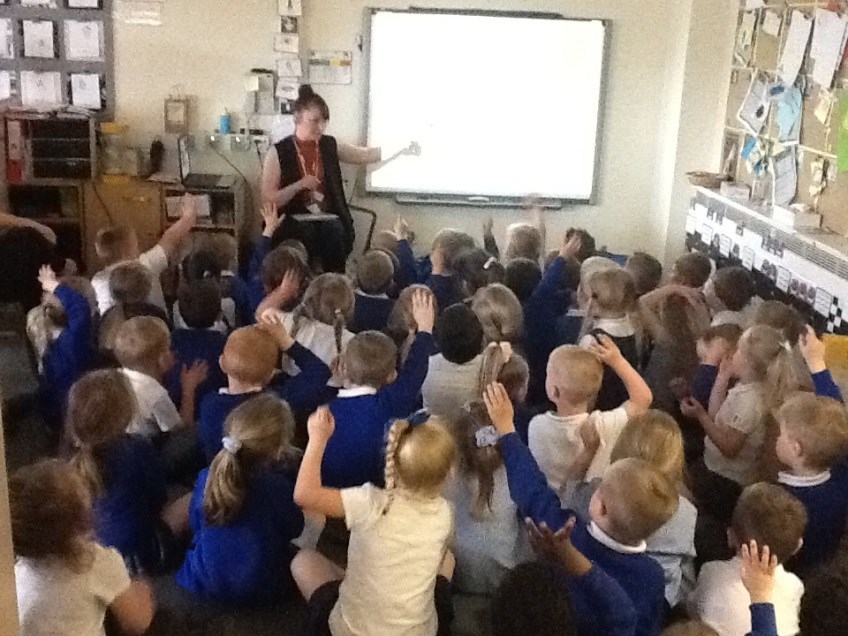 We also learnt all about flowers, birds and bugs and went on a nature walk with Russ.
On Friday we planted our own flowers and watered our lettuce and tomatoes in the school allotments which we look forward to eating as our snack later in the year.
March 2016

Reception have had a busy term, we have been doing lots of learning and making memories. We have been using our environment to show our teachers what lovely work we can do independently. We really enjoyed our trip to Joe's chip shop where we learned all about how fish and chips are cooked. We were allowed to go behind the counter and look at the kitchen! We were then asked to enter a competition to win a free family meal, we had to design a poster for Joe to use in his chip shop, Joe chose Codie Boffey as the winner! Well done Codie!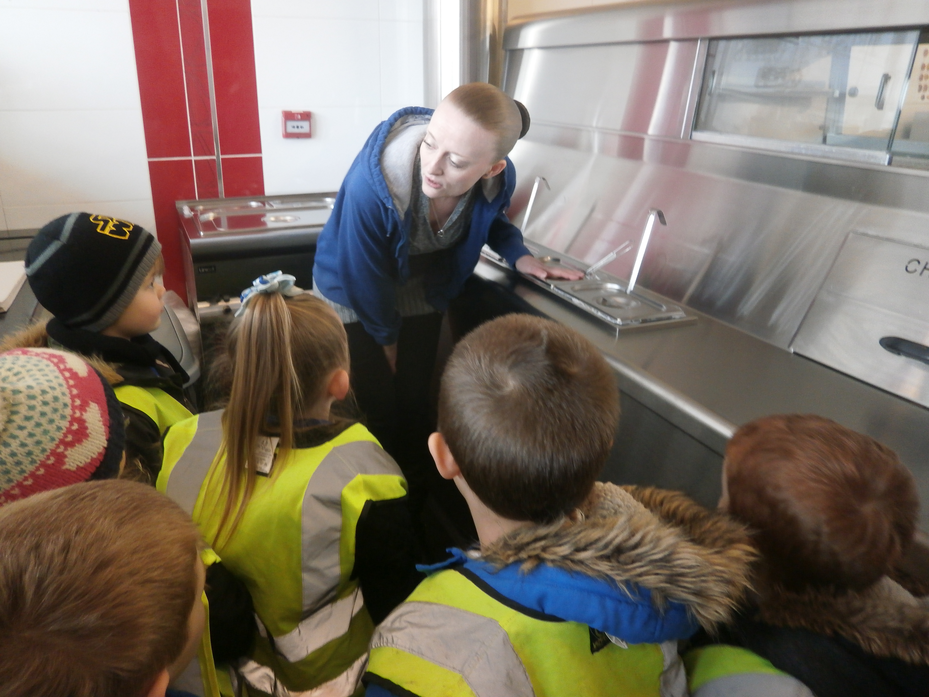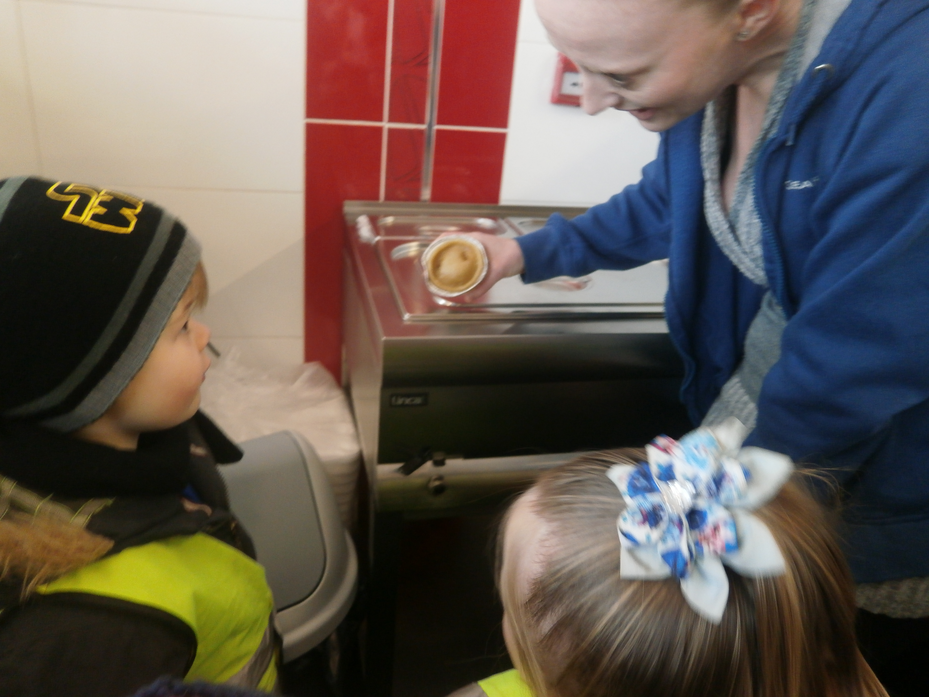 As part of our Sport's Relief project Reception have has a very special visitor in school, Kyle Shelford, who plays for Wigan Warriors came into school to talk to us about the Hakka, we even got to show him our version of the Hakka and he was really impressed!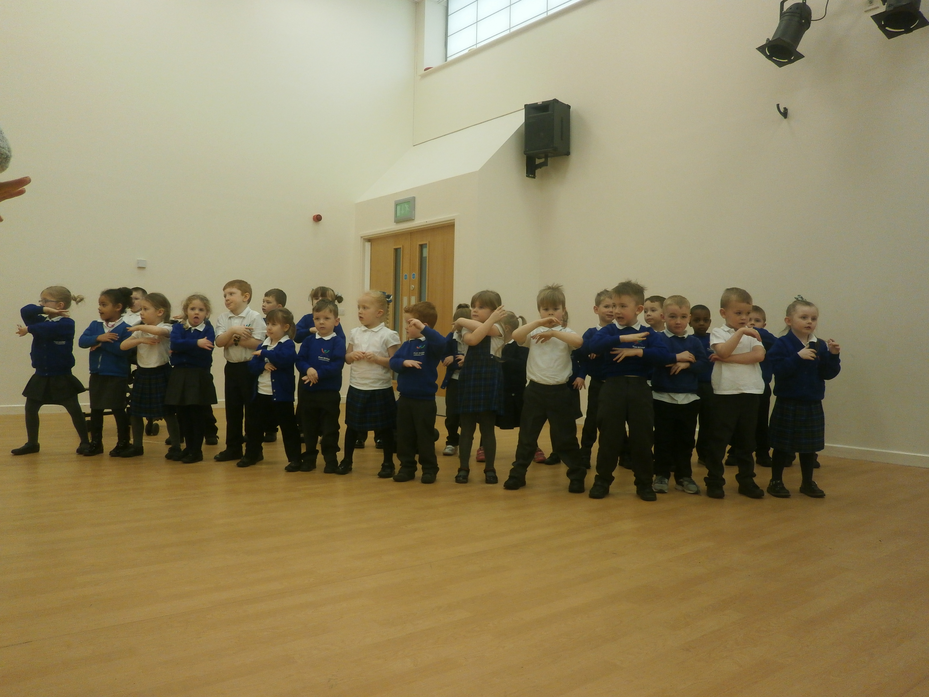 Reception have shown they have no fear in tackling our new climbing frame. They have moved around it safely in different ways and thoroughly enjoyed it.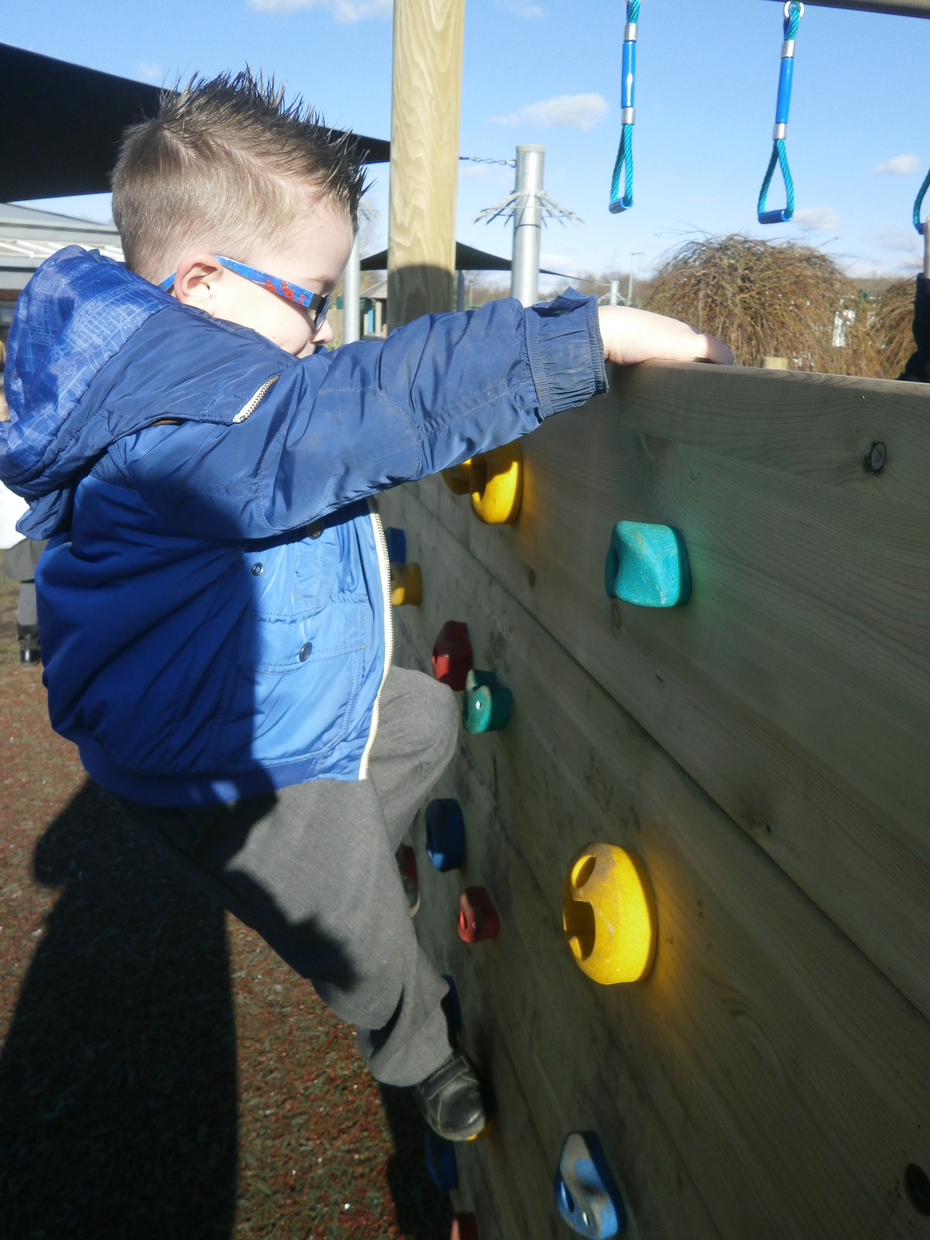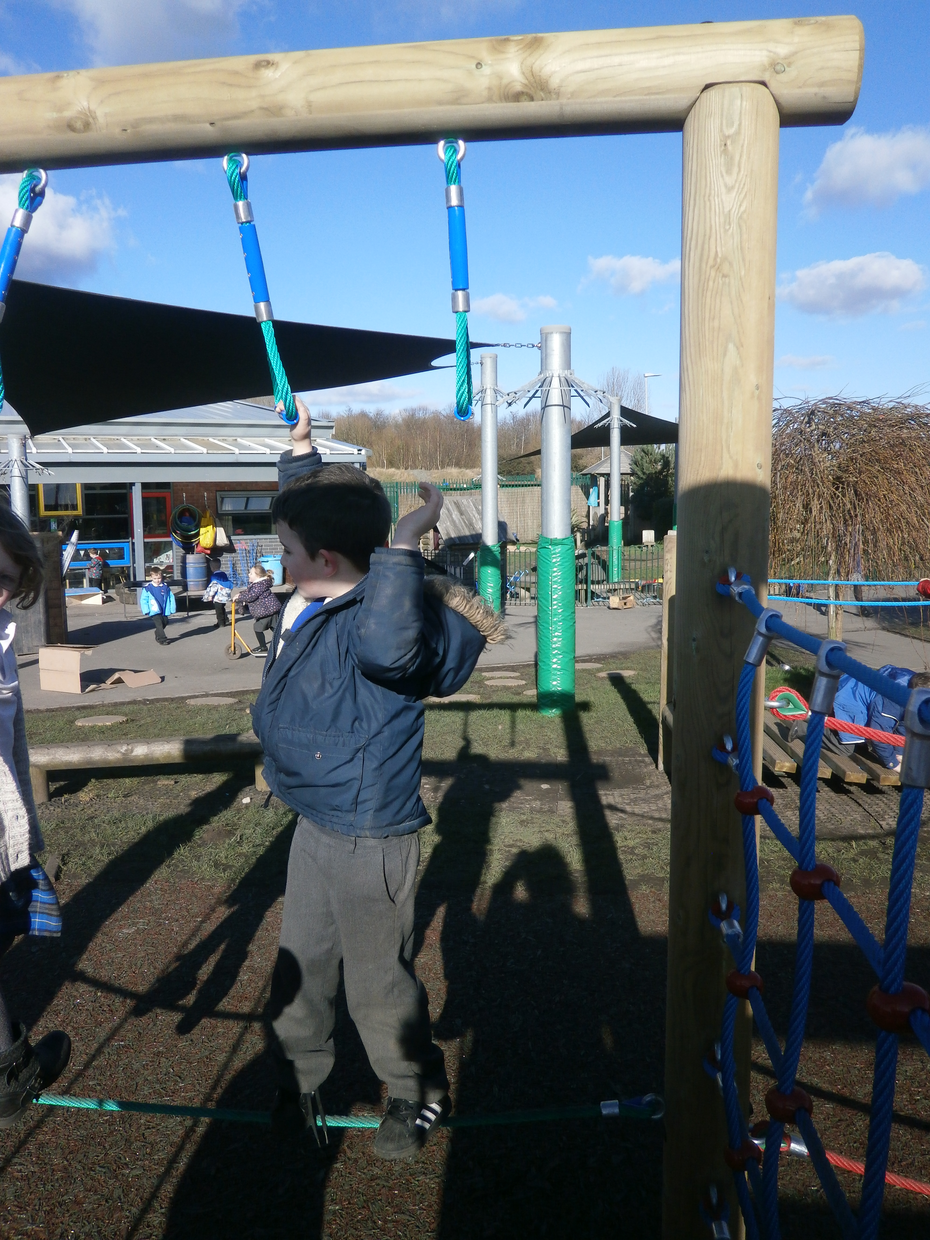 We had a visit from the local Fire Service, they let us try their uniform on talked to us about how they keeps us safe in an event of a fire. We learnt so much and they let us all have a go with the water hose, it was so fun!!!!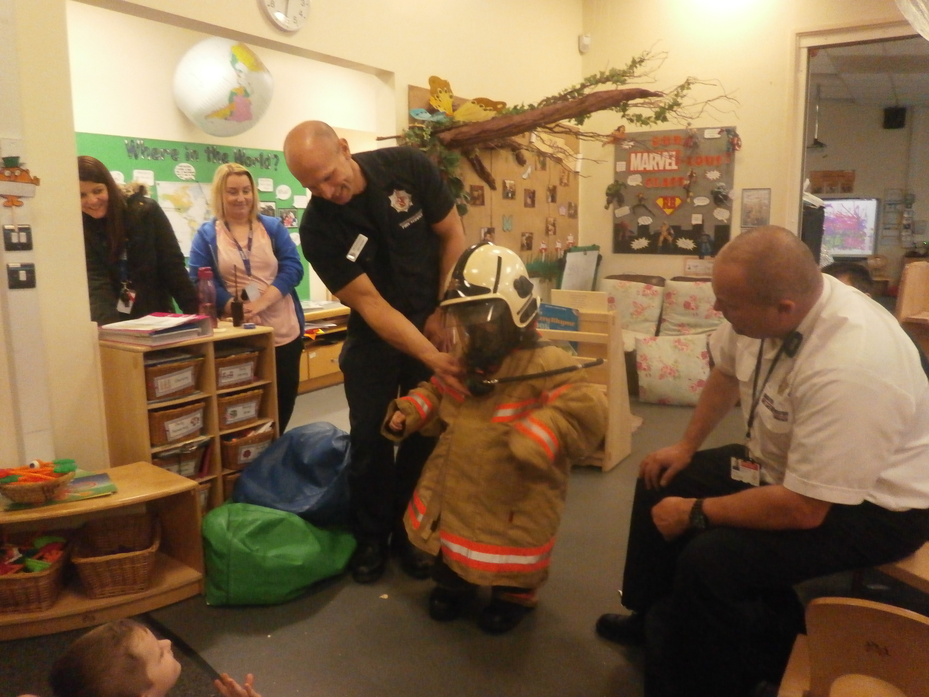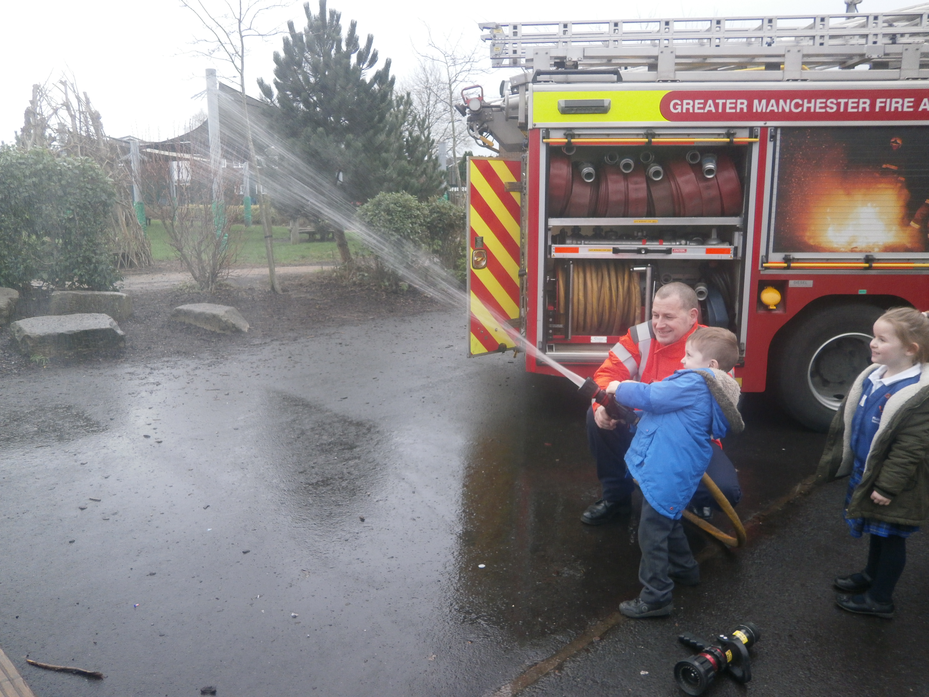 On Thursday 3rd March we all dressed up for World Book Day, even our teachers dressed up!

How amazing do we all look in our costumes!?

We had lots of fun looking at each other's costumes and reading our favourite books. This half term we have been encouraging children to have a love of reading. As well as dressing as out favourite characters we introduced a reading certificate competition where children achieve different awards, we have had an extreme reading competition with children reading on cliffs, with lizards, in a washing machine, up a tree and even on the toilet!!! I hope this love of reading continues overs the Easter holidays and into the next term, remember to use the fabulous library service based at school.